SUPER PICK
SHANA CLEVELAND, HALEY HEYNDERICKX, CLAIRE PUCKETT, DJ SUAVECITO
(Mississippi Studios, 3939 N Mississippi) When she's fronting Los Angeles (formerly Seattle) surf four-piece La Luz, Shana Cleveland conjures images of haunted beach carnivals with twangy guitar riffs and cotton candied doo-wop harmonies. But as Shana Cleveland and the Sandcastles, she directs her creative energy into the minimalist folk music of the natural world. Cleveland's 2015 solo debut, Oh Man, Cover the Ground, passes like a nervous daydream, always wary of something invisible or too far off in the distance to be seen by the naked eye. It sounds inspired by creaking floorboards, sunlight filtering through old trees, or the gradual creep of a mountain's shadow. For 13 tracks she shreds on the acoustic guitar, freeing nimbly fingerpicked melodies from its hollow figure. It's incredibly tactile, with rhythms created by musical bodies—feet tap, fingers skim strings, hands clap or create gentle tambourine beats. Any still air is filled with the warm, fragrant bloom of cello, piano, or clarinet. The 46-second instrumental "(death riff)" slices the album in half, an uneasy intermission that follows "Golden Days" like the fear that nothing will ever be this good again. Cleveland's voice rises like smoke from a smoldering candle, accenting but never overtaking the songs. Her lyrics are similarly unobtrusive: She sings airily about lust and death without settling into any worn clichés or delving too deep. "Itching Around" even sources inspiration from a La Luz song—"All that big blood," Cleveland sings, "It's hard to settle down." Oh Man, Cover the Ground deserves a follow-up; its magic is slow, contemplative, and hungry for answers beyond the limits of our sensory perception. Cleveland's solo Portland show is presented by She Shreds, and all proceeds will benefit the ACLU and the NAACP. CIARA DOLAN
Sponsored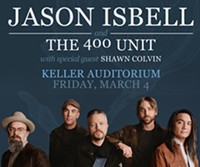 Jason Isbell has established himself as one of the most respected songwriters of his generation. Don't miss Jason Isbell and the 400 Unit, March 4th at Keller Auditorium!
---
WEDNESDAY 3/1
MYKKI BLANCO, CAKES DA KILLA, DJ SPF666
(Holocene, 1001 SE Morrison) Afropunk rapper and performance artist Mykki Blanco brings radical glamour to Portland this week. Last year's Mykki is Blanco's first studio album, but it's merely the latest in a long line of releases that push boundaries with verbose, avant-garde, and infectious hip-hop compositions. CIARA DOLAN Read our story on Mykki Blanco.
SINKANE, TEZETA BAND
(Mississippi Studios, 3939 N Mississippi) Read our story on Sinkane.
VINCE STAPLES, KILO KISH
(Roseland, 8 NW 6th) From Snoop Dogg to Nate Dogg, it goes without saying that the city of Long Beach, California has a long history of producing rap originals. With his rapid-fire flow and aggressive lyricism, Vince Staples is quickly graduating from his freshman status to full-blown Long Beach icon. Staples' inspirations range from 50 Cent to Joy Division, and over the past two years he's been featured on tracks with contemporaries like Earl Sweatshirt, Kali Uchis, and most recently, Snoh Aalegra. Last month Staples released the song "BagBak," where he quickly bulldozes through verses about mass incarceration and Obama. If you want bold, outspoken rap energy, Vince Staples is your man. GUADALUPE TRIANA
TY SEGALL, AXIS: SOVA, WEIRD OMEN
(Aladdin Theater, 3017 SE Milwaukie) I first heard Ty Segall play as a solo opener for Thee Oh Sees, flailing and shouting with all of his might while armed with only a guitar, remnants of a drum set, and the cacophonous dervishes careening out of his young brain. Nobody in the venue, except perhaps Segall himself, knew that we were witnessing one of the halcyon nights of a career that has since evolved into a virtual cottage industry of musical guises, each one prolifically spinning off into adventurous projects that fearlessly explore the limits of rock yet remain sonically consistent enough to satiate the rabid diehards who devour every obscure 7-inch and collaboration. Early this year Segall released a self-titled full-length, yet another addition to the towering legacy of a psychedelic machine whose every creation radiates with an ambitious thirst for amplified sounds and a discography where the high quantity and quality levels appear to be delightfully sympathetic. CHRIS SUTTON
BASH AND POP, THE YAWPERS, WATERLOO TEETH
(Doug Fir, 830 E Burnside) Back in 1992 the Replacements had recently broken up, and bassist Tommy Stinson was without a band for the first time since he was 14. Enter Bash and Pop's debut, Friday Night Is Killing Me—a forceful, infectious slice of the spit-and-vinegar rock he'd honed during his tenure with the 'Mats. More than 20 years later, Bash and Pop has released a sophomore record, Anything Could Happen. It's clear that time has been kind to the prolific and ever-in-demand Stinson. Teeming with fantastically straightforward cuts of boozy rock abandon, the tracks are full of strong, scornful vocal deliveries and rowdy rock 'n' roll bravado. Stinson's songs are the more natural extension of the 'Mats (with no disrespect to Paul Westerberg), which makes sense, given that some of the ones on the new album were originally written to be 'Mats songs prior to the dissolution of their successful reunion a couple years back. RYAN J. PRADO
THURSDAY 3/2
E.T. THE EXTRA-TERRESTRIAL: OREGON SYMPHONY
(Arlene Schnitzer Concert Hall, 1037 SW Broadway) Its nickname might be "the Schnitz" these days, but 87 years ago the brilliantly ornate building at SW Broadway and Main was called the Paramount Theatre, hosting thousands of movie-going Portlanders a night over the course of four decades. This evening, the massive auditorium returns to its cinematic roots in a big way as the Oregon Symphony presents E.T. the Extra-Terrestrial, raising Steven Spielberg's 1982 blockbuster to new heights by providing live, orchestral accompaniment of the Oscar-winning score in sync to the film projected on a huge high-definition screen. If the story of an undocumented alien hunted down by the evil government and ultimately saved by Reese's Pieces, levitating bicycles, and a six-year-old Drew Barrymore doesn't move you, I regret to inform you that your heart appears to be missing. BRIAN HORAY
GHOSTFACE KILLAH, PURE POWERS, AHS, KEEGAN
(Dante's, 350 W Burnside) In my group of teenage miscreants, your favorite Wu-Tang solo project defined your personality traits. While one homie might analytically parse through the lyrical constructions of GZA's Liquid Swords, another might prefer to let him/herself get psychically transported by the darkly clouded fantasies of Method Man's Tical. I personally believed that Ironman, Ghostface Killah's tour de force of gregarious masculinity and ghetto cinematography, was the true epitome of the Shaolin mystique. Besides being RZA's most audacious moment as a producer, the mastery of street slang, non sequiturs, and brutal double entendres within the LP were so deft and blinding that we all hungrily took the requisite repeated listens to comprehend its grimy visualizations. Ghostface's continued influence on the rap game proves that I'll never be alone in these revelations, and a steady flood of similarly crafted gems are a constant reminder of his iconic status. CS
STÖLLER, CAUSTIC TOUCH, ELROND, WASTING SEASONS, DJ JOE PRESTON
(High Water Mark, 6800 NE MLK) Ben Stöller is best known around town for his work behind a mixing board. By night Stöller does live sound engineering for Portland clubs, with an especially keen ear for heavy rock music. But in the daytime he applies his sharp senses to his own musical projects, which include the double drums and electronics duo Hot Victory and his current endeavor, STÖLLER. The aesthetic of this solo project is very much the same as the work he does with Hot Victory bandmate Caitlin Love: melding the throb and sweeping tones of modular synths with his exploratory beat-making. The key is that it never gets too far into the proggy weeds. Each track on his new cassette release is honed and precise, evoking digital landscapes created on a Commodore 64 or dystopian sci-fi epics. ROBERT HAM
FRIDAY 3/3
MOGO MUSIC FESTIVAL: BLOSSOM, SIFTER, I$$A, DJ PR11ME, VERBZ
(Dante's, 350 W Burnside) Remember how Musicfest NW (now Project Pabst) used to be? A buttload of shows happening at the same time, at various venues around the city, and you have to choose? Well that's exactly how MOGO Fest is. My first pick is a show at Dante's on Friday, curated by the Thesis and featuring my favorite local lady singer, Blossom as the headliner. I'm hoping she'll sing some of the feel-good and breezy R&B off her forthcoming LP Tease, like "So Cool," and "Got Me." Other acts for the night include dancehall artist I$$A, Nigeria-born singer Sifter, DJ Pr11me, and Thesis resident DJ Verbz. JENNI MOORE
MOGO MUSIC FESITVAL: COCO COLUMBIA, KORGY AND BASS, GLASYS
(Secret Society, 116 NE Russell) Meanwhile, across the river, a lineup at Secret Society features the dreamy indie-pop of Coco Columbia, live sample-based hip-hop from the duo Korgy & Bass, and multi-genre synth soundscapes from producer/pianist/vocalist Glasys. JENNI MOORE
HURRY UP, DEATHLIST, PANZER BEAT
(The Know, 3738 NE Sandy) After much preparation, the new Know is finally open for business! The punk-rock club closed its original location back in November, but tonight it hosts the first public show in its brand-spankin'-new Hollywood digs (in the former Blackbird). Tonight kick out the jams with Hurry Up, featuring members of the Thermals, plus Summer Cannibals bassist Jenny Logan's project Deathlist and Know owner Ryan Stowe's band Panzer Beat. NED LANNAMANN
DANCE PARTY FOR PLANNED PARENTHOOD: MINIMAL VIOLENCE, ORTHOGRAPHIC FIGURE, DJ WAX/WANE, SHADE GROWN DJs
(Beacon Sound, 3636 N Mississippi) Tonight Beacon Sound is hosting a dance party of leftfield house and techno to benefit Planned Parenthood. Minimal Violence is a collaboration between A. Luk and Lida P. of Vancouver, BC, inspired by the avant-garde leanings of post-punk and the rich, often politicized history of techno and house music. With releases on Genero (an all-female label dedicated to creating diverse avenues for women in electronic music), 1080p, and Jungle Gym Records, the standout duo has seen their music evolve from murky and aggressive techno to slightly more joyous excursions inspired by electro and Chicago house. Hardware synth and groove-box producer Orthographic Figure (Drew LaBarre) joins them, bringing his funky electro house out of the bedroom to share his love of lo-fi dance music with the floor. Come dance for reproductive rights, but don't forget your wallet—sliding scale donations from $5–10 will be taken at the door. DANIELA SERNA
JENS LEKMAN, LISA/LIZA
(Revolution Hall, 1300 SE Stark) When I suffered my first adolescent heartbreak, my two condolences were ripe peaches and Jens Lekman. Both offered distraction and uplift through sweet, sensory indulgence. Lekman draws all the best elements from other sardonic, romantic musicians (Stephin Merritt, Morrissey, Destroyer) and maintains a through line of flowery appreciation for even the most mundane activities (a drunk walk home, a haircut). The result is what I believe to be the most wonderful breakup music one could ask for. Songs rich with tongue-in-cheek optimism allow equal opportunities for wallowing in melodrama or enjoying simple pleasures. Lekman's cleverly composed pop songs remain simultaneously bubbly and deadpan, regardless of which genre he's channeling—I like orchestral Jens, but twee disco Jens is a close second, and on his newest album, Life Will See You Now, island/steel drums Jens gets some well-deserved attention. Even on Lekman's simpler, more pared-down songs, his self-aware lyricism and endearing vocals sparkle incredibly. EMMA BURKE
MARIE DAVIDSON, SOFT METALS, ASSS, THUMPER, AARON J
(S1, 4148 NE Hancock) Montreal-based electronic artist Marie Davidson has developed an underground cult status for her intricately woven, up-tempo soundscapes and unique take on dance music. Davidson's sensuous, spoken-word vocals effortlessly pull the listener into stories of existential angst that attempt to unravel the mysteries of life by way of interrogation and self-reflection. As one half of the celebrated minimal wave duo Essaie Pas, she's had years to develop her artistic sensibilities. Davidson's latest solo release, Adieux Au Dancefloor, has been met with outstanding praise for its depth in production value and subject matter. The album takes dance music to the next level, and captures a probing glimpse through the eyes of an artist who's both fascinated and disgusted by club cultures that thrive off hedonism and self-satisfaction. CHRISTINA BROUSSARD
SATURDAY 3/4
MOGO MUSIC FESTIVAL: MIC CAPES, DONTE THOMAS, NICK B, BOCHA, GIFTED GAB, VERBZ
(Star Theater, 13 NW 6th) Tonight MOGO presents this full-blown hip-hop set: Scene-leader Mic Capes headlines, with a slew of other solid Portland rappers as openers, including Donte Thomas, Bocha, and Nick B. Though I have a feeling Seattle emcee Gifted Gab is going to steal the show with her '90s-vibed songs, as she tends to do. JENNI MOORE
BIG THIEF, IJI, HENRY JAMISON
(Mississippi Studios, 3939 N Mississippi) Tonight's main billing, Big Thief, hails from our cultural sibling, Brooklyn. Though often sparsely arranged, songs on the band's 2016 debut Masterpiece flourish with little more than guitar and lullaby-gentle vocals. "Lorraine" finds guitarist and singer/songwriter Adrianne Lenker's voice swelling with hopeful, vernal tenderness. Even on noisier tracks like the titular "Masterpiece," with its straight-ahead indie rock sensibility, Lenker's grasp of the sentimental and romantic shines. Supporting Big Thief, Seattle's Iji is also not to be missed. The (primarily) solo bedroom recording project of Zach Burba, Iji's live roster regularly rotates, but has lately featured DIY all-stars Jake Jones (Sick Sad World) on drums and Evan Easthope (Land of Pines, Neighbors) on guitar. Between touring with Iji and Brooklyn-based (and Seattle-conceived) Mega Bog, Burba is nearly always on the road. The songs he writes for Iji distill the sun-dappled, blown-out snapshots of the traveling life, all cool drinks and warm air rushing through the open car window. SAM BOVARNICK
SABA, SYLVAN LaCUE, CALEBORATE, DONTE THOMAS
(Peter's Room in the Roseland, 8 NW 6th) Atlanta is still the hip-hop capital of the US, but every year, Chicago seems to make a stronger case for itself. Last year was no exception, with the continued ascendance of Chance the Rapper and the emergence of Noname. But don't sleep on Saba, a skilled rapper with terrific taste in beats who broke through in 2014 with a mixtape called ComfortZone and then scored a featured verse on Chance's Coloring Book. Last November, he followed those up with another tape, Bucket List Project, which is built around clips of Chance, Lupe Fiasco, and others talking about the things they'd like to do before they die. Saba rhymes about the tough streets of Chicago with gritty realism, but also joyful optimism. He comes from a family of old funk and soul players, so his blurry R&B-influenced songs are consistently melodic and musical. Bucket List Project is as fully realized and aesthetically coherent as anything to come out of the Second City in the past few years. BEN SALMON
SUNDAY 3/5
DEATH BY UNGA BUNGA, THE REVERBERATIONS
(Mississippi Studios, 3939 N Mississippi) Scandinavian bands often reinterpret '60s-style garage rock and proto-punk. Some acts like the Hives make the jump to America, while many more remain esoteric reference points. Norway's Death by Unga Bunga's 2016 release, Pineapple Pizza, is a young and fuzzy update on this tradition. Throughout, guitars are jingle-jangly and harmonies sweet, if roughly hewn. And while Pineapple Pizza sets a course for the freakbeat '60s, Unga Bunga's wayback machine is somewhat imprecise. "Best Friends" buzzes with ELO-style synths, and "I Can't Hide" goofs around with J. Geils' keyboards. Much like actual pineapple pizza, Unga Bunga offers a guilty satisfaction only found in ingredients that never belonged together in the first place. WILLIAM KENNEDY
MONDAY 3/6
LVL UP, PALM, GREAT GRANDPA, STRANGE RANGER
(Mississippi Studios, 3939 N Mississippi) LVL UP's Return to Love might be the best indie rock album of 2016 that almost didn't get made. After self-releasing two full-lengths and a slew of EPs on Double Double Whammy, the four-piece made a pact that if they didn't get someone else to put out their music, they'd hang it up for good. Instead, Seattle's Sub Pop Records signed them on for a third full-length. It's a joyous and angry meditation on nature, relationships, and modern spirituality. Songs like "Hidden Driver" and "Naked in the River with the Creator" welcome the world and all its vastness, the former with a revved-up Neutral Milk Hotel-inspired mix of distorted acoustics, and the latter with a slowly decaying organ melody that closes the album à la the Microphones. LVL UP's indie rock references to "the holy" are rare in a genre that's been particularly godless since Jeff Mangum's howlings of "I love you Jesus Christ." This approach certainly risks alienation, but Return to Love addresses religion without any pretense or cheesiness—instead with bursts of beauty and refreshing, un-apathetic honesty. CAMERON CROWELL
TUESDAY 3/7
LITHICS, PREENING, CONDITIONER
(The Know, 3728 NE Sandy) Around this time last year Portland's Lithics released Borrowed Floors, one of best local records of 2016. Its ten minimalist post-punk tracks repeat and layer needling guitar sounds against robotic drums, and the effect is totally hypnotic. The whole album is mechanical and precise, but certain moments of songs like "Thing in Your Eye" break free from the rhythms with wild, rearing guitar riffs—it feels like the climax of sci-fi movies, when machines go rogue as their artificial intelligence inspires them to destroy humanity. Frontwoman Aubrey Hornor's vocals deflect with cool detachment, but never fade into the background of Borrowed Floors. CIARA DOLAN