It's officially Women's History Month, and I've been writing Sneaker Wave for a while now. It's time to talk about my relationship with hip-hop.
Sponsored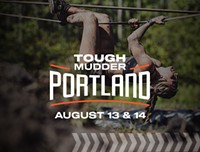 Lock in your summer adventure, Portland. Join us for world famous obstacles over a 5K or 10K distance.
First off, I don't identify as a "hip-hop head." I like other genres and artists, too! That surprises a lot of people, because I can often be found in the front rows of local hip-hop shows every week—I have my own goddamn column because of it. But the truth is, while I do love hip-hop, it's pretty complicated between us.
I'm sick and tired of having to endure, overlook, and weigh the damages of the sexist, misogynistic lyrics in some of my favorite songs. I know some of you niggas are going to read this and ask, "How come you're spotlighting hip-hop as misogynist when other genres like rock are just as bad? You're racist toward your own community!" My hypothetical response? I have a Portland-focused hip-hop column, not a rock column. Just because other genres are sexist doesn't mean I'm not going to address sexism in my own community. WTF? That's some Cosby apologist shit.
ANYWAY! Whenever I'm listening to projects from Kanye, 2Pac, Travis Scott, or even Drake, there's one girl atop my left shoulder unabashedly twerking her heart out. But on my right, a tiny feminist sparks a joint and begins to deconstruct the way each song's lyrics uphold the patriarchy by positioning women as disposable sex objects. And it's not just about calling us "bitches"—a term I've made an individual effort to reclaim. It's annoying that I'm put in a place where I have to decide what's okay versus what's inexcusable. Femme, queer, and trans folks have to accept so much misogyny in order to participate in hip-hop culture at all. (R&B, too!)
Obviously I can't cancel everyone if I'm still going to enjoy some of my favorite music. Even rap-singers like Drake spew a lot of slut-shaming that makes me roll my eyes whilst I twerk—because I truly love Drake and his music! "His misogyny isn't intentional," says my Twerking Devil. "His lyrics are catered to college grads like me, he loves badass women, and his slow jam catalog is dope AF!"
That's all true, but the intersectional feminist on my right shoulder points out that great songs like the Drake-fronted "No Lie" and "Karaoke" contain lyrics that make me want to cuss Drake out. Even the seemingly innocent "Hotline Bling" is directed at Drizzy's ex, who's not acting how he thinks a "good girl" should. Why does her going out, showing skin, and having drinks with her friends make her a bad girl? I'll wait.
Admittedly, I think my tolerance for misogyny is directly correlated to the quality of the music itself. For example, in the Weeknd's "Tell Your Friends," he disturbingly sings, "Gimme head all night, come four times." While that suggestion would be greeted with an open-mouthed cackle IRL, I let it slide in song form.
Alternately, when an amateur artist performs a song that isn't sonically or thematically original, my tolerance for ignorance is much lower. One time I actually walked out of someone's set at the Thesis (the artist shall remain nameless) because I just wasn't in the mood to stand there and listen to him yell-rap his "fuck your bitch"-type lyrics. I said to myself, "Self, I don't have to listen to this shit," and my shoulder companions and I left. Instead of forcing myself to hear this verbal abuse, I could be listening to much higher quality (and more original!) work from one of your more conscious feminine peers, like Karma Rivera, Vytell, or the Last Artful, Dodgr.
In Portland the standard is the same as it is anywhere else: Women—especially women of color and/or members of LGBTQ communities—have to be twice (probably more like thrice) as good as most of their cis male counterparts to get booked and recognized. The result is that Portland's hip-hop scene is overwhelmingly dominated by men, many of whom are honestly pretty mediocre.
There are so few women in Portland hip-hop right now that I can name a good 97 percent of them. I asked Blossom, arguably one of the most-booked women in town, for her thoughts on misogyny within our local scene.
"No complaints whatsoever about the men in this industry I have worked with," says Blossom. "It's just frustrating to work extremely hard and promote and push a message that is in no way sexual, to still be DM'd, Facebooked, or texted to 'come thru'.... Nah."
Luckily, Blossom notes that women in the game are starting to get the respect they deserve. "Everyone's kind of coming out of hiding and asserting their confidence in themselves and their talent," she says. "More people are realizing the game is genderless and anyone can kill it. This is our space, too."
I tend to agree with Blossom. Have I heard some ignorant perspectives from male hip-hop artists and fans on social media? Absolutely. Do rappers sometimes flirt with me in futile attempts to push their music into the news cycle? You bet your ass! But in general, I feel like the musicians in Portland's community have good intentions and at least try to be self-aware. Our city is also relatively tolerant of the LGBTQ community, so it makes perfect sense that our scene is, too.
Though Blossom says she mainly only listens to hip-hop when she wants to dance or "release aggression," she points out that it's much stickier to reconcile when an artist is problematic IRL, not just in their music.
"I have a harder time separating my love of an artist's music from their offensive personal life," she says. Hear, hear! When it's behavior that's damaging to women, queer, and trans people, I simply won't support it. However, despite their anti-gay rhetoric IRL, I do enjoy Migos' track "Bad and Boujee." And I've been known to bump a good portion of Chris Brown's catalog, even though he's proven to be a violent stalker (pray for Karrueche). But you won't see me at Brown's The Party Tour (with 50 Cent, O.T. Genasis, Fabolous, and Kap G) at the Moda Center this May. Because fuck them niggas. They can keep the few cents they get every time I ashamedly listen to "Loyal" on Spotify, but what they won't get is my fangirling.
I'm not going to just cancel every male rapper who's not fully woke about gender and sexuality, because I know that takes time. As a magical Black woman, I plan to "go high" like Michelle Obama says—I'll hold our community to a high standard, but I'll also be forgiving and strong at the same damn time. (However, Chris Brown and other O.J. Simpson types will continue to be cancelled.)
The truth is I don't want to drag you niggas. I just want y'all to do better in the Trump era and to stop talking down to the women who support the fuck out of your careers. As Beyoncé says at the end of Lemonade: "Pull me back together again the way you cut me in half. Make the woman in doubt disappear." If you don't, there are plenty of "females" (as you like to call us) who are more than deserving of my full support and cover charge.
All that being said, please know that any criticism of my own community is not an invitation for ignorant hip-hop critics to come at me sideways. If you're not a fan of hip-hop because you think it's misogynistic, then I highly recommend listening to Chance the Rapper or Lizzo. Or just mind your business, and worry about gathering your own people.