FRI MARCH 17
Sponsored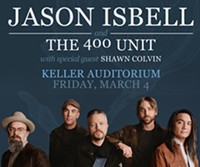 Jason Isbell has established himself as one of the most respected songwriters of his generation. Don't miss Jason Isbell and the 400 Unit, March 4th at Keller Auditorium!
Japandroids w/Craig Finn & the Uptown Controllers; Revolution Hall, 1300 SE Stark
The cover of Japandroids' new album Near to the Wild Heart of Life looks familiar. It's a photo of Brian King and David Prowse posing together like they have for previous releases, but this time with intentional staging that seems like it's supposed to convey some newfound mature sincerity. This reads less as growing up and more as losing touch, which is reflected in the music. On past releases their secondhand pop-punk personas gave tired genre clichés new life and energy, but that's lost on Near to the Wild Heart of Life. Absent is the duo's high-octane charisma that made their odes to positivity so unshakeable. Japandroids' live shows will undoubtedly continue to inspire impassioned sing-alongs and light thrashing, but I hope they stay on the right side of the "corny or earnest" line they've ridden for so long.
Horse Movies w/On Drugs, the Toads, American Memories; Clinton Street Theater, 2522 SE Clinton
Try as I might to finally enter adulthood, my heart still belongs to drinking tallboys on blacktops, which is definitely the root of my fondness for Horse Movies. The Portland indie-grunge band has a long way to go lyrics-wise, but their distorted, snarling vocals and dueling guitars are grin-worthy. Like the monster truck-obsessed younger brother of Titus Andronicus, Horse Movies is an unpretentious and hyper confection.
SUN MARCH 19
Isaiah Rashad w/Lance Skiiwalker, Jay IDK; Hawthorne Theatre, 1507 SE César E. Chávez
After listening to his 2014 album Cilvia Demo, the first thing that struck me about Isaiah Rashad was his cadence. Rashad reminds me of other fast rappers like Kendrick Lamar and André 3000 (both men are close to his world—he shares a label with Lamar and often cites Outkast as a big inspiration). But Rashad's affect is more relaxed, like he's moving through molasses without getting stuck. His songs follow mellow rhythmic paths that are perfect for both introspection and getting down. Last year he released The Sun's Tirade, which adds even more chill samples that keep his poetic and probing lyrics grounded. With an equally talented network (SiR, SZA, the aforementioned Lamar) and such an audible wit, Rashad shows no signs of slowing down.