1) They're actually the cheesiest band ever.
Sponsored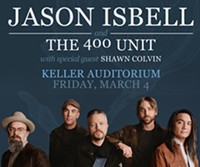 Jason Isbell has established himself as one of the most respected songwriters of his generation. Don't miss Jason Isbell and the 400 Unit, March 4th at Keller Auditorium!
Anthony Kiedis and the other Chili Peppers clearly try hard to cultivate a tough-guy sex symbol exterior, which would be completely grating if they weren't the most endearingly cheesy dudes in the world. Just look at their penchant for naming things with low-level wordplay and lame portmanteaus: They've titled albums Californication and Stadium Arcadium, and they have a book called Fandemonium. In that spirit, I have some suggestions for their next album title: Bromance? Sexcapade? Kayaktivist?
2) They haven't done the "socks on cocks" thing since, like, 2000.
I spent longer than I care to admit on YouTube trying to verify this, but I'm pretty sure RHCP haven't performed in only tube socks since a Seattle show at the turn of the millennium. That's more decorum than I'd expect from a group of men over 50 (except Josh Klinghoffer, 37) who still sings "What I've got you've got to give it to your mama" in front of thousands of people regularly.
3) Flea voiced Donnie in The Wild Thornberrys.
Acting has been Flea's side hustle since the '80s, and he's scored small roles in celebrated flicks like The Big Lebowski and My Own Private Idaho. But one role won my heart years ago, when I was 10 years old and had no idea who Flea was: his stint as the voice of Donnie in The Wild Thornberrys. Honestly, it blew my mind when I learned this, but it makes perfect sense—Flea's stage presence is not unlike that of a feral child.
4) The Super Bowl XLVIII Halftime Show.
In 2014, the band was involved in the most random halftime stunt in recent memory, in which someone decided the best way to follow the previous year's blockbuster Beyoncé performance was to have RHCP suddenly show up in the middle of Bruno Mars' set. It made for an odd pairing, to say the least, but everyone knows the halftime show is largely a pre-recorded publicity stunt—at least they do now, because bassist Flea and guitarist Josh Klinghoffer didn't even bother plugging in their instruments.
5) By the Way is actually a pretty good record.
Seriously, go back and listen to it—it's really not that bad.