Most of the people going to Red Bull Sound Select's 3 Days in Portland concerts probably live in Portland, but whatever—the three-day mini-festival has an incredible lineup and the tickets are cheap ($10 per show). Here's what to expect each night, from Alvvays' yacht-pop to NAO's supernatural-sounding voice.
THURSDAY 5/18
Alvvays, the Courtneys, Candace Wonder Ballroom, 128 NE Russell
To be honest, at first I didn't like Alvvays. Sailing in the Atlantic? Marriage? What is this, a J. Crew ad? But something changed—that dang "Archie, Marry Me" song is irresistible, and after enough listens, frontwoman Molly Rankin pried my heart open like a stubborn clam. Soon I realized that pretty much every song on the Canadian band's 2014 self-titled debut is great. It's low-stakes indie-pop with nonstop hooks thrown in your face like rainbow glitter. No one I argue about this with agrees, but I think Rankin sounds like Dolores O'Riordan of the Cranberries (without the Irish accent). Alvvays' fellow Canadians the Courtneys sound like Vivian Girls covering New Order. In February they released The Courtneys II, an album of lo-fi punk that's caught in a California fever dream. Rounding out the bill is Portland's own Candace (FKA Is/Is), the self-described "witchgaze" three-piece responsible for writing the song "Midnight Blue," which I love. They hang out at the intersection of shoegaze and psych-rock, with loud guitars and feathery harmonies. CIARA DOLAN
FRIDAY 5/19
NAO, Harriet Brown, Chanti Darling Wonder Ballroom, 128 NE Russell
British neo-soul singer NAO's high and fluttery voice is light-years beyond euphonic, and often verges on nostalgic—her complex runs and unique tone vaguely harken to '90s-era Brandy, or American Idol's Fantasia Barrino. But NAO (born Neo Jessica Joshua) offers a futuristic take on R&B, with layers of synth, funky guitar, piano, and crisp beats, in a style she calls "wonky funk." Last year she released her studio debut, For All We Know, on her own label, Little Tokyo Recordings. The moving single "Bad Blood" is just one of the addictive tracks on the album—there's also the pining "Girlfriend," the funk-infused love anthem "Happy," and "Adore You," which also appears on her 2014 EP So Good. In addition to R&B, NAO's music spans genres like soul, funk, and electronic. And no, there's no special effect causing her voice to sound that cool—it comes naturally. If her Twitter and YouTube videos are any indication, she sings just as beautifully live. With support from "romantic funk" performer/producer Harriet Brown and Portland's own futuristic disco artist Chanti Darling, tonight's show is guaranteed to be unforgettable. JENNI MOORE
SATURDAY 5/20
Aminé, A2, the Last Artful, Dodgr Crystal Ballroom, 1332 W Burnside
Unlike my initial apathy toward Alvvays, I immediately loved Aminé. Last year the Portland rapper released his debut single, "Caroline," which quickly shot to the top of Billboard's charts. For good reason—it's sun-kissed and bouncy, with references to astrology and Quentin Tarantino. In an interview with Genius, Aminé said he wrote the track to be a "modern-day 'Billie Jean.'" The video is equally fun: He's dancing in the backseat with friends, hanging out at Mike's Drive-In in Oregon City (which I can affirm has the best deep-fried pickles around), and in a room full of bananas. In November, one week after the election, he performed an orchestral version of "Caroline" on The Tonight Show Starring Jimmy Fallon with fellow Portland R&B/hip-hop artists Blossom and the Last Artful, Dodgr (who'll open tonight's show). For his television debut, Aminé concluded his breakthrough hit with an added verse boldly addressing the impending administration: "If my President is Trump then it's relevant enough/To talk 'bout it on TV and not give a fuck/I'm Black and I'm proud/My skin is brown and I'm loud." This act of defiance and his similarly addictive single "REDMERCEDES" hint that Aminé might be the most important artist in Portland right now. CD
Sponsored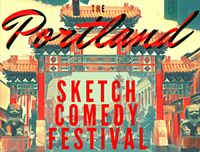 Sketch comedy troupes from all over N. America descend on The Siren Theater for 3 glorious nights.