SUPER PICK
FLEET FOXES, CHRIS COHEN
(Crystal Ballroom, 1332 W Burnside) Next time you're looking for someone to blame for the Pacific Northwest's recent influx of transplants, I'd (jokingly) recommend pointing a finger at Fleet Foxes. After all, the band's folksy hymnals partly inspired my migration north from California six years ago. Formed in Seattle in the mid-'00s, the five-piece released its second EP, Sun Giant, and self-titled LP in 2008. These songs were faded postcards from the Pacific Northwest's rugged landscapes, sent by wannabe mountain monks who praised the region's natural magic with bright eyes, reverently plucked mandolin, and chanted three-part harmonies that call to mind 1960s groups like Crosby, Stills, and Nash or Fairport Convention. In 2011, Fleet Foxes released the toiled-over follow-up Helplessness Blues—an album wrought with coming-of-age existentialism, as frontman Robin Pecknold longs to become "a functioning cog in some great machinery serving something beyond me." This overeager quest for purpose courses through the band's early catalog, making for earnest folk-pop that's relatable but sometimes exasperatingly melodramatic. Fleet Foxes recently remerged without former drummer Josh Tillman (who's since gone solo as Father John Misty) to release their forthcoming third album, Crack-Up. Its two singles, "Third of May / Ōdaigahara" and "Fool's Errand," present abstract, experimental folk that swells with string instrumentals and untraditional song structures. It's no less cerebral—just see Pecknold's lengthy Genius annotations for the first track. Though these tangents and references can be tedious to follow, Fleet Foxes' latest fractures the beauty of their past work and rearranges the pieces into something more interesting. This Portland show is long sold-out, but if you've got a way in, you'll experience one of their first US dates in six years and an opportunity to hear their new music in person before it's released. CIARA DOLAN
WEDNESDAY 5/17
KIKAGAKU MOYO, SUGAR CANDY MOUNTAIN, PAX
(Doug Fir, 830 E Burnside) Tokyo band Kikagaku Moyo make the kind of psychedelic rock that sounds like it's creating cracks in the earth's crust, but they also leaven the more volcanic passages with gorgeous pastoral bits. See them tonight and get your mind blown by the entrancing jams from their latest EP, Stone Garden. NED LANNAMANN
THE WILD REEDS, BLANK RANGE
(Mississippi Studios, 3939 N Mississippi) Read our story on the Wild Reeds.
SHANNON AND THE CLAMS, EAT SKULL
(High Water Mark, 6800 NE MLK) The 1950s seem like they sucked, but Shannon and the Clams salvage all the good stuff from that strange decade with their modern doo-wop revival. Well, at least the good stuff from the movies. Shiny cars! Milkshakes! Knife fights! The Oakland, California, band plays music that's fit for high school gyms and pimple-faced backseat makeouts. They do a mean cover of Del Shannon's "Runaway," that old song from American Graffiti with guitar that sounds like it's accelerating into hairpin turns. And frontwoman Shannon Shaw's voice is something to behold—it's all velvet one second, all venom the next. Marry that to the Clams' curlicue surf guitar riffs, rumbling bass lines, slow dance-paced percussion, and periodic cameos from a carnival organ, and you're spellbound. An example of this perfect union is the slow-burning "Corvette" from the band's latest release, 2015's Gone by the Dawn. It steadily builds, but never climaxes, while Shaw croons, "I'm just waiting here on the corner for a Corvette that never comes." There's something sinister about Shannon and the Clams' bubblegum pop, like it's laced with shards of glass, but that's probably what catapults them beyond the swamp of nostalgia that drowns less talented retro bands. I must warn you: This show is very sold out. CIARA DOLAN
THURSDAY 5/18
3 DAYS IN PORTLAND: ALVVAYS, THE COURTNEYS, CANDACE
(Wonder Ballroom, 128 NE Russell) Read our 3 Days in Portland preview.
FLEET FOXES, CHRIS COHEN
(Crystal Ballroom, 1332 W Burnside) Read our super pick.
YGB'S DAYDREAMS: DJ LAMAR LEROY, LISA VASQUEZ, [E]MPRESS SUPERNATURAL
(Holladay City Park, 1100 NE Holladay) Some say we should look to the younger generations if we'd like a glimpse of our future. If those performing at YGB's DayDreams are any indication, it's safe to say we're headed in the right direction. The all-ages daytime event at Holladay Park is a collaboration with DUG and Friends of Noise, and YGB cofounder Natalie Figuroa says the party will be "family reunion style." Between open mic sessions, YGB's resident DJ Lamar LeRoy will spin the wax while b-boys from the Morpheus Youth Project break it down to the beats. Scheduled performances from loop-pedalist Lisa Vasquez and Sicilian hip-hop vocalist [E]mpress Supernatural are sure to slay. Kick your summer off right with this feel-good community kickback. EMILLY PRADO
THE FRIGHTS, HUNNY, KING SHELTER
(Analog Café, 720 SE Hawthorne) When I lived alone in LA for a summer, I went to a lot of concerts by myself. It's an easy city to feel isolated in and, as cliché as it sounds, being able to lose myself in crowds was a great distraction. I saw a lot of shitty bands in shitty bars, but at one mini-festival in Echo Park I was charmed by the Frights, a surf-punk band from San Diego. They brought screaming pop-punk and sonic sunshine to the dark bar. Last year the Frights released an album produced by FIDLAR's Zac Carper, You Are Going to Hate This. At times, singer Mikey Carnevale channels the sweetness of early Rivers Cuomo (particularly on "Puppy Knuckles"), but for a surfy pop-punk band, the Frights manage to avoid any derivation from their predecessors. EMMA BURKE
FRIDAY 5/19
WELCOME TO TWIN PEAKS: VEXATIONS, WL, THE OTHER PLACE, STOCHASTIC METTLE UNION
(The Fixin' To, 8218 N Lombard) The Fixin' To's Twin Peaks tribute night gears up for the revival with tunes inspired by noted Peaks soundtrackers Julee Cruise and Angelo Badalamenti [MOURNFUL SYNTHESIZERS GO HERE]. Performers include Vexations, WL, the Other Place, and Stochastic Mettle Union. Sounds way more fun than a silent drape runner! MEGAN BURBANK
3 DAYS IN PORTLAND: NAO, HARRIET BROWN, CHANTI DARLING
(Wonder Ballroom, 128 NE Russell) Read our 3 Days in Portland preview.
YGB'S THE GLOW: CASUAL AZTEC, SURVIVAL SKILLS, DJ PR11ME
(Jade Club, 315 SE 3rd) The second of two back-to-back parties from Young Gifted and Black, this beats-focused night presented by Beat Parlor features house music prodigy Elbert Phillips and a slew of PNW DJs that'll keep us dancing. JENNI MOORE
VIKESH KAPOOR, HALEY HEYNDERICKX, CLAIRE PUCKETT
(Beacon Sound, 3636 N Mississippi) Some of Portland's finest folk musicians will gather at Beacon Sound tonight to celebrate the release of Vikesh Kapoor's new single, "Down by the River." Unlike the Neil Young song of the same name, this lovelorn ballad does not end in murder. Kapoor strums gold-tones from his acoustic guitar, revisiting bygone memories to bid "fare thee well, oh honey, fare thee well." He'll be joined by Haley Heynderickx, who tapped into some ancient energy on her 2016 EP Fish Eyes, and the classical shredding of Claire Puckett. CD
LA TAKEDOWN, DEAR NORA
(Mississippi Studios, 3939 N Mississippi) It'd be impossible to come up with a soundtrack that perfectly encompasses the spirit of Los Angeles, but Aaron Olson and his misfit band LA Takedown come pretty close. Soaring glam rock guitars duel for sonic space against Ray-Ban-tinged synthesizers and citified rhythms that throb like Sunset Boulevard palm trees on a Saturday night. LA Takedown's jams glisten like the coolest '80s video game music you've never heard, and the melodic sheen of these opuses harkens back to indie instrumentalists like Trans Am or the Fucking Champs. The pop intimacies of Dear Nora—Portland singer/songwriter Katy Davidson's platform for precious sun-touched musings—will be the perfect beginning to a warm, fuzz-filled evening. Earlier this year, Davidson reissued Dear Nora's 2004 album Mountain Rock, an underground classic that's aged impeccably well. CHRIS SUTTON
BLACK MARBLE, DRAA, DROWSE, DARK RED SEED
(Tonic Lounge, 3100 NE Sandy) There's comfort in sadness, and the music of Black Marble (AKA Chris Stewart) exemplifies this good/bad feeling. Since splitting from his former creative partner Ty Kube, Stewart's bounced from the East Coast to the West Coast, but the relocation hasn't made his music any sunnier. On 2016's It's Immaterial, Black Marble sounds even more haunted—it's cold and calculated post-punk, with heavy synth and moody production. CERVANTE POPE
THE MINDERS, MO TROPER AND THE ASSUMPTIONS, BOREEN
(Turn! Turn! Turn!, 8 NE Killingsworth) Twenty years ago, the hot thang in indie-pop was the Elephant 6 Collective, a family of bands that played a particularly psychedelic and Beach Boys-influenced brand of pop-rock. The headliners were Neutral Milk Hotel, the Apples in Stereo, and the Olivia Tremor Control, and one of the affiliated groups was the Minders, a Beatles-lovin' combo out of Denver. A great secret of the Elephant 6 Collective is that the Minders' 1998 album Hooray for Tuesday is every bit as good as anything else any other E6 band released. It's a perfect pop record. Eventually, head Minder Martyn Leaper moved his operation to Portland, where he put out a couple more releases (including 2006's essential It's a Bright Guilty World) and then disappeared, more or less, for a decade. Which brings us to last year's Into the River, the first Minders album in 10 years. Recorded with local studio wiz Larry Crane, it's a wonderful reminder of Leaper's extraordinary—and underappreciated—talent for marrying memorable melodies and lush, jangling guitars. BEN SALMON
SATURDAY 5/20
SAM COOMES, THOLLEM'S HOT PURSUIT OF HAPPINESS,REBECCA COLE
(The Know, 3728 NE Sandy) With nothing more than his trusty vintage organ, mid-'60s rhythm box, and restless vocal attack, Portland indie rock fixture Sam Coomes twists up off-kilter-yet-groovy experimental pop that springs to life like a circuit breaker being magically flipped on at some long-abandoned carnival midway. If you haven't witnessed Coomes performing in support of his 2016 solo debut, Bugger Me, tonight's show presents the perfect opportunity to remedy that. CHIPP TERWILLIGER
3 DAYS IN PORTLAND: AMINÉ, A2, THE LAST ARTFUL, DODGR
(Crystal Ballroom, 1332 W Burnside) Read our 3 Days in Portland preview.
OREGON SYMPHONY, TAMARA WILSON, ELIZABETH DeSHONG
(Arlene Schnitzer Concert Hall, 1037 SW Broadway) Tonight through Monday, the Oregon Symphony brings its 120th classical season to a close with just one work on the final program, but what a work it is: Gustav Mahler's epic Symphony No. 2. Requiring a beefed-up orchestra (10 horns! Six trumpets! Four trombones!), a pair of virtuoso female vocalists, a brilliant four-part choir, and over an hour of intense concentration, Mahler's wondrously sprawling composition of 1895 was a game-changer in the world of music, smashing previous expectations of what a symphony should and could be. Mahler's idiosyncratic orchestration requires individual musicians to shine and collective symphonic forces to blaze, creating an expansive soundscape you just won't hear anywhere else. BRIAN HORAY
DAVID LUNING, IZAAK OPATZ
(White Eagle, 836 N Russell) Izaak Opatz is the best songwriter you've probably never heard of. As leader of Missoula band the Best Westerns, Opatz dabbles in off-kilter country and roadhouse rock (see the band's fantastic 2014 record High Country). February's Mariachi Static is Opatz's solo debut, buoyed by wry tunes that bring twangy, back-porch pop into the 21st century. "One Way or Another" is a punky track about attending a former lover's wedding, and on "Arm's Length Away," Opatz praises downed wifi and the absence of cell service as welcome barriers that prevented him from reaching out to an ex after a long night at the bar. He sprinkles honesty into his music with a wink, using the three-minute pop song mold for cerebral (and fun) meta-modern country. RYAN J. PRADO
SUNDAY 5/21
MICHAEL KIWANUKA, CLOVES
(Wonder Ballroom, 128 NE Russell) Read our story on Michael Kiwanuka.
OREGON SYMPHONY, TAMARA WILSON, ELIZABETH DeSHONG
(Arlene Schnitzer Concert Hall, 1037 SW Broadway) See Saturday's preview.
WILD COMBINATION: A BIRTHDAY TRIBUTE TO ARTHUR RUSSELL
(Holocene, 1001 SE Morrison) The world would have surely come around to the avant-disco and minimalist classical music of the late Arthur Russell eventually. But what has helped spur a dedicated cult following around this New York legend were a pair of compilation albums released in 2004 that revealed to a new generation of fans what a formidable talent we lost when he passed away in 1992. Since then, singles like "Kiss Me Again" and "Is It All Over" have popped up regularly in DJ sets, and folks started to hear the influence he had on artists like LCD Soundsystem and Fischerspooner. To celebrate what should have been Russell's 66th birthday, Holocene is throwing a party that will include performances of his work by Chanti Darling, Moorea Masa, and Shy Girls member Noah Bernstein, plus DJ sets and a lecture by artist Matt Marble. ROBERT HAM
MONDAY 5/22
OREGON SYMPHONY, TAMARA WILSON, ELIZABETH DeSHONG
(Arlene Schnitzer Concert Hall, 1037 SW Broadway) See Saturday's preview.
THE JESUS AND MARY CHAIN, THE WARLOCKS
(Crystal Ballroom, 1332 W Burnside) I was born 10 years after the release of the Jesus and Mary Chain's debut LP, Psychocandy, and entered a world already ripe with bands inspired by them. The group's noisy, beautiful heroin-rock made an impression on even the sincerest of indie groups, like Death Cab for Cutie and the Shins. I first heard "Just Like Honey" thanks to the final scene of Lost in Translation. It's catchy, but also raucous and nonlinear—like a bizarro love song. Psychocandy ebbs and flows in listener-friendliness, but hidden behind the feedback, fuzz, and monotonous vocals are timeless melodies. Unfortunately, on the Jesus and Mary Chain's new album, Damage and Joy, the moodiness is cleaner—it's no longer a subversive reaction to youthful discontent, and instead sounds like dull crabbiness. EMMA BURKE
HO99O9, Injury Reserve
(Holocene, 1001 SE Morrison) With artists like Death Grips and clipping. forcing open the doors of perception to the sounds of what could roughly be called "noise rap," groups like Ho99o9 (pronounced "Horror") are sauntering in boldly behind them. This New Jersey duo are perhaps a little more palatable than their contemporaries, as their productions often play within the same guidelines of trap and drill, albeit a version that is overblown and distorted with rhymes delivered through full-throated shouts and gritted-teeth frustration. But the group peppers their upcoming album United States of Ho99o9 with diversions into hardcore punk, industrial, and darkwave. Where they do connect more fully with their brethren is with the power of their live show. Ho99o9 concerts are violent, sweaty affairs that feel as dangerous as their music sounds. RH
TUESDAY 5/23
MOMMY LONG LEGS, THE BEDROOMS, MR. WRONG
Rock Product, are "goblin butlers" and "militant feminist." Those tags, like the 7-inch itself, are a succinct mission statement. I have no idea what the fuck a goblin butler is, as I'm sure is the point, but there's no confusion about that second one. While Mommy Long Legs' music is stuffed to the brim with inside jokes, song titles like "Diva Night" and "Dick Move" and a memorable refrain of "We'd be better off without you" leave little doubt where the four-piece's priorities lie. The band's whole catalog sits in the nebulous ether where everything is simultaneously dead serious and a complete joke—which, as Rock Product's closing cover of the Cramps proves, is a blueprint that's just as relevant in 2017 as it was in 1986. NATHAN TUCKER
Sponsored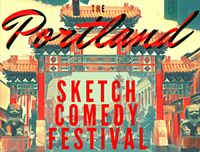 Sketch comedy troupes from all over N. America descend on The Siren Theater for 3 glorious nights.