SUPER PICK
HALF WAIF, LAND OF TALK
(Doug Fir, 830 E Burnside) Just a couple of weeks ago, Nandi Rose Plunkett—who sings and plays keyboards in the alt-country outfit Pinegrove—penned an essay for Esquire titled "Don't Call Me the Girl in the Band." It's her response to the on- and offline misogyny that constantly reduces her to "a useless prop beside the real musicians" instead of "a being who loves music, looking to turn down the rest of the noise." Plunkett reclaims the space she's often denied with the sweeping synth-pop of her solo project, Half Waif. She's released two full-lengths under the moniker, plus an excellent new EP called form/a. Plunkett mirrors her own inner complexity in experimental electro-pop that she sometimes blends with Celtic folk and freeform Indian bhajans, two seemingly dissimilar genres united by her own heritage (her mother is Indian and her father is Irish American), especially on classical-but-danceable songs like "Turn Me Around" from 2016's Probable Depths. Her lyrics are like Morse code signals flashing from the opposite end of a foggy bay; they center on her ongoing struggle to communicate with the outside world. Plunkett grasps for language even as she's singing, which makes listening feel like an active exercise. She fears her inability to forecast her emotions for a romantic partner on "Severed Logic," form/a's lead single: "My mood is a pendulum, I don't think you can handle it," she sings, her voice wavering over the word "handle" like she's bearing the full weight of doing so alone. Plunkett's new EP as Half Waif is her best yet—though we didn't need any more proof that she's a "real musician," these six songs are irrefutable. CIARA DOLAN
---
WEDNESDAY 6/28
BROWN CALCULUS, AMENTA ABIOTO, KORGY AND BASS
(Holocene, 1001 SE Morrison) Tonight Portland hip-hop/jazz duo Korgy and Bass celebrates their new release, EP Vol. II, which charges bleary-eyed right out of the gate with smooth jazz grooves and meandering trumpets. It's the type of instrumental that should be played in cinematic montages of cool shit happening, malleable as it is to function as pacesetter and mood enhancer. It's a fitting intro to their corner of the chillwave world, as programmer Alex Meltzer and drummer Barra Brown hold down the EP's four tracks. The drone of "Bitter Horizons" features scintillating rhymes from Dusty Fox and a dreamy chorus whisper from Catherine Feeny in a nod to seminal '90s jazz-hop projects like A Tribe Called Quest and Digable Planets. But it's the experimental moments, as heard on "Training Day," that distinguish Korgy and Bass from similarly twisted sound freaks. RYAN J. PRADO
Sponsored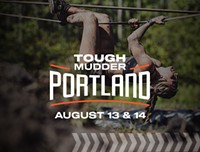 Lock in your summer adventure, Portland. Join us for world famous obstacles over a 5K or 10K distance.
LAND OF TALK, HALF WAIF
(Doug Fir, 830 E Burnside) Canadian singer/songwriter and guitarist Elizabeth Powell leads Land of Talk, the beloved indie rock band that started an indefinite hiatus in the early 2010s. Following rumors that Powell might revive the project, last month she returned with Life After Youth, Land of Talk's third LP. The new record somehow manages to maintain an astounding originality and freshness—Powell is immensely talented in making no-fuss, quality music and leaving out all the unnecessary bells and whistles. In a day and age when so many bands are desperately grasping for relevancy, such an effortless execution is almost comical. DELANEY MOTTER Also read our Half Waif super pick.
TYCHO, TODD TERJE AND THE OLSENS, JAGA JAZZIST
(Edgefield, 2126 SW Halsey, Troutdale) For those with even a cursory interest in electronic music or those looking to dip their toe into the genre, this is the concert of the year. That's because all three acts—in addition to being credible and excellent—make gorgeous, melodic, feel-good music. Jaga Jazzist works in the sweet spot between modern jazz fusion and effervescent post-rock. Todd Terje is a dance floor god whose perfect nü-disco bangers should, frankly, never end. And at the top of the bill is Tycho, a California-based producer with an incredible gift for turning glitchy beats, vintage blips, and glistening bloops into music that feels so organic—so truly human—it feels like a satisfied sigh bathed in melancholy sunlight. This is as accessible as good electronic music gets in 2017. BEN SALMON
THURSDAY 6/29
RYAN ADAMS
(Edgefield, 2126 SW Halsey, Troutdale) Grab a ticket, a blanket or small lawn chair, head to McMenamins' great outdoor Troutdale concert venue, and hit the grass for an evening with one of America's best folksy alt-country rockers. His new album, Prisoner, is very good and he's coming with a catalog of 15 other mostly-great albums from his storied career. I had his Cold Roses and Love is Hell albums on repeat in high school and I'm pumped to see him live. DOUG BROWN Also read our exploration of Adams' ongoing feud with the planet Jupiter.
RILEY GEARE TRIO, SAMA DAMS
(White Owl Social Club, 1305 SE 8th) If Riley Geare's (Unknown Mortal Orchestra, Cardioid) recently dropped track "The Piccadilly Line (Mind the Gap)" is any indication, the inaugural voyage of the Riley Geare Trio is probably going to blow your world up. The tune envelops Geare in a spastic space-jazz veil that features his fantastic percussive chops, as well as wormhole-like keys and A.I.-sounding vocals. It's the introductory single for an album Geare's currently putting together where he plays all the instruments. For tonight's free show, however, keyboardist and T-Pain collaborator Gil Assayas (GLASYS) and bassist Raymond J. Reyes join the fold for a largely improvised set of cosmic jams. Geare says there'll only be one rehearsal prior to the performance, so no one's quite sure what to expect. Chances are high, though, that with the amount of talent between the three of them, you'd regret missing this. RJP
MEATBODIES, MÁSCARAS, DJ μHAREB
(Mississippi Studios, 3939 N Mississippi) We're fast approaching Pickathon season here in Portland, which means you'll start hearing about how the festival has long outgrown its rootsy vibe, and how you're as likely to hear a plugged-in punk act as an acoustic picker out on Pendarvis Farm. One of the bands that helped establish that reputation is Meatbodies, a long-haired bunch of psych-rock ragers who absolutely obliterated the festival's main stage in 2015. Earlier this year, the band—led by West Coast psych/garage guitar legend Chad Ubovich—released its second album, Alice, an excellent "loose concept" record about the end of the world. Packed with fantastical tales, serrated riffs, and sparkling melodies, Alice finds Meatbodies at their Black Sabbath-meets-the Beatles best. High praise? Indeed it is. If you're skeptical, find someone who was at that Pickathon set a couple of years ago. They'll tell you... if their skull's still intact. BS
FRIDAY 6/30
WATERFRONT BLUES FEST: CHRIS ISAAK, DIRTY REVIVAL, BROTHER YUSEF, FANTASTIC NEGRITO, & MORE
(Tom McCall Waterfront Park, 1020 SW Naito) The Waterfront Blues Festival is a Fourth of July tradition, a weekend-long gathering on the river to celebrate all styles of American music (not just the blues). With performers like Booker T, Chubby Carrier, Cory Henry, Fantastic Negrito, Eric Gales, and countless others performing under the sun for the fest's 30th year, it's the best way to be reminded that our crazy, conflicted country has birthed some pretty wonderful music. NED LANNAMANN
STREETLIGHT MANIFESTO, JENNY OWEN YOUNGS, OGIKUBO STATION
(Crystal Ballroom, 1332 W Burnside) Everything Goes Numb, the 2002 debut LP from New Brunswick outfit Streetlight Manifesto, is hailed as a ska masterpiece in circles where that phrase isn't an inherent contradiction. No matter how many waves you think there have been—really, who can keep track—ska's always had a way of sounding instantly dated. In the decade and a half since the band's well-received debut, Tomas Kalnoky & co. haven't done much to avoid their genre's uniquely fraught aging process. The list of chin-scratchers includes the 2006 re-recording of their old band Catch 22's beloved Keasbey Nights, and 2010's 99 Songs of Revolution Vol. 1 (a collection of covers that might more accurately be titled 11 Songs That Don't Really Need Ska Interpretations). If I sound dismissive, that's probably because ska has always been so easy to mock, but it's precisely that full-throated embrace of their own aesthetic that makes bands like Streetlight Manifesto so fun to begin with. NATHAN TUCKER
ANIMAL COLLECTIVE, STEPHEN MALKMUS
(Roseland, 8 NW 6th) Animal Collective is one of those bands you just come to know, whether that's through constant radio play or their soundtracking of your own quarter-life avant-garde awakening. Blending the right amounts of pop, indie, electronic, psychedelic, and experimental, Animal Collective is enough of everything to appeal to virtually everyone. That's right, everyone, which means you can totally bring your Tinder date to the show without worrying about whether or not they'll like it. To those "real fans" who might complain about this, I say sit back, relax, and enjoy both the concert you paid for as well as the kinda funny, kinda cringy dates happening around you. DM
SATURDAY 7/1
WATERFRONT BLUES FEST: BIG HEAD BLUES CLUB, SOUTHERN AVENUE, REGGIE HOUSTON'S BOX OF CHOCOLATES, & MORE
(Tom McCall Waterfront Park, 1020 SW Naito) See Friday's preview.
THE DAY FADE: NICEGUYxVINNY, JERRY BANDITO, DUBBLIFE, VNPRT, TRIBE MARS, QUAZ
(White Owl Social Club, 1305 SE 8th) Some Saturdays, you ignore the creeping growth of your dandelion lawn and put any thoughts of self-betterment out of mind. Some Saturdays, you get out of bed late and head to the bar, where there will be drinks, and dancing, and DJs spinning really, really good tunes. The soul needs such Saturdays, and lucky for you this is one of them. DIRK VANDERHART
GAYTHEIST, NASALROD, DRUNK DAD
(The Know, 3728 NE Sandy) Gaytheist plays the kind of rock music that'll pummel your eardrums with the force of a thousand fiery asteroids (in a good way). Tonight the Portland band celebrates the release of their new album, Let's Jam Again Soon—14 furiously fast tracks that bring new meaning to the word "heavy." CIARA DOLAN Also read our review of Gaytheist's new album, Let's Jam Again Soon.
SKULL DIVER, THE DEAD SHIPS, PACIFIC LATITUDES
(Bunk Bar, 1028 SE Water) Last month Portland rock trio Skull Diver released Chemical Tomb, an unapologetically dark sophomore album that wanders with a zombie's sinister drive between proggy riffage, pop swagger, and stoner metal haze, exploring shadowy corners while never quite settling into a groove. The record is united not just by this densely curated sense of disquiet, all fuzzy guitars and cavernous organs, but by a gripping melodicism and singer Mandy Payne's nimble voice floating over the darkness—less ethereal and more foreboding siren's call. Two covers round out the second half, Nick Drake's "Parasite" and the Violent Femmes' "Good Feeling," both evidence of Skull Diver's flexible mastery over their expansive sound. It's not the most cohesive album, but anyone who likes their music on the heavy side will find something to enjoy. NT
FIT FOR AN AUTOPSY, TOMBS, MOON TOOTH
(Analog Cafe, 720 SE Hawthorne) Read reviews of Moon Tooth's 2016 album Chromaparagon and you'll find lots of references to prog-minded metal (or hard rock) bands like Rush, Mastodon, the Dillinger Escape Plan, Meshuggah, and Tool. Far less often do critics cite the New York band's irrepressible interest in funk- and jazz-metal, which is on full display on Chromaparagon's eye-popping opening track, "Queen Wolf." Here, Moon Tooth sounds like Living Colour and (gulp) the Red Hot Chili Peppers. Add in the quartet's interest in whiplash rhythms and highly technical playing, and you've got quite a concoction of influences widely considered "uncool" in the 21st century. But Moon Tooth makes it work by playing its showy, shifty jazz-funk-prog-thrash-metal with such absolute power and awe-inspiring precision, you just can't help but be impressed. (The band's knack for finding a melody in its maelstrom doesn't hurt, either.) BS
TEEN DAZE, SAM OB
(Hawthorne Theatre Lounge, 1507 SE César E. Chávez) If in some bizarro parallel universe Grouper and Leon met while playing Minecraft, Teen Daze would most likely be the outcome. With EPs like 2010's Four More Years and Beach Dreams, British Columbia recording artist Jamison Isaak's building a body of work similar to other young but prolific artists like (Sandy) Alex G or Frankie Cosmos. Since Isaak's early slow-mo drum-and-bass EDM, Teen Daze has truly developed into mellower but more expansive take on dance music. All of the releases are paired with naturalist album art that could decorate a sleek minimalist coffee shop or the default screensavers for the next generation of Microsoft Windows. The music itself doesn't try to stray from this aesthetic, and instead embodies a postmodern simplicity. Though Teen Daze's fifth LP, Themes for Dying Earth, has a pretty fatalistic name, it moves at a snail's pace. All of the vocals are awash in reverb, and the keyboard riffs sound like springtime walks through city gardens—secluded enough, but surrounded by the bustle of metropolitan life. CAMERON CROWELL
GRAN RITMOS: RIOBAMBA, CASUAL AZTEC, 2TABS
(Holocene, 1001 SE Morrison) Portland's favorite Pan-American dance party Gran Ritmos is kicking off summer's dog days by inviting Riobamba to headline their next showcase. One of Brooklyn's most fire DJ acts, Riobamba is a multitalented artist with Ecuadorian and Lithuanian roots who delivers energetic sounds from around the world. In addition to producing her own mixes, she founded the label and creative agency Apocalipsis in 2016 to empower the voices of other Latinx artists. Riobamba spent a year in Bogotá studying the connections between politics, identity, and digital music production through a Fulbright Scholarship. Her sets integrate a wide variety of audio sources ranging from YouTube clips to underground Panamanian bass to urban field recordings as a means of intentional disruption. Lace up your dancing shoes and get ready for a night of the unexpected. EMILLY PRADO
BOMBAY BEACH, WAVE ACTION, CRAIG BROWN BAND
(Turn Turn Turn, 8 NE Killingsworth) After more than a decade spent fronting various garage punk bands (Terrible Twos, the Mahonies, Liquor Store), Craig Brown is a legitimate Detroit personality. For instance, the trailer for Drunk History's Detroit episode features Brown's ruminations about the city's lawlessness, punctuated as he yells, "Judas Priest is better than Iron Maiden!" into the cold night. Brown is a funny and memorable character, and that likability translates onto his debut album, The Lucky Ones Forget, from his Third Man Records-backed country project, the Craig Brown Band. It's a love letter from a punk rocker to Creedence Clearwater Revival, and a surprisingly smooth marriage of Brown's cut-the-shit songwriting, nasally punk vocal tricks, and honky-tonk slide guitar—all filled out by the warm backing vocal harmonies of the band's Drinkard sisters. SUZETTE SMITH
SUNDAY 7/2
WATERFRONT BLUES FEST: VIEUX FARKA TOURÉ, GALACTIC, SONNY LANDRETH, & MORE
(Tom McCall Waterfront Park, 1020 SW Naito) See Friday's preview.
RALPH LAWSON, JAY TRIPWIRE
(White Owl Social Club, 1305 SE 8th) With a career spanning two decades and an influential off-kilter style that stays ahead of the curve, Jay Tripwire never fails to impress. He's one of the most prolific house and techno producers around, with more than 200 vinyl releases to date. His versatile mixes reveal keen sensibilities that can make a believer out of even the harshest of dance music critics. Ralph Lawson is a legend in his own right, and widely regarded as one of the best house music DJs in the world. His record label, 2020Vision, showcases a well-rounded catalog that gives interesting insights into electronic music's ever-changing landscape over the last 20 years. These two heavyweights will perform an outdoor daytime concert at the White Owl Social Club to allow for maximum sunshine fun time. CHRISTINA BROUSSARD
MONDAY 7/3
WATERFRONT BLUES FEST: DUSTBOWL REVIVAL, JOSS STONE, BOKANTÉ, & MORE
(Tom McCall Waterfront Park, 1020 SW Naito) See Friday's preview.
DON'T SHRED ON ME: HUSTLE AND DRONE, BOONE HOWARD, DAN DAN, DJ DIRTY RED
(Dig a Pony, 736 SE Grand) The second year of Don't Shred on Me—Dig a Pony's two-day, all killer no filler mini-fest—is finally upon us. Monday night's formidable lineup shuffles the deck on a few of the city's best locals, matching synth-pop crews Hustle and Drone and Dan Dan with rocker Boone Howard and his band of merry ragers. Howard's recently released album The Other Side of Town catapulted the crooner's underground appeal to a wider audience, while Hustle and Drone's consistent standard of excellence continues roughly five years since their inception. Tuesday night features Fog Father's Bryson Cone with his pop project, as well as the cultured pop elder statesmen of New Move. Both shows will feature DJs, bitchin' drinks, opportunities for networking, fodder for Instagram posts, and something infinitely more rad to do at the at the beginning of your week than trying to forget your weekend. RJP
TUESDAY 7/4
WATERFRONT BLUES FEST: CANNED HEAT, CURTIS SALGADO, & MORE
(Tom McCall Waterfront Park, 1020 SW Naito) See Friday's preview.
DON'T SHRED ON ME: NEW MOVE, NIGHT HERON, BRYSON CONE, DJ LAMAR
(Dig a Pony, 736 SE Grand) See Monday's preview.