SUPER PICK
AWESOME TAPES FROM AFRICA, JASON URICK
(Holocene, 1001 SE Morrison) All Brian Shimkovitz did was start a music blog. Granted, this was back in the early 2000s, when starting a music blog was a fresh idea, but still... It's hard to believe Shimkovitz could've imagined what he was getting into. Back then, he was an ethnomusicology student with an intense interest in African music. He gave his blog the unambiguous name Awesome Tapes from Africa, and he used it to post MP3s of beautiful, incredible, and bizarre songs from the colorful and inexpensive cassettes he collected during his travels across the continent. Now with close to 300 tapes posted, the blog highlights music from all parts of Africa, with styles ranging from pop to rap to funk to rock to the many points between, including regional genres like highlife, juju, mbalax, and Ethio-jazz. In a time when so many music-focused websites cover artists you can hear on all the other music-related websites, Awesome Tapes from Africa is truly an overflowing source of magnificent sounds that would otherwise be unheard beyond the borders of their home countries. Shimkovitz has grown his hobby into a business: He started a record label, splitting profits 50/50 with the artists and helping African legends like organist Hailu Mergia transition from cab driver to viable touring act in his 70s. Shimkovitz has also established an in-demand DJ career, with upcoming dates in New York, Paris, and Morocco. But this week, he stops at Holocene to showcase a bunch of his latest tape-based cosmopolitan jams. Awesome. BEN SALMON
Sponsored
Sketch comedy troupes from all over N. America descend on The Siren Theater for 3 glorious nights.
---
WEDNESDAY 7/5
LA LUZ, SAVILA
(Mississippi Studios, 3939 N Mississippi) La Luz is history's greatest surf rock band. Whew, now that we got that out of the way—they formed in Seattle in the early 2010s, then moved to LA, where they currently reside. Garage legend Ty Segall produced their last album, 2015's Weirdo Shrine, which sounds like the Shirelles went to the beach during a thunderstorm. Those doo-wop harmonies sound even better live, and sometimes they even bust out choreographed dance moves. CIARA DOLAN Also read our story on La Luz.
THURSDAY 7/6
YGB TWO-YEAR RETROSPECTIVE: WES GUY, DJ LAMAR LEROY
(UNA Gallery, 328 NW Broadway) In celebration of the two-year anniversary of local parties that center the music, movement, art and energy of Portland's Young Gifted and Black/brown people, here's a gallery show that'll feature the work of the artists who capture these functions. There'll be photo/video work by the likes of MissLopezMedia, RoseLéon, Tojo Fotos, Tiki Mon, and more. As per usual, DJ Lamar LeRoy will provide the tunes, in addition to a live performance from rapper Wes Guy. JENNI MOORE
THE THESIS: RAQUEL DIVAR & COREY O, MIGHTY, DANIELSEVENTWO, DJ VERBZ
(Kelly's Olympian, 426 SW Washington) Cheap hip-hop! Every month the Mercury and a bunch of other great organizations help bring you a delightful sampling of local acts, and we'll be damned if July is any different. This month's Thesis features the happy-go-lucky rap of local emcee Mighty, a music video premier from Raquel Divar and Cory O, and lots more. DIRK VANDERHART
THE DISTRICTS, THE SPIRIT OF THE BEEHIVE
(Doug Fir, 830 E Burnside) The Spirit of the Beehive is a strange name for a band, but it's the perfect name for the buzzy little combo opening for not-bad Philly rock act the Districts tonight at the Doug Fir. The Beehive's got a considerable talent for writing fine indie-pop songs and then dressing them up in weirdness. Their new album, Pleasure Suck, delivers one gentle banger after another. It's always hiding out under a layer of fuzz, occasionally pitch-shifted, and often shares space with distorted percussion, burbling synthesizer, distant fiddle, squealing feedback, or a spoken-word sample. Despite the sonic wanderings, the Spirit of the Beehive's melodic sensibility always comes through. They're kind of like a cross between Beck and Neutral Milk Hotel, and that's not a bad place to land, friends. BEN SALMON
QUINTRON AND MISS PUSSYCAT, LITHICS, THE LAVENDER FLU, MATTRESS
(Mississippi Studios, 3939 N Mississippi) Enigmatic 9th Ward art freaks Quintron and Miss Pussycat have been staples of the Big Easy's experimental scene since the early '90s. Quintron's infamous club, the Spellcaster Lodge, has played host to many a late-night rager since its inception and post-Katrina rebuild. Their live shows typically feature some of Quintron's own musical inventions, like the Drum Buddy—a mechanically-rotating, five-oscillator, light-activated drum machine—as well as his custom-made Hammond organ/Fender Rhodes electric piano contraption, made to look like the front end of a hot rod. It's largely a one-man band operation, with Miss Pussycat providing backup vocals and various percussive elements, but the sheer eccentricity of the project is about as kitschy and party-ready as anything you'll ever hope to hear or see. RYAN J. PRADO
FRIDAY 7/7
EMMA RUTH RUNDLE, EVAN PATTERSON
(Revolution Hall Roof Deck, 1300 SE Stark) Read our story on Emma Ruth Rundle.
DESTRUCTOR, ANTICHRIST, DANAVA
(Mississippi Studios, 3939 N Mississippi) Imagine you're in a room surrounded by demonic apparitions beyond your most vivid nightmares and understanding of evil. You know that as soon as someone turns out the light, with the speed of darkness enveloping the room, those wicked beings are gonna be at your throat, ripping your body to shreds, and devouring your eternal soul. If you're interested in understanding what that unholy idea of terror and ungodly speed sounds like, Sweden's Antichrist will show it to you. Calling their style of metal "thrash" would not even begin to describe what these Swedes are capable of. Antichrist's most recent offering, Sinful Birth, teems with riffs played at a baneful velocity that will do more than just give you a bangover for the ages. You're gonna need stitches in your chin from where it hit the floor, and you're gonna need a lobotomy to unscramble your brain from trying to understand how mere humans are able to concoct such bloodthirsty sounds. ARIS HUNTER WALES
---
SATURDAY 7/8
RJ, SAD BOY LOKO, FRESCO MIKE THE TRUE, JOLEN
(Hawthorne Theatre, 1507 SE Cesar Chavez) Los Angelos-based rapper RJ has been on fire down in Cali, and is well on his way to becoming a nationwide star. Earlier this month he made an appearance on Sway in the Morning where he talked in depth about the realities of growing up around gang culture, where his life and career has taken him up to this point, and his new full-length Mr. LA. The young MC has ties to YG, and has worked closely with DJ Mustard, both of whom have been major keys in helping him release the new project through their new 400 Summers imprint. His new album is quite solid, and features a slew of high-profile features like Quavo, Ty Dolla $ign, and ScHoolboy Q. It's 15 tracks of sing-song flow, gritty street-inspired melodies, and catchy signature phrases like "thank god I'm a real nigga." The majority of the album is twerk-worthy and genuinely listenable, and his West Coast tour looks just as promising. JENNI MOORE
NITE JEWEL, GENEVA JACUZZI, HARRIET BROWN
(Doug Fir, 830 E Burnside) These days, electronic artisans are blessed with terabytes of music history in their brains, so the key to survival within this flooded market is how you mold all of this knowledge into a fresh and invigorating voice. On last year's Liquid Cool, Nite Jewel's snowy melodies out-frosted her own coldly futuristic beats. The mix of '80s teen-beat nostalgia and wintry sensuality is sultry enough to soundtrack 5 am post-party comedowns but efficiently glitterized to energize thriving basement rave-ups as well. The emotional accessibility of her songwriting and lo-fi sonics continue with 2017's Real High, effectively transporting listeners to a claustrophobically saccharine wonderland where Cocteau Twins and New Edition exist on the same thought wave. Nite Jewel's nostalgia brings me back to the days when I would daydream to a worn-out cassette of Madonna's The Immaculate Collection, losing myself inside its bubbly, soulful genius. CHRIS SUTTON
SUNDAY 7/9
PICKIN' ON SUNDAYS: PRETTY GRITTY
(Doug Fir, 830 E Burnside) Would you like to spend your Sunday afternoons on a sunny patio, drinking refreshing drinks and listening to great live music? The Doug Fir's summer series Pickin' on Sundays allows you to do just that, offering no-cover daytime shows and smooth livin' each Sunday to help you wind down your weekend. Tonight the weekly series kicks off with a set from Pretty Gritty. NED LANNAMANN
PLAYBOI CARTI, YOUNG NUDY, PIERRE BOURNE
(Roseland, 8 NW 6th) Atlanta rapper Playboi Carti dropped his self-titled debut mixtape in April, and just a couple of months later, the 20-year-old appeared on XXL's Freshman Class cover. Listen to "Magnolia" and you'll understand why so many are hooked. The dark, spiraling bass line, eerie flute melody, and Carti's simple but hypnotically repetitive verses sound like a haunted carousel you can't get off. The track even begins and ends with someone yelling, "Yo Pierre, you wanna come out here?"—heightening the circular surrealism. CIARA DOLAN
MONDAY 7/10
HEMINGWAY, NO ALOHA, HORSE MOVIES, PUPPY BREATH
(The Know, 3728 NE Sandy) I'll be the first to admit that sometimes I live in a Portland music bubble. I know the bands I like, I frequently go to their shows, and am constantly in awe of the bountiful talent I encounter. That being said, it often takes seeing a new band live for my initial interest to be sparked. Puppy Breath and No Aloha are two bands I've heard murmurs of before, and finally took the time to look into after seeing they'd be playing with some of my favorite local bands. Puppy Breath plays pop-punk that packs a meaningful and political punch. Kind of like the dark and mysterious crush we've all had, giving us only a little taste of their immense talent, both bands are sure to catch your ear and leave you wanting more. DELANEY MOTTER
IN MULIERIBUS, CHAMBER MUSIC NORTHWEST
(Kaul Auditorium, 3203 SE Woodstock) This year, the good folks at Chamber Music Northwest have decided to build their five-week-long summer festival around the work of female composers, with tonight's concert featuring one of the oldest known pieces of music created by a woman. Hildegard von Bingen was a Benedictine abbess, poet, scientist, preacher, artist, and hands-down one of the most extraordinary human beings to have kicked ass in the 12th Century. Pushing the boundaries of traditional Gregorian chant, her surprisingly theatrical Order of the Virtues will be performed this evening by In Mulieribus—a stellar all-female vocal ensemble based right here in Portland. BRIAN HORAY
ALL TIME LOW, SWMRS, WATERPARKS, THE WRECKS
(Roseland, 8 NW 6th) This lineup gives me horrific flashbacks to age 13, a time when my affinity for All Time Low was strong. Visions of Vans Warped Tour plague my thoughts, and I can't stop wondering how in the world All Time Low has managed to maintain any relevancy through all these years. Seemingly just another flash in the late 2000s pop-punk pan, they've retained a fanbase by doing exactly what any good pop band does: cling to the next up-and-coming act and try to appeal to the next wave of young, record-buying fans. Enter SWMRS, the Bay Area surf pop-punk band riding their own Green Day-associated wave of fame (Billie Joe Armstrong is the drummer's dad). These are the youngsters All Time Low is looking for—put together, they're practically unstoppable. DM
TUESDAY 7/11
FROTH, MOANING, PSYCHOMAGIC
(Mississippi Studios, 3939 N Mississippi) There are too many psychedelic bands in Los Angeles! They should probably start rationing reverb down there, because the situation is getting out of hand. Froth can have as much as they want, though—with twangy riffs, riptide tempo changes, touches of omnichord, and crooner vocals, they bring something special to an exhausted genre. CD
THOU, CLOUD RAT, FALSE, MOLOCH
(Bossanova Ballroom, 722 E Burnside) If you've heard an ever-louder rumbling approaching from the east over the past few weeks, it was likely this tour, which brings together four gnarly (and excellent) heavy bands. Moloch is a throaty sludge-punk combo from the UK. False is a mysterious (and cheekily named) black metal band from Minneapolis whose affinity for keyboards doesn't dampen its brutal beauty one bit. Michigan's Cloud Rat is maybe the best progressive boot to the teeth that grindcore has to offer right now. And then there's Thou, ambitious doom-lords from Louisiana who might just be the best heavy band on the planet at the moment. Thou's 2014 album Heathen is a towering achievement of metal: hulking and thoughtful, pissed off and delicate, terrifying and warm, strangled and meticulous. Thou is more than a band. It's more than a slow-motion collision of riffs and thuds and howls. Thou is a way of life. BS
Sponsored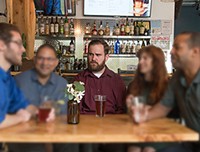 Adults aged 18-35 with good hearing will be paid for their time. Located at the Portland VA Medical Center