SUPER PICK
WAXAHATCHEE, CAYETANA, SNAIL MAIL
(Wonder Ballroom, 128 NE Russell) Named after a creek near her parents' house in Alabama, Waxahatchee is the alt-rock solo project of Katie Crutchfield, who's also known for starting the beloved pop-punk band P.S. Eliot with her twin sister Allison. Out in the Storm is the Philadelphia-based songwriter's fourth LP released under the moniker. It's a scorched-earth breakup album, and though the title suggests that Crutchfield's in danger, it's her former partner who's exposed in the storm. Reckoning day has arrived, and she spares no mercy, with cutting lyrics that address myriad ways she's been mistreated. The anthemic opening track "Never Been Wrong" boils over with rage that can no longer be confined, but Crutchfield takes the opposite approach on the twangy "8 Ball," which sounds deceptively benign with hand-claps and near-whispered lyrics. "Silver" is the album's standout, with backing vocals from Allison, soaring guitar riffs, and lyrics that liken anger to enlightenment: "I went out in the storm/And I'm never returnin'." On Out in the Storm, Crutchfield acknowledges and validates this anger—she's chaotic, thrashing to be free, "a livewire, finally," as she sings on "Sparks Fly." But "No Question" highlights the frustration of having others question the truth of your indignation: "When I'm seeing red I'm embarrassed," she sings, "It's suffocating/I hoped howling out all this truth/Would be liberating." Closing track "Fade" is the record's gentle kiss-off, with just piano and softly strummed acoustic guitar soundtracking her final exit from the relationship. With Out in the Storm, Crutchfield baptizes herself in her own electricity—these 10 songs are devotionals to her own self-preservation. CIARA DOLAN
Sponsored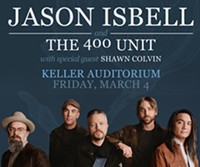 Jason Isbell has established himself as one of the most respected songwriters of his generation. Don't miss Jason Isbell and the 400 Unit, March 4th at Keller Auditorium!
WEDNESDAY 7/26
ROONEY, RUN RIVER NORTH
(Doug Fir, 830 E Burnside) If you think Rooney's legacy is inseparable from The O.C., then you're mostly right—the band's mimed performance on an episode of the show's first season is millennial pop-culture canon, representative of an era when cyan polo-clad bros appreciated tight, tuneful guitar-pop. Though it's not one of those secret power-pop masterpieces waiting to be rescued from clearance section penetralia, Rooney's self-titled debut holds up better than most rock records from the early '00s, and spawned at least two terrific singles: "I'm Shakin,'" which was the song the group faux-performed on The O.C., and the "While My Guitar Gently Weeps"-aping "Blueside." Three releases and a couple of facelifts later, Rooney have thoroughly lost sight of what made their earliest material exciting and zeitgeist-defying: 2016's Washed Away toyed at fusing the crunchy rock band arrangement with time-stamped radio pop tropes, and on their new single "Day 2 Day," the group goes completely yacht rock. At least we still have our memories. MORGAN TROPER
THURSDAY 7/27
MIC CHECK: MIC CRENSHAW, JAE LAVA, WYNNE, TROX
(White Eagle, 836 N Russell) Coming off of their one-year anniversary last month, Mic Check's next installment is not one to miss, with July welcoming back WYNNE aka "Queen Honeypot," who stole the show at their cypher back in March. On top her various impressive cypher video appearances, WYNNE has made quite the splash with releases like "An Open Letter to Donald Trump," and six straight minutes of heavy bars in her music video "CVTVLYST." And this week she's promised to debut some new music. Do not be foolish; come see this talented young rapper slay. JENNI MOORE
RIGSKETBALL MUSICFEST: THE WOOLEN MEN, KYLE CRAFT, BOONE HOWARD, KULULULU
(Eagles Lodge F.O.E. #3256, 4904 SE Hawthorne) Portland locals are generally pretty friendly, but they get fired up over their sports. Baseball fans have the Portland Pickles, soccer fans have the Timbers, and the Rose City wouldn't be the same without its basketball team, the Trail Blazers. The city's love of both athletics and music intersects with the annual Rigsketball tournament, which is like basketball, but the regulation-height hoop is attached to a tour van and the players are all local musicians. The first few rounds took place at this year's PDX Pop Now!, and the finals will happen during an expanded three-day music festival. On Thursday, music from Boone Howard, Kulululu, Kyle Craft, and the Woolen Men will ease the sting of any losses. The next day's semifinals will feature heavy hitters like the Lavender Flu and Cat Hoch, and don't miss Saturday. It's not only the finals for the Rigsketball games, but it's also got the most stacked lineup: Donte Thomas and Tribe Mars bring diversity to the fest's rock heaviness, surf band Melt will celebrate the release of their new EP, and Chanti Darling headline the entire affair. Since Rigsketball Musicfest is free, there's nothing to lose (except for maybe a round of basketball). CERVANTE POPE
BIRGER OLSEN, MATT DORRIEN, REDRAY FRAZIER
(Mississippi Studios, 3939 N Mississippi) Though he's a founding member of rowdy country outfit Denver, Birger Olsen's solo work tends toward the slower and more introspective side of country-folk. While his bandmates pen odes to drunken nights and open highways, Olsen gives the impression he'd much rather go home and drink some sweet tea alone on the porch. His debut album, The Lights Just Buzz, released last year by Mama Bird Recording Co., is a warm and unhurried collection of six songs. Olsen's delicate finger picking is backed by Portland's own wrecking crew (David Lipkind, Lewi Longmire, Ben Nugent, Ryan Spellman) and, of course, his own unmistakable voice, thick as blackstrap molasses. Joining Olsen is soul-blues rocker Redray Frazier and Matt Dorrien, frontman for Americana project Snowblind Traveler, whose last release was 2014's dark and gorgeous Confederate Burial. SANTI ELIJAH HOLLEY
FRIDAY 7/28
NEIL DIAMOND
(Moda Center, 1 N Center Ct) No one's taken more knocks that the perennially uncool Neil Diamond, and yet here he stands, more than 50 years after his first hit "Solitary Man," still packing arenas and making grandmas happy as countless hot-new-things have fallen by the wayside. The only explanation? The New York-born singer/songwriter has simply one of the greatest catalogs of American popular music ever written—one that goes A LOT deeper than "Sweet Caroline." But don't worry, he'll play that too. NED LANNAMANN Read our story on Neil Diamond.
RIGSKETBALL MUSICFEST: CAT HOCH, THE LAVENDER FLU, GHOST FROG, BLEACH BLONDE DUDES
(Eagles Lodge F.O.E. #3256, 4904 SE Hawthorne) See Thursday's preview.
TWILIGHT FEST: MY LIFE IN BLACK AND WHITE, DRC3, MUDDY RIVER NIGHTMARE BAND, HOT LZS, SPARKLE CARPET
(Twilight Café and Bar, 1420 SE Powell) An exposition of some of Portland's best under-the-radar punk and metal takes over the Twilight Café this weekend for the inaugural Twilight Fest. Thirty-seven bands are poised for three days of sneered mania, but the event is tame enough during the daytime that all ages will be admitted. When the sun sets on Friday, expect blistering sets from the likes of My Life in Black and White, Hot LZ's, and Muddy River Nightmare Band. Saturday's lineup boasts punk rock lifers the Latter Day Skanks, the Ransom, the Decliners, and Exacerbators, while the Sunday finale refuses to pump the brakes with fiery performances expected by Die Like Gentleman, Saola, and Gorgon Stare. Day shows are free, and the night shows will only set you back $5. RYAN J. PRADO
MUSIC OF THE REVOLUTION: FERNANDO BAND, TRUJILLO, TIN SILVER
(LaurelThirst Public House, 2958 NE Glisan) El Programa Hispano has supported low-income Latinos in the Portland metro since 1982 and provide social services to around 13,000 Latinos per year. This benefit concert was organized by Fernando Viciconte, frontman of Fernando Band and a formerly undocumented resident of the US for 12 years. EMILLY PRADO
BRUMES, DAVID ALLRED, DEREK HUNTER WILSON
(Beacon Sound, 3636 N Mississippi) Brumes is the ambient pop project of Portland-based musician Desireé Rousseau, who released her full-length debut, Soundings in Fathoms, in 2015. Just last month she unveiled that album's follow-up, After Glow, via Belgium's Dauw Label. Its 12 tracks find parallels between opposite extremes—they're lush, but sparse; folksy, but coated in space dust; droning and expansive, but nestled into one distinct corner of the universe. Throughout Brumes' tenure in Portland, Rousseau has worked with an array of collaborators. After Glow—which was recorded at Phil Elverum's Unknown Recording Studio in Anacortes, Washington—is the product of her work with eight other musicians, who contributed everything from vibraphone to trumpet. Sadly, this little Beacon Sound show will Brumes' last in Portland for the foreseeable future, since Rousseau is moving to Belgium. CIARA DOLAN
SATURDAY 7/29
RIGSKETBALL MUSICFEST: CHANTI DARLING, MELT, DONTE THOMAS, CANDACE, TRIBE MARS, MALT LIZARD
(Eagles Lodge F.O.E. #3256, 4904 SE Hawthorne) See Thursday's preview.
TWILIGHT FEST: EXACERBATORS, THE MISFORTUNES OF MR. TEAL, THE FUCKIN' FUCKS, THE RANSOM, THROW, WOLFLAUT, LATTER DAY SKANKS, THE ANXIETIES, THE DECLINERS, 48 THRILLS, TITTY BABIES, GENTLE BENDER, DND 7, TIGER TOUCH, THE CRY, LOVESORES, SECND BEST, THE FOOD
(Twilight Café and Bar, 1420 SE Powell) See Friday's preview.
KULULULU, AN ATOMIC WHIRL, PLASTIC CACTUS
(Turn! Turn! Turn!, 8 NE Killingsworth) Kulululu is trying to confuse us—for starters, their name is Kulululu. Onstage, they don wigs and Phantom of the Opera-style masks. In the Portland group's Bandcamp bio, they claim to be aliens from a distant galaxy. Their music only adds to the disorientation; it's art-punk operating within the parameters of free jazz, and it's real weird. This week, they're releasing a new self-titled album. Pogo-stick rhythms devolve into saxophone freak-outs on tracks like "Green Grass" and "Bee Ba Do Ba Dow," while "Crab Dad" and "Crab Dad Again" refine the art of the sub-one-minute punk explosion. "We Are Kulululu" is the band's mission statement, which appears to be larksome experimentation. Though this doesn't always pan out—it's easy to get lost in the gimmicky haze—their potential shines through on songs like "Hands to Yourself." Kulululu will celebrate the record's release this Saturday night at Turn! Turn! Turn! CD
BLACKALICIOUS, ZION-I, RANDALL WYATT
(Star Theater, 13 NW 6th) When old-school groups hit the road years after their heyday, fans are usually curious and a little apprehensive—sometimes it's to release a new album, sometimes it's a cash-grab. But Bay Area rap duo Blackalicious has bigger plans: In 2015, they released Imani Vol. 1, their first album in over a decade, which Gift of Gab stated was the first in a three-part series to be released over the next two years. Though we've yet to see the second and third volumes, Gab also said that he and his dynamic partner Chief Xcel wrote more than 60 songs during the initial Imani process, meaning there's tons of new material. Maybe Blackalicious was just fooling everyone, or maybe someday they'll debut their next "Alphabet Aerobics"-like opus. Either way, they'll forever be revered as hip-hop historians. CP
SUNDAY 7/30
ED SHEERAN
(Moda Center, 1 N Center Ct) I don't care what you Game of Thrones-obsessed folk say about Ed Sheeran, or whether or not his appearance was warranted on your rapey little dragon show. Ed is one of the greatest songwriting/singing/guitar-playing treasures my generation has to offer! Need proof? Watch his SNL performance of "Don't," or "Shape of You" on this year's Grammys, or his Stevie Wonder tribute alongside Beyoncé and Gary Clarke Jr. If those don't make you want to see him live I don't know what will. Too bad it's sold out, haters. (Maybe try StubHub?) JENNI MOORE
TWILIGHT FEST: GORGON STARE, IRESHRINE, MORE HELL, DIE LIKE GENTLEMEN, TROLL, ROBOTS OF THE ANCIENT WORLD, THE DESOLATE, DINNER FOR WOLVES, SAOLA, MOBINA GALORE, VEGETABLE REVIVAL PROJECT, GOD BLESS AMERICA, THE SADISTS, DR. STAHL
(Twilight Café and Bar, 1420 SE Powell) See Friday's preview.
SNOW ROLLER, SPIT-TAKE, HORSE MOVIES, WORLD RECORD WINNER
(Black Water Bar, 835 NE Broadway) Snow Roller is one of the crown jewels in Portland DIY music, and this month they finally released their sophomore full-length, XXL. It's an easy contender for album of the year, and a testament to rock 'n' roll's alive-and-well status in 2017. Around every corner is another catchy guitar riff served with uncompromising energy and earnestness. Collin Kritz is the mastermind behind Snow Roller, and his songwriting touches on everything from quitting weed to his cat (the beloved Fritz) to heartbreak. XXL challenges the myth that all our city has to offer is mediocre radio-ready indie and past-their-prime old dudes making psych rock. DELANEY MOTTER
TAIWAN HOUSING PROJECT, LITHICS, MISS RAYON
(The Know, 3728 NE Sandy) The first song on Veblen Death Mask—the new Kill Rock Stars-issued debut from Taiwan Housing Project—is called "Salt Sugar Fire," and that's the perfect way to describe this Philly-based noise-punk-art-skronk band's sound. It's gritty and sharp-edged; taking in too much at once might make you recoil. At the same time, charming melodies surface regularly, as if to provide respite from the ruckus. Listening to this stuff is like being set ablaze... in a good way. Taiwan Housing Project is a collaboration between Mark Feehan (formerly of '90s noisemakers Harry Pussy) and Kilynn Lunsford (ex-Little Claw), and their aim seems to be lo-fi rock 'n' roll shambles spiced up with horn bleats, ragged strings, decayed synths, broken drones, unhinged rhythms, harsh fuzz, and wild howls and yelps. This is shamanistic groove-pop for the adventurous weirdo. Clangorous and beautiful. BEN SALMON
MEGA BOG, DRAGGING AN OX THROUGH WATER
(Mississippi Studios, 3939 N Mississippi) Over the past nine years, Mega Bog has undergone countless transformations. What began as a surfy dream-pop band straddling the indie-folk line has established itself as a wild card beyond compare. Erin Birgy, the group's ringleader, does what she wants and, if you're wise, you follow wherever she takes you. Mega Bog's 2014 breakthrough, Gone Banana, asked fans to reconsider jazz fusion with "Careless Whisper"-style saxophone parts, and their latest, Happy Together, transcends genre boundaries altogether. The album's genius is in how uniquely unsatisfying it is—songs make expectations just to break them, building up steam just to simmer out. With reference points that might be the Raincoats' Odyshape, John Cale's Artificial Intelligence, and Nico's Desert Shore, it's easily one of the most innovative pop records of the year. JOSHUA JAMES AMBERSON
MONDAY 7/31
RASHEED JAMAL, BLOSSOM, I$$A, EPP
(Doug Fir, 830 E Burnside) This all-local showcase curated by Do503 features some of the best and brightest names in Portland hip-hop: Rasheed Jamal, one of the local scene's major players. Blossom, the rising neo-soul singer who just released her debut LP, Tease. Senegalese-American singer and rapper I$$A, and Epp from the hip-hop trio TxE. CIARA DOLAN Read our story on Blossom.
TUESDAY 8/1
SURF CURSE, FRENCH VANILLA
(Holocene, 1001 SE Morrison) I first came across Surf Curse two years ago, at Los Angeles DIY venue the Smell's 17th anniversary show. When the Reno duo played "The Smell Saved My Life," I'd never seen so many stage-diving bodies. Guitarist Jacob Rubeck (Casino Hearts) and Drummer Nick Rattigan (Current Joys) traded off vocal duties, though the swelling crowd belted every line louder than the PA. Surf Curse released their debut LP, Buds, in 2013, and the Sad Boy EP later that year. In January they dropped Nothing Yet, their most attentively composed release to date. With subtle synth accompanying their lo-fi punk sound, the new album expands the high energy of Buds. Nothing Yet adds more fuel to Surf Curse's angst-filled fire, and their live performances are still some of the best DIY live shows around—just remember to cover your ears to avoid Twin Peaks spoilers during the song "Fire Walk with Me." CAMERON CROWELL
ECHO AND THE BUNNYMEN, VIOLENT FEMMES
(Oregon Zoo, 4001 SW Canyon) Apart from being the origin of the evergreen karaoke homerun "Blister in the Sun," the rest of Violent Femmes' 1983 self-titled debut stands as an indie rock feat. Most of the songs were penned by lead singer Gordon Gano when he was still in high school, which is reflected in some depraved lyrics: Violent Femmes prays for sex, talks to God as though the omnipotent entity were another horny 18-year-old, and strings together earworm melodies into a sweaty, infectious piece of musical history. Though the band's live performances channel the same adolescent energy that popularized their first releases, their sound hasn't aged as well. EMMA BURKE