When the first Pickathon took place in 1999, few likely guessed it'd still be going strong nearly 20 years later.
Sponsored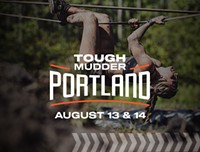 Lock in your summer adventure, Portland. Join us for world famous obstacles over a 5K or 10K distance.
Much has changed about the festival since those early days, and it's still changing. But when we meet at Pickathon's new headquarters in Northeast Portland, co-founder Zale Schoenborn insists it "will fundamentally change if we try to do what the big festivals do. It will lose the magic." Every year is a delicate balancing act—Schoenborn and his partners, Terry Groves and Ned Failing, must constantly adapt without losing the idealistic spirit that makes Pickathon "almost like people's favorite holiday."
As the festival approaches the two-decade milestone—this weekend marks its 19th year—and grows increasingly popular, here's what organizers are focused on preserving, and how they're hoping to expand the scope of their annual sojourn into the woods.
---
THE MAGIC BEEHIVE
Entering Pickathon for the first time is a little shocking, because everything works like a beehive. With a huge staff and team of volunteers, everyone seems to take on this hive mind where the goal is to create a music festival utopia.
"It's like the fantasy version of what everyone does, all the hundreds of people we have involved," Schoenborn says. "They're often doing what they already do, but they're doing some, like, crazy magical version of it."
That includes selecting the lineup. Schoenborn and the other organizers don't want the bill to resemble that of every other major US music festival. So instead of considering the potential draw of artists, they focus on exposing audiences to both music they already love and music they might not be familiar with. This year, that includes everything from Israeli popstars A-Wa to soul icon Charles Bradley.
"We pick the music," Schoenborn explains. "That's what Pickathon is."
Bands get wrapped up in the fantasy, too. "It's like a Disneyland for them," he says. "All of it is set up to be this different music experience, not just for the audience, but for them, and they really love it." They've even got regulars, like garage rock chameleon Ty Segall. "Ty is our house band," Schoenborn jokes.
---
THE IRRATIONAL CHOICES
Pickathon is built for festivalgoers' convenience: At night, trails are illuminated by string lights. Each artist performs at least twice. Meals are taken with reusable plates, silverware, and cups. Water is always free. Attendance is capped at a few thousand. Children are welcome, and parents don't have to pay for those aged 12 and under. And there's no 10-foot barrier between the stage and the audience: "That just bugs me," Schoenborn says, "because I think it destroys the connection between the music and the audience."
He admits that these "irrational choices" can make for a "horrible business model," but putting experience over economics is what makes the festival unique, and what they'll continue to prioritize. Each small detail is considered when it comes to planning—this year Schoenborn's excited about planting more art installations throughout the farm.
"There's kind of a generic commodity to the production of festivals," he says, citing the almost identical stage and lighting at major music festivals like Coachella, Bonnaroo, and Outside Lands. "The setting [at Pickathon] is so designed, which is ridiculous for a festival of our size to do. It'd be, like, 10 times cheaper to bring a truck in and pop it up. That would be so simple. But it would be so boring."
---
THE CINEMATICS
Throughout our conversation, Schoenborn refers to Pendarvis Farm as a "film set." That's probably because, as the festival gets older, organizers are focusing nearly as much energy on recording as they are on hosting the actual event.
And the scene is pretty cinematic, between the view of Mount Hood, the open fields, and the dense woods. Not to mention the extras—about 7,000 people are present at each day of Pickathon, including bands, staff, and volunteers.
But it's difficult to capture: "Film is the most unforgiving medium for what's going on," he says. "When you're watching music, there have to be a lot of elements. If it sounds bad, if the lighting's bad, it all falls apart."
About 500 people help produce and edit videos for their various series (the Mercury partners with them for the Starlight Series) and their livestream, which last year hit 218,297 views.
---
THOSE PESKY RUMORS
In many ways, Pickathon seems too good to be true, which is probably why rumors spread like wildfire—that this could be the last year, that they'll have to leave Pendarvis Farm.
But according to Schoenborn, "We don't have anything to tell us it's our last year. We might lose our parking, and we might have to shuttle folks in... I think it scares the snot out of lots of our staff, but it doesn't seem impossible."
That's the spirit of Pickathon—even with looming challenges, nothing really seems impossible.