SUPER PICK
JLIN, SWAN MEAT, NEYBUU
(Holocene, 1001 SE Morrison) In a recent interview, Jlin (AKA Jerilynn Patton) says that one of the things she's learned about herself since she started making electronic music is that she "can make time and space disappear." It's the kind of bold and impetuous statement we might expect from a young musician whose two albums—2015's Dark Energy and this year's Black Origami—have received ample praise from critics and her fellow creatives. But there's also truth in Patton's claim. Her work, which expands upon the rapid-fire dance music of Chicago's footwork scene, is meant to help you lose track of temporality and rationality. Hypnotic swells of percussion and palpitating bass are shaded with agitated, cut-up vocal samples and little splashes of clarity. It's great for either the quick steps of footwork or, inspired by her recent collaborations with Avril Stormy Unger, the spiritual movement of Indian dance. There's also an undeniable sensuality that charges through Patton's music, which could provide a fine soundtrack to one's intimate relations. The best place to experience her disappearing act is in a live setting—with a great sound system bending to Patton's will and her joyful, charismatic presence, there's no better way to disconnect from reality, if only for a little while. ROBERT HAM
Sponsored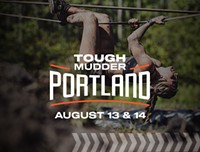 Lock in your summer adventure, Portland. Join us for world famous obstacles over a 5K or 10K distance.
---
WEDNESDAY 8/2
MARIKA HACKMAN, THE BIG MOON
(Mississippi Studios, 3939 N Mississippi) Singer/songwriter Marika Hackman's 2015 debut, We Slept at Last, was one of that year's overlooked gems. Or at least on this side of the Atlantic—the record made a medium-sized splash in her home country of England. Hackman's 2017 follow-up, I'm Not Your Man, ought to have an easier time in America for two reasons: It's being released by trusted mega-indie label Sub Pop Records, and it's outstanding. On her new album, Hackman stomps right through the neo-folk boundary of her debut, bringing in her friends the Big Moon to explore crunchier pop-rock sounds. And she goes big, lyrics-wise, touching on female relationships, sexuality, and youthful dissatisfaction in the 21st century. Balancing confidence and vulnerability in song is always tricky, but Hackman pulls it off beautifully. BEN SALMON
GREEN DAY, CATFISH AND THE BOTTLEMEN
(Moda Center, 1 N Center Ct) Allow me to make a public confession: Green Day changed my life. I was an awkward, apathetic 12-year-old boy when the band released their major label debut, Dookie, in 1994. Learning that I wasn't alone in my suburban preteen angst—that there were other kids as jaded and bored as I was (and they were on MTV!)—gave me hope. After the glum self-seriousness of the Nirvana years, Green Day brought fun back to rock 'n' roll. When you looked beyond the intermittent poop and masturbation jokes, they were simply a great band with great songs. As a songwriter, Billie Joe Armstrong stood far apart from his '90s pop-punk peers. Yes, they've had more than a few missteps throughout their 30-year career, but the fact that Green Day's still topping charts and playing stadiums is a testament to their staying power. And now that my secret is out, you'll find me in the pit, proudly pogoing and singing along with others who, even after all these years, remain jaded and bored as ever. SANTI ELIJAH HOLLEY
THURSDAY 8/3
PICKATHON: CHARLES BRADLEY AND HIS EXTRAORDINAIRES, RY X, MIC CAPES, COCO COLUMBIA, & MORE
(Pendarvis Farm, 16581 SE Hagen, Happy Valley) There are so many reasons to love Pickathon—its location on Happy Valley's gorgeous Pendarvis Farm, its postcard-worthy view of Mount Hood, its reusable silverware, its hammock village, but most of all, its music. This year's lineup features icons like Charles Bradley and His Extraordinaires alongside promising up-and-comers, like Jay Som. CIARA DOLAN Read our story on Pickathon.
SOUNDS ET AL: CHEMTRAILS, JEFF WITSCHER
(Ace Hotel, 1022 SW Stark) Last month, the arts organization and record label Sounds et al held its first installment of a new concert series in the lobby of the Ace Hotel. It's there that Andy Fry, the man behind this venture, brings incredible artists to fill the space with lush, challenging material that's a welcome alternative to the pulsing house music that usually soundtracks hotel lobbies. This month he welcomes Chemtrails, the musical alias of Jeff Host, who helps coordinate the synth library at S1 Gallery. The former Midwesterner's recent work emphasizes hypnotic loops of melody and occasionally rude electronic noises. He'll be joined by Jeff Witscher, an artist whose mutated computer compositions can be both disquieting and lovely. ROBERT HAM
TAKING BACK SUNDAY, EVERY TIME I DIE, ALL GET OUT
(Crystal Ballroom, 1332 W Burnside) Some albums are undeniably transportive. For me, Taking Back Sunday's Where You Want to Be brings back vivid memories of my neighbor's stuffy laundry room, where he'd hooked up his Xbox 360. We'd blast the 2004 record as the dryer rumbled, with Call of Duty's Nazi zombies drowned out by the dueling screeches of Adam Lazzara and Fred Mascherino. One night his older brother decided to throw a party, and to keep us quiet, he gave us two cans of Coors Light and instructed us to stay in the laundry room. I guiltily took my first sip of the warm beverage and almost spit it out onto the controller. "A Decade Under the Influence" came on, and my future flashed before my eyes—just another emo kid-turned-normie adult self-medicating away the ennui of wage labor and suburban living. CAMERON CROWELL
FRIDAY 8/4
PICKATHON: JONATHAN RICHMAN, WOLF PEOPLE, XENIA RUBINOS,JAY SOM, PRIESTS, TYUS, ALEX CAMERON, THE LAST ARTFUL, DODGR, & MORE
See Thursday's preview and Read our story on Pickathon.
THE WAILERS
(Revolution Hall, 1300 SE Stark) If you're a reggae fan you're well aware the Wailers basically put the genre on the map, and that the band has had its share of lineup changes since Marley's death in 1981. Now steered by bassist Aston "Family Man" Barrett, all remaining original members of Bob Marley and the Wailers reunite and welcome aboard others, including singer Josh Barrett, and Aston Jr., who will stand in for his uncle, slain Wailers drummer Carlton Barrett. It'll be great to hear the legendary band perform classics like "Could You Be Loved," "No Woman, No Cry," and "Stir It Up." Too bad it's being hosted indoors (where smoke plumes are highly detectable), but the die-hards will deal. JENNI MOORE
ALDOUS HARDING, BRIANA MARELA
(Revolution Hall Roof Deck, 1300 SE Stark) The title of Aldous Harding's new record, Party, is a bit of a misnomer. There isn't any cake or balloons at this party, nor will you find yourself in the club with a bottle of bub. On the title track, Harding sings about a young woman led into the woods by a presumptive lover, and then left alone to her fate: "I wander off the journey I've planned/The doom I felt/And the death I smelled/I see now that he understands/He cannot be helped." She explores bleak and haunting landscapes, often accompanied by minimal instrumentation and a voice that both opens and mends wounds. Produced by John Parish, who's best known for his collaborative work with PJ Harvey, Party relies less on the English folk balladeering pretenses of Harding's 2014 debut. Instead, Harding wades into darker and more personal territory, whether she's recounting her struggles with addiction, her disappointments in love, or wondering aloud whether birds are not singing, but screaming. Watching Harding perform, she seems to travel into some distant place—a territory few of us would dare tread. SANTI ELIJAH HOLLEY
AFI, CIRCA SURVIVE, CITIZEN
(Edgefield, 2126 SW Halsey) Of the three bands on this bill, one is pretty huge: AFI, a 25-year-old goth-tinged hardcore band that busted into the big time in the mid-2000s with some arena-ready pop-rock songs (remember "Miss Murder"?) and buckets of guyliner. Then there's Circa Survive, veterans of hyper-catchy, mildly proggy pop-punk from the Philly area. But don't lollygag, show up late, and miss Citizen. They're the lesser-known youngsters of this bill, but also one of the better bands to come out of the recent wave of emo-indebted rock acts. Citizen's 2015 album Everybody Is Going to Heaven is a buzzy, bottom-heavy rock 'n' roll delight, and its forthcoming follow-up, As You Please, finds the band expanding its aesthetic horizons, experimenting with sounds and song structures, and exploring themes of Rust Belt discontent. It's not out 'til October, but people will be talking about it then, and you can say you saw 'em way back when. BEN SALMON
SATURDAY 8/5
THE DAY FADE: DOC ADAM, DEENA B, JERRY BANDITO, DUBBLIFE, GHTOBLST
(White Owl Social Club, 1305 SE 8th) Despite my better judgement about day drinking, there's just something special about getting faded wayyy before the sun goes down. This Saturday, the White Owl hosts its last Day Fade of summer '17. As always, there will be games, food and drink specials, giveaways, and most importantly, an eight-hour lineup of dope DJs that will keep you dancing until it's time to go home and snuggle up with a burrito. My advice: Get there early before the line forms.
PICKATHON: DINOSAUR JR., TY SEGALL, HUUN HUUR TU, DUNGEN, PINEGROVE, KING, ALDOUS HARDING, & MORE
(Pendarvis Farm, 16581 SE Hagen, Happy Valley) See Thursday's preview and Read our story on Pickathon.
MCTUFF, SKERIK
(Goodfoot, 2845 SE Stark) If you can't attend Pickathon this year, fear not! Seattle jazz trio McTuff will dip into town to play an intimate set deep in the bowels of the Goodfoot's basement with skronky sax wunderkind Skerik. McTuff's organ-centric crew exhibits blistering chops, as heard on their most recent LP, Vol. 3: The Root, where their worldly musical muses traverse impressive realms on scorchers like "A Mendacious One" or the glittering dancehall jam "The Brat." By Saturday's performance, the band will likely be in full, frothing form. Those inclined to cut a rug had best be in attendance. RYAN J. PRADO
KYLE MORTON, BLACK BELT EAGLE SCOUT
(Revolution Hall Roof Deck, 1300 SE Stark) Revolution Hall's really been killing it this summer with their roof deck concerts. This one features two excellent Portland musicians: Kyle Morton of Typhoon, plus opening act Black Belt Eagle Scout—the new solo project of Genders' Katherine Paul. She's releasing her debut LP, Mother of My Children, this month on Good Cheer Records. Its first single, "Soft Stud," is both soft and studly: Paul's bright voice glints diamond-like under layers of grungy guitar as she repeats the phrase "need you, want you," which culminates with a Casio keyboard earworm melody and an angst-exploding guitar solo. CIARA DOLAN
SUNDAY 8/6
PICKATHON: DRIVE-BY TRUCKERS, A-WA, HISS GOLDEN MESSENGER, TANK AND THE BANGAS, Y LA BAMBA, CAT HOCH, & MORE
(Pendarvis Farm, 16581 SE Hagen, Happy Valley) See Thursday's preview and Read our story on Pickathon.
STEVE MILLER BAND, PETER FRAMPTON
(Edgefield, 2126 SW Halsey, Troutdale) Calling all space cowboys, gangsters of love, anyone named Maurice, and Peter Frampton fans: Two of classic rock radio's most dominant forces are descending onto the lavish pastures of Edgefield's rolling amphitheater for an evening of nostalgia. Miller most recently grabbed attention for a contentious speech during his induction into the Rock and Roll Hall of Fame, which he dubbed a "private boys club" filled with "fucking gangsters and crooks," which pissed off the Black Keys, who had the dubious honor of inducting him. The Steve Miller Band returned to the recording studio with 2010's Bingo! and 2011's Let Your Hair Down, which consists mainly of blues and R&B covers. Frampton never really slowed down his output, and most recently dropped the aptly titled Acoustic Classics, despite there being virtually no way you could include talkbox tastefully on an acoustic record. RJP
MONDAY 8/7
URAL THOMAS AND THE PAIN
(Goodfoot, 2845 SE Stark) Here's one good reason not to hibernate for the remainder of this horrid year: Every first Monday of the month, local treasure Ural Thomas plays the Goodfoot for $5. You read that right—you could be regularly experiencing the magic of a true soul legend for just a few bucks. But 2017's halfway over, so consider this your reminder. CD
NAOMI PUNK, MINI BLINDS
(Mississippi Studios, 3939 N Mississippi) Back in 2014, Naomi Punk was flying high. The Olympia-based punkers were picking up momentum in the wake of signing to Captured Tracks and the release of their second record, Television Man, which earned praise from both music critics and neo-grunge bro Mac Demarco. They've spent the past three years hoarding new songs and recording in different locations across the Pacific Northwest, and on August 4 they release a 25-track double album called Yellow. Songs like "Chains" and "Cardboard" find the trash-pop band deconstructing rock music and using the pieces to rebuild monolithic anthems. They're the masters of no-wave minimalism, and we should all be looking forward to hearing how these three years have magnified their sonic isolation. EMMA BURKE
TUESDAY 8/8
MEAT WAVE, RAD PAYOFF
(Mississippi Studios, 3939 N Mississippi) Meat Wave's biting lyrics reveal a level of cynicism that's as relatable and clever as their band name. The Chicago post-punk trio's 2015 album Delusion Moon examines whether lunar effect causes human insanity, but their new album is even more metaphoric. Following the end of guitarist/vocalist Chris Sutter's 12-year relationship, Meat Wave's latest, The Incessant, correlates the appearance of an ominous being (think Slenderman or the Babadook) with the agony of transitioning into adulthood. Throughout the Steve Albini-produced record, Sutter masks his heartbreak with energetic rhythms for a result that'll stick with you... incessantly. CERVANTE POPE