SUPER PICKS
TELEVISION
(Aladdin Theater, 3017 SE Milwaukie) It's mostly happenstance that Television got called a punk band, but while they were scene figureheads during the punk explosion in downtown Manhattan in the mid- to late '70s, the music made by the virtuosic, jam-heavy quartet is even farther from the punk genre than that of their peers Blondie and Talking Heads. Television did share some roots with American punk, though, when guitarist Tom Verlaine, bassist Richard Hell, and drummer Billy Ficca first started as the Neon Boys in 1972. Hell departed, along with most of the band's punk DNA, and newly added bassist Fred Smith and guitarist Richard Lloyd turned the renamed Television into an ambitious, interlocking machine centered on Verlaine's lyrics, which were influenced by the Decadent and Symbolism movements (born Thomas Miller, Verlaine took his stage name from the 19th-century French poet). Two remarkable albums followed—1977's astonishing-to-this-day Marquee Moon, one of the best albums ever recorded by an American rock band, and 1978's Adventure, a more than worthy effort that nevertheless falls in Marquee Moon's impressive shadow. Songs like "See No Evil" and "Venus" are tightly constructed works that demonstrate the power of precisely composed lines of melody and counterpoint when transposed to a snarling rock format; the interplay of Lloyd and Verlaine's guitars rarely lapses into slab-handed riffing but instead deliberately functions like a supercharged game of tennis. Ideas are shuttled back and forth, notes are cracked across the net, and fluid guitar runs move at varying velocities between the two. And then there's "Marquee Moon." The epic title track from their tour de force debut is a total paradox—an indulgent, excessive meander through horror-movie imagery and stream-of-consciousness navel-gazing with multiple guitar solos that nevertheless is a breathtaking, edge-of-your-seat thriller, hooking you deeper and deeper with each one of its 10 crucial minutes. Television broke up in 1978, but have reunited intermittently in the ensuing decades; this visit to Portland—which, according to the internet, is their first since playing the Earth Tavern in 1978—sees guitarist Jimmy Rip (of Paul Collins and the Beat) taking Lloyd's spot. With rumors of new songs and "Marquee Moon" all but guaranteed in the setlist, this is an unmissable event. NED LANNAMANN
Sponsored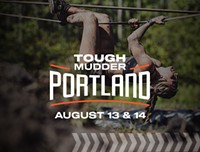 Lock in your summer adventure, Portland. Join us for world famous obstacles over a 5K or 10K distance.
---
THE SPACE LADY COMETH
(Hollywood Theatre, 4122 NE Sandy) There's no one quite like the Space Lady. Susan Dietrich Schneider left her small Colorado hometown in the '60s for San Francisco, where she met her first husband Joel. When he was drafted in the Vietnam War, they retreated into the wilderness of Northern California, making their home in a cave atop Mount Shasta. The couple had three children, and to support her family, Schneider—AKA the Space Lady—would busk on the streets and subways of San Francisco and Boston throughout the '70s and '80s. Sporting her signature winged valkyrie helmet, she'd perform celestial, electronic interpretations of classic rock songs like Steppenwolf's "Born to Be Wild" and the Electric Prunes' "I Had Too Much to Dream Last Night," singing through an echo unit and plugging her Casio keyboard into a phase-shifter pedal. On "Ghost Riders in the Sky," she howls "yippie-yi-yay" like a space-bound cowboy wrangling the constellations into their proper places, while iconic tracks like "Synthesize Me"—a psychedelic original written by Joel—are made great by burbling spaceship bleep-bloops and her placid, Joni Mitchell-esque vocals, which sound like they're echoing, as she sings, "from a strange planet a zillion light-years away, through a black hole across the Milky Way." In 2000, the Space Lady moved back to Colorado, where she became a nurse and met her second husband, Eric Schneider, also a musician. He coaxed her out of retirement about five years ago, and last year she performed a sold-out show at the Hollywood Theatre, where she'll return this Friday. What to make of the Space Lady's troubling stance as a 9/11 truther (which she detailed in a 2014 interview with Vice)? Considering she also claims to have been abducted by benevolent aliens while she was under anesthesia for a surgery, I suppose we'd best take her political beliefs with a grain of cosmic dust. CIARA DOLAN
---
WEDNESDAY 9/20
NATASHA KMETO, FRITZWA, NOTEL
(Holocene, 1001 SE Morrison) Natasha Kmeto's star just keeps getting brighter. The Portland producer/singer has released two albums of experimental R&B and electro-pop: 2015's Inevitable and 2013's Crisis. Kmeto's golden voice exudes smoky soul, and her thoughtful lyrics aren't afraid to address life's pertinent issues. Tonight's show is a rare chance to catch her in town, and to mark the occasion, it'll be filmed by Banana Stand Media. Rounding out the bill is Portland-by-way-of-NYC R&B artist Fritzwa, and Notel, a new outfit making psychedelic rock that sounds like it belongs on a '70s film soundtrack. CHRISTINA BROUSSARD
TIM BERNE'S SNAKEOIL, ABACUS
(Fremont Theater, 2393 NE Fremont) Tim Berne called me out on Twitter once, because I suggested that his friend David Torn seemed distracted and uninspired when I saw him perform live. Were it anyone else, I would've clapped back, but that response just fits so well with Berne's personality and performing style. The New York-based saxophonist infuses his music with a brusque directness that reflects his personal and political frustrations. It also reveals that, whether with the jagged power of his current project Snakeoil or in collaboration with folks like Torn or the Italian ensemble Enten Eller, he's responding to their work with spirit and fire. ROBERT HAM
---
THURSDAY 9/21
DOWNTOWN BOYS, LITHICS, COOL FLOWERS, LITTLE STAR
(Mississippi Studios, 3939 N Mississippi) The sound made by Downtown Boys is arresting in the best possible way, stopping you in your tracks with its energy and velocity. But the Providence, Rhode Island, punkers aren't here to keep you down—their music functions as catharsis and proclamation, dismantling patriarchal bullshit with unflinchingly smart lyrics and good, old-fashioned volume. NED LANNAMANN Read our story on Downtown Boys.
FUTURE ISLANDS, OH ROSE
(Crystal Ballroom, 1332 W Burnside) Olympia's Oh Rose has quietly become one of the best pop bands in the Pacific Northwest's DIY scene, largely due to frontwoman Olivia Rose's versatile vocals. Their 2015 record SEVEN is less than 30 minutes long, but ranges from sultry ("Run" and "Winter") to deeply unsettling ("Seven"). On the latter track, chilling synth and guitar riffs echo as Rose gutturally screams, "My need to please," awakening a horror I thought was reserved for Linda Blair. But album opener "Lottery" is straightforward power-pop, with an upbeat hook and chanted chorus accented by great backing vocals from Sarah Redden. This week Oh Rose opens for indie pop heavyweights Future Islands for two consecutive nights at the Crystal Ballroom. CAMERON CROWELL
LVL UP, DUDE YORK, TURTLENECKED
(Star Theater, 13 NW 6th) Brooklyn slacker quartet LVL UP plays the sort of melodic, distorted rock music that made bands like the Thermals famous. They've self-released a slew of LPs, including the fantastic Space Brothers, delivering raw, lo-fi anthems that sometimes seethe and sometimes soar. Their most recent record (and Sub Pop debut), 2016's Return to Love, splinters the reliable timbre of their previous offerings, instead expanding their songwriting acumen to include Meat Puppets-like psych jams ("Blur") and the vaguely Jeff Mangumesque opening track "Hidden Driver." Time, it seems, has tempered the blustery aural onslaught that LVL UP exhibited on 2014's Hoodwink'd, and the band has discovered the power of nuance. Paired with Portland's own Turtlenecked as an opener, this show will look and sound like it took place in 1994. Come dressed as your favorite My So-Called Life character and feign disinterest to complete the effect. RYAN J. PRADO
---
FRIDAY 9/22
THE SPACE LADY COMETH
(Hollywood Theatre, 4122 NE Sandy) Read our super pick.
FUTURE ISLANDS, OH ROSE
(Crystal Ballroom, 1332 W Burnside) See Thursday's preview.
ALISON MOYET
(Star Theater, 13 NW 6th) Here in the US, Alison Moyet is primarily remembered as one-half of Yaz, the '80s project she shared with former Depeche Mode/current Erasure member Vince Clarke. It was her brassy, bluesy vocals, after all, that were the centerpiece of the dance club hits "Don't Go" and "Situation." In her native UK, Moyet is considered musical royalty—her solo albums always score high in the charts, and the material on them intelligently embraces the tone of the times. For example, her most recent LP, Other, is a fluid collection of electronic pop that smoothes out the rougher edges of the dramatic sound embraced by Portishead and Goldfrapp, capped off by lyrics that are equal parts emotional plea and pure fantasy. Even if your interest in Moyet is simply nostalgic, you'd be forgiven, as her Portland performance is part of her first world tour in almost three decades. RH
---
SATURDAY 9/23
DANIEL NORGREN, WILLIAM TYLER
Swedish artist Daniel Norgren has spent the last decade building a sizable fanbase in Europe, but it wasn't until Pickathon 2016 that the folk-rock singer/songwriter got around to making his debut here in the States. It won't be long before Norgren becomes as beloved here as he is overseas, so be sure to catch his first full-fledged North American tour when it rolls through Revolution Hall tonight. CHIPP TERWILLIGER Read our story on Daniel Norgren.
STACKSTOCK: COLIN MELOY, PURE BATHING CULTURE, AGES AND AGES, CARDIOID, EDNA VAZQUEZ ACOUSTIC TRIO, WONDERLY, THE OK CHORALE
(Haystack Gardens, 148 E Gower, Cannon Beach) Easy road-trip idea: Head out to the coast this Saturday for the first annual Stackstock, a one-day music festival at Cannon Beach's Haystack Gardens. It's supposed to be gorgeous—as I write this, the forecast calls for mild temperatures and sunshine—and the lineup features some Oregon favorites. Colin Meloy of the Decemberists is headlining the event, with local staples like Pure Bathing Culture and Cardioid rounding out the rest of the bill. Attendees will be allowed to come and go as they please, so you can stroll around the town or dip your toes in the frigid Pacific or check out that big rock from The Goonies between sets. CIARA DOLAN
LIL YACHTY
(Roseland Theater, 8 NW 6th) Twenty-year-old rapper Lil Yachty rose to mainstream fame after collaborating with street fashion brands, hustling for Instagram likes, and dropping his platinum certified single "One Night." The mumbling, goofy trap star with the off-kilter beats has found himself modeling in Kanye West's Yeezy Season 3 line and working with big-name artists like Migos, LeBron James, Diplo, and YG. His 2017 debut, Teenage Emotions, displays an irreverence and innocence that fits in with the new wave of young, bright-haired Soundcloud traplords eschewing dark themes for ditties about crew love and chasing girls. And his bubbling personality extends to his entire brand—look no further than his recent merch/restaurant pop-up, Yachty's Pizzeria, fitting for a dude who claims to have eaten pizza every day since the second grade. Check his Twitter for some sincere, if naive, nuggets of wisdom: "Becoming older than 5 was my worst decision ever." DANIELA SERNA
TURKUAZ, SINKANE
(Wonder Ballroom, 128 NE Russell) Ahmed Gallab—the man behind Sinkane—has always been a busy musician, playing with Of Montreal, Yeasayer, Caribou, and leading the Atomic Bomb! Band, an all-star crew that plays the music of Nigerian legend William Onyeabor. This may be why the world has tended to overlook his Sinkane catalog, which now includes six full-length albums of cosmopolitan beauty. The latest is this year's Life & Livin' It, a lovely and lively burst of breezy pop, airtight funk, Afrobeat vibes, and carefree rock. Bass lines snap and guitar riffs sparkle. Horns blaze across the mix and rhythms roll in from across the globe. And at the center of it all is Gallab, a man with a perfect voice and a talent for making great, complex music that doesn't sound laborious. Life & Livin' It is exuberant, exquisitely crafted, and absolutely essential music for our times. BEN SALMON
---
SUNDAY 9/24
TELEVISION
(Aladdin Theater, 3017 SE Milwaukie) Read our Television super pick.
THE PAINS OF BEING PURE AT HEART, THE COURTNEYS, THE PRIDS
(Doug Fir, 830 E Burnside) Saying that the Pains of Being Pure at Heart are singlehandedly responsible for renewed interest in classic British shoegaze is maybe myopic—certainly, Slumberland Records in its totality is owed some of the credit. But the Pains were its spearhead, as evidenced by the band's 2009 self-titled LP, a pitch-perfect paean to the last unanimously great era of melodic guitar pop that very possibly spurred Ride, My Bloody Valentine, and Slowdive out of retirement. Any initial charges that the Pains were mere flash-in-the-pan revivalists have been quashed with subsequent releases, and their latest, The Echo of Pleasure, is their best work in years. Standout tracks like "Anymore" and "Falling Apart So Slow" don't just recall the genre's most essential tracks—they deserve a place in the pantheon alongside them. MORGAN TROPER
VAGABON, NNAMDI OGBONNAYA
(Holocene, 1001 SE Morrison) Cameroon-raised and New York-based Lætitia Tamko taught herself guitar using instructional DVDs and early Taylor Swift songs, but traded hopes of stardom for coding classes and a career in circuit-board engineering. But after dropping her lo-fi recordings via Bandcamp, she found herself suddenly lifted up in New York's indie rock scene, supported by a community of fellow noisemakers who recognized her talent. Tamko's vocals are deep, powerful, and tinged with an empathetic vulnerability, set against a shimmering background of heaving guitar swells and moments of careful dishevelment. It's important to note that, among Tamko's skilled instrumentation and evocative musicianship, she provides sorely needed representation for young Black women in a whitewashed genre not known for its multiculturalism, a fact she takes to heart. She's joined by Chicago genre-bender and eccentric multi-instrumentalist Nnamdi Ogbonnaya, whose expansive recording history encompasses everything from math rock to screamo to hip-hop to funk-punk. DS
---
MONDAY 9/25
OH SEES, DREAMDECAY, ARRINGTON DE DIONYSO
(Crystal Ballroom, 1332 W Burnside) Read our story on Dreamdecay.
JAPANESE BREAKFAST, MANNEQUIN PUSSY, THE SPIRIT OF THE BEEHIVE
(Holocene, 1001 SE Morrison) It's no secret that DIY indie pop is blowing up right now, and Michelle Zauner, better known as Japanese Breakfast, is one of best acts leading the movement. Pairing clever-yet-vulnerable lyrics with dreamy experimental pop sounds, Zauner pours her heart out all over her most recent album, Soft Sounds from Another Planet. Japanese Breakfast's 2016 debut, Psychopomp, was actually written in rural Eugene, following the cancer diagnosis and eventual death of Zauner's mother. Though the record grapples with heartbreaking subject matter, Japanese Breakfast speaks to a whole range of struggles and experiences, and the result is tremendously powerful and touching. Also on the bill: Mannequin Pussy—the most kickass and captivating punk band you'll hear today—and Spirit of the Beehive, who make trippy and enchanting experimental pop. DELANEY MOTTER
BROCKHAMPTON, ROMIL
(Peter's Room at the Roseland, 10 NW 6th) Old-timers may remember the moment around 2010 when the LA-based Odd Future collective went from unknown teenaged rap crew to hottest thing in music in a matter of months. (Turns out that hype wave was warranted, given the solo careers it spawned.) Now, the next Odd Future is here: Brockhampton is a sprawling group led by breakout star Kevin Abstract that calls itself an "All American Boy Band" and represents Real America better than most rap crews: members are Black and white, straight and gay, American and immigrant, and points in between. As for the music? Brockhampton's two albums this year—Saturation and Saturation II—are among the best hip-hop releases of 2017. Both are packed with glitchy and soulful beats, clever and self-aware rhymes, a wonderful diversity of voices, and very little of the juvenility that made Odd Future controversial. They say Saturation III is coming soon, too. Watch out, world. BEN SALMON
ANDREW W.K., HONEY BUCKET
(Wonder Ballroom, 128 NE Russell) There's too much crap going on in the world right now, but it's the perfect time for the self-proclaimed "King of Partying" Andrew W.K. to make a return. W.K.'s existence serves as a beer-goggled reminder that even when things are looking bleak, sometimes we've just got to party. He's been dealt a crap hand before: A bunk deal prevented him from releasing any original tunes in the US after 2001's I Get Wet, but he's finally getting ready to release a new rock album later this year. For now, W.K.'s taking his fresh live band on the Party Never Dies Tour. In anticipation of his Portland stop, he's teamed up with Sizzle Pie and the Mercury for a pizza party coloring contest, where five winners will each get pair of tickets to the show, and the top three get to head backstage for a pizza party with the party king himself. CERVANTE POPE
---
TUESDAY 9/26
INVSN, DARKSWOON, SKULL DIVER
(Doug Fir, 830 E Burnside) Sweden's INVSN has been something of a work in progress. Starting out as the demure, folksy cousin to the furious hardcore pioneers of Refused and Lost Patrol Band, Dennis Lyxzén's side project morphed to Invasionen, then just INVSN. With the evolution of the name came intense stylistic progressions, as heard on the band's second full-length, The Beautiful Stories, released in June. Armed with a post-punk cowl, INVSN's industrial sheen reflects Lyxzén's devotion to groove-oriented rock, whether it's as destructive as it was with Refused, or as soulful as it was with the (International) Noise Conspiracy. Here, songs like "Immer Zu" approach NIN territory, with factory metal pings and darkwave repetitions. The LP is just seven tracks long, but what it lacks in duration, it makes up for on swelling post-rock bangers like "This Constant War," which sounds like it could've been a Freedom B-side. RJP