SUPER PICK
HOPE SANDOVAL AND THE WARM INVENTIONS, DAYDREAM MACHINE
(Wonder Ballroom, 128 NE Russell) It's interesting that Hope Sandoval is rolling through Portland this week, just a couple of weeks after revived SoCal psych-rock band the Dream Syndicate played the Star Theater. The two have been loosely connected for decades, and now are like specters passing each other in parallel hallways. The story goes like this: A singer/songwriter named Kendra Smith formed the Dream Syndicate in the early 1980s, then left the band and joined guitarist David Roback in a band called Rainy Day. Rainy Day released an album, and then Smith and Roback set off as a duo and changed their name to Opal. But then Smith abruptly left Opal in the middle of a tour and Roback—who was familiar with Hope Sandoval's early folk music—invited Sandoval to take over Opal's lead vocals. Roback and Sandoval then changed Opal's name to Mazzy Star, Kendra Smith more or less disappeared, and the Dream Syndicate went dormant for nearly three decades, waking this year to release a new album called How Did I Find Myself Here? It's a tangled web of band comings and goings, but to be totally clear: Hope Sandoval has carved out her own incredible career in the years since. Mazzy Star released four albums of downcast, windswept psych-folk, even scoring a significant hit on MTV and the Billboard charts with 1994's "Fade into You." Sandoval records solo work under the name Hope Sandoval and the Warm Inventions, her band with My Bloody Valentine drummer Colm Ó Cíosóig. Tuesday night they play Portland, fresh off the release of a new EP, Son of a Lady, and their 2016 album Until the Hunter, the band's first full-length in seven years. Both find Sandoval doing what she has always done best: Gently draping her perfectly wistful voice across an endless supply of hazy slowcore and narcotic drones. Few humans can conjure a certain vibe quite like Hope Sandoval. BEN SALMON
Sponsored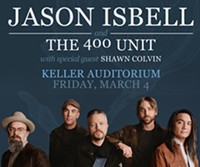 Jason Isbell has established himself as one of the most respected songwriters of his generation. Don't miss Jason Isbell and the 400 Unit, March 4th at Keller Auditorium!
---
WEDNESDAY 10/4
DAMIAN "JR. GONG" MARLEY, KABAKA PYRAMID
(Roseland, 8 NW 6th)
SLOW DANCER, SOCCER MOMMY, PETAL
(Doug Fir, 830 E Burnside) With 2015's Shame, Scranton, Pennsylvania, band Petal—which is more or less a solo vehicle for singer/songwriter Kiley Lotz—established itself as one of indie rock's most versatile players. Songs like the jarringly vulnerable "Camera Lens" and its emotional counterpart "Photobooth" evoke Red House Painters' more succinct work, while mega-sing-a-longs "Tommy" and "Heaven" bring to mind the chronically stoned, candy-coated melancholia of Velocity Girl and the Lemonheads. With the project's new, super stripped-down EP Comfort, Lotz proves that she isn't merely the sum of her influences. On the title track, she sings about mental illness with a compassion and clarity that so many of her peers (and predecessors) lack. Sandwiched between two original compositions is a spellbinding, piano-based cover of Fleetwood Mac's "Silver Springs," which wouldn't sound out of place on Joni Mitchell's Blue. Petal's spunkier work is great, but more than any previous release, Comfort is a testament to the sheer strength of Lotz's songwriting and musicianship. MORGAN TROPER
ALLAH-LAS, ENTRANCE, MAPACHE
(Revolution Hall, 1300 SE Stark) In August, rising LA garage-rockers the Allah-Las had a concert in the Netherlands canceled after an alleged terrorist threat. Nothing happened, no one was hurt, and police arrested a couple of men in connection with the incident. There's no reported link between the threat and the group's name—"Allah" is Arabic for God—but you can understand why people might wonder. According to an article in the Guardian, the Allah-Las once lost a show in Turkey because the promoter didn't feel comfortable with their name, and the band—which formed among employees at LA's Amoeba Music record store—regularly receives emails from people who find it offensive. All of which is to simply say this: It would be a shame if Allah-Las' mellow, '60s-inspired brand of psychedelic surf-tinged rock were overshadowed by their name. The 2016 album Calico Review is a la-la-lovely listen—hazy, hyper-melodic, and colored with sounds of Mellotron, harpsichord, and violin. BEN SALMON
SEUN KUTI AND EGYPT 80
(Star Theater, 13 NW 6th) "Struggle people, struggle now" sings Seun Kuti, the youngest son of legendary Nigerian musician Fela Kuti, on his 2016 record Struggle Sounds. Since the age of 14, Kuti has fronted and curated his late father's band, Egypt 80. And he's kept alive Fela's undulating blend of rock 'n' roll, jazz, funk, and traditional Nigerian music, which is often characterized as Afrobeat. His father spoke out against colonialism and government corruption, and Seun's message of peace, solidarity, and equality is just as powerful in an age when the US President considers neo-Nazis "decent folks" and protesting NFL players "sons of bitches." It's easy to feel powerless in times like these, so take a cue from Kuti and, as he sings elsewhere on Struggle People, "Get down with the movement." WILLIAM KENNEDY
---
THURSDAY 10/5
DEAD MOON NIGHT
(City Hall, 1221 SW 4th) Liverpool had the Beatles. Seattle had Jimi and Kurt. And Portland had Dead Moon, the legendary band whose bluesy, yawping rock 'n' roll was capable of cracking holes in the firmament. Tonight the crew of Fred and Toody Cole and dearly departed drummer Andrew Loomis get paid their civic due with Dead Moon Night at City Hall, including an exhibit of their history, Voodoo Doughnuts, PBR, and surprise musical guests. NED LANNAMANN
WALTER TV, REPTALIENS
(Doug Fir, 830 E Burnside) Read our review of Reptaliens' new album, FM-2030.
BED, LAURA PALMER'S DEATH PARADE, A CERTAIN SMILE
(Holocene, 1001 SE Morrison) A magical married person band composed of Sierra Haager (vocals, guitar), Alex Haager (bass), and their drummer Andy Meininger (not wed to the Haagers), Bed's been trickling out singles and playing shows in Portland since 2014. Last summer their EP Klickitat transfixed listeners who came for the Pixies-inspired "Wayward" and stayed for the upbeat, faster-paced surf of "Fremm." "When we started the band we were sure we were gonna be super slow," Sierra Haager said in a 2014 interview with KDUP college radio. "I don't really know what happened. My guitar is really surfy." Bed's getting ready to release a debut full-length produced by Larry Crane from Jackpot! Records. Quite auspicious. This show is the first since the Haagers had a baby. Show up and let 'em know they can have it all. SUZETTE SMITH
MANILLA ROAD, MOTORTHRONE, MAGNABOLT, LEATHÜRBITCH
(Bossanova Ballroom, 722 E Burnside) Manilla Road's first go-around in the early '80s was nothing to write home about. Critics panned the heavy metal cowboys from Wichita, Kansas, and the band slipped into relative obscurity until 2000 (although those who were in the know knew better). By then, classics like 1983's Crystal Logic and 1986's The Deluge had been reissued, and Manilla Road (led by the band's tenacious leader, Mark "the Shark" Shelton) had seeped into the ears of a new generation of headbangers. As Shelton put it to the Mercury in 2015, "We're just a bunch of cowboys who were lucky enough to make it in metal." The fact is, Manilla Road never went away, and these days Shelton is enjoying the success he's always deserved. They just released their 18th record, To Kill a King, which adds another exclamation (as well as a defiant middle finger) to Manilla Road's legacy. This band is right up there with Metallica and Megadeth. MARK LORE
---
FRIDAY 10/6
L.A. WITCH, MÀSCARAS
(Mississippi Studios, 3939 N Mississippi) L.A. Witch plays off a lot of clichés about Los Angeles and witches: They sing about hell, murder, and cinematic getaways over smoky punk that sounds influenced by mythical dive bars, lost highways, and the dusty swagger of bands like the Gun Club. But L.A. Witch's self-titled debut—which they dropped last month on Suicide Squeeze Records—sounds raw and unpretentious, with twangy riffs, prickly drums, bass lines that sound like they're burbling up from the underworld, and lots of reverb. CIARA DOLAN
BENEFIT FOR EARTHQUAKE AND HURRICANE VICTIMS IN MEXICO AND PUERTO RI: SUCULIMA, FREDDY FLOWPEZ, & MORE
(Black Water Bar, 835 NE Broadway) When the government doesn't do enough, it's up to the community to pick up the pieces and support one another. This benefit for disaster relief efforts in Mexico and Puerto Rico will do just that and feature the sounds of Suculima and some TBA special guest performers. Aztec dancers will open up the evening and showgoers can purchase raffle tickets throughout the event for an additional way to give back. EMILLY PRADO
OPEN MIKE EAGLE, BILLY WOODS
(Doug Fir, 830 E Burnside) Open Mike Eagle, the talented 36-year-old Chicago-raised and Los Angeles-based rapper, is smart, clever, thought provoking, and just generally good. You should see him when he swings by Portland again, this time on the heels of his critically loved new album, Brick Body Kids Still Daydream, released a couple weeks ago. Comedy Central bought the rights to his "New Negroes" standup/music show he co-hosts in LA, and that should be on TV soon. Things are happening for him. 
THE WEEKND, GUCCI MANE, NAV
(Moda Center, 1 N Center Ct) When the Weeknd bombarded the national charts in 2015 with a dynamite coif and an ultra-infectious single called "I Can't Feel My Face," it seemed as though no one could resist his Michael Jackson-esque take on millennial degeneracy. With Frank Ocean's avant-garde brooding proving too nebulous for some R&B fans and Bruno Mars too saccharine, the Weeknd's dueling personas—one a flirtatious vagabond and the other an edgy party monster—publicly battle for our amusement. With his latest offering, Starboy, the Weeknd sheds the daring dreads but retains the slick, high fashion vehemence. It's littered with late-night/early morning tales of emotional piracy, the perfect musical accompaniment to the powdery nightclub subculture that lives and breathes through every one of his silky croons. CHRIS SUTTON
LIARS, HXXS
(Wonder Ballroom, 128 NE Russell) Liars is an unpredictable band. Led by Angus Andrew, they've gone through countless lineup and stylistic changes—for instance, the bizarre 2004 record They Were Wrong, So We Drowned was recorded while the band was secluded in the forests of New Jersey studying the witch trials, while 2012's WIXIW is languid "electronic Enya." In August Liars released TFCF, a culmination of the band's past 17 years that touches on ambient drone, jangly pop, and off-kilter electronics with another brand-new lineup. CERVANTE POPE
---
SATURDAY 10/7
OREGON SYMPHONY: HARRY POTTER AND THE CHAMBER OF SECRETS
(Arlene Schnitzer Concert Hall, 1037 SW Broadway) Despite its flaws, Harry Potter and the Chamber of Secrets officially marked the Harry Potter series' transition from charming children's story to one of the best literary melodramas of all time—from the thrilling unfolding of Voldemort's origin story, to the first intimations of romance between its lead characters. Clocking in at two-and-a-half hours, the Chamber of Secrets movie is also one of the most painstaking novel-to-film adaptations ever released, for better or worse. Its epic scope is complimented by master composer John Williams' sweeping, eerie score. Williams' genius at leitmotif also makes up for author J.K. Rowling's spotty characterization: Comic relief characters like Dobby the House Elf and Moaning Myrtle are given new life through their somber themes, and "Meeting Tom Riddle"—which sounds like "The Imperial March" in a hall of mirrors—emphasizes Voldemort's preternatural evil in a way no words could. The Harry Potter films improved exponentially after Chamber of Secrets, but the music never got any better than this. MT
RAINER MARIA, OLIVIA NEUTRON-JOHN
(Doug Fir, 830 E Burnside) When I'm teasing myself about groups I saw a lot in the '90s, I place Rainer Maria with all the bands I loved that sounded like a warning alarm. Formed in Madison, Wisconsin, and now based in Brooklyn, the trio carved out their niche in the emerging indie rock scene with a unique mix of punkish shouting and eerie harmonizing performed by the group's vocalists Caithlin De Marrais (bass) and Kaia Fischer (guitar, synth). Rainer Maria reunited in 2014 after an eight-year hiatus, and in August released their first record in 11 years: the nostalgic but solid S/T. It's sonically huge—they can still blend discordant harmonies in surprising ways that'll cause your hair to stand on end. SS
---
SUNDAY 10/8
OREGON SYMPHONY: HARRY POTTER AND THE CHAMBER OF SECRETS
(Arlene Schnitzer Concert Hall, 1037 SW Broadway) See Saturday's preview.
JONWAYNE, DANNY WATTS, DJ EMV
(Mississippi Studios, 3939 N Mississippi) Hip-hop is 40-something years old and the dominant form of popular music in America. Long ago, the genre spread from cities to every suburban and rural corner of this country. And still, white rappers get our attention, as evidenced by a skit on Jonwayne's Rap Album Two, in which some random dude at a bar tells the California MC that he's "not really seeing" him as a rapper. Indeed, Jonwayne is a white guy with Jesus hair, soft features, a scruffy beard, and glasses. But he's also got skills for days—that's how he became one of the youngest artists ever to perform at the Low End Theory, an LA underground hip-hop mecca. That's why Peanut Butter Wolf signed him to influential rap label Stones Throw Records. And now Rap Album Two is one of the year's best hip-hop releases, packed wall to wall with Jonwayne's sturdy flow, thoughtful rhymes, and magnetic personality. BEN SALMON
---
MONDAY 10/9
GILLIAN WELCH
(Newmark Theatre, 1111 SW Broadway) The first time I saw Gillian Welch perform, it was a hot summer night at the historic Capitol Theatre in Olympia. Gillian's aching, ghostly yarns and David Rawlings' crystalline mandolin expressions filled the auditorium like a cloud of fireflies freshly released from a jar. Sweat-drenched admirers were so riveted by these delicate vibrations that they didn't even acknowledge the gentle whirl of the ceiling fans above. Truly one of the most magical concert experiences I've ever witnessed. Special performers can hit a timbre that strikes the emotional heartstrings like golden harp, and Welch's nostalgic yearnings live pleasantly within this zone. You should take any opportunity to experience her live—her music is authentic enough to transport the most ardent roots purist to a Laura Ingalls Wilder fantasy world. CS
---
TUESDAY 10/10
HOPE SANDOVAL AND THE WARM INVENTIONS, DAYDREAM MACHINE
(Wonder Ballroom, 128 NE Russell) Read our super pick on Hope Sandoval and the Warm Inventions.
DRAB MAJESTY, VICE DEVICE, SOME EMBER, DJ PATRICIA WOLF
(Holocene, 1001 SE Morrison) There's a reason why Drab Majesty's concerts almost always sell out in Portland—Andrew Clinco knows how to put on a damn good show. Clinco's solo project Drab Majesty centers on the androgynous, fashionable alter-ego Deb DeMure. Imagine a six-foot-four harlequin taking the stage to perform icy post-new wave tracks. This contrast between harshness and delicacy is intentionally and methodically executed, an experiment in appearance and sound. But according to Clinco, Drab Majesty's sounds are channeled to them by some otherworldly power, and DeMure is merely a vessel. CP
RANDY NEWMAN
(Revolution Hall, 1300 SE Stark) I love Randy Newman, and I never, ever want to hear him sing. Over the years, Newman's proved himself to be probably greatest American musical satirist of all time (sorry, Tom Lehrer), but more importantly he's evolved the template of the singer/songwriter to encompass musical comedy, film scores, ragtime, Dixieland jazz, avant-garde classical music, and more. He's a genius, no question. And his voice is terrible—somehow abrasive as a pumice stone and soft as a bowl of jelly. Newman's latest, Dark Matter, is an insanely ambitious work that includes tracks like "The Great Debate," a gospel opera that dramatizes the conflict between scientists and religious wingnuts, and "Putin," which skewers the Russian leader via boot-stomped Soviet martial fanfare. These are brilliant songs, and I find them entirely unlistenable. Even as they tickle my brain with fascinating ideas, Newman's woozy, lurching shifts in musical tone and gargly mush of a voice make me feel seasick. So I'm glad Newman's in town, and astonished such a remarkable personage is playing a venue like Revolution Hall. It should be an incredible evening for his biggest fans. I wish I could get over my physical revulsion toward his sound and join them in appreciating his brilliance. But I can't. I just can't. NED LANNAMANN