SUPER PICK
THE CLIENTELE, EZTV
(Mississippi Studios, 3939 N Mississippi) It always felt like autumn in the Clientele's world. On their drowsy, amber-hued albums, the leaves were forever changing, there was a nip in the air, and sweaters and scarves were drawn close. And just as autumn marks an end of things, the quintessentially English band always seemed to be on the edge of their own ending, with more than one of their releases rumored to be their last (2007's God Save the Clientele even built that predestined sense of closure into its title). So when their 2010 EP Minotaur landed with a soft, elegant thud and main songwriter Alasdair Maclean delved into work with another band, Amor de Días, it did indeed seem like the Clientele's daintily seductive brand of shimmering pop had been laid to rest. But after a winter of inactivity, spring has come 'round again—it always does—and the Clientele are back. Maclean has regrouped with bassist James Hornsey and drummer Mark Keen for Music for the Age of Miracles, and their simultaneously wise and virginal sound is just as lovely as ever. The new album is dominated by an element that came from a chance meeting Maclean had with an old musical acquaintance, Anthony Harmer, who had studied and mastered an Iranian dulcimer-like instrument called a santoor, and its harp-like pizzicato can be heard throughout the new album. Maclean's lyrics remain influenced by surrealism and classic mythology, with a recurring theme of Orpheus threaded through the songs. And yet an English pastoral quality pervades, as it did on the Clientele's previous recordings—Maclean's voice is rarely raised above a breath, and the songs' lushness is tempered by the band's tasteful restraint. It remains to be seen whether this marks the beginning of a new chapter in the Clientele's history, or if, after this tour ends, the sun will again dip low and we'll enter another Clientele-less winter. For now, we have another brilliant harvest of elusively beautiful pop, constructed with watch-like precision and elegiac, irresistible melancholy. NED LANNAMANN
Sponsored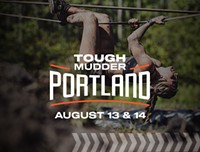 Lock in your summer adventure, Portland. Join us for world famous obstacles over a 5K or 10K distance.
---
WEDNESDAY 11/8
BRAND X
(Alberta Rose Theatre, 3000 NE Alberta) If the words "British jazz-prog-fusion" strike terror in your heart, you're probably not much of a Brand X fan. Then again, you might find something you actually enjoy in the group's decidedly playful approach to music making. The band is most famous for its initial run from 1975 to 1982, when Genesis drummer Phil Collins was part of their cohort, and their albums ranged from whacked-out jazz to pop-adjacent English eccentricities to jams that flirted with then-nascent "world" music—all the while emphasizing their tricky musicianship. Amazingly, Brand X almost always made it sound better than those descriptions suggest. A reunited Brand X appeared in the '90s, and now a second reunion has taken shape with founding members John Goodsall on guitar and Percy Jones on bass, playing alongside drummer Kenny Grohowski, keyboardist Chris Clark, and percussionist Scott Weinberger. Even if this is your first time ever hearing of Brand X, rest assured there are plenty of Portlanders (chiefly, balding males who're really into vinyl) who never thought they'd see this pseudo-legendary group play their hometown. Share their joy. NL
DANIEL JOHNSTON AND BUILT TO SPILL
(Revolution Hall, 1300 SE Stark) Thanks in large part to the excellent 2005 documentary The Devil and Daniel Johnston, which will be screening before tonight's show, we know a lot about Daniel Johnston. Maybe too much. To encounter Johnston's sweet, shy voice amplified by biographical knowledge is to experience an overwhelming intimacy—you can't help but hear the man's mental health crises and physical deterioration. His work now shares a spotlight with his life story, and it's tempting to mistake familiarity with the latter for understanding of the former, to pathologize the songs instead of rejoicing in their simple beauty. Which is not to say we should forget what he's lived through to give us such wonderful music. But by approaching Johnston's songs as gateways into a life we can never truly understand, we risk missing the fact that they're also glittering little portals into universal pop bliss. It remains to be seen how Johnston will mesh with Built to Spill, which is backing him on the northwestern leg of his tour, but expect to find joy there. CHRIS STAMM
SHADOWLANDS SHADOW AGE, OVER
(Tonic Lounge, 3100 NE Sandy) As Portland continues to transform into a wasteland of sparkly high-rises, it's comforting to know there are still a few dark corners left where mutants gather to perform black-clad musical rituals. Shadowlands has taken up residence in these spaces for nearly five years, and in 2016 released 001 through the recently revived This-a-Way Records. The band deftly navigates the new wave and post-punk undergrounds of yore to create something equally compelling. "Future Plans" slithers along on the strength of a buzzing bass line and jaunty drums, leaving room for icy guitars and singer Amy Sabin's pristine vocals. Shadowlands' music is a stunning amalgam of flesh and metal in the spirit of Gary Numan and Blondie at their synthiest. MARK LORE
THE BREEDERS, MELKBELLY
(Wonder Ballroom, 128 NE Russell) Kim Deal is the coolest person alive and has been for, like, 30 years. From her breakout gig as the most likable member of the Pixies to her short-lived stint as Tammy Ampersand in the Amps to her intermittent captaincy of the legendary Breeders, Deal has had a hand in some of the most vital alt-rock ever made. Five years ago, Deal reunited the classic lineup of the Breeders just in time to tour behind a 20th anniversary reissue of the band's hit album Last Splash, and not long after that, she bailed on the Pixies' never-ending reunion tour revenue machine to refocus on her band. Now the Breeders are holed up somewhere working on their fifth full-length since 1990. New single "Wait in the Car" is all Breeders: raw, distorted, bottom-heavy, oddly melodic, urgent, and snarling. BEN SALMON
---
THURSDAY 11/9
BITCH'N, WILD POWWERS, MOON TIGER
(Holocene, 1001 SE Morrison) This here's the kind of show that keeps you on your toes. Bitch'n doesn't trade in power ballads or smarm. These ladies get to the point with short, shreddy pop-punk jams that'll have you nodding to the beat and the sentiment. And because this is part of the Siren Nation festival, the entire bill is laden with female-led rock. Win! DIRK VANDERHART
DEAD KENNEDYS, MDC, CLITERATI, G.B.A.
(Bossanova Ballroom, 722 E Burnside) These days, Dead Kennedys' legacy is a punk soap opera of lawyers, hypocrisy, and petty grudges. Though they're still reissuing albums and touring the festival circuit, it's amid persistent callouts from former lead singer Jello Biafra, who critiques current members' nostalgia cash-grabs (especially when the staunchly anti-corporate band's music appears in Levi's commercials and Guitar Hero). What is forever good, righteous, and fun is Fresh Fruit for Rotting Vegetables, the group's 1980 debut. It's one of hardcore's most iconic records, with East Bay Ray's wailing metal guitar riffs, D.H. Peligro's quick, punchy drumming, and Biafra's clownish vocals. Most importantly, Fresh Fruit's biting satire of rich and powerful capitalists, whether they're ghoulish conservatives ("Kill the Poor") or limp liberals ("California Über Allies"), feels just as relevant today. CAMERON CROWELL
---
FRIDAY 11/10
SON LITTLE, JADE BIRD
(Doug Fir, 830 E Burnside) Read our story on Son Little.
THE CLIENTELE, EZTV
(Mississippi Studios, 3939 N Mississippi) Read our Clientele super pick.
---
SATURDAY 11/11
MANATEE COMMUNE, DAVE B, TETRA
(Holocene, 1001 SE Morrison) If you haven't yet heard of Seattle rapper Dave B, it's likely you will soon—he is excellent. Recently Dave B collaborated with producer Sango to create Tomorrow, an album rich in shiny metallic jingles, danceable beats, and aquatic-themed vibrations, while Dave B commits to his highly mastered delivery style: seamlessly jumping between rapping and singing on addictive tracks like "Got It From," "Drugs 'n Such," and "Do Not Disturb." Seeing him perform it live takes the experience to a whole new level. JENNI MOORE
PROPAGANDHI, RVIVR, BAD COP/BAD COP
(Hawthorne Theatre, 1507 SE César E. Chávez) Propagandhi's first two albums, 1993's How to Clean Everything and 1996's Less Talk, More Rock, rank among the finest pop-punk albums of all time, and for punks and ex-punks of a certain age—let's say "old-ish"—they served as brief introductions to radical political thought. Chances are good that you have at least a few vegans in your life who ditched cheese with the help of Propagandhi. Over the last 20 years, the band has evolved into a fleet and fierce thrash quartet, while its politics remain fixed at the super-pissed end of the spectrum. Which makes sense—the world hasn't exactly given folks much reason to trust things like governments, banks, and men. This year's Victory Lap is another quality addition to a discography that hasn't yet yielded a bad album, and if we're lucky, it's resonating with a bunch of weird kids looking to channel their anger in righteous ways. CS
HOT SNAKES, HURRY UP, THE SUICIDE NOTES
(Star Theater, 13 NW 6th) Forged from the remnants of indie punk stalwarts Drive Like Jehu, Hot Snakes' dynamic guitar tandem of Rick Froberg and John Reis rumbles to life like an avalanche on their 2000 debut, Automatic Midnight. The band's sophomore record, Suicide Invoice, upped the ante with roiling guitars wrenching free from the manic conventions of their previous projects, even while paying homage to them on anthemic rockers like "I Hate the Kids" and "Who Died." The band split in 2005, but reformed in 2011 for sporadic shows, and there are rumors of a new album next year. In the meantime, this show ought to slake the thirst of Hot Snakes diehards for a while, especially with the added thrust from Portland's the Suicide Notes and Hurry Up. RYAN J. PRADO
---
SUNDAY 11/12
CHAD VANGAALEN, NE-HI
(Doug Fir, 830 E Burnside) Canadian singer/songwriter and visual artist Chad VanGaalen makes weirdo indie rock that's only rivalled in greatness by his animated music videos. His new album Light Information holds a microscope to humanity's relationship with time, technology, and self-imposed boundaries. Like every VanGaalen creation, it's strange but beautiful, in an alien way. CIARA DOLAN
LIZZO, DOJA CAT
(Wonder Ballroom, 128 NE Russell) As far as headliners go, rapper/singer/flautist Lizzo is a stunner. But the "Coconut Oil" queen is known for bringing a gang of seriously talented femcees on tour to back up the bill. This time that support comes in the form of LA-based rapper Doja Cat. A quick foray through after her Soundcloud should pique your interest (and make you show up to the venue on time). The first Lizzo show quickly sold out, but a second one was added. Lucky us! JENNI MOORE Read more about Lizzo in Sneaker Wave.
GIN BLOSSOMS
(Aladdin Theater, 3017 SE Milwaukie) Behind the Gin Blossoms' jangling, effervescent power-pop lies one of the greatest tragedies in rock history. The group's 1992 breakthrough, New Miserable Experience, is quite possibly the greatest mainstream guitar-pop record of the '90s after Weezer's Blue Album. This is almost entirely attributable to the songwriting talents of the band's guitarist and co-founder Doug Hopkins, whose mix of radio-ready melodies and disaffected Gen X tropes ensured universal resonance. Though Hopkins was not the band's sole songwriter, his contributions to New Miserable Experience are far and away the best of the batch—especially the perennial underdog anthem "Hey Jealousy" and the flawless "Found Out About You," which effortlessly bridges the gap between Radio City-era Big Star and the Smiths. Here's the tragic part: Right as New Miserable Experience was being completed, Hopkins was ejected from his own group due to his substance abuse. His songs would go on to become the album's biggest hits; shortly after receiving a gold record for "Hey Jealousy," Hopkins committed suicide. The Gin Blossoms, sans Hopkins, have soldiered on as purveyors of genial, Starbucks-dad alt-rock (they were poised to play the ill-fated Mark McGrath and Friends cruise in 2013), and their newer releases are surprisingly listenable—but without Hopkins, it seems unlikely that they'll ever come close to matching New Miserable Experience. To be fair, few bands could. MORGAN TROPER
DIARRHEA PLANET, EYELIDS
(Mississippi Studios, 3939 N Mississippi) It's been a busy year for Eyelids. The crew—which includes members of the Decemberists, Guided by Voices, the Dharma Bums, and Elliott Smith—dropped their sophomore LP, Or, to widespread acclaim, released fun music videos, and toured extensively. Produced by legendary R.E.M. guitarist Peter Buck, Or is a powerhouse rock record, with the pretty textures of Paisley Underground guitars anchored by the dual vocal attack of Chris Slusarenko and John Moen. Tonight, Eyelids open for Nashville punks Diarrhea Planet, whose four-guitar assault has the ability to humble, enlighten, and destroy anyone within earshot. Take a listen to the band's 2016 album Turn to Gold for proof, or just get down to Mississippi Studios to hear for yourself. RJP
---
MONDAY 11/13
LIZZO, DOJA CAT
(Wonder Ballroom, 128 NE Russell) See Sunday's preview.
---
TUESDAY 11/14
SHOUT OUT LOUDS, SURF ROCK IS DEAD
(Doug Fir, 830 E Burnside) In a just world, Shout Out Louds would be household names—their sleek, handsome pop songs are as utilitarian and easy to live with as pieces of IKEA furniture. But the Stockholm band got somewhat lost in the shuffle with the great Swedish music explosion of the '00s that saw countless indie-oriented rock and pop bands from that country litter music blogs and festival lineups. (Where art thou, Peter Bjorn and John?) Shout Out Louds' fifth album, this year's terrific Ease My Mind, proves just how assured the band's grip is on the lush, emotional soundscapes they craft; tunes like "Porcelain," "Oh Oh," and "Souvenirs" sound like end-credits music to movies that don't exist but you know would be among your favorites if they did. The closest Shout Out Louds came to a breakthrough in America was with 2007's wonderful Our Ill Wills, but that album was preoccupied with 1980s-era radio sounds. Ease My Mind, on the other hand, sounds wholly contemporary, and as comely as its acoustic-guitar-and-twinkle-synth backdrops strike the listener on first listen, the emotional content is surprisingly durable and resonant on every listen thereafter. NL