SUPER PICK
JAY-Z, VIC MENSA
(Moda Center, 1 Center Court) There's a very famous rapper, businessman, and husband performing at the Moda Center Thursday night, and considering the number of mega-popstars who pass through our fair burg, that's something to be excited about. Jay-Z is a legend, plain and simple, and if you'd like to know more about him or his solid new album, 4:44... I don't know, Google it? But if you're going to the show, be sure to get there on time so you're not one of those folks wandering in during the opener. Vic Mensa is probably the biggest young MC not named Chance to come out of Chicago in recent years. Mensa and Chance the Rapper are old friends and collaborators, and they share some attributes: artistic ambition, social awareness, a knack for melodic hip-hop, and singing voices they aren't afraid to use. But while Chance pushes his rhymes through a positive, faith-based perspective, Mensa explores darker and harder-edged themes. He broke through in 2013 with an excellent full-length mixtape called Innanetape that showcased his jazz-hop interests and limber flow, then followed that up with a couple of EPs before dropping his official debut, The Autobiography, in July. It's not perfect—releasing rap albums in the Kendrick era is tough, man—but it's a perfectly enjoyable tour of Mensa's strengths. The guy picks solid beats, some built from old soul music ("Say I Didn't"), others based on Weezer songs ("Homewrecker"), and still others with a hard funk feel ("Rollin' Like a Stoner"). No matter what kind of track he's rapping against, Mensa's rhymes touch on insecurity, addiction, despair, sex, violence, street life, and rockin' "leather like a punk." In fact, Mensa seems obsessed with the rock-star lifestyle. He makes punk flyers for his concerts, wears studded jackets and Casualties T-shirts, and his shows are apparently wild-eyed, high-energy spectacles. Bottom line: The guy comes at rap music from an interesting, thoughtful, and talented place. BEN SALMON
Sponsored
Sketch comedy troupes from all over N. America descend on The Siren Theater for 3 glorious nights.
---
WEDNESDAY 12/13
COLD WAR KIDS, THE AUTONOMICS
(Crystal Ballroom, 1332 W Burnside) Long Beach, California, rock band Cold War Kids is known for fusing sparkly, modern aesthetics with soulful sounds. Nowhere is this successful clashing more apparent than on their new album, LA Divine. From the rambling, retro "Luck Down" and "Ordinary Idols" to the sticky-sweet "Can We Hang On?" and "Love Is Mystical," Cold War Kids display unrelenting fervor that will undoubtedly translate to a spectacular live performance. DELANEY MOTTER
---
THURSDAY 12/14
THE MOUNTAIN GOATS
(Holocene, 1001 SE Morrison) Life doesn't have many hard-and-fast rules, but here is one of them: Never pass up a chance to see the Mountain Goats. John Darnielle has been killing it in the literary scene the past few years (if you haven't already, hit Powell's and pick up his acclaimed, haunting novels Wolf in White Van and Universal Harvester), but the best way to be thrilled and moved by his clever, melancholy tales is to hear him sing them into a microphone over guitar and drums—not many bands are this smart, and not many bands are this fun to see live. Plus, all proceeds benefit the nonprofit Oregon Institute for Creative Research. ERIK HENRIKSEN
JAY-Z, VIC MENSA
(Moda Center, 1 N Center Court) As I look at the swath of ridiculously affordable seats still available for Jay-Z's "4:44" tour on Ticketmaster, I'm gonna assume Portlanders aren't familiar with just how monumental Sean Carter's career has been. Let me guess: You haven't gotten around to listening to 4:44 yet—you're too broke to afford Tidal, too lazy, or simply don't care—and in any case you're mad at Hov for needlessly putting Queen Bey through hell. While that's totally valid, 4:44 is the Brooklyn rapper's most honest, "conscious" masterpiece yet. And I mean, for god's sake: This is the man who gave us "Big Pimpin'," "Hard Knock Life," "Run this Town," "99 Problems," and "Public Service Announcement"—just a few of roughly 30 hits he'll be performing on Thursday. So take it from someone who's seen him in concert twice: Snatch a ticket and go watch a true master take the Portland stage for the first time in over a decade. It'd be great if Portland didn't have a stereotypically lame turnout, especially when there's a possibility Beyoncé will be—HALP! Someone hand me a paper bag to breathe into! JENNI MOORE
RITUAL VEIL, TERROR APART
(Killingsworth Dynasty, 832 N Killingsworth) Take the electronic, synth-drenched fervor of new wave '80s acts like the Cure and Depeche Mode and add in despondent vocals, frank sexual overtones, and sexbeat sounds, and you've got Ritual Veil. On their debut EP, Wolf in the Night, the new Portland trio—composed of members of Steel Chains and the now-defunct Smoke Rings—tips their chained biker caps in homage to the dark romanticism of the past without sounding cliché at a time when leather-and-lace goth subcultures are the latest social media craze. This show is both a Pacific Northwest/Canada tour kickoff and a video premiere party for the EP's title track. CERVANTE POPE
---
FRIDAY 12/15
BARR BROTHERS, ANGELO DE AUGUSTINE
(Wonder Ballroom, 128 NE Russell) Canadian/American group the Barr Brothers use elements of folk and rock as jumping-off points for immersive, atmospheric songs that don't quite sound like anything else. The inventiveness of the brothers—who also boast a non-brother, harpist Sarah Pagé, among their ranks—is evidenced on the Barrs' impressive third album, Queens of the Breakers, and as a live act, they're practically peerless. NED LANNAMANN
I CAN LICK ANY SONOFABITCH IN THE HOUSE, BOMF AND THE ANGRY LISAS, CHRIS MARGOLIN
(Dante's, 350 W Burnside) It's strange to think it's been 15 years since the release of I Can Lick Any Sonofabitch in the House's Creepy Little Noises, but, as Stephen King writes, time is a face on the water, and we're all tumbling toward our mortal coils one way or another. Creepy Little Noises was the Portland juggernaut's ferocious country-punk debut, anointing frontman Michael Dean Damron as one of the city's most fearless outlaw songwriters. The group practically lives at Dante's when they're in town, and even released a live album recorded at the venue in 2006, so it's a fitting setting to celebrate the anniversary of their debut. The band's last studio album, 2013's Mayberry, was perhaps their finest yet, merging Mike D's matter-of-fact political screeds with nostalgia for America of yesteryear. Expect a raucous sing-along with plenty of raised tallboys. RYAN J. PRADO
BADBADNOTGOOD, 1939 ENSEMBLE
(Revolution Hall, 1300 SE Stark) Badbadnotgood is technically a jazz group, but the Toronto outfit's music leans more toward post-bop, trip-hop, and instrumental hip-hop. With cool confidence and mellow precision, the foursome builds off of each other's energy in wild live shows—it's no wonder they've collaborated with hip-hop giants like Kendrick Lamar, Ghostface Killah, and Danny Brown. Also unsurprising? Their Portland show is completely sold out. CP
---
SATURDAY 12/16
XRAY HOLIDAY GLAM AND GOTH BALL: VICE DEVICE, BOYS KEEP SWINGING
(Spare Room, 4830 NE 42nd) Join the great non-profit radio station for a non-lame holiday party in this season full of incredibly lame holiday parties. It's time to get creative, too, as you're encouraged to head to the Spare Room with some combination of, you guessed it, both colorful and non-gender-conforming glam and all-black goth styles. Think you can pull off Ziggy Stardust and Siouxsie Sioux, at the same time? DDDJJJ666 will be spinning records and Bowie cover band Boys Keep Swinging will be rocking out. It should be fun.
CAM, LOGAN MIZE
(Hawthorne Theatre, 1507 SE César E. Chávez) Read our story on Cam.
RED FANG, PUSHY, ACID WASH
(Dante's, 350 W Burnside) It's been a long time since Red Fang was any kind of secret, but that doesn't mean they can't pretend they're still digging around in the trenches. The Portland metal band's world domination has been ruthless, their path paved with the bones of nonbelievers. Truth be told, the foursome has cultivated a following based not only on explosive riffage, but also a commitment to the underground they came from. When they're not touring across the globe, they're pretty much free to play wherever they want in the Portland area, which is why they've spent their downtime haunting intimate venues like the Know and White Owl. The band's live shows are great, and their tight interplay only gets stronger the longer they're together. This show at Dante's will be your chance to catch them up close and personal if you haven't had the chance to before. RJP
PEDRO THE LION, ADVANCE BASE
(Mississippi Studios, 3939 N Mississippi) Pedro the Lion only released four albums, but boy did people connect with them deeply: sad kids (and adults) who didn't dig the aggression of emo. Folks with a taste for melancholy melodies. Pacific Northwest indie scenesters. Christians looking for an alternative to mainstream Christian music. Fans of top-shelf storytelling. From 1995 to 2006, David Bazan was the creative force behind this faith-curious indie-rock band, by all accounts a modestly successful venture with a passionate, medium-sized fan base. But since Bazan shuttered the project to focus on his solo work, interest in Pedro the Lion has grown, and now a whole bunch of people are stoked for reunion shows and new recordings. That's why the band's three-night Portland stand is totally sold out. BEN SALMON
FRONTFLIP
(Anarres Infoshop, 7101 N Lombard) There's something so satisfying about hardcore's ability to express extreme emotions, and that even the least aggressive listeners can find catharsis in its energy. The music of Frontflip features all of the genre's typical trappings: abrasive vocals, driving power chords, and violent yet tightly controlled percussion. Despite its somewhat stereotypical sound, the band stands out with lyrics discussing identity politics—unusual subject matter for hardcore. Maybe if more bands were able to drop the hypermasculine act, the genre as a whole would be less of a toxic wasteland. This show is a benefit for No! to Rape Culture, a local organization that "aims to dismantle patriarchal structures within the punk/hardcore/metal scene." DM
BIG BAD VOODOO DADDY
(Arlene Schnitzer Concert Hall, 1037 SW Broadway) Whatever your take on Big Bad Voodoo Daddy, you've got to give the band props for sticking to neo-swing revivalism two decades after the fad passed. Back when men called each other "money" and wore porkpie hats without a trace of irony, Big Bad Voodoo Daddy were the among the biggest rock stars of the retro swing craze, with multi-platinum record sales, TV and film appearances, a Grammy nomination, and a live performance at the 1999 Super Bowl alongside Stevie Wonder and Gloria Estefan. But that brief period is now like an embarrassing high school yearbook photo—better not mentioned at all. And yet Big Bad Voodoo Daddy continues to carry the torch for swing revival (or is it now swing revival revival?), with their latest album, Louie Louie Louie, a collection of songs by the great purveyors of swing: Louis Armstrong, Louis Jordan, and Louis Prima. The band has also released three Christmas albums, so it's a fair bet that this show will feature plenty of swinging carols to get you dancing and prancing and jingling around the clock. SANTI ELIJAH HOLLEY
VIOLENCE CREEPS, TOYOTA, VOG, NEGATIVE OPTION
(The Know, 3728 NE Sandy) Many contemporary punk bands journey into darkness and despair by following behind the behemoths of '80s post-punk, and too often the results are wan reflections of cold terror, familiar ghosts that comfort instead of spook. Oakland's Violence Creeps also scout the past for sounds charged with malice and dread, but they're more likely to end up in the primal zone described by the Germs' "Shut Down" and Flipper's "Sex Bomb." With the right tour guides, this can still be legitimately scary territory, and Violence Creeps knows exactly where the gnarliest pockets of slime and grime still thrive. The band is at its best when it gives itself over to mid-tempo meltdowns, viciously simple songs that throb with baleful promises of mutant shapes and startling new versions of death. It isn't pretty at all. But have you noticed the world lately? This is the soundtrack it deserves. CHRIS STAMM
---
SUNDAY 12/17
JENNY DON'T AND THE SPURS, JOEY BRIGGS, RYAN SOLLEE, IKE FONSECA
(Doug Fir, 830 E Burnside) Portland's own Jenny Don't and the Spurs are headlining this foot-stompin' feel-good holiday show filled with punky Western-style get downs, and it's for a good cause to boot! This fifth annual toy drive (titled Rock for Reason) will benefit Portland's Ronald McDonald House, and will also feature the Builders and the Butchers' Ryan Sollee, LA's Joey Briggs, and local singer/songwriter Ike Fonseca—and all you have to do is bring a new, unwrapped toy, and a thirst for a good-time, downhome night of C&W fun. WM. STEVEN HUMPHREY
(Mississippi Studios, 3939 N Mississippi) See Saturday's preview.
PORTUGAL. THE MAN, HUSTLE AND DRONE
(Crystal Ballroom, 1332 W Burnside) One of the strangest musical stories of 2017 must be the mainstream breakthrough of Portugal. the Man. For those in the dark, here's a quick catch-up: A couple of high school friends from Wasilla, Alaska, formed a band in the early 2000s and eventually moved to Portland, where they started building a following that dug their vibrant, proggy psych-rock. Over the past decade they've released eight studio albums, signed to Atlantic Records, worked with stars like Danger Mouse and Mike D, and, earlier this year, scored a number one hit on a few of Billboard's alternative and rock charts. The song is called "Feel It Still," and it's a snappy little faux-soul number that you might've heard in an iPad or Vitamin Water commercial. It's now nominated for a Grammy and the band is bigtime, so this show at the Crystal has been sold out for a while. BS
---
MONDAY 12/18
PEDRO THE LION, ADVANCE BASE
(Mississippi Studios, 3939 N Mississippi) See Saturday's preview.
---
TUESDAY 12/19
SOUND + VISION: FRANKIE SIMONE, SIREN AND THE SEA
(Mississippi Studios, 3939 N Mississippi) This month's free, Mercury-sponsored Sound + Vision show features sets from two sickeningly talented Portland-based artists who also happen to be women. There's pop musician Frankie Simone, a queer Puerto Rican powerhouse who'll be flanked by her two backup dancers, and multi-instrumentalist Cristina Cano who performs her aqua-tinged electro-pop under the moniker Siren and the Sea. From what I can tell, this lineup might have enough sunny vibes to melt your icy winter heart. JM
EVANESCENCE
(Arlene Schnitzer Concert Hall, 1037 SW Broadway) When I was in fourth grade, my teacher assigned a research project on Arkansas. The most important fact I learned was that the state capital is Little Rock, where Evanescence formed in 1995. Since then, the band's lineup has changed frequently, but singer/pianist Amy Lee remains. Her intense, moody voice and lyrics set Evanescence apart from other goth-rock bands. You might remember the radio hit "Bring Me to Life," a song I still find terrifying, perhaps due to the tinkling horror movie piano intro. Evanescence will play the Schnitz with a full orchestra Tuesday night, which seems like an appropriate venue, considering Lee always reminded me of the opera-singing alien from The Fifth Element. ISABEL LYNDON
Sponsored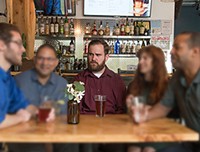 Adults aged 18-35 with good hearing will be paid for their time. Located at the Portland VA Medical Center