Super Pick
DAVID BYRNE
(Sun May 27 at Keller Auditorium 222 SW Clay) Throughout his peerless run as leader of post-punk legends Talking Heads and a lengthy solo career, David Byrne's gaze at the state of the world has remained firm over the past four decades: suspicious, bemused, and more than a little curious about how we got here. That's been the core of his best work, like 1981's My Life in the Bush of Ghosts, his cut-up masterpiece with Brian Eno; 1986's True Stories, his cinematic ode to small-town life; and Here Lies Love, his 2010 multimedia musical with producer Fatboy Slim about the life of Imelda Marcos, the First Lady of the Philippines. Byrne's cultural concerns have never been clearer than they are on his latest solo album, American Utopia. Recorded with assistance from Daniel Lopatin (Oneohtrix Point Never), Eno, and Sampha, among others, the record looks at the state of our nation and its easily satisfied and distracted populace. Tempering these downcast visions are sentiments that urge listeners to stay as positive as they can. Those sentiments come through in the music, which mixes electronic pop with Byrne's long-running interest in international sounds, lyrics that encourage dancing like no one is watching, and periodic reminders that "Everyday Is a Miracle." That may sound treacly and cloying, but with these hyper-modern sounds and Byrne's puckish spirit, it comes across as earnest and infectious. At a time when the news constantly reminds us of how fucked we might be, it's a message that could serve us well for the next few years. ROBERT HAM
Sponsored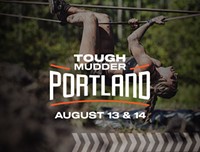 Lock in your summer adventure, Portland. Join us for world famous obstacles over a 5K or 10K distance.
---
WEDNESDAY 5/23
FEVER RAY, BUNNY MICHAEL
(Roseland, 8 NW 6th) Karin Dreijer is better known as Fever Ray (and, for the wholly uninitiated, she was also one-half of the paradigm-shifting, Swedish-sibling electronic duo the Knife). Her simultaneously gorgeous and unsettling goth-dance nightmares are as vivid as ever on the fantastic Plunge, Fever Ray's first album since 2009's self-titled debut. If you miss her in this rare West Coast live appearance, you'll be haunted forever. NED LANNAMANN
HINDS, GOODBYE HONOLULU
(Wonder Ballroom, 128 NE Russell) The grungy party pop of Hinds often revolves around cheap beer and resultant drunken hookups, with sunshiny guitar riffs and the dueling vocals of Carlotta Cosials and Ana Perrote But the Madrid band's new album I Don't Run proves there's depth to be found in hungover emotions, especially on tracks like "New for You" ("I just wanna be somebody new for you") and the jangly "Soberland." CIARA DOLAN
MATT DORRIEN, ALEXANDRA SAVIOR
(The Old Church, 1422 SW 11th) On his new record In the Key of Grey, released last week via local folk label Mama Bird Recording Co., Portland singer/songwriter Matt Dorrien (FKA Snowblind Traveler) lingers willfully in life's blues and grays, mirroring sad weather with sadder songs and "moping the hours away." The album's Randy Newman-style ragtime piano ballads are sometimes accented with clarinet ("Baby I'm So Lost"), drowsy lap steel guitar ("I Can't Remember"), and Pet Sounds-inspired backing vocals ("All I Wanted to Say"), with deceptively upbeat pop melodies and dryly funny lyrics tempering overarching themes of heartbreak and loneliness. In the Key of Grey is a maudlin masterpiece that feels like it was born in another era, but its thorough analysis of the color gray feels firmly rooted in Portland. See Dorrien play the record live on the Old Church's Steinway, with budding Northwest musician Alexandra Savior opening the show with songs from her 2017 debut Belladonna of Sadness. CD
---
THURSDAY 5/24
GANG OF YOUTHS, THE PHILISTINES JR.
(Doug Fir, 830 E Burnside) For American audiences, Gang of Youths appeared to arrive fully formed, like Athena from the skull of Zeus. Of course, the group has gradually built up a huge following in their native Australia over the years, but their second album, the 77-minute ragged-glory epic Go Farther in Lightness, is a marvelous introduction to their sound, a grandiose and thrilling record in which fans of Bruce Springsteen and the Killers will find much to obsess over. NL
BON IVER
(Arlene Schnitzer Concert Hall, 1037 SW Broadway) I loved "Skinny Love" in high school, but if I hear it one more time I might have to stuff cotton balls in my ear holes and permanently tape them shut. When Bon Iver (AKA Justin Vernon) released his 2008 debut For Emma, Forever Ago, that song became the meek little asteroid that quietly but definitively changed the landscape of hushed indie folk forever. Vernon's released two albums since then, 2011's pretty good Bon Iver and 2016's 22, A Million, which I find incomprehensible and honestly, a little annoying. (It should be illegal to name a song "____45____.") But the record was met with critical acclaim, and tonight Vernon's playing the massive Arlene Schnitzer Concert Hall, so I guess I'm just plain wrong (or else this is like cilantro and some people are preprogrammed to think Bon Iver sounds like soap). CD
JEFF ROSENSTOCK, GREAT GRANDPA, DOGBRETH
(Aladdin Theater, 3017 SE Milwaukie) Over the past two decades, Long Island songwriter Jeff Rosenstock has refined dweeby teen maximalism. His band Bomb the Music Industry! pioneered internet DIY with pre-Bandcamp and pre-Radiohead pay-what-you-want releases, and his 2016 solo masterpiece Worry. bookended that cringy era when folks who unironically identify as "tastemakers" kept calling indie rock bands "emo revivalists." The opening track of Worry., "We Begged 2 Explode," condenses the core ideas of the whole album, beginning with a sweetly sad piano melody and melodramatic-yet-poignant lyrics: "Laura said to me, 'This decade's gonna be fucked/Friends will disappear after they fall in love and get married/Isn't that shit, like, crazy?'" The album plays out like a frantic mind trying to break free from the spiral of heartbreak and alienation with crooning acoustic songs, upbeat ska-punk, shaker-and-hand-claps power pop, and even 30-second hardcore tracks about an abusive and parasitic ruling class. Earlier this year Rosenstock released Post-, and much like Worry., it's political and personal with the same dweeby anxieties of adolescence taking a new shape. CAMERON CROWELL
---
FRIDAY 5/25
DEAR NORA, JESSICA DENNISON AND JONES, NICHOLAS KRGOVICH
(Turn! Turn! Turn!, 8 NE Killingsworth) . The fingerprints of the candid indie-pop that Katy Davidson crafted under the Dear Nora moniker while living in Portland around the turn of the century can be traced throughout the current crop of lo-fi and DIY-minded singer/songwriters inhabiting your Spotify playlists. Tonight the band celebrates the release of their long-awaited fourth album, Skulls Example, performing an all ages solo set, followed by a separate full-band show for the 21 and up crowd. CT Read our review of Dear Nora's new record Skulls Example.
WOODEN SHJIPS, PRANA CRAFTER
(Mississippi Studios, 3939 N Mississippi) Read our story on Wooden Shjips.
"WEIRD AL" YANKOVIC, EMO PHILIPS
(Revolution Hall, 1300 SE Stark) Here is an embarrassing confession: I didn't know who "Weird Al" Yankovic was until very recently. From what I've gathered, he's a middle-aged man with enviable shoulder-length ringlets, who, for the past three decades, has recorded comedic versions of popular songs, such as "White & Nerdy" (a riff on "Ridin'" by Chamillionaire and Krayzie Bone). These parodies are delightful. Yankovic is deservedly beloved, and this weekend, he rolls through Portland with Emo Philips. CD
RICHARD BUCKNER, KASEY ANDERSON
(Bunk Bar, 1028 SE Water) Richard Buckner's somber sound is like a flower pressed between the back pages of the American songbook, a fragile testament to peculiar beauty that seems to have grown more strangely stunning in the lonesome dark. Buckner is one of our great wandering poets, a singular figure who defies categorization, slipping through the slim gaps separating country, folk, alt-country, and pop. Whether teaming with Chicago post-rock icons (Since), transforming selections from Edgar Lee Masters' Spoon River Anthology into a crushing suite (The Hill), or taking a devastating leap into a relationship's end (Devotion + Doubt), Buckner has held onto something ancient and undeniable: a haunted and haunting voice that seems to have traveled through many lives, many lands, many heads. He is not as well-known as he should be—Devotion + Doubt is one of the great heartbreakers of all time, and you should find yourself alone in the dark with it at least once in your life—but the world will catch up one day. CHRIS STAMM
---
SATURDAY 5/26
FROM MAXVILLE TO VANPORT: PORTLAND JAZZ COMPOSERS ENSEMBLE
(Alberta Rose Theatre, 3000 NE Alberta) 70 years ago, just north of Portland, Vanport was destroyed by a flood—leaving its roughly 20,000 inhabitants, many of whom were Black, without homes in a state openly hostile to them. The Portland Jazz Composers Ensemble examines this ugly period in Oregon's ugly history with From Maxville to Vanport, a "multi-media concert of songs and video" that digs into the histories of Vanport and Maxville, a similarly segregated and multicultural town in Eastern Oregon. With music and text, Maxville to Vanport aims to "shed more light on parts of Oregon's history that deserve wider recognition"—an excellent goal if there ever was one. ERIK HENRIKSEN Read our story on From Maxville to Vanport.
LITHICS, HONEY BUCKET, SCORCH
(Spare Room, 4830 NE 42nd) Tonight Portland's own Lithics celebrates the release of their sophomore LP Mating Surfaces via Kill Rock Stars. The new record builds off the strengths of the minimalist post-punk band's 2016 debut, Borrowed Floors: sharp guitar riffs that overlap and fit together like Tetris tiles, explosive bursts of percussive energy, and Aubrey Hornor's detached-but-intense vocals. CD Read our review of Lithics' new record Mating Surfaces.
"WEIRD AL" YANKOVIC, EMO PHILIPS
(Revolution Hall, 1300 SE Stark) See Friday's preview.
MDOU MOCTAR, SECRET DRUM BAND, AMENTA ABIOTO
(Star Theater, 13 NW 6th) For evidence of Mdou Moctar's innovative spirit, just look to his origin story: While growing up in Abalak, a town in Niger's Azawagh Desert, the singer/songwriter taught himself to play homemade guitars. Moctar's music blends Tuareg guitar with synth, drum machine beats, and Auto-Tuned vocals, which sound particularly lovely on "Tahoultine," a song that blew up via cell phone sharing in the area. The show will open with two stellar local acts: the eerie, spaced-out percussive music of Secret Drum Band, which includes members from Explode into Colors, !!!, Typhoon, and Unwound, along with experimental musician Amenta Abioto, whose looped songs are like strange little stories or multi-faceted gemstones. ISABEL LYNDON
RITUAL VEIL, CRUZ DE NAVAJAS, VUELTAS, FALSE FIGURE
(Tonic Lounge, 3100 NE Sandy) In less than a year, Ritual Veil has risen from remnants of bands past to become a sex-beat and synth-pop powerhouse. While their sensual sounds will close out this night of post-punk, the other acts on the bill should pique interest as well. Oakland's False Figure brings a hauntingly intense energy to their performances. New local outfit Vueltas have but one live recording, for the track "Ocho Espadas," but it's enough to leave a lasting impression. Much like Ritual Veil, Mexico City's Cruz de Navajas shot up in the last year with darkwave that's enriched by its immersion of Latinx culture. CERVANTE POPE
---
SUNDAY 5/27
DAVID BYRNE
(Keller Auditorium, 222 SW Clay) Read our David Byrne super pick.
CURTIS HARDING, ALGIERS
(Doug Fir, 830 E Burnside) Ex-CeeLo Green backup singer Curtis Harding released one of 2017's most infectious records with Face Your Fear. Starting with the glossy funk of lead single "Need Your Love," the new LP showcases Harding's self-described "slop-soul," a subgenre that mishmashes classic soul, gospel, R&B, and psychedelic pop. Face Your Fear is a knockout album that's made for the dancefloor—prepare to move your body. CD
---
MONDAY 5/28
U SCO, FLOOM, HALFBIRD
(Turn! Turn! Turn!, 8 NE Killingsworth) It's been a while since experimental Portland trio U Sco has graced a stage with their awe-inducing aural onslaught. The band's controlled chaos folds in the technical flourishes of jazz, the unhinged aggression of progressive metal, and heady minimalist repetition to forge an altogether mystifying cacophony. Their 2016 EP Tuskflower opens with four and a half minutes of roiling feedback, which eventually gives way to a manic five more minutes of touch-and-go mayhem on "O." Later tracks bask in equally frenzied exhibitions of instrumental prowess that, while pretty ferocious through a pair of headphones, is best experienced live. The cozy confines of Turn! Turn! Turn! oughta serve as the perfect nest to hatch the band's 2018 resurgence. RYAN J. PRADO
---
TUESDAY 5/29
POWER TRIP, SHEER MAG, FURY, RED DEATH
(Hawthorne Theatre, 1507 SE César E. Chávez) Fronted by the raspy, gale-force vocals of lead singer Tina Halladay, Sheer Mag's ability to pack arena-sized hooks around a fierce DIY ethic makes them a perfect fit for both underground warehouse shows and summer festival main stages. The Philadelphia band's equal penchant for lashing out against oppression and rattling off emotional power-pop anthems of the heart is well documented across three stellar EPs and a full-length, but it's best experienced through their cathartic live show. CT
FRITZWA, DAVID BARBER WITH RADIO PHOENIX, TRENT BAARSPUL
(Mississippi Studios, 3939 N Mississippi) Originally hailing from New York City, Fritzwa is one of Portland's most promising new artists—she's a singer, songwriter, amazing DJ, and occasional MC. Her 2016 album Avenue A is laced with her love of hip-hop, classic soul, and NYC nostalgia. In February she released a catchy, summery new single called "Bouncin'" that's produced by Trox, and will play nicely through Mississippi Studios' sound system. JM
CARLA DAL FORNO, TESS ROBY, GOLDEN RETRIEVER, VISIBLE CLOAKS DJs
(Holocene, 1001 SE Morrison) Listening to the songs of experimental Australian musician Carla dal Forno kind of feels like crawling around in complete darkness, unaware of the dimensions of your surrounding environment—it could be the size of a school gymnasium, or that of a rainforest. Thunder might crackle in the distance, or she might pour herself a glass of water or light a match. Your ears will strain eagerly for these signs to indicate the scope of dal Forno's strange (but gorgeous) universe. Her 2016 debut You Know What It's Like recalls the work of Oregon's own Grouper, with lo-fi synth, pulsating drum machine beats, haunted windchimes, ghoulish backing vocals, and even recorder (on the bone-chilling "Dry in the Rain") swirling around dal Forno's faraway voice, though half of the songs are instrumentals. Standouts like "What You Gonna Do Now?" and the title track land somewhere between funereal folk and sparse post-punk—a great (albeit very spooky) realm to occupy. CD
Sponsored
Virtual Auction Event & Drag Queen Fashion Show. You won't want to miss this show!