SUPER PICK
LAVENDER COUNTRY, SOFT BUTCH, JENNY DON'T AND THE SPURS
(The Fixin' To 8218 N Lombard) Country music is still overwhelmingly heterosexual, even with the success of openly gay acts like Little Bandit and Brandy Clark. Forty-five years ago, the situation was even worse, with the Nashville establishment opening their minds just enough to allow one African American artist, Charley Pride, through the gates. Stepping out of the closet and on to the stage at the Grand Ole Opry? That would have been a death sentence. Which is what makes the lone album by Seattle outfit Lavender Country such a remarkable outlier. Released initially as a private press LP in 1973, it was the first gay country album ever, beating out Peter Grudzien's The Unicorn by a year. But where Grudzien's work was steeped in the psych-folk underground of his New York home, Lavender Country, led by singer/songwriter Patrick Haggerty, attempted to keep up with the sleepy honky tonk balladry and jumped-up boot-stompers of the time. It also didn't try to Trojan-horse the sociopolitical messages at the heart of each song. The rockabilly swinger "Waltzing Will Trilogy" is a song about a young gay man forced to go through conversion therapy by way of electroshock treatment. And the lovely "Straight White Patterns" finds Haggerty and Eve Morris harmonizing the heartbreak of having to hide one's sexuality from the world over a shimmering, finger-picked acoustic melody. Even though the band played shows up and down the West Coast, Lavender Country didn't make a dent in the cultural consciousness of the time. Haggerty hung up his spurs for the next four decades, concentrating on activism and raising a family. The project has finally gotten its due in recent years, thanks to a reissue of the album by North Carolina label Paradise of Bachelors, which has inspired Haggerty to dust off his guitar and cowboy hat and play shows around the US. The messages in the music still resonate to a modern audience, but they no longer have to be delivered from the shadows. ROBERT HAM
Sponsored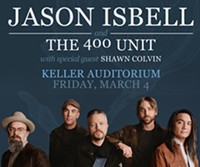 Jason Isbell has established himself as one of the most respected songwriters of his generation. Don't miss Jason Isbell and the 400 Unit, March 4th at Keller Auditorium!
---
WEDNESDAY 8/8
CHANTI DARLING, GOLD CASIO, GUAYABA
(Doug Fir, 830 E Burnside) Since 2015, eclectic R&B outfit Chanti Darling has been activating dance floors around the city with retro-futurist soul music. This week frontman Chanticleer Trü is releasing RnB Vol. 1, Chanti Darling's debut LP via Tender Loving Empire. Fans will finally be able to blast mastered singles like the disco inducing "Stars," and "Casual" (featuring the Last Artful, Dodgr) at home. Tonight's album release show will put Trü's impressive vocals, colorful visuals, and contagious choreography on one of the best stages in town. JENNI MOORE. Also read our review of Chanti Darling's debut LP.
---
THURSDAY 8/9
DARYL HALL AND JOHN OATES, TRAIN
(Moda Center, 1 N Center Ct) Read our story on Hall and Oates.
CLAIRO, GARREN SEAN
(Holocene, 1001 SE Morrison) Claire Cottrill used to produce daydream beats and upload self-recorded music videos to YouTube from the comfort of her own bedroom. Two viral videos later, armed with an extensive Bandcamp catalog rivaling the prolific Frankie Cosmos, 19-year-old Cottrill shot out of the Boston suburbs and into opening slots for pop superstars like Dua Lipa. Her debut EP as Clairo, Diary 001, includes a few of her early hits, but these tunes sound elementary compared to tracks like the bubbly "4EVER" and "B.O.M.D" (a collaboration with esteemed PC Music producer Danny L Harle), which deliver the strongest strain of Clairo's sugary bedroom pop to date. ANNA KAPLAN
REX ORANGE COUNTY, CUCO
(Wonder Ballroom, 128 NE Russell) Rex Orange County (AKA Alex O'Connor) attended a school in London that counts Adele and King Krule among its alumni. Legend has it that the 20-year-old from Surrey, England, uploaded his debut album Bcos U Will Never B Free to Bandcamp after finding inspiration in the music of Frank Ocean, Toro y Moi, and Thundercat. Rex Orange County's second album Apricot Princess is a self-assured (but also charmingly handcrafted) amalgam of Adele's classic soul sound, Krule's loungy trip-hop, Ocean's glassy romanticism, Toro y Moi's radiant synth-pop, and Thundercat's forward-thinking funk. There's other stuff happening on Apricot Princess, too—some slacker rap here, some cuddly punk there—and it's not hard to hear why Rex Orange County is quite popular with playlist-traveling youngsters. That's why tonight's show is sold out. BEN SALMON
---
FRIDAY 8/10
HOP ALONG, THIN LIPS
(Wonder Ballroom, 128 NE Russell) Hop Along dropped their fourth studio album Bark Your Head Off, Dog in April, and it delivers more of what fans have come to love about the Philadelphia indie rock titans: big hooks, lyrics that cut to the emotional core, and Frances Quinlan's shapeshifting vocals, with the folksy addition of strings warming up the edges of the band's heart-swelling anthems. CIARA DOLAN
SHABAZZ PALACES, STAS THEE BOSS
(Doug Fir, 830 E Burnside) Ishmael Butler and Tendai Maraire of Seattle hip-hop duo Shabazz Palaces are masters of abstract texture and otherworldly sonic drift, and getting lost in their sounds has been one of this decade's great musical gifts. Butler's incantations work as an evocative brush stroke, a blurred commentary on the sounds of words, yet zooming in on his lyrics reveals a writer who can render a 21st century breakdown as well as anyone. On 2017's companion pieces Quazarz: Born on a Gangster Star and Quazarz vs. the Jealous Machines, Butler trips through a world that has mistaken the map for the territory, where he finds "haters of love [building] empires to the caption" and "glittering phone squares" where his will is "encrypted in codes." When he's peaking, when this strange dream of a universe clarifies and coheres, Butler can flip the modern nightmare into something sublime. On "Gorgeous Sleeper Cell," he is "destined for the stars, followed by a drone, jumping through the fires, waiting on my clone." We're all there with him. CHRIS STAMM
JENN CHAMPION, MY BODY, BRIANA MARELA
(Mississippi Studios, 3939 N Mississippi) Last month, Jenn Champion (the musician formerly known as S) dropped her new record Single Rider, which she wanted to be "a cross between Drake and Billy Joel." Thankfully, it's not—instead, Champion makes a screeching left turn away from the introspective pop-punk of S to turn her attention toward smooth, glimmering synth-pop made in collaboration with Seattle producer SYML. With echoing drum machine beats, airy vocals, and simple yet straightforward lyrics about the blurred line between infatuation and love, the album's 13 tracks conjure strobe-lit dancefloors and drives along the coast at sunset with the windows down (especially standouts like "O.M.G. (I'm All Over It)" and "The Move"). CD
BEACH HOUSE, SOUND OF CERES
(Keller Auditorium, 222 SW Clay) Since Victoria LeGrand first sang about "heartbreak and ponytails" over Alex Scally's bewitching guitar tones on Beach House's 2006 debut, the Baltimore duo has proven themselves to be masters of a new kind of woozy dream-pop. It hasn't evolved too much since then, but that's a good thing—the band's new album 7 more or less follows the same formula, with warped electro-pop melodies floating behind LeGrand's voice, which somehow always seems detached but intense. CD
CORRINA REPP, LUKE WYLAND
(Beacon Sound, 3636 N Mississippi) It took an ill-fated cross-country migration, a nomadic songwriting regimen in northern France, Los Angeles, and Louisville, Kentucky, and some intense introspection for Corrina Repp to come to terms with the pitfalls of failed romance. And on her fifth solo album, How a Fantasy Will Kills Us All, she bares the soul she took along for that journey. Engineered by Danny Seim of Menomena, the record bends and moans in all the right ways, utilizing loop-laced soundscapes as the bedrock for Repp's beautifully resonant lyrics. With tinges of experimental folk and art-pop, grizzled ambient layers permeate the fringes of songs like "Need You/Don't Need You" and the cathartic title track. Shades of Repp's brilliant collaborative work with Joe Haege in the yesteryear Portland project Tu Fawning abound—a creative palette that suits Repp's brooding lo-fi psych well. Rejoice in tonight's record release show as Repp performs solo in the cozy confines of Beacon Sound. RYAN J. PRADO
---
SATURDAY 8/11
LAVENDER COUNTRY, SOFT BUTCH, JENNY DON'T AND THE SPURS
(The Fixin' To, 8218 N Lombard) Read our Lavender Country super pick.
JACK WHITE, OLIVIA JEAN
(Veterans Memorial Coliseum, 300 N Winning) Okay, so Jack White's new album Boarding House Reach isn't very good (to be honest, I haven't enjoyed an album of his since 2012's Blunderbuss). But he's still Jack White—former White Stripe and current rock 'n' weirdo. And in true rock 'n' roll weirdo fashion, he won't be allowing any cell phones at this show. CD Read our story on Jack White and Yondr.
DYLAN CARLSON, MARY LATTIMORE
(Doug Fir, 830 E Burnside) If instrumental music were a coin, Dylan Carlson and Mary Lattimore would be its two sides. Carlson is from the Pacific Northwest, he's old enough to have roomed with Kurt Cobain, and he has spent the past couple of decades wrangling doomed drones and dusky tones out of his guitar in an effort to explore the fringes of American sound. His main gig, Earth, is one of the most influential heavy instrumental bands in recent memory, and his new album Conquistador is his first under his own name. Lattimore is from the East Coast; she's a rising young talent, and her exquisite and ethereal approach to the harp has made her an in-demand accompanist for artists like Sharon Van Etten, Kurt Vile, and Jarvis Cocker. Her new-agey album Hundreds of Days is one of the prettiest and most calming releases of 2018—a year when pretty and calming music is so very welcome. BEN SALMON
SUMMER CANNIBALS, MINI BLINDS
(Green Noise Records, 720 N Killingsworth) Summer Cannibals have been living proof of the greatness of Portland's indie rock scene since releasing their 2013 debut, No Makeup. The band has grown into their moody rock 'n' roll sound on two full-lengths released on their own record label, and another on iconic Portland label Kill Rock Stars. Summer Cannibals' unapologetic, empowered lyrics, fuzzed-out guitar riffs, and power-pop hooks will get stuck in your head all day. DELANEY MOTTER
---
SUNDAY 8/12
PANIC! AT THE DISCO, HAYLEY KIYOKO
(Moda Center, 1 N Center Ct) Since breaking out (and coming out) with her explosive 2015 hit "Girls Like Girls," Hayley Kiyoko has garnered a devoted fan base that has crowned her with the nickname "Lesbian Jesus." Although Kiyoko was initially hesitant to embrace a label that could make her more known for her sexuality than her sound, her debut LP Expectations is packed with unapologetically queer bangers, including "What I Need" (a punchy duet with Kehlani) and the matter-of-fact "He'll Never Love You (HNLY)." Kiyoko is a master of vulnerable lyrics and potent production that's full of kick drums, wavering synth, and the occasional bass drop. Fingers crossed that she joins the stage with Panic! at the Disco for their song "Girls/Girls/Boys." AK
DEAFHEAVEN, DRAB MAJESTY, UNIFORM
(Wonder Ballroom, 128 NE Russell) It can be difficult to align Deafheaven with any one genre—the band's soft, hazy tendencies don't quite fit into black metal, yet their harshness alienates them from shoegaze. Regardless, Deafheaven's new record Ordinary Corrupt Human Love contains the best of both genres. Throughout the album, frontman George Lesage Clarke balances melancholy and delicacy while tackling songs that seethe with frustration and rage. CERVANTE POPE
---
MONDAY 8/13
T-REXTASY, RUUNE, KIDS' TABLE
(Marrow PDX, 7025 N Lombard) New York punk band T-Rextasy played their first show the night before their senior prom and have since dropped an excellent debut LP (2016's Jurassic Punk) and the new single "Girl, Friend." Tonight they'll play all-ages venue and community center Marrow PDX, which is entirely volunteer-run and features shows booked by youth performers. CD
---
TUESDAY 8/14
RODRIGUEZ, VERA SOLA
(Revolution Hall, 1300 SE Stark) Rodriguez's second coming is just as intriguing now as it was following the release of the 2012 documentary Searching for Sugar Man. Despite the Detroit-born singer/songwriter's clear talents (which landed him a deal with Impact Records and later the Buddah Records imprint Sussex in the late 1960s), Rodriguez's music career was basically put on hold following poor domestic record sales. His professional resurrection was precipitated in the late '90s by years of rabid adoration and influence as a rumored-to-be-deceased folk trailblazer in South Africa and Australia. Rodriguez was eventually rediscovered in America, and his story is obviously one of artistic redemption and the prickly whimsy of perseverance. RJP