WEDNESDAY 8/29
ROBIN BACIOR, MONDEGREEN
(Doug Fir, 830 E Burnside) Read our story on Robin Bacior.
Sponsored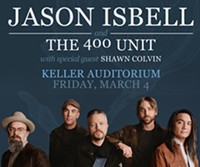 Jason Isbell has established himself as one of the most respected songwriters of his generation. Don't miss Jason Isbell and the 400 Unit, March 4th at Keller Auditorium!
---
THURSDAY 8/30
CAT-CHELLA: THE PRIDS, ARCTIC FLOWERS, VIBRISSAE, DARKSWOON, DJ WEDNESDAY
(Holocene, 1001 SE Morrison) Unlike its namesake festival, you won't have to drag yourself to the desert for Cat-Chella, the concert series benefiting local animal welfare nonprofits through the power of rock 'n' roll. All proceeds from this event will go to the Portland Animal Welfare Team, which provides free veterinary care to the pets of people experiencing houselessness. Please note: No actual felines will be in attendance. CIARA DOLAN
JPEGMAFIA, DONTE THOMAS
(Peter's Room at the Roseland, 8 NW 6th) With a title inspired by his time in the military, Veteran—the new album from Los Angeles-based experimental rapper JPEGMAFIA (AKA Barrington Hendricks), who is currently traversing America on his Reverse Christopher Columbus Tour—addresses everything from conservative bigotry to gentrification to panic attacks to Whole Foods to "fake-woke" liberals over beats that are alternately punishing, gritty, and weightless. "Liberals allow right-wingers on their platforms to have a 'civilized discussion,' but there's no reasoning with racists," he recently told the LA Times, pointing out the irony of humanizing those who actively dehumanize people of color. Elsewhere, "I Cannot Fucking Wait Til Morrissey Dies" excoriates the Smiths frontman for selling a T-shirt that featured a photo of the late novelist James Baldwin and the Smiths lyric, "I wear black on the outside/'Cause black is how I feel on the inside." Veteran's energy shapeshifts from track to track—daydreamy opener "1539 N. Calvert" and the combustible "Baby I'm Bleeding" are both standouts, though they couldn't be more different—but JPEGMAFIA is a master of fluidity, weaving his scorching verses through the realms of harsh industrial noise and cloud rap with apparent ease. CD
SUPERORGANISM, YUNO
(Wonder Ballroom, 128 NE Russell) Superorganism sounds like it was genetically engineered in a lab specifically for a 2018 audience. That's not meant as an insult—the globally sourced and very online octet plays a plugged-in brand of music that draws from a bunch of different places and adds up to a pretty likeable whole. Their music is a combo of heavy beats, smeared electronica, catchy pop melodies, and deadpan indie vocals. The aesthetic encompasses meme culture; weird sounds and samples; Beck-style musical collage; Flaming-Lips-esque sing-along psychedelia; as well as winking lyrics about modern fame, screen time, chat windows, and growing up. Depending on who you are and your background, this probably sounds either fine or terrible. But as someone who probably should think it sounds terrible, I'm here to tell you: Superorganism's self-titled debut is definitely an addictive listen. BEN SALMON
ROLLING BLACKOUTS COASTAL FEVER, JO PASSED
(Doug Fir, 830 E Burnside) Rolling Blackouts Coastal Fever—an obnoxiously long name inspired by their guitarist's séjour in a Cambodian hostel with a dreadful virus—are the newest rock export from Australia. The Melbourne band's first two EPs established a jittery energy, blending post-punk with surf-inflected guitars for a sound that's both nostalgic and unpredictable. Fran Keaney, Tom Russo, and Joe White share vocal duties, with Joe Russo on bass and Marcel Tussie on drums. And while the quintet claims most of their lyrics are based on fictional characters and events, they often paint hyper-realistic portraits of life on their recent debut LP, Hope Downs. Rolling Blackouts definitely aren't a jam band, but their long-winded explorations allow them to dissect anything from café culture ("Cappuccino City") to white privilege ("Mainland"). ANNA KAPLAN
---
---
FRIDAY 8/31
ALIEN BOY, SURFER ROSIE, DROWSE
(Black Water Bar, 835 NE Broadway) Read our story on Alien Boy.
THE REVOLUTION
(Crystal Ballroom, 1332 W Burnside) It's been over two years since we lost Prince—and ever since, the world's been a little less joyous and a little less funky. Thankfully, Prince's all-star collaborators The Revolution are still with us—and still playing the music that helped make albums like Purple Rain so goddamn perfect. This week they're coming through Portland, and you owe it to yourself—and the memory of Prince Rogers Nelson—to go and dance your ass off. ERIK HENRIKSEN
JADE BIRD, FIELD REPORT
(Doug Fir, 830 E Burnside) Here's a list of the things up-and-coming English singer/songwriter Jade Bird has done before releasing a full-length album: She has toured with Colter Wall, First Aid Kit, and Brandi Carlile. She's played multiple late-night talk shows. She's covered Johnny Cash, Alanis Morissette, and Dua Lipa, among others. She's released some new singles, videos for those singles, and acoustic versions of those singles. And most recently, she's been the subject of a mini-documentary called Something American—the same name as her solid 2017 EP. What does this fascinating and carefully orchestrated rollout mean? It means there's a team of people out there who think big things are on Jade Bird's horizon. When you listen to her heartfelt and super-tuneful take on roots-rock—think the elegance of Neko Case meets the grit of Lydia Loveless—it's not hard to hear where they're coming from. BS
ROD STEWART, CYNDI LAUPER
(Sunlight Supply Amphitheater, 17200 NE Delfel, Ridgefield, WA) Like so many artists his age, Rod Stewart doesn't have much to prove to anyone. Whether as frontman for Faces or as a solo artist, he's done and seen it all by this point—enough to warrant a Las Vegas residency, like the one he just wrapped up this year. But unlike a lot of septuagenarian musicians, Stewart still has a fair amount of petrol in his tank. His voice, though dulled a bit with age, still has a lot of power to it, as proven by the charming single "Didn't I" that was recently released as a precursor to a new album. And, in defiance of God's will, he still spends nearly every year on the road, knocking out a set of the classics and making men and women of all ages weak in the knees. Let us once more bask in all his glory. ROBERT HAM
---
SATURDAY 9/1
MINI BLINDS, PLASTIC CACTUS, POOL BOYS
(The Fixin' To, 8218 N Lombard) Read our review of Mini Blinds' new EP Dust.
WOOLEN MEN, MOPE GROOVES, TABLE SUGAR
(American Legion Local 134, 2104 NE Alberta) Every scene has at least one band like the Woolen Men. They release many records. They play seemingly every show. They give off vibes of decency and solidity. Everyone has good things to say about them, which is rare in both the music scene and the world. I don't know what happens to you when you encounter bands like this, but I tend to slip into a kind of lukewarm curiosity. I really need to spend some quality time with this band, I think. But they will be around forever, I also think. I will get around to it, I promise myself. Well, I finally got around to it, and am happy to report I was an idiot for waiting so long. The Portland trio's new album, Post, recalls the mid-'80s period when REM and the Feelies turned post-punk into something gentle, warm, and inviting. It's a fall album for people who like the Fall, and it's one of the best things I've heard this year. CHRIS STAMM
LET'S EAT GRANDMA, ODETTA HARTMAN
(Doug Fir, 830 E Burnside) Childhood friends Rosa Walton and Jenny Hollingworth of Let's Eat Grandma were just 17 when they released their wonderfully strange 2016 debut I, Gemini. On their new sophomore album, I'm All Ears, Walton and Hollingworth forgo some of the unfiltered whimsy of their first LP—which included siren-like scream-singing, batshit recorder melodies, and song titles like "Sax in the City"—to focus on more mainstream pop-friendly hooks that call to mind CHVRCHES and Hounds of Love-era Kate Bush. I'm All Ears is great for listless dancing and people who love British accents: "I'm only 17," they sing on "Hot Pink," "I don't know wot yew mean." CD
THE REGRETTES, KID BLOOM
(Holocene, 1001 SE Morrison) We could all learn a lesson or two from Los Angeles' brutally honest punk band the Regrettes—lessons like it's always better to speak your mind, music is generally better when it's louder, and there's no such thing as too young. The band self-released their debut EP Hey! in 2015 when singer Lydia Night was just 14 years old, and caught the attention of Warner Bros. Records. In 2017, they released their first full-length, Feel Your Feelings Fool! Night delivers unapologetic lyrics with just the right amount of sarcasm over melodies that teem with infectious pop hooks, catchy guitar riffs, tight punk drums, and youthful rebellion that updates the classic riot grrrl sound. DELANEY MOTTER
---
SUNDAY 9/2
CHERRY GLAZERR, SÁVILA
(Mississippi Studios, 3939 N Mississippi) Beginning with her 2014 debut Haxel Princess (which was released when she was still in high school), Clementine Creevy of Cherry Glazerr has proven her mastery of scorching punk anthems about periods, grilled cheese, and teenage girlhood. The band's last album, 2017's Apocalipstick, polishes the grunge without losing Creevy's fire-breathing vocals and unhinged guitar riffs. CD
JARED JACKSON, SASSYBLACK, KAYELA J, VNPRT
(Holocene, 1001 SE Morrison) Chapter Mag and the Pabst Sound Society join forces to put on the fifth Creative Cultivation dance party. Besides excellent DJ/producer Jared Jackson (of the Soulection collective), the rest of the lineup comprises regional gems. Hosted by Fountaine, the show will feature Seattle's space-aged soul singer SassyBlack, 22-year-old rapper KayelaJ and Portland stalwart DJ VNPRT. There will also be an art installation created by Santigie of local R&B/hip-hop act Tribe Mars. JENNI MOORE
GEORGE CLINTON AND PARLIAMENT-FUNKADELIC, MISS VELVET AND THE BLUE WOLF
(Crystal Ballroom, 1332 W Burnside) It just takes one listen to "Maggot Brain" to understand the genius of George Clinton and the rotating cast of backing musicians that make up Parliament-Funkadelic. And though his 1970s heyday might be long gone, the septuagenarian funk legend hasn't lost his magnetism—anybody who doubts that should watch his NPR Music Tiny Desk Concert from January, which is an explosion of psychedelic soul grooves and joyful energy, with Clinton's own grandchildren serving as his backup singers. CD
KILLING JOKE
(Star Theater, 13 NW 6th) For English post-punk legends Killing Joke, it took the death and subsequent funeral of a former bassist to bring the founding lineup back together. Still widely considered to be some of their finest work, the dismal yet danceable intensity of the band's first three albums has influenced everyone from My Bloody Valentine mastermind Kevin Shields to LCD Soundsystem founder James Murphy. Shields calls Geordie Walker's guitar sound "monstrous," while Murphy rhythmically references a Killing Joke song on LCD's debut single "Losing My Edge." With October marking exactly 40 years since their formation, let's hope Killing Joke hasn't yet lost their edge. BEN WEINSTEIN
---
TUESDAY 9/4
BEY DAY
(Holocene, 1001 SE Morrison) Hear ye, hear ye! Our flawless and noble Queen Bey, AKA Beyoncé Giselle Knowles-Carter, AKA the GREATEST LIVING PERFORMER ON THE PLANET is having a birthday. After dropping increasingly monumental visual albums with 2013's self-titled and 2016's Lemonade (for which she is still owed two Grammys), it is mindboggling that this woman has continued to evolve and peak! Since giving birth to twins, Bey's already given us the unparalleled "Beychella," a brand-new album with her hubby in which Bey reveals she's also an amazing rapper (Everything Is Love), and an unmissable stadium world tour that'll come as close as Seattle on October 4. Thirty-seven has literally never looked so good. In clubs, warehouses and house parties across the globe, plebeians and faithful hive members will be grateful for the blessing that is Beyoncé. Celebrate this muthafuckin' queen by dancing the night away and paying homage to all the amazing music, performances, and looks that have comprised her supreme reign. Unfortunately there's only one Bey Day party in Portland. (GET YOUR SHIT TOGETHER, PORTLAND. It's no wonder she hasn't come here in over a decade!) Holocene is hosting its fifth annual celebration that includes a costume contest, dance-off, and DJs spinning the fuck out of Yoncé's catalog. Look forward to live dance performances, video art inspired by the queen, and a photo booth. Now go read her Vogue cover story for the 37th time and then come praise this magnificent, peerless bitch! JM