THURS JUNE 20
Aly & AJ
Before sisters Aly and AJ Michalka were television stars—the former on the Disney Channel hit Phil of the Future, the latter in The Goldbergs on ABC—they were a promising pop group, with a couple of well-received albums released in 2005 and 2007. But then their music career stalled, for a variety of reasons: They delayed a third album several times, left their record label, renamed their project 78violet, and concentrated on acting. In 2017, they reemerged with an EP titled Ten Years, and they followed it up in May with another one, Sanctuary, which showcases the sisters' sophisticated synth-pop sound and a more introspective point of view. Will music rule Aly & AJ's lives for the foreseeable future? Who knows? But they're definitely playing in Portland tonight, so catch 'em while you can. (Wonder Ballroom, 128 NE Russell, 8:30 pm, $25-250, all ages) BEN SALMON
---
FRI JUNE 21
Charly Bliss, Emily Reo
On Charly Bliss' 2017 debut, Guppy, singer Eva Grace Hendricks sounds like she broke into a Party City store and sucked some helium tanks dry. The entire album explodes with carbonated sweetness, confessional lyrics, and unforgettable one-liners (like "stuck my gum on his soul"). The band's new record, Young Enough, is far more energetically measured, with shiny production, slow-burning electro-pop melodies, and songs that reflect on an abusive relationship. It's serious and searingly funny, and it's a whole new era for Charly Bliss. (Holocene, 1001 SE Morrison, 5:30 pm, $15-17, all ages) CIARA DOLAN
CRITIC PICK: Bill Callahan
Bill Callahan's voice has changed. That's not an unusual occurrence for any singer/songwriter that has been recording and performing steadily since the early '90s. And it's not as if he sounds dramatically different than when his debut album Sewn to the Sky (recorded under the name Smog) was released nearly two decades ago. Still, there's a notable deepening and smoothing out of his lusty croon, with a hint of twang curling around the edges. This development is a welcome one and dovetails nicely with the tone of Callahan's material on his new full-length, Shepherd in a Sheepskin Vest. The double album—his first studio release in about six years—is a deluge of imagery and stories, many of them coming in a steady gush after a short lull that followed his wedding and the birth of his first child. Plenty of the collection's 20 songs reference these life changes ("Watch Me Get Married," and "When We Let Go," which opens with the lines, "When we let go/Our arms are open/And our hearts are exposed"), but a healthy amount fall into Callahan's usual terrain of myths and legends, both ancient and newly enshrined. As ever, he uses those foundational tales and images to tell creaking tales of woe, angst, lust, and fury. On Shepherd, each word hangs in the air, held aloft by the sparse acoustic arrangements Callahan and his longtime cohorts Brian Beattie and Matt Kinsey laid down. It asks the listener to take stock of every last line and to more fully appreciate the new sound of Callahan's vocal timbre. That may sound like a small chore, but the reality is much more pleasant and welcoming. Like most everything in Callahan's catalog over the past 20 years, the songs on Shepherd entice. (Wonder Ballroom, 128 NE Russell, 5:30 & 8:30 pm, $25-27, sold out, A) ROBERT HAM
---
SAT JUNE 22
CRITIC'S PICK:Anderson .Paak & The Free Nationals, Thundercat, Earl Sweatshirt
In support of his two new albums, the ever-talented Anderson .Paak is on the road again for his "Best Teef in the Game Tour." Both Oxnard (2018) and Ventura (2019) list Portland-based artist The Last Artful, Dodgr among the credits. Dodgr's vocals are featured on Oxnard's "Anywhere," featuring Snoop Dogg, and she also helped craft the sound for Ventura's "Make It Better," featuring Smokey Robinson. So, like… maybe she'll make a guest appearance during his set? Besides the obvious stand-outs from his two new albums, .Paak has a massive catalog to pull from for his setlist. You can pretty much bet your ass he'll be performing some stuff from Yes Lawd! (his NxWorries album with Knxwledge). And while I do love his more recent releases like "Make It Better," "Come Home" featuring André 3000, "Bubblin," and "Tints" featuring Kendrick Lamar, perhaps my all-time favorite project from .Paak is 2016's Malibu. So I'll be most looking forward to hearing soulful jams like "The Bird," "The Waters," and the disco-reminiscent "Am I Wrong." Since Anderson .Paak is a singer, rapper, and multi-instrumentalist, much of his sets feature him leading his live band while playing the drums. He's got charisma for days, and dance moves to boot. His music sounds so good IRL that his concerts tend to feel like an exclusive retro-tinged party that's guaranteed to have everyone grooving and feeling high. And with neo-soul bassist/singer Thundercat and Earl Sweatshirt on the bill as supporting acts, it's no wonder the show at Edgefield is sold out. If you find decent prices on a re-seller site, I wouldn't blame you promptly coughing up the cash. (Edgefield, 2126 SW Halsey, Troutdale, Sat June 22, 6 pm, sold out, A) JENNI MOORE
Oblivians, The Lovesores, Perfect Buzz
The Memphis garage punk legends are back! Oblivians get together every few years to play a smattering of shows, and this time Portland's getting smattered! With members Greg Cartwright (Reigning Sound), Jack Yarber (Jack O and the Tennessee Tearjerkers), and Eric Friedl (Goner Records) rotating positions on two loud guitars and a couple of drums, Oblivians tear the roof off every time they take the stage, so come on out and get torn up. (Star Theater, 13 NW 6th, 9 pm, $15) NED LANNAMANN
Lucinda Williams, Cass McCombs
Lucinda Williams' most revered LP, Car Wheels on a Gravel Road, hit its 20th anniversary last year, and the response to the special tour performances of the album in its entirety called for a bit of a victory lap. Extending her 20th anniversary observance for the final few jogs around the track, Williams' scrappy live show—typically soulful, bluesy-country affairs—hits the Oregon Zoo. Williams has obviously been plenty busy outside of celebrating her biggest record: She's a three-time Grammy winner and recently produced Jesse Malin's forthcoming LP, Sunset Kids. But tonight, you can party-cry like it's 1998 again—when alt-country was still a genre-mystery we couldn't wait to solve. (Oregon Zoo, 4001 SW Canyon, 6:30 pm, $35-95, all ages) RYAN J. PRADO
---
SUN JUNE 23
TiRon & Ayomari, Nonchalant Savant, JR Jarris, Devonwho
I've been a fan of TiRon and Ayomari ever since seeing their live performance on KEXP last year. Backed by a full band, they both serve as MC, while also incorporating acoustic guitar, electric guitar, bass, and drums for their alternative bent on hip-hop. While rap is definitely a constant, the sound that comes from the brother-duo hip-hop band is hard to place in a box. Their single "It's a Trip" is a summer-themed beach-side sipper that eventually melts from a classic hip-hop sound into trippy indie pop. The duo also just released an upbeat party song called "Don't You Overthink It" featuring Nonchalant Savant, who also graces this lineup. (Holocene, 1001 SE Morrison, 8:30 pm, $10-12) JENNI MOORE
---
MON JUNE 24
PUP, Ratboys, Beach Bunny
The best pop-punk songs are abbreviated battles between sadness and joy, in which neither side ever wins. Sublime tension is the thing, and PUP understand this better than most. The Toronto band's third album, Morbid Stuff, is a bummed trip through mid-20s frustration and malaise, but the drunken self-recriminations and lovesick kiss-offs are delivered with the sort of wide-eyed vim that can only be accessed in ecstatic states. Every song is a shout-along anthem of devastation and glee, resignation and resplendence. Are you fed up with your life but so stoked to even be alive? PUP is for you. (Wonder Ballroom, 128 NE Russell, 9 pm, sold out, all ages) CHRIS STAMM
---
TUES JUNE 25
CRITIC'S PICK: Jamila Woods
By now most folks probably know singer/poet/teacher/youth leader Jamila Woods for collaborating with Chance the Rapper on "LSD," her shimmering ode to Chicago. She also put out the radical self-love anthem "Holy," from 2016's Heavn, as well as "Blk Girl Soldier," a song that big-ups Black woman who continue to be magic despite all they have historically endured. Now Woods is armed with a new studio album, Legacy! Legacy!, and it's her best work yet. On the new LP, Woods celebrates 12 of her Black heroes, with each track titled and inspired by a different name. While the track list is packed with famous icons like Eartha Kitt, Sun Ra, James Baldwin, and Miles Davis, there's also "Sonia," and "Giovanni," which are based on lesser known poets Sonia Sanchez and Nikki Giovanni. There's political, feminist messaging laced throughout, like the excellent line from "Basquiat": "My smile is not employed/You can't police my joy."
Woods' single "Giovanni" and its epic guitar solo is another obvious highlight, but it's also a microcosm of the entire project: expertly produced, with the singer/poet's soulful intensity backed by a fleshed-out band. There are specific elements of songs that I could submerge myself in forever, like the repeated "Who's gonna share my love for me with me?" lyric that closes out "Eartha," inspired by a famous Eartha Kitt quote from the 1982 documentary All by Myself: The Earth Kitt Story.
Another highlight is "Baldwin," where Woods struggles to follow "her friend" James Baldwin's advice in choosing to love racist oppressors. She sings earnestly about casual racism and casual violence: "Somebody's daddy always laid out on the street and for what?/We on the street and for what?/Your precious lethal fear." The chorus is obsession-worthy and should serve as prime audience-participation material: "We don't go out/Can't wish us away/We been burning/Brighter every day."
Seeing Jamila Woods live might just seem like a top-notch neo-soul concert at first, but her carefully crafted words, intentional phrasing, and intense delivery occasionally make it feel like a poetry reading at a Black Panther function—one that's set to a world-class band of live musicians. Her two sets at Pickathon 2018 were captivating, and #BlackGirlMagic defined. Anyone who gets to see this talented, newly-baldheaded woman perform for less than $60 should consider themselves blessed. (Star Theater, 13 NW 6th, Tues, June 25, 7 pm, $20-60, all ages) JENNI MOORE
---
WED JUNE 26
Sinkane, Dreckig
As you may or may not have noticed over the past couple of years, we're in the middle of a flood of new music written and recorded in reaction to the possibility (and then the policies) of President Donald J. Trump. Such is the case with Dépaysé, the new album from cosmopolitan pop-rock artist Sinkane, AKA Ahmed Gallab. According to the charismatic performer, the album tells the story of "an immigrant's journey of self-discovery in the Trump era," and that story is soundtracked by vibrant songs that draw from American rock 'n' roll, African pop, modern blues, and deeply funky grooves. The skilled players Gallab calls on make Dépaysé an impressive listen, and his perspective—born in London to Sudanese parents and raised in America—makes it unique. (Doug Fir, 830 E Burnside, 9 pm, $17-20) BEN SALMON
Ceremony, Sheer Mag
Let's be very clear: This is a killer twin-bill of American bands doing interesting things with and to punk rock, and kicking ass along the way. Philly upstarts Sheer Mag are punks at heart, but their music struts like leather-clad classic rock, and singer Tina Halladay sounds like a soul singer spitting nails. Live, they are a relentless barrage of guitars, fist pumps, and sweat. And Ceremony, from the Bay Area, started out as a pretty straightforward hardcore band with obvious ambition, then blossomed into moody and beautiful post-punk shapeshifters on their most recent album, 2015's The L-Shaped Man. As a live act, they turn frustration and resentment into a skull-crushing wall of sound. (Hawthorne Theatre, 1507 SE César E. Chávez, 8 pm, $16-20, all ages) BEN SALMON
---
THURS JUNE 27
Adebisi, Amenta Abioto, KayelaJ
From the West African word meaning "another added to the crown," Adebisi—featuring vocalist Bisi Ashley and her six bandmates—have unquestionably established themselves as another jewel in the city's neo-soul crown. Their music is a jazzy, thoughtful, horn-heavy delight fronted by Ashley's trilling smooth vocals that remind one of the great heights of India.Arie's on-point R&B. Songs like "Here It Comes Again" is shit that goes deep, putting you in a head-nodding comfort zone that you'll want to be in for the rest of your life. And when Adebisi is joined by the soulful loops of Amenta Abioto and the rap artistry of KayelaJ, as they are in this show, you know you're in for an aural and spiritual treat. (Doug Fir, 830 E Burnside, 9 pm, $12) WM. STEVEN HUMPHREY
Jim James, The Claypool Lennon Delirium
On the Claypool Lennon Delirium's debut album Monolith of Phobos, the freak-psych pairing was surprisingly copacetic. Les Claypool's skewed pop sensibilities were balanced out by Sean Lennon's own burgeoning bizarro oeuvre, and Lennon seemed to be willing to go down the trippy rabbit hole with Claypool. On sophomore record South of Reality, the pair continues their merry pranksterisms, deconstructing progressive rock, psych, and pop parameters with virtuosic interplay and wide-eyed, visionary pieces like "Boriska" and "Easily Charmed by Fools." It's a match made in nard-trippin' heaven that ought to go well with Jim James' own strange rock tidings. (Oregon Zoo, 4001 SW Canyon, 6 pm, $35-95, all ages) RYAN J. PRADO
---
FRI JUNE 28
Tacocat
Tacocat take a risk on their first album for Sub Pop, This Mess Is a Place, which finds the Seattle quartet trading their pointed silliness for a more impressionistic investigation of existential wonder and doubt. The hooks are still as irresistibly bright as whatever planet Lisa Frank comes from, but they are no longer delivery systems for cutting commentary and topical humor. You will find no paeans to Dana Katherine Scully or takedowns of bridge-and-tunnel Chads here. Free-floating worry has replaced satirical specificity; outrage has been overwhelmed by melancholy. Nonetheless, the end result is familiar: peerless pop. (Aladdin Theater, 3017 SE Milwaukie, 9 pm, $18-20, all ages) CHRIS STAMM
The Ocean Blue, The Minders, Lost Lander
Who would have guessed that one of the longest-serving and most consistent dream pop bands of our modern era would hail from Hershey, Pennsylvania? That self-proclaimed "Sweetest Place on Earth" was the birthplace of The Ocean Blue, a quartet that has, since the late '80s, served up jangly, breathy tunes that cut to our lovelorn, angst-ridden cores with sweetness and light. The band arrives in town in support of their fantastic new album Kings and Queens/Knaves and Thieves and with a bevy of familiar jams ("Drifting, Falling") at their fingertips. (Holocene, 1001 SE Morrison, 6 pm, sold out) ROBERT HAM
---
SAT JUNE 29
Ivy Sole, Blossom, ParisAlexa
As if Portland-based soul singer Blossom and Seattle's ParisAlexa weren't reason enough to attend this summer Holocene show, Philly rapper Ivy Sole is headlining. This trio of whimsical plant ladies have all released projects relatively recently. Blossom did the damn thing with her dreamy full-length Maybe, produced by Neill Von Tally; ParisAlexa's excellent Bloom from 2018 has gorgeous gems like the sultry track "Cross Pollinate"; and Ivy Sole's debut LP Overgrown (and its title track) is immediately loveable. And if history is any indicator, this stop on the "Femmetape Summer Tour" will have some cool greenery and decorations for our photo-taking pleasure. (Holocene, 1001 SE Morrison, 5 pm, $18-20, all ages) JENNI MOORE
Jeff Lynne's ELO
Read our story on Jeff Lynne's Electric Light Orchestra. (Moda Center, 1 N Center Ct, 8 pm, $46.50-146.50)
---
MON JULY 1
Priests, Sons of an Illustrious Father, Collate
Priests' 2017 album Nothing Feels Natural was lauded far and wide as a potent post-punk missive from a promising new politically minded DC band. And it was! It was good. But this year's follow-up, The Seduction of Kansas, is such a large leap forward in terms of sonics and style, it's almost like you're listening to a different band. In a way, you are. In between the two albums, bassist Taylor Mulitz left the band amicably, which the other members likened to "sawing off the fourth leg of a chair and rebuilding it to balance on three." That balance is evident throughout The Seduction of Kansas, which is bigger, brighter, and more nuanced than its predecessor, with a little more pop sensibility strutting around Priests' punk snarl. (Polaris Hall, 635 N Killingsworth Ct, 8 pm, $15-18, all ages) BEN SALMON
Khalid
It must frustrate the hell out of R&B singer/songwriter Khalid Donnel Robertson that there's a bloviating, so-called producer/DJ with a similar stage name, pulling focus and streaming dollars as a result. Talent will surely out as Khalid's latest album Free Spirit runs laps around his namesake competition, buoyed by heartfelt, often soaring vocal performances and some stunning production assists from the Haxan Cloak, Disclosure, and Stargate. (Moda Center, 1 N Center Ct, 7:30 pm, $46 and up, all ages) ROBERT HAM
---
TUES JULY 2
European Folk Tales
Clarinet god David Schifrin, artistic director of Chamber Music Northwest since 1981, takes a victory lap throughout this current summer festival season—his penultimate one as director. This particular gig features not only Schifrin, but also incoming co-directors Gloria Chien on piano and Soovin Kim on violin performing intimate works all inspired by European folk traditions. In addition to music from Bartók and Tchaikovsky, the setlist includes a trio by Shostakovich written during World War II that finds the dour Russian in peak form, requiring a cello, violin, and piano to expertly channel tortured fear and anxious frenzy. (Lincoln Performance Hall, 1620 SW Park, 8 pm, $10-62.50, all ages) BRIAN HORAY
Sponsored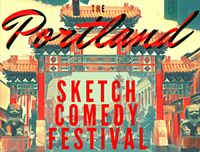 Sketch comedy troupes from all over N. America descend on The Siren Theater for 3 glorious nights.