THURS SEPT 26
Plague Vendor, No Parents, Spirit Mother
One of life's greatest mysteries remains the continued marginalization of Plague Vendor. While other bands who share their interest in marrying post-punk and garage rock with sexy, fuzzy bravado have been heaped with breathless praise, this Cali quartet has remained in the shadows, even after three sleek, snarling albums and relentless touring. Let's help turn the tide. Spend some time with Plague Vendor's latest, By Night—a nasty little number that finds the influences of Killing Joke and Suicide creeping into the mix—and then spend your evening drooling over them in person at Bunk Bar. (Thurs Sept 26, 9:30 pm, Bunk Bar, 1028 SE Water, $15) ROBERT HAM
Nitzer Ebb, Surachai
The same year Nine Inch Nails found success by adding a nasty, chain-swinging edge to the dancefloor pulse of electro on 1989's Pretty Hate Machine, Nitzer Ebb stoked those same flames and Middle American fears with their third album, Belief. But while NIN engaged in a little seduction before breaking out the leather straps, NE got straight down to business, pummeling listeners with gruff, barked vocals and pounding music that felt like a hard, relentless fuck. The British duo hits Portland with a career-spanning tour that's a nice accompaniment to the recent reissues of their discography. (Thurs Sept 26, 8:30 pm, Wonder Ballroom, 128 NE Russell, $30) ROBERT HAM
Sponsored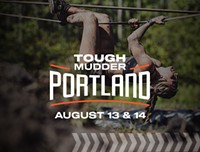 Lock in your summer adventure, Portland. Join us for world famous obstacles over a 5K or 10K distance.
---
FRI SEPT 27
Rituals of Mine, the Seshen, Frankie Simone
Sudden, unexpected deaths are enough to throw anyone's life into turmoil. Such was the case for Terra Lopez, who had been recording dark pop music with her project Sister Crayon for years before her father committed suicide in 2015 and one of her best friends died in a boating accident in 2016. At that point, Lopez completely reassessed her music. "I feel like that name [Sister Crayon] needs to be put to rest along with them," she told the Sacramento Bee. With a new vision and a new major label at her side, she reinvented her sound, renamed her band Rituals of Mine, and started writing her most honest and personal songs yet. You can hear her new approach on the EP Sleeper Hold, which features Lopez's cathartic lyrics set to a gentle collision of slo-mo R&B, icy electronic beats, and cool trip-hop vibes. (Fri Sept 27, 8 pm, Polaris Hall, 635 N Killingsworth Ct, $13-15) BEN SALMON
Amon Amarth, Arch Enemy, At the Gates, Grand Magus
There probably won't be any metal shows for the rest of 2019 that are as stacked as this one. With all these heavy hitters on one bill, what matters most is the opener, Sweden's Grand Magus. (Amon Amarth and Arch Enemy tour fairly regularly in the US, and At the Gates have been to Portland several times since their reinvigoration.) Grand Magus have been churning out records since 2001, but it took record number nine, this year's Wolf God, to finally get them to North America. Wolf God bulges with triumphant, mid-tempo heavy metal fit for anyone clutching a shield and wielding an axe. So if you've got a battalion of bloodthirsty warriors preparing to mount a battlefield, Grand Magus could certainly inspire them. Let's just hope North America eats it up so they keep coming back. (Fri Sept 27, 7 pm, Roseland Theater, 8 NW 6th, All ages, sold out) ARIS HUNTER WALES
---
SAT SEPT 28
Summer Cannibals, Dreamdecay, Moon Shy
Certain Summer Cannibals songs remind me a lot of the Breeders' '90s albums Pod and Last Splash, with their addictively smooth hooks and powerful female vocals. But to date this Portland band too much would be to do them a disservice, as their latest album, Can't Tell Me No, plays like a power anthem for the #metoo movement (but, like, one you can dance to). Consider the opening lyrics of the album's eponymous single: "The fog is lifted, the coast is clear/ I'm jumping higher without you here/Drag me down, you're a weight on my back/There's no saving, just had to get the fuck out." It takes skill to be that specific, and that universal, at the same time. (Sat Sept 28, 9 pm, Mississippi Studios, 3939 N Mississippi, $15) BLAIR STENVICK
Vampire Weekend, Soccer Mommy
If you've got an edible, I've got a lot to say about Father of the Bride, the latest record by Vampire Weekend. I started listening to this band in design school for their consistent versatility: You can draw to it, talk over it, or you can take it and the rhymes by singer/guitarist Ezra Koenig pretty seriously. With the departure of the group's synth player and all-around genius Rostam Batmanglij in 2016, fans stepped into the new record cautiously, and Father of the Bride waited patiently. The longer you listen to it, the more the flavor changes. At first, I was all about "2021" with its borrowed Haruomi Hosono sample. Then I was kicking it hard with the sporty little "Bambina," and predicting that everyone this summer would get married to the jaunty, modernly sentimental "Rich Man." As I go, I see more and more in this record, and I appreciate the thought and skill that went into making these disparate songs. (Sat Sept 28, 6 pm, Edgefield, 2126 SW Halsey, Troutdale, sold out) SUZETTE SMITH
Shura, Quinn Christopherson
English singer/songwriter Shura made a splash in 2016 with her debut album Nothing's Real, a punchy and pristinely produced a collection of modern pop and R&B that delivered one memorable melody after another. Now she's back with sophomore effort forevher, which finds her extolling the virtues of her (seemingly very happy) relationship while digging deeper into a funky, disco-flavored sound. Shura's strength, relative to some of her peers, is her ability to make airy, futuristic pop that doesn't feel like it's going to float out of your head as soon as it fades out. Her songs feel weighty, substantive, and here to stay. (Sat Sept 28, 9 pm, Doug Fir, 830 E Burnside, $20-22) BEN SALMON
Angels & Airwaves, the New Regime, Charming Liars
Tom DeLonge's life and work have become punchlines about aliens and enunciation, respectively, but the erstwhile heart of Blink-182 deserves more than a meme's backhanded affection. Sure, his work with Angels and Airwaves can be turgid and corny, but that's sorta what happens when a pop-punk kid falls in love with U2 and the Cure. We've all been there. DeLonge is still there, and that's okay, because no matter where he is, he'll have his tender and wounded wonder of a voice, which channels adolescent anguish better than just about any other singer in rock music. (Sat Sept 28, 8 pm, Roseland Theater, 8 NW 6th, all ages, sold out) CHRIS STAMM
---
SUN SEPT 29
Cornelius, Sugar Candy Mountain
The collage pop of Japanese maestro Cornelius makes for stunningly immersive studio albums, but that exploratory MO makes for an exciting, bouncy live show, too, with surprising digressions into found sound and atonal harmony. Most of the time, however, you'll be grooving to Cornelius' live band's super-tight rhythmic interplay and call-and-response arrangements. Tonight, they'll perform the entirety of Cornelius' 2002 masterwork, Point. (Sun Sept 29, 8 pm, Revolution Hall, 1300 SE Stark, all ages, $20-24) NED LANNAMANN
Huun Huur Tu, Carmen Rizzo
There's no primer that can prepare you for a performance by Huun Huur Tu. The Tuvan folk quartet has been cultivating its rich musical reach to include not only the hypnotic timbre of throat singing but also a dazzling, rhythmic approach that includes Western instruments like guitar and native Tuvan instrumentation in the form of igil, khomus, doshpuluur, and dünggür. The group has undergone many lineup changes over the years and has released nine albums (six of which are live recordings, if that's any indication of how powerful they are on stage), in addition to countless collaborative releases. Just go, and thank us later. (Sun Sept 29, 8 pm, Alberta Rose Theatre, 3000 NE Alberta, $28-32) RYAN J. PRADO
Mahalia, Sebastian Mikhael, JVCK JAMES
British songwriter/singer/actress Mahalia Burkmar (better known as Mahalia) recorded her first single at age 13, and at 21 just released Love and Compromise—which is being called a "debut album," even though her 11-track project, Diary of Me, came out in 2016. But let's not haggle, shall we? There's some real talent here. Mahalia's soothing voice pings and pops thanks to her Caribbean inflections and hip-hop/jazz sensibilities, producing the kind of R&B-influenced pop that's built for romantic interludes and bobbing your head while speeding through the city on a sultry summer night. Pay special attention to her banger "Simmer" with Nigerian Afro-fusion singer Burna Boy; it's a sexy journey that documents the heat of a burgeoning relationship and the impossibility of trying to cool it down. Mahalia's career could easily take a similar trajectory, so get in on this now. (Sun Sept 29, 9 pm, Hawthorne Theatre, 1507 SE 39th, all ages, $18.50-22.50) WM. STEVEN HUMPHREY 
---
MON SEPT 30
Sabrina Claudio, Gallant
Alternative R&B singer Gallant's voice sounds like if Maxwell's sky-high falsetto was anchored by Usher's hearty tone and romantic runs. Gallant's star has been steadily rising ever since his 2015 hit "Weight in Gold" took off; his studio debut, 2016's Ology, received critical acclaim for its lyricism, distinct sound, and vocal proficiency. Recently, he and airy-voiced singer Sabrina Claudio (this show's headliner) collaborated on "Compromise," and his other new single "Sleep on It" is also a bop. While this time he's appearing at the Crystal as a "special guest" on Claudio's "Truth Is" tour, Gallant's opening set will be the highlight. (Mon Sept 30, 8 pm, Crystal Ballroom, 1332 W Burnside, all ages, $27.50) JENNI MOORE
---
TUES OCT 1
Pharmakon
"To be well adjusted in this system is to be oblivious and unfeeling," Margaret Chardiet writes in the artist statement for Devour, her fourth album as Pharmakon. "This is for the rest of us, who understand that chaos, madness, pain, and even self-destruction are natural and inevitable responses to an unjust and disgusting world of our own making." Blending the harsh noise of Wolf Eyes and the incantatory menace of Diamanda Galás, Pharmakon's latest transmission from the sick center of our devastated epoch sounds like a dying brain's final nightmare. It is the antithesis of easy listening, because we live in the opposite of a kind and just world. We have earned this soundtrack. (Tues Oct 1, 8 pm, Polaris Hall, 635 N Killingsworth Ct, $12-14) CHRIS STAMM
---
THURS OCT 3
The Thesis
Clear your schedule, because the latest installment of Portland's can't-miss hip hop showcase The Thesis is… uh, even more can't-miss-able? Is that even possible? It is when the lineup boasts excellent headliner Covi., and there'll also be auditory astonishment from neo-soul singer Veana Baby and rhymes of both the sharp and laid-back varieties from MixxTapeRadio. (Thurs Oct 3, 9 pm, Kelly's Olympian, 426 SW Washington, $10) ERIK HENRIKSEN
CRITIC'S PICK: Tegan and Sara
When you've been successfully making music for two decades, you're in a spot where you can comfortably take creative risks—that's what Tegan & Sara do with their new album, and those risks pay off.
Looking back at Tegan & Sara's discography—eight studio albums so far, starting with Under Feet Like Ours in 1999—it's easy to chronologically sort their releases into three genres. The sister duo started with an Ani DiFranco folk bent for their first two records, then transitioned to an indie rock sound for a decade. Then came 2013's Heartthrob and 2016's Love You to Death, which fully embraced a new synth-pop sound.
With their ninth album, Hey, I'm Just Like You (out September 27), Tegan & Sara pull the best bits from all three stages of their career. That likely has everything to do with their source material: While writing a joint memoir, High School, the twins found dozens of old songs they'd written and recorded as teenagers, preserved on cassettes. Hey, I'm Just Like You is those songs, re-recorded with fuller sounds and minor lyrical edits. (It's worth noting Tegan & Sara used an all-woman band to record this album, a first for the duo.)
The result is a record that boasts both the diversity of sound Tegan & Sara have explored over the last 20 years, and the trademark "ripped-from-a-queer teenager's-journal" lyrics that first endeared their fanbase to them ("Right now, I wish I was older/and right now, I wish I had closure," they sing on "Hello, I'm Right Here"). Fans of their rock-oriented Con era will welcome the simple guitar riffs and energetic rock vocals on tracks like "I'll Be Back Someday." Listeners who prefer the new pop sound will likely gravitate toward the title track, which is also the album's first single. The band even throws a bone to longtime devotees with an acoustic song ("Please Help Me")—something they haven't done on their last few albums.
In taking this creative risk, Tegan & Sara have made an album that feels almost like a therapeutic exercise: a love letter to all their former selves. (Thurs Oct 3, 8 pm, Aladdin Theater, 3017 SE Milwaukie, all ages, sold out) BLAIR STENVICK
Lana Del Rey
Lana Del Rey is a mood. The singer/songwriter's new record Norman Fucking Rockwell doesn't much resemble her 2012 smash hit Born to Die, which lanced its perfect, crisp tracks into the heart of morbidity and the American mythos. No, Norman Fucking Rockwell is more like 2014's Ultraviolence: a continuous river that swallows us up in romance and sorrow. In her songs, Del Rey is an intellectual cool girl. "You write, I tour, we make it work," she croons on "Venice Bitch," but when the men in Del Rey's life are cruel, she just sort of compartmentalizes it. And while that may be frustrating on a feminist level, it's also a bold, honest account of the realities of love, in both Del Rey's nostalgic fantasy and the real world. (Thurs Oct 3, 8 pm, Moda Center, 1 N Center Ct, all ages, $49.50-205) SUZETTE SMITH
Blanck Mass, Helm, Steve Hauschildt
Blanck Mass—AKA Fuck Buttons co-founder Benjamin John Power—and English experimentalist Helm are responsible for two of 2019's most exciting electronic albums (Animated Violence Mild and Chemical Flowers, respectively), while Chicago-based producer Steve Hauschildt released the fantastic Dissolvi just over a year ago. In other words, this triple bill gathers together artists who are releasing some of the best and boldest music of their careers. The evening—sure to be filled with cinematic soundscapes, ambient textures, and perhaps some metal-leaning screams courtesy of Blanck Mass—should be cohesive and disparate in all the right ways. (Thurs Oct 3, 8 pm, Holocene, 1001 SE Morrison, $15-17) BEN WEINSTEIN
---
FRI OCT 4
Ruston Kelly
Ruston Kelly's had a pretty good run the last few years. His most recent full-length, Dying Star—a collection of endlessly tuneful folk-rock songs about being a fuck-up—was one of the best albums of 2018. It also helped expand his fanbase, as evidenced by his bump up from Bunk Bar (last November) to Wonder Ballroom. And... oh yeah, he married Kacey Musgraves, who used marital bliss as fuel for her mega-smash-hit album Golden Hour, which carried her to a new level of superstardom. Musgraves is great, of course, but don't sleep on Kelly, whose songs display a unique sense of melody and ultra-relatable lyrics. For his next act, he's releasing an EP of emo covers! (Fri Oct 4, 8:30 pm, Wonder Ballroom, 128 NE Russell, all ages, $15) BEN SALMON
---
SAT OCT 5
Boy and Bear, Stu Larsen
If you're looking for a new favorite band to listen to during those crisp fall evenings, Australian indie-folk band Boy and Bear most definitely fits the bill. As former openers for Mumford and Sons, the quintet is sure to be able to handle a large crowd of adoring fans. So put on your favorite flannel, pour yourself a glass of delicious whiskey, and turn that fireplace on while you catch up on songs like new single "Hold Your Nerve" and 2013's "Southern Sun." The men from the land down under are coming up stateside. (Sat Oct 5, 8 pm, Aladdin Theater, 3017 SE Milwaukie, all ages, $25) KATHERINE MORGAN
---
SUN OCT 6
Charli XCX, Brooke Candy
In 2014, Charli XCX won "Hitmaker of the Year," an award presented by Billboard Women in Music, and five years later, we can confirm it was rightfully given. Charli XCX is the queen of catchy earworms: From her hit "Boom Clap" to her feature on "Fancy" by Iggy Azalea (don't act like you don't know that chorus by heart), this woman is here to conquer the world. The fact that the show is on a Sunday shouldn't stop you. Charli XCX's electropop sound will be ricocheting off the walls all night. Just call out the following Monday; you're gonna be up late. (Sun Oct 6, 8 pm, Roseland Theater, 8 NW 6th, all ages, $30-32) KATHERINE MORGAN
---
MON OCT 7
Anne Sofie von Otter & Kristian Bezuidenhout
The fantastic folks at Friends of Chamber Music have been bringing top-shelf musicians to Rip City since the 1930s, and tonight they expand their tradition of excellence by hosting Anne Sofie von Otter. An internationally acclaimed mezzo-soprano, von Otter has collaborated with rocker Elvis Costello and jazz keyboardist Brad Mehldau, but her bread and butter has always been impeccable interpretations of classical lieder and opera roles. She'll be joined by Kristian Bezuidenhout on piano for several recital pieces from Mozart and Schubert, as well as works from underrepresented composers from her native Sweden. (Mon Oct 7, 7:30 pm, Lincoln Performance Hall, 1620 SW Park, all ages, $32-57) BRIAN HORAY
Jidenna
Jidenna's new album is a trippy jaunt through the African diaspora that'll have you wanting to follow his caravan. Read our full review of 85 to Africa. (Mon Oct 7, 8 pm, Roseland Theater, 8 NW 6th, all ages, $25-30)
---
TUES OCT 8
Tank and the Bangas, Adia Victoria
Tank and the Bangas are touring in support of their major-label debut The Green Balloon. The band's led by gospel-trained singer/songwriter/slam poet Tarriona "Tank" Ball—whose voice is so powerful and animated, you'd think she's a real-life cartoon character. The New Orleans five-piece (plus the sometimes-present back-up vocals of Anjelika "Jelly" Joseph) blasts a rich and somewhat oddball blend of soul, funk, hip-hop, rock, and jazz. There's nothing quite like seeing Tank and the Bangas live, which usually includes some spoken word. Having played truly stunning sets at Pickathon and Roseland Theater in the past couple years, it'll be a nice change to see them in the cozy but still aesthetically pleasing confines of the Crystal Ballroom. Also on the bill is raspy-voiced singer/songwriter/poet Adia Victoria, who performs an original mélange of gothic blues, country, and rock that's simply enchanting. Miss this show at your peril. (Tues Oct 8, 8:30 pm, Crystal Ballroom, 1332 W Burnside, all ages, $25-30) JENNI MOORE
Flor, Joan, Lostboycrow
Read our story on Flor. (Tues Oct 8, 7:30 pm, Wonder Ballroom, 128 NE Russell, all ages, $18-20)
---
WED OCT 9
Bleached, Dude York
The rougher edges of Bleached have been buffed a bit, but the now-duo comprising sisters Jessie and Jennifer Clavin are still cranking out catchy, glammy pop-punk. On their recent LP, Don't You Think You've Had Enough?, Bleached stretches their legs: There's everything from disco-tinged rock on "Hard to Kill" to Smiths-inspired pop on "Somebody Dial 911." The Clavins have diversified and managed to create an even more likeable collection than the raw garage-punk of their 2013 debut, Ride Your Heart. Seattle's Dude York kicks things off in support of their fourth LP, Falling, their third record on Hardly Art and probably their most dynamic and quirky to date. (Wed Oct 9, 9 pm, Star Theater, 13 NW 6th, $15) RYAN J. PRADO