THURS OCT 10
Joan Shelley
If you only have room in your life for one folk singer, make it Joan Shelley. The Louisville, Kentucky-based artist's music overflows with alluring melodies, gentle arrangements, and simple-yet-powerful ruminations on the human condition and how we fit into the big picture. Live, Shelley is faithfully accompanied by world-class acoustic guitar player Nathan Salsburg. Together, they've consecutively recorded three near-perfect albums, and this year's Like the River Loves the Sea might be the best of the bunch. If you're not yet convinced, know this: Joan Shelley's music will provide you with a safe place to hide from the real world. All you have to do is let it in. (Thurs Oct 10, 8 pm, Mississippi Studios, 3939 N Mississippi, $15-17) BEN SALMON
Clairo, Baebadoobee, Hello Yello
Little known fact: I have a team of music-savvy youths that keep me informed of what "the now generation" is listening to... and Clairo's name has been popping up with increased regularity. I first heard this 21-year-old's astute, bedroom pop live when she opened for Khalid earlier this year, and it's pretty easy to see why he chose her as a touring partner. Most famous for her sardonic AF viral 2017 hit "Pretty Girl," Clairo has traded in her lo-fi sound for more lush, practiced production in her latest album, Immunity. As shiny as this new product is, it doesn't overwhelm the warm, vibrant tone of her voice or her smart, wise-to-the-world lyrics. (Thurs Oct 10, 8 pm, Crystal Ballroom, 1332 W Burnside, all ages, $22.50-27.50) WM. STEVEN HUMPHREY
Sponsored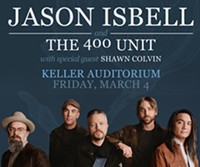 Jason Isbell has established himself as one of the most respected songwriters of his generation. Don't miss Jason Isbell and the 400 Unit, March 4th at Keller Auditorium!
Oh Rose, Plastic Cactus, No Aloha
Rock band Oh, Rose is really from Olympia, Washington, but I'd like to claim them as one of my favorite local bands anyway. I do what I want. Led by Olivia Rose's often-dulcet-sometimes-rough vocals, this four-piece absolutely slays live. Their upcoming show in Portland gives audiences a chance to see them perform tracks from their 2019 album While My Father Sleeps, and also catch a set from Plastic Cactus, a Portland-based band that makes a cool, harmony-forward brand of desert-inspired surf-rock. Indie rock/synth pop trio No Aloha round out the bill for an unforgettable night of female-fronted guitar rock. (Thurs Oct 10, 8:30 pm, Holocene, 1001 SE Morrison, $8-10) JENNI MOORE
---
Kokoko!, Brown Calculus
Alternative indie band Kokoko!, a staple in Kinshasa's DIY scene in the Democratic Republic of Congo, makes a lively fusion of electronic, punk, and experimental music using upcycled guitars and other instruments made from junk. The Congolese band's songs—like the mesmerizing "Tongos'a" and "Kitoko" from their new album Fongola—are designed for the dancefloor, and create an up-tempo pulse fit for a never-ending block party. Their Portland tour stop includes a stellar local opener: intergalactic soul and jazz duo Brown Calculus. This little venue oughta be packed. (Fri Oct 11, 9 pm, Jack London Revue, 529 SW 4th, $20) JENNI MOORE
---
CRITIC'S PICK: Big K.R.I.T., Rapsody, Domani Harris
For decades, rap music in the American South has been dominated by the big cities of Atlanta and, to a lesser extent, New Orleans, with a special nod to Houston and Miami. But as hip-hop has aged, its footprint has grown into the suburbs and also small towns like Meridian, Mississippi, and Snow Hill, North Carolina. The former is the hometown of Southern rap's current symbol of consistency, Big K.R.I.T., who has spent the past decade grinding like an independent artist (despite a Def Jam deal) and cranking out music that set his thoughtful, drawled rhymes against beats as durable and dependable as the mighty Mississippi River. If you made a list of 2019's best hip-hop albums, K.R.I.T.'s newest effort K.R.I.T. Iz Here would be on it, and right near the top would be Eve, the stunning new work from Rapsody, K.R.I.T.'s opener on tour. A no-nonsense MC from the aforementioned Snow Hill, North Carolina, Rapsody's follow-up to 2017's Grammy-nominated album Laila's Wisdom is a 16-track celebration of iconic Black women, with songs named after Nina Simone, Oprah Winfrey, Whoopi Goldberg, Serena Williams, Myrlie Evers-Williams, Sojourner Truth, and Afeni Shakur, among others. It's a cool concept, but it wouldn't work without the skill and vision of Rapsody, who raps with incredible force and precision as beats built from old soul samples boom in the background. Simply put, Eve is a masterful reminder that Southern rap does not belong to any particular city or scene. It is every bit as richly varied as the South itself. (Fri Oct 11, 9 pm, Wonder Ballroom, 128 NE Russell, all ages, $25-150) BEN SALMON
---
SAT OCT 12-MON OCT 14
Oregon Symphony Presents: Stravinsky's Firebird with Colin Currie
Read our story and interview with soloist Colin Currie and Oregon Symphony musicians. (Sat Oct 12 & Mon Oct 14, 7:30 pm; Sun Oct 13, 2 pm, Arlene Schnitzer Concert Hall, 1037 SW Broadway, all ages, $24-125)
---
SAT OCT 12
Steve Hackett
Guitarist Steve Hackett has become the de facto keeper of the flame for Genesis' hallowed golden age. While the other members of the band, including singers Peter Gabriel and Phil Collins, never deign to revisit the band's magnificent early prog period, Hackett has, over the years, devoted setlists and live albums to his tenure with the group. On this tour, Hackett and his band will play Genesis' 1973 album Selling England by the Pound in its entirety; it's always been Hackett's favorite, and considered by many to be their finest hour. While it lacks anything as powerful as their youthful magnum opuses "Supper's Ready" and "The Musical Box," Selling England remains their most technically accomplished and confident work, featuring four solid epics, including the tricky, slithering "Dancing with the Moonlit Knight," the soaring "Firth of Fifth," and the wonderful two-part "The Cinema Show," which pivots from a gorgeous, 12-string-guitar-laden folk song to a hard-driving synthesizer solo over an ecstatic 7/8 beat. And with Hackett at the helm, tonight's show is the best chance we'll have to witness this material performed by one of its original creators. (Sat Oct 12, 8 pm, Revolution Hall, 1300 SE Stark, $45-69.50) NED LANNAMANN
---
SUN OCT 13
Stereolab, Wand
Throughout the band's initial 18-year run, Stereolab felt like an underground music lover's dream. Led by guitarist Tim Gane and vocalist Laetitia Sadier, the self-styled "groop" flooded their discography with motorik Krautrock, lush exotica, drum 'n' bass, Tropicália, and baroque pop. And their subsequent influence has been felt throughout the indie universe and even into hip-hop (Pharrell says the band's "Flower Called Nowhere" is his favorite song to get sucked off to). The 'Lab has returned to the stage after a 10-year hiatus, coaxed by a recent reissue campaign that has brought five of their '90s albums back into circulation. (Sun Oct 13, 8:30 pm, Wonder Ballroom, 128 NE Russell, all ages, sold out) ROBERT HAM
White Reaper, the Dirty Nil, Criminal Hygiene
On their 2017 breakthrough, The World's Best American Band, White Reaper shed the grit and grime of their previous releases and stepped into their destiny as pop-rock crowd-pleasers. The Kentucky band's major-label debut, You Deserve Love, is an even shinier bauble, a slick and glittering collection that imagines an alternate version of the 1980s, one in which Sammy Hagar or Rick Springfield made an entire album that matched the ecstatic bliss of "I've Done Everything for You." It is an unabashedly big and bright record, and few albums since One Direction's Midnight Memories have so expertly demonstrated the power of pure pop. (Sun Oct 13, 8 pm, Doug Fir Lounge, 830 E Burnside, $15-17) CHRIS STAMM
---
MON OCT 14
Aldous Harding, Hand Habits
Aldous Harding's odd brand of uneasy listening is unpindownable. Simultaneously familiar and alien, like a childhood home remembered in a dream, the New Zealand folk singer/songwriter seems to be sending dispatches from a sideways world, one where Nick Drake's lilt and Marlene Dietrich's growl live in glorious accord. Her latest album, Designer, doesn't contain anything as immediately thrilling as "Blend" or "Living the Classics"—both of which appeared on 2017's Party—but a slow reveal suits Harding. When she clobbers you with the stark and stunning penultimate track, "Heaven Is Empty," you'll be too turned around by her strange magic to see it coming. (Mon Oct 14, 8 pm, Aladdin Theater, 3017 SE Milwaukie, all ages, $20-24) CHRIS STAMM
---
CRITIC'S PICK: Tyler, the Creator, Blood Orange, Goldlink
While Veterans Memorial Coliseum isn't exactly my favorite live-music setting in town, this lineup is stacked enough to make it worth a visit. The show's opener is DC rapper GoldLink, who garnered critical acclaim for his debut mixtape The God Complex. He and Tyler, the Creator have a new song together ("U Say") from GoldLink's Diaspora project, so maybe they'll perform it live? In any case, a live rendition of GoldLink's hit single "Crew" (from 2017's At What Cost) is definitely mandatory. But perhaps the most exciting-yet-understated part of this show will be the vocal prowess of English singer/songwriter/multi-instrumentalist Blood Orange (AKA Dev Hynes). The artist has played, written, or produced for artists like Solange, FKA Twigs, Haim, Mariah Carey, and the late Mac Miller. Last year's Negro Swan offers lots of great setlist options, like "Jewelry," "Charcoal Baby," and "Out of Your League" featuring the Internet's Steve Lacy.
As for the headliner, Tyler, the Creator's debut album Goblin definitely wasn't for everyone, but luckily, the artist's career trajectory shows he's not afraid to evolve. Personally, I enjoy that the rapper/singer/producer/director has been making pretty, sonically profound hip-hop (with wayyyyyy fewer instances of anti-gay slurs) as of late. For his most recent album Igor, the follow-up to 2017's Grammy-nominated Flower Boy, the artist dons a whole new aesthetic for his titular alter ego: a blond bob wig, multicolor suit, and sunglasses. From album opener "Igor's Theme," to "Earfquake," "A Boy Is a Gun*," and the emotionally charged "Are We Still Friends?" Igor packs in a lot of highlights that deal with the theme of relationships that exist in limbo, with straightforward lyrical references to his apparently fluid sexuality. With all its sonic and thematic genius, it's no wonder Igor is Tyler, the Creator's first number-one album on the Billboard 200. Having seen Tyler, the Creator at Memorial Coliseum for his "Flower Boy" tour, I can confirm he's quite the entertainer. During Tyler's set, the all-ages audience will be subjected to an energetic, vulnerable, at-times-theatrical display. (Mon Oct 14, 7 pm, Veterans Memorial Coliseum, 300 N Winning, all ages, $36.50-250) JENNI MOORE
---
TUES OCT 15
Babymetal, the Hu
The creation of kawaii metal, a Japanese genre that features adorable pop moppets fronting power metal bands, felt downright inevitable. Especially after being confronted with Babymetal, the most popular group to emerge from this subgenre. Watching the trio of young women throwing down synchronized dance moves in matching goth schoolgirl outfits as they sing about chocolate, karate, and female foxes, the whole thing still feels wholly market-tested and manufactured. Which would be obnoxious if it weren't so damn fun. (Tues Oct 15, 8 pm, Roseland Theater, 8 NW 6th, all ages, $49-300) ROBERT HAM
Altin Gün
Few bands were as blindsiding during this year's Pickathon as Holland's Altin Gün, and the resonance of their groovy, psych maelstrom still lingers. On the band's sophomore record, Gece, they splice funky rhythmic witchery with squalling guitar fuzz and Anatolian melodic flourishes. It's a recipe for introspective meditation or a no-one's-watching dance fit, or maybe both at once. Funktastic tunes like "Anlatmam Derdimi" or "Yolcu" pop in and out of twisted sonic territory, invoking a hypnotic realm of exotic psych-rock that is extremely welcome. Continuing their stateside invasion following their triumphant Pendarvis Farm appearances, Altin Gün in the relatively intimate confines of Mississippi Studios will be something else. (Tues Oct 15, 10:30 pm, Mississippi Studios, 3939 N Mississippi, $18-20) RYAN J. PRADO
Bush, Live, Our Lady Peace
Bush were probably always going to be dismissed as grunge carpetbaggers, but cosplaying as Nirvana on the Steve Albini-produced Razorblade Suitcase sealed the deal. Gavin Rossdale and company were straight-up shameless. They also utterly misunderstood their own strength: writing huge, dumb anthems with the sharp edges of a milkshake. The band's debut, Sixteen Stone, is a pop monolith that reaches stratospheric heights on "Glycerine," which might be an even better power ballad than Candlebox's "Far Behind." That's about as good as radio-friendly unit-shifters got in the mid-'90s, and we can never take that away from them. (Tues Oct 15, 7 pm, Veterans Memorial Coliseum, 300 N Winning, all ages, $23-171) CHRIS STAMM
---
THURS OCT 17
Ural Thomas & the Pain, Tribe Mars
Led by Ural Thomas (a seasoned soul singer from Portland's Albina district) and including local drummer/producer Scott Magee, Ural Thomas & the Pain formed in 2013 and have rightly been rising in popularity ever since. Their aptly named 2018 LP, The Right Time, is a collection of timeless R&B and soul. Much of the album's track list pulls from material that's decades old (some are from 1968's Can You Dig It... Live!), but the vast majority feels relevant and in tune with the current vintage-soul renaissance being embraced by newer, younger artists à la Black Pumas and the War and Treaty. The show's trusty openers are interstellar hip-hop/jazz fusion band Tribe Mars, another locally based, magical unicorn of a band the city shan't take for granted. (Thurs Oct 17, 8 pm, Mississippi Studios, 3939 N Mississippi, $20-24) JENNI MOORE
---
FRI OCT 18
Nuggets Night Farewell Freaker: Streetcar Conductors, Creature Party, the Shriekers, the Cool Whips, Batmoth, the Poorest of People, DJ HWY, DJ Rema Rema, the Pynnacles, Dartgun and the Vignettes, the Hauer Things, Panthervision, the Mean Reds, the Sequels, Pharaoh a Go Go, DJ Major Sean
For 12 years, Nuggets Nights have featured Portland bands performing the garage-rock classics from the '60s that appeared on Lenny Kaye's legendary Nuggets compilation album and its countless sequels. Raise a glass, for this weekend is the Farewell Freaker—the final Nuggets Night celebration ever, with proceeds going to House of Sound. For two nights, local bands like the Pynnacles, Matt Rogers' Miracle Workers, Dartgun and the Vignettes, and tons of others will play those loud, legendary, rude, rockin' tunes that have made garage rock one of the most undying genres ever. (Fri Oct 18 & Sat Oct 19, 8:30 pm, Kenton Club, 2025 N Kilpatrick, $5, see nuggetsnight.com for complete two-day schedule) NED LANNAMANN
Todd Snider, Ramblin' Jack Elliott
It's not as tough to find pure storytelling songwriters as it used to be, but with the proliferation of Nashville romanticism, it's tougher to find good ones. Todd Snider is one of the good ones, a hilarious bard weaned on '70s country and raised in the punk-rock '80s and early '90s, who on his 17th album, Cash Cabin Sessions, Vol. 3, furthers his own trippy, down-home reputation. Snider is capable of both sincere folk balladry ("Like a Force of Nature," which features Jason Isbell) and super meta spoofs like album opener "Workin' on a Song." Paired with the legendary country icon Ramblin' Jack Elliott tonight, this show is practically mandatory. (Fri Oct 18, 8 pm, Revolution Hall, 1300 SE Stark, sold out) RYAN J. PRADO
---
SAT OCT 19
Boo Bomb: Ice Cube, E-40, Ginuwine, Baby Bash, Zapp
If you love your throwbacks—and you better believe we do—the annual Jam'n 107.5 Boo Bomb is ready to throw you back to exactly where you want to be. This year's festivities celebrating '90s and '00s R&B and rap is a certified banger that includes, but is not limited to, Ice Cube, Ginuwine ("Pony"), Baby Bash ("Suga Suga"), and '70s electro funk outfit Zapp ("More Bounce to the Ounce"). No female-fronted acts have been announced yet, which gives me pause—but don't be surprised if this lineup expands to include the ladies and even more of the acts you remember and adore. (Sat Oct 19, 7 pm, Moda Center, 1 N Winning, all ages, $45-75) WM. STEVEN HUMPHREY
Dodgr, Falcons, Blimes & Gab, MAARQUII
Read our story and interview with Dodgr. (Sat Oct 19, 8:30 pm, Roseland Theater, 8 NW 6th, all ages, $5-20)
Black Pumas
Fans of '70s soul—hey, that's me!—will rejoice over the sounds of Black Pumas, an Austin duo who reach deep into one of the genre's greatest decades to mine the particular, rhythmic mood of this music. Expect brooding, fuzzy-buzzy guitars from Adrian Quesada, paired with staccato horns and organ, and fronted by the soulful vocals of lead singer Eric Burton who sounds like a 2019 version of Wilson Pickett. It's like stumbling upon a missing Curtis Mayfield soundtrack of a lost Richard Roundtree film—with a decidedly modern touch. (Sat Oct 19, 9 pm, Wonder Ballroom, 128 NE Russell, all ages, $20) WM. STEVEN HUMPHREY
---
---
MON OCT 21
Black Belt Eagle Scout, Hikes
Raised on Swinomish Indian Reservation in Washington State, Katherine Paul AKA Black Belt Eagle Scout's new album At the Party with My Brown Friends sees the artist channeling her community through music, with many songs inspired by her indigenous culture. "Going to the Beach with Haley," for example, is powered by a melody that reminds now-Portland resident Paul of the traditional powwows from back home. Her intimate show in the laidback Mississippi Studios showroom seems like the perfect opportunity for people of color to take up space, and revel in the creativity of one of the region's most notable queer and indigenous artists. (Mon Oct 21, 8 pm, Mississippi Studios, 3939 N Mississippi, $15-18) JENNI MOORE
---
TUES OCT 22
Thom Yorke
This has been a plentiful year for fans of Radiohead frontman Thom Yorke's wobbly falsetto, around which he builds the majority of his ethereal, noise-touched pop ballads. Last fall he waltzed in with his first feature score, for Luca Guadagnino's Suspiria remake, which was terrific if overpowered by the titular "Suspirium" track. (Keep it on the record; just, for god's sake, get it out of the movie.) In June, hackers stole more than 16 hours of Radiohead's MiniDisc recordings with the notion of ransoming them and—being truly unmoved by this threat—they offered them up to fans, donating the profits to environmentalist group Extinction Rebellion. (I bought it.) Weeks later, Yorke's third solo album Anima hit number one on the Billboard Dance/Electronic Albums chart, his first record ever to do so. You can expect a night of quiet, delicate musical majesties, so no talking, and no shouting for "Creep." (Tues Oct 22, 8 pm, Arlene Schnitzer Concert Hall, 1037 SW Broadway, $59.50) SUZETTE SMITH
Saintseneca, Nick Delffs
Everything is cooler than nasal, refined indie-folk-rock these days. Bands like the Decemberists are doing fine, no doubt, but their sound isn't exactly in vogue, pushed from the public sphere by pop and hip-hop. Which means excellent albums like Saintseneca's 2018 effort Pillar of Na fly even further under the radar. The veteran Ohio band has been cranking out fuzzy, buzzy acoustic stomp-pop for several years, with a handful of solid records on its résumé. But Pillar of Na brought Saintseneca's strengths—elegant arrangements, lovely vocal harmonies, Zac Little's winsome melodies—into crystal-clear focus. It's a terrific work that deserves to reach more ears. (Tues Oct 22, 8 pm, Polaris Hall, 635 N Killingsworth Ct, $12-14) BEN SALMON
---
WED OCT 23
Lucy Dacus, Liza Anne, Sun June
It makes sense that Lucy Dacus has catapulted to such high acclaim; the directness of her writing, and the subdued music she drives it with, is a great study in earnest songwriting. Following Dacus' 2016 debut, No Burden, she hit the road and seems like she's hardly been off it, what with her immediate post-"No Burden" tour forming of Boygenius with Phoebe Bridgers and Julien Baker. 2018 was even more a stepping-out party for Dacus, as her follow-up LP, Historian, basically floored everyone who heard it and landed at or near the top of numerous best-of-2018 lists. If you haven't invested any time listening to Dacus yet, what the fuck are you waiting for? (Wed Oct 23, 8 pm, Aladdin Theater, 3017 SE Milwaukie, all ages, $18-20) RYAN J. PRADO
Amulets, Derek Hunter Wilson, Hugo Ra Paris
Three artists on local record label Beacon Sound will celebrate the release of new works at this show. All are worth investigating, but for now let's focus on Amulets, a project of Portland-based audio/visual artist Randall Taylor, who combines tape loops, field recordings, and processed live guitar to create dynamic, layered drones. The resulting music sounds like it's living and breathing and sad and hopeful and slowly growing more beautiful by the moment. Tonight, Taylor will celebrate not only his new album Between Distant and Remote but also joining the Beacon Sound roster after moving to Portland from Austin, Texas, last year. (Wed Oct 23, 8 pm, Holocene, 1001 SE Morrison, $8-10) BEN SALMON