THURS NOV 21
Bossin' Up: KayelaJ
Monthly hip-hop showcase Bossin' Up at the Fixin' To welcomes KayelaJ to headline the November edition, providing an opportunity to hear highlights from her debut full-length D.Y.K.E. In addition to singles like "Kayela to the MF J" "Check x3," "IG Girls," and "Heat Gentlemens Club," I'm hoping to hear tracks like the angry and unshackled "I've Been Nice," and the sweetly conclusive "I Could Love You." (Thurs Nov 21, 9 pm, the Fixin' To, 8218 N Lombard, $10) JENNI MOORE
Una Noche de Bienestar: Building Hope in the Immigrant Community
Portland Latinx artists are banding together for a night of solidarity and celebration to benefit Bienestar, a low-income housing nonprofit geared toward the region's Latinx community. Dance to local musical powerhouses Luz Elena Mendoza, San Cha, and Orquestra Pacifico Tropical knowing that 100 percent of your ticket will go towards Bienestar's work to create affordable housing for local Latinx and immigrant families. If you're looking for a simple way to take direct action against draconian immigration policies, look no further. (Thurs Nov 21, 8 pm, Revolution Hall, 1300 SE Stark, $30, all ages) ALEX ZIELINSKI
---
FRI NOV 22
Lusine, Survival Skills
It took Seattle-based electronic producer Jeff McIlwain a while to find his proper name and sound. When he started out, as either L'usine or Lusine ICL, he worked in modes of glinty electro and swooping downtempo, respectively. But since choosing the simple and clean moniker Lusine, McIlwain has gone for a poppier approach, working sensual vocals into techno that bursts and fans out with colorful smears. On his current tour in support of his most recent EP Retrace, he'll be joined by drummer (and erstwhile Mercury contributor) Trent Moorman who will add even more bite and groove to McIlwain's already tightly wound compositions. (Fri Nov 22, 9 pm, Jack London Revue, 529 SW 4th, $12-15) ROBERT HAM
Miss Rayon, Black Ferns, Stanford Prism Experiment
The cover to Miss Rayon's latest EP is emblazoned with the terrifying image of the Denver International Airport's 32-foot-tall, demon-eyed horse sculpture Blue Mustang—a towering, horrific, and almost certainly sentient abomination that, it should be noted, killed its creator when it fell on him. Perhaps more importantly, the EP's called Part Time Punks, a title that seems more than apt; with six songs that fit into a brisk 20 minutes, Miss Rayon blurs the line between sludgy post-punk and brighter indie pop. While 2018's Eclipse offered a slicker, catchier, more layered sound, both point to a group that knows how to explore surging soundscapes with just enough restraint. Miss Rayon will be supported by Black Ferns and Stanford Prism Experiment, and, as with all evenings at the Fixin' To, there will be the option to order vegan Frito Pie, humankind's mightiest culinary achievement. (Fri Nov 22, 9 pm, the Fixin' To, 8218 N Lombard, $8) ERIK HENRIKSEN
The Black Keys, Modest Mouse, Shannon and the Clams
Has the Black Keys' time passed? As of this writing, there are still hundreds of tickets available for the alt-rock duo's performance at the Moda Center. That's in spite of a fairly great lineup that includes opening sets from sea shanty indie stalwarts Modest Mouse and the whip-smart garage joy of Shannon and the Clams. What gives? Has the bull-headed decision to name their latest album Let's Rock backfired? Or did that happen because the duo sounds like they want to keep their slippery hold on their audience of soccer moms and dads in cheap pork pie hats with a more smoothed out, music-the-whole-office-can-agree-on sound? (Fri Nov 22, 7 pm, Moda Center, 1 N Center Ct, $49.50-546.50, all ages) ROBERT HAM
A$AP Ferg, Murda Beatz, MadeinTYO
While his buddy A$AP Rocky deals with all manner of legal troubles and gobbles down psychedelic drugs, A$AP Ferg has a grounding force within the scattershot collective known as A$AP Mob. His solo work—particularly his bruising 2013 album Trap Lord and the recently released EP Floor Seats—has held true to the core structures of modern hip-hop. The beats are trap at its most sinuous and cavernous, calling back to the dusky boom of the RZA or DJ Muggs' best. Ferg provides the ballast throughout, with no-nonsense bragging, plainspoken metaphors, and cornball humor ("Gorgeous comma, pretty much about to fuck your mama/Kinda runnin' late for this meetin' with Obama"). (Fri Nov 22, 8 pm, Roseland Theater, 8 NW 6th, $35-125, all ages) ROBERT HAM
---
FRI NOV 22 & SAT NOV 23
Finehouse: A Tribute to Amy Winehouse
When English singer/songwriter Amy Winehouse passed away in 2011, the world lost one of the most iconic voices that would inspire a generation of modern soul singers. This two-day tribute to the star pays homage to "the lush and vibrant sounds of [Winehouse's] classic final album Back to Black, plus a selection of hits from Frank and Lioness." Come celebrate Winehouse's legacy by hearing some of the locally based artists she inspired. Portland soul/jazz/hip-hop band Adebisi kicks off night one, while POPgoji is the headliner for night two. (Fri Nov 22 & Sat Nov 23, 8 pm, Alberta Rose Theatre, 3000 NE Alberta, all ages, $18-20) JENNI MOORE
---
SAT NOV 23
black midi, Ami Dang
The emergence of a band like black midi felt like an inevitability; a dizzying reaction to an over-informed age that has sent scores of music fans scrabbling around the internet for every last scrap of recorded sound available. This UK quartet is simply regurgitating the chunks that they've absorbed through their young lives: reggae, jazz, post-punk, hip-hop, and progressive rock. Their debut album Schlagenheim is the result and it will fuck up your brain but good. (Sat Nov 23, 9 pm, Doug Fir Lounge, 830 E Burnside, sold out) ROBERT HAM
Federale, Roselit Bone, Shea Roberts
Read our record review of Federale's No Justice (Sat Nov 23, 9 pm, Mississippi Studios, 3939 N Mississippi, $14-16)
---
TUES NOV 26
CRITIC'S PICK: King Diamond
Several decades ago, a young Danish man named Kim Bendix Petersen created a stage persona for himself named King Diamond. While it may seem pompous to deem yourself royalty, the talent he displayed and the trajectory his career took afterward was, and still is, nothing short of legendary. When you stop to examine the whole thing, there really is only one logical explanation for how King Diamond came to be who he is—a Faustian pact with Lucifer himself.
Yes, it's a bit over the top, but just look at the evidence: After cutting his teeth on hard rock and punk acts like Black Rose and Brats in the late '70s and early '80s, King Diamond started Mercyful Fate. Suddenly, he's fronting a band that's writing heavy metal unlike anything anyone has ever heard, and King Diamond's vocal performance is nothing short of uncanny. Sure, singers like David Byron (Uriah Heep) and Rob Halford (Judas Priest) had pushed the male vocal range to its brink by then, but neither of them had the complete package of control, adaptability, and theatricality that King Diamond has. How is this possible? Satan.
After two flawless heavy metal records (Melissa and Don't Break the Oath), King Diamond decided to step away from Mercyful Fate and pursue a solo career. King Diamond's debut, Fatal Portrait, is half conceptual, and quite impressive. After that, every record is conceptual. King Diamond releases rich, grandiose stories of demon-possessed unborn children, communications with the dead, burning witches, voodoo rituals, and blood incantations involving marionettes. The man is an unholy alchemist of evil and heavy metal. How does King Diamond convey grimy details about extremely dark and haunting subjects, yet put them to music so well? Fucking Beelzebub!
My last point: God tried to kill King Diamond in 2010 with SEVERAL heart attacks. After a triple bypass surgery, some time off, plus a few special appearances and guest spots here and there, he's back on the road gearing up for his 13th solo release, The Institute. You know how he's been able to be so talented, influential, and prolific? Hail Satan, and long live King Diamond! (Tues Nov 26, 7 pm, Arlene Schnitzer Concert Hall, 1037 SW Broadway, $35-175, w/Uncle Acid and the Deadbeats, Idle Hands, all ages) ARIS HUNTER WALES
---
Nasalrod, Wet Fruit, Internet Beef
Read our story on Wet Fruit. (Tues Nov 26, 9 pm, Doug Fir Lounge, 830 E Burnside, $10-12)
Cautious Clay
Cleveland-born singer/songwriter/producer Cautious Clay (AKA Josh Karpeh) got my attention with his spectacular 2018 single "Cold War," which appeared on his EP Blood Type, as well as the basically flawless soundtrack for HBO's Insecure. It's one of his best songs for sure, and that's no doubt why Taylor Swift sampled it for her song "London Boy." Cautious Clay's also a multi-instrumentalist—flute, sax, guitar, drums, bass, and keys—and currently on the road behind 2019's six-track EP Table of Context, which packs deep and emotive R&B gems like "Sidewinder," "Reasons," and "Settler's Paradise." (Tues Nov 26, 8:30 pm, Wonder Ballroom, 128 NE Russell, $18-38, all ages) JENNI MOORE
---
FRI NOV 29
SAINt JHN, Kodie Shane
SAINt JHN first showed up on my radar when he came in crooning alongside Blue Ivy Carter on "Brown Skin Girl," a stand-out track from Beyoncé's The Lion King: The Gift. After some further digging, it quickly becomes clear why Yoncé invited the Guyanese-American rapper/singer/songwriter/producer, who grew up splitting time between Brooklyn and Guyana, for the track. Sonically speaking, everything is working on his sophomore full-length, Ghetto Lenny's Love Songs, from opening track "Wedding Day" to slappable songs like "Trap" featuring Lil Baby, and "Who Do You Blame." Now he's touring in support of the project, with Kodie Shane, a Black, queer rapper from Atlanta, as opener. Shane's recent vibey single "End Like That" should convince you to get to the Hawthorne in a prompt manner. (Fri Nov 29, 8 pm, Hawthorne Theatre, 1507 SE Cesar E Chavez, $22-25, all ages) JENNI MOORE
---
SAT NOV 30
CRITIC'S PICK: Kikagaku Moyo
Psychedelic five-piece Kikagaku Moyo started out busking on the streets of Tokyo in 2012, and now they're touring the world as one of this decade's most highly coveted acts. A couple years ago, the band came to town to play a pair of Pickathon sets, and, despite trying my best to make it to their performance at the Galaxy Barn, the venue hit capacity before I (and countless others) could make it inside. So it's only right that Kikagaku Moyo—whose moniker translates to "geometric patterns" in Japanese—is making another visit to the City of Roses this fall. After all, Portland's scene of eclectic, psychedelia-loving listeners is exactly the kind of audience the band wanted to engage when they left Japan. In a 2018 live performance on Seattle's KEXP, drummer Go Kurosawa explains how they "had to get out of Japan" and realized their music's reach was "small" in their home country (due to a lack of cities where they could perform), and gained a much bigger following after touring Europe and the US.
Whether or not can understand their lyrics is unimportant; while their words may sound like a foreign language, they're actually gibberish—an intentional choice the band says makes their music more open and accessible to all, not just those who speak Japanese. Their fourth studio full-length, Masana Temples, is an instrument-forward, trippy exploration that sees the band's sonic landscape changing drastically as a result of touring the globe and coming across an array of cultures and climates. For their upcoming show at the Crystal, I'll look forward to stunning, wild-eyed renditions of songs like "Dripping Sun," "Tree Smoke," and "Fluffy Kosmisch." This is the kind of mesmerizing stuff that's perfect to smoke weed and/or drop 'shrooms to, and I've waited long enough to hear it.. (Sat Nov 30, 8:30 pm, Crystal Ballroom, 1332 W Burnside, $20-22, w/Mope Grooves, all ages) JENNI MOORE
---
SUN DEC 1
Lisa Prank, Rose Melberg
Seattleites have long sung the praises of their fave one-woman pop punk band, Lisa Prank (singer/songwriter Robin Edwards), and with good reason—her live shows are straight-up FIRE. Mining the fertile ground tilled by the Ramones, Shonen Knife, the Runaways, the Donnas, and various others of the riot grrrl persuasion, Edwards skillfully turns any room inside-out with her masterful expertise on electric guitar and a Roland MC-505 drum machine. Her newest release, Perfect Love Song, is more of the same mosh-pit perfection, guaranteed to jump-start any crowd into pogoing hysterics. Bring a sweat towel, you'll need it! (Sun Dec 1, 9 pm, Doug Fir Lounge, 830 E Burnside, $12-15) WM. STEVEN HUMPHREY
Morbid Angel, Watain, Incantation
Friends, have you accepted Satan into your heart and pledged fealty to the Dark One, embracing his message of materialism, sexual deviancy, and a rejection of the Judeo-Christian myths of yore? I can see some of you are still on the fence about this, unconvinced that a one-way ticket to Hades is the only way forward for all of us. If my message is not persuasive enough, please join me for tonight's command performance by two of our finest death metal missionaries: Morbid Angel and Watain. The former are still promoting their 2017 album Kingdoms Disdained, a blistering collection that welcomed bassist/vocalist Steve Tucker back into the fold to help spread the gospel of evil. The latter comes to us from our outpost in Sweden to sing to us of sacred damnations and sleepless evils as they bathe us in animal blood. (Sun Dec 1, 8 pm, Hawthorne Theater, 1507 SE Cesar E Chavez, $30-35, all ages) ROBERT HAM
---
MON DEC 2
Battles, Palm
Of the experimental New York foursome that were Battles, only two remain: Ian Williams and John Stanier. No, they didn't actually battle each other (although they should say they did). It's funny to think of their 2006 track "Tras"—which sounded like a metal song that became a math equation—as this group's hit single, but that's what we were nodding our heads to on the way to shows. Over the past few albums, Battles has fooled with incorporating vocals into their complex and symmetrical "bleep bloop" compositions, and on their new album Juice B Crypts they include one-off collaborations with singers like Xenia Rubinos, rappers like Shabazz Palaces, and groups like Tune-Yards. But I still like their instrumental tracks like "A Loop So Nice" best. (Mon Dec 2, 8 pm, Hawthorne Theatre, 1507 SE Cesar E Chavez, $20-25, all ages) SUZETTE SMITH
Daughters
It almost goes without saying that Rhode Island noise rock band Daughters comes with a lot of baggage. Even as they debuted in 2003, with their much-lauded Canada Songs, they were seeking to cast off their past lives as the grindcore group As the Sun Sets. Canada Songs was a controlled chaos of screams and blistering guitar licks; by the time you could tell the songs apart, they had you. The band fell out around their third record, as bands do, but reformed to release 2018's You Won't Get What You Want which collects a variety of discordant music styles into an interesting and controlled catalog. These days it seems like Daughters frontman Alexis Marshall wants to employ more throbbing-noise and altar calls than chaotic screaming freak-outs, which I would say is a sign of maturity if he hadn't suggested last year that people should punch journalists they don't agree with. (Mon Dec 2, 8 pm, Bossanova Ballroom, 722 E Burnside, $20-25) SUZETTE SMITH
---
TUES DEC 3
Kenny G
GET READY FOR SOME KENNY G FACTS IN YOUR FACE, MOTHERFORKERS! Fact one: Kenny G grew up in Seattle and studied accounting at the University of Washington! WHAT. Fact two: In 1997, Kenny G held the world record for playing the longest continual note on a saxophone (an E-flat for 45 minutes and 47 seconds). BANG! Fact three: Kenny G is super popular in China! His song "Going Home" is played at the end of business days at many shopping malls, health clubs, and train stations. SLAMMA-JAMMA! And fact four: Kenny G's Miracles: The Holiday Album is one of the most successful holiday albums of all time, selling eight million copies, which he'll be playing IN ITS ENTIRETY at the Arlene Schnitzer Concert Hall for the luckiest, motherforking ears in the world—yours. BATHE IN HIS GLORIOUS MAJESTY, YOU UNDESERVING BUNGHOLES! (Tues Dec 3, 7:30 pm, Arlene Schnitzer Concert Hall, 1037 SW Broadway, $35-95, all ages) WM. STEVEN HUMPHREY
---
WED DEC 4
Spoon, Nicole Atkins
Spoon, the preeminent indie ensemble of the aughts, has officially made enough albums to warrant a "best of" record—and they're taking it on the road. The group's compilation, Everything Hits at Once, will get you on the dancefloor with classics like "I Turn My Camera On," "The Underdog," and "The Way We Get By," and a bonus new single "No Bullets Spent." (Wed Dec 4, 7 pm, Crystal Ballroom, 1332 W Burnside, A, $38-$42) ALEX ZIELINSKI
Mount Eerie & Julie Doiron
It's been over a decade since the release of Lost Wisdom, the beautifully sparse 2008 collaboration that saw Mount Eerie's Phil Elverum link up with his musical hero, Julie Doiron of Eric's Trip, along with Canadian musician Fred Squire. Recorded in Elverum's hometown of Anacortes while Doiron and Squire were on a brief layover between touring and recording sessions of their own, the album was embraced by fans and quickly tucked away, with Elverum moving on to experiment with black metal on Wind's Poem and Doiron returning to her indie rock roots with I Can Wonder What You Did with Your Day. Fortunately, Elverum and Doiron have reunited for Lost Wisdom pt. 2; the accompanying tour gives Elverum another chance to share the stage with his favorite singer and fans an opportunity to witness these desolate, yet endearing songs in a live setting. (Wed Dec 4, 8 pm, Revolution Hall, 1300 SE Stark, $20, all ages) CHIPP TERWILLIGER
Sponsored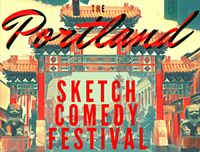 Sketch comedy troupes from all over N. America descend on The Siren Theater for 3 glorious nights.