Well folks, looks like we made it to the end of another year (and another decade), which means we owe you another "best of" list—not because you asked for it, but because people are sheep, and sheep are creatures of habit. Spotify might be cute with its fancy algorithms and lovingly assembled "2019 Wrapped" stories... okay, it's definitely cute, but the Mercury is real cute too. We asked some integral local folk—artists, DJs, curators, bookers, label owners, and fellow journalists who help make the Portland music scene go 'round—for their very important opinions on the best of 2019. YOU'RE WELCOME! From the Rose City and beyond, here are some of the most stellar sounds of 2019, according to the Portland music scene.
Sponsored
Sketch comedy troupes from all over N. America descend on The Siren Theater for 3 glorious nights.
---
Jenni Moore, Portland Mercury music editor
In addition to "HOT" by Dodgr (especially the Pomeranian metaphor in the second verse), and Amenta Abioto's "Plant It" (plus the accompanying music video), one of my most-vibed-to tracks of the year is "I've Been Nice" from KayelaJ's impressive debut D.Y.K.E.; both lyrically and sonically, the song is absolutely sickening (in a good way)! My favorite full-length to come out of the Portland scene this year goes to hometown hero Wynne for her debut mixtape If I May.. There are definitely highlights ("Roll Call," "ROSE CITY," "Ego Check," and "Petty") but this project just GOES, no skips. That's thanks in part to If I May..'s excellent, varied production that pairs beats from industry giants like Hit-Boy and Sounwave (of Top Dawg Entertainment) alongside some of Portland's brightest beatmakers: Trox and Theory Hazit. Especially for a freshman project, this puppy is Italian-chef's-kiss fantastic.
---
Robert Ham, Portland Mercury copy chief
"Epic" is exactly the right word for 400: An Afrikan Epic from drummer Mark Lomax, II. The Ohio-based jazz artist dropped this 12-album collection at the start of 2019 and I've spent the last 12 months trying to reckon with its density, its beauty, and its courage. The massive work explores the history of Black America—from its origins in Africa to its violation at the hands of the slave traders to its current fragile state—through hand percussion workouts, Sun Ra-inspired swing, blazing free jazz, and the gorgeous swells of a string ensemble.
---
Luz Elena Mendoza of Y La Bamba
This year has gone by so fast. I've met so many beautiful spirits on the road, and sharing our message through music has made me stronger. One of my favorite artists that I admire is Fabi Reyna y su projecto Reyna Tropical. They put out Sol y Lluvia this year. I've been away from Portland pretty much all of 2019, and whenever I return I'm in awe of all of the magic that is happening there. It pushes me forward, and I'm so grateful for that.
---
Keryha Burton, of the Numberz.Fm, and Coolin' it with keryha on KPSU
I've had the pleasure of interviewing so many dope local artists on my show—but one that really stood out to me [in 2019] would have to be KayelaJ. I like what she represents: women empowerment, the LGBTQ+ community.... Her stage presence is really dope too. And of course, Mic Capes. If I had to choose a song from Cold Blooded Vol. 1 it would be "Bloodsport," produced by one of Portland's best, Trox! Trox was a guest on my show and his work is phenomenal as well. There's so many!
---
Meagan Ruyle, PDX Pop Now! booking coordinator
Soft Butch's Altar Boys. Seeing them perform "Night of the Long Knives" gives me chills every time.
---
DJ Verbz, The Thesis curator and DJ
"HOT" by Dodgr. In fact, she had a hand in the creative process for several of my top played songs this year, including "Wrong Way," "Make It Better" by Anderson .Paak and Smokey Robinson, and "Truth" by Mark Ronson. Dodgr's style and original sound will be sorely missed in Portland. One of my favorite projects this year was COLORS by Donte Thomas. The song "MAGENTA" was a stand-out track featuring fellow Portlander Scooty, along with California MC, Caleborate. The song that meant the most to me this year was "The Thesis" by Wynne, featuring Vursatyl, Illmac, KayelaJ, and Dame D.O.L.L.A. The song is the city coming together from all angles, and it's like the perfect representation of what we've tried to build with The Thesis: a creative community. "Handle It" and "Ego Check" with Dreamville artist JID meant Wynne stayed in my playlists.
---
Chris Young, editor-in-chief Vortex Magazine
These are words you say when life gets real but you're not ready to give up. Nosila circularly sings "In this together" over the sparse yet complex layers of "Blood on the Floor" from her debut EP Of Course I Still Love You. For fans of Dido or James Blake, these words captivate while perfectly encapsulating her intimate, emotive style, which she jokingly refers to as "sad girl electropop."
---
Gina Altamura, Holocene talent buyer
The third album from Lydia Ainsworth, an immensely talented vocalist and producer out of Toronto, weds a witchy orchestral pop sensibility (in the spirit of Kate Bush) with the seductive grooves of electronic R&B, and the result is mesmerizing. Thematically, Phantom Forest is a rich and nuanced exploration of the dystopian future that seems to be unfolding before our eyes, particularly the frailty of our injured natural world coupled with tech obsession.
---
---
Isaac Slusarenko, Jackpot Records owner
I describe the record as shitastic! You'll either think it's shitty or fantastic. Created entirely by English musician Richard Dawson, 2020 gets better with repeated listens. At times it sounds like Billy Bragg meets Gentle Giant all within the same track. The recording is clear and clean sounding with room to absorb the sounds without predicting where it will go next. If you like a songwriter with a bit of a challenge, this is for you.
---
Sarah Turner, Pink Noise curator
Veronica Avola always brings deep, visceral, introspective synth party jams, and her self-released album Consensual Abduction is no exception! It's a trip of cosmic transcendence: full of experimental beats and internal movement that makes you nostalgic for a retro futurism warehouse party utopia. Perfect for late-night stargazing, or road trips towards Area 51. Turn up the volume and beam me up, baby!
---
Vaughn Kimmons of Brown Calculus and Tribe Mars
One of my favorite releases this year is the new EP by Y La Bamba, titled "Entre Los Dos." I'm blown away and inspired by the writing of Luz Elena Mendoza. Her rawness and vulnerability inspires us to fight for each other. Her music is a call to action, a call to love.
Sponsored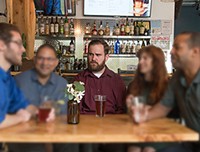 Adults aged 18-35 with good hearing will be paid for their time. Located at the Portland VA Medical Center