Due to a statewide ban on events with more than 250 attendees, some events may be cancelled or postponed. Check the event producer's website to verify before attending.
THURS MARCH 12
Schaus, Amenta Abioto, Jame Doe
In a city that isn't hurting for bedroom-based laptop electronic projects, the artist known as Schaus is doing it better than most. With a voice that sits somewhere in the zone where ANONHI and Casey Tatum from Tim & Eric Awesome Show nestle together, this young local is beholden to a warm synthpop aesthetic that, with the right production muscle, could push him into Toro Y Moi or Wild Nothing territory. Thankfully on his new album Grinding, Schaus avoids such temptations, preferring to keep his sound full of angular turns and small digital stumbles (Thurs March 12, 8:30 pm, Holocene, $8-10) ROBERT HAM
Sponsored

Custom framing, photo frames, printing on metal, paper and canvas.
Third Eye Blind, Saves the Day
If you're like me and shamelessly enjoy an ample dose of nostalgia every now and again, Third Eye Blind's gig at the Roseland is sure to satisfy. With the songwriting duo of Stephan Jenkins (lead vocals, guitar) and Kevin Cadogan (vocals, guitar) at the helm, the post-grunge pop-rock group achieved commercial success with their self-titled debut in 1997, including their iconic hit "Semi-Charmed Life," as well as "How's It Going to Be" and the heavy-but-affirming "Jumper." The Bay Area band connected again with "Never Let You Go," from their sophomore effort Blue. Having parted ways with Cadogan in the early 2000s, the band released a couple more records, and is now touring in support of their latest, 2019's Screamer. After an opening set from New Jersey rockers Saves the Day, Third Eye Blind should have the masses singing along in drunken glee. (Thurs March 12, 8 pm, Roseland Theater, $45, all ages) JENNI MOORE
---
FRI MARCH 13
Caroline Shaw
Pulitzer Prize-winning composer Caroline Shaw's visit to Portland is going to be a busy one. There are last week's rehearsals and performance with modern classical ensemble Third Angle New Music, and a handful of appearances hosted by the Oregon Symphony. While the performances of her Partita for 8 Voices with the full orchestra will surely be awe-inspiring, the more fascinating event is Shaw's appearance at the Alberta Rose as part of a new "Open Music" series that Gabriel Kahane, the Symphony's new Creative Chair, is organizing to present visiting artists and their work in a more intimate setting. (Fri March 13, 8 pm, Alberta Rose Theatre, $20, all ages) ROBERT HAM
Dorian Electra
Dorian Electra's early material included economist pop (like 2010 single "I'm in Love with Friedrich Hayek" and 2011's "Roll with the Flow [My Date with Keynes]"), and later, a series of catchy, cheeky sex education songs/videos for women's lifestyle website Refinery29, on the history of feminism, high-heeled shoes, drag, vibrators, and my personal fave, the clitoris (sample verse: "In 3D/The clit was mapped architecturally/To the world's surprise/It was found to be 10 times its size"). Lately, the pop and performance artist with neon hair, a painted-on pencil mustache, and gothic dom-meets-Ren faire outerwear has been drawing on their own experiences and orientation; they told Bullett Media that "Mind Body Problem" was about "femininity as a performance—when being a 'woman' feels like putting on a costume and the costume doesn't seem to come off with the clothes." Dorian Electra's 2019 self-released debut LP, Flamboyant, discusses masculine archetypes and issues from a gender-fluid perspective, adding a healthy dash of campiness to tunes like the glamor-hyped "Guyliner" and Biblical spoof "Adam & Steve"—the latter's YouTube video is tagged with an 18-plus age restriction for no discernable reason. ("There is no nudity, no 'inappropriate language', no gratuitous violence..." Dorian tweeted recently, "Maybe just offensive because it's gay af?"). (Fri March 13, 6 pm, Holocene, sold out) LEILANI POLK
---
SAT MARCH 14
Panther, Jo Passed, Paper Gates
Jo Hirabayashi's garage-pop project Jo Passed has come a long way from its scrappy origins as a two-piece touring the far reaches of Canada. Now residing in Vancouver, BC and expanded to a trio with drummer Mac Lawrie and bassist Megan-Magdalena Bourne, the group is able—with a little help from Sub Pop Records—to produce lusher, more expansive takes on the guitar rock canon. On their most recent album Their Prime, Jo Passed indulges in soft string arrangements, jagged post-punk, and, as the title of one of their best songs says, "Millennial Trash Blues." (Sun March 15, 8 pm, Killingsworth Dynasty, $7, all ages) ROBERT HAM
Leslie Odom Jr., Victoria Canal
Known for originating the role of Aaron Burr in the Broadway hip-hop musical Hamilton, Leslie Odom Jr. and his spectacular voice are national treasures. His perfect pitch, tone, and insane vocal control are the only reason I ever unmute during a commercial break; whenever that damn Nationwide Insurance commercial comes on, I simply must be reminded that they are on my side. He also dropped a really lovely Christmas album a couple years ago, and recently starred alongside Janelle Monáe in the terribly underrated Harriet. This concert at the Hawthorne will feature Odom Jr. effortlessly rattling off gorgeous renditions of songs from his third full-length, Mr. (Sat March 14, 8 pm, Hawthorne Theatre, sold out, all ages) JENNI MOORE
Lil Mosey, Bankrol Hayden
Lil Mosey, born Lathan Moses Echols, is an up-and-coming Seattle hip-hop artist with some major hype around his name. At just 18 years old, the rapper/singer/songwriter has already achieved some commercial success. Complete with a mumbly, melodic flow, Mosey's poppy rap single "Blueberry Faygo" peaked at 54 on the Billboard Hot 100; he also got plenty of attention for "Noticed," was named one of XXL's Freshman Class in 2019, and is signed to Interscope Records. Maybe Lil Mosey is just another young, too-cool-for-school rapper in a sea of others like him, or maybe he's the Pacific Northwest's next breakout rap star. You be the judge! (Sat March 14, 8 pm, Roseland Theater, $25, all ages) JENNI MOORE
---
SUN MARCH 15
Blackbird Blackbird
Brooklyn-based electronic musician Mikey Maramag creates lush songscapes and hypnotic, optimistic pop tracks about all the good stuff: lost loves, new infatuations, picking yourself up off the ground, and peacing out. What started as a Four Tet-inspired UCSC bedroom electro project has morphed into shows all over the world and a steady stream of beautiful, atmospheric albums. Maramag's latest, Hearts from 2019, breaks the long-running creepy flower visual which branded and easily identified his work, but songs like the title track still hit hard on nostalgic places (I've got Super Mario 3's "King's Theme" goosebumps) and the following "It's So Hard to Say Goodbye" gives me straight-up Erasure synth-pop vapors. (Sun March 15, 8 pm, Mississippi Studios, $12-15) SUZETTE SMITH
---
MON MARCH 16
Collate, the Tissues, Vueltas
Kristine Nevrose's authoritative vocals convey her dissatisfied demands with the power of Poly Styrene of X-Ray Spex, and the drama of a first-two-records Siouxsie Sioux. But I also hear the immediateness of '00s noise-punk panic flying above guitarist Jerry Narrows' frenzied new wave and noise rock guitar riffs. With two totally solid albums under their belt, and this tour that brings their latest release, Blue Film, up the West Coast from LA, the Tissues' reputation for songs that fly like fuel-efficient rockets and shows that hit with energy and rebelliousness precedes them. (Mon March 16, 8 pm, Black Water Bar, $7, all ages) SUZETTE SMITH
Mayhem, Abbath, Gatecreeper
One of the few guarantees we have in this world is that the package tours that Decibel magazine puts on every year are absolutely unmissable for fans of heavy music. Excellently curated and well-organized, each one is packed with young guns and members of the old guard, joining forces to pummel the land with crushing levels of amplitude. This time around, it's a god-level meeting of Norwegian black metal legends: Mayhem is sharing the stage with Abbath, the equally evil outfit led by former Immortal leader Abbath Doom Occulta. (Mon March 16, 7 pm, Roseland Theater, $27.50-32, all ages) ROBERT HAM
---
WED MARCH 18
Pussy Riot, Deli Girls
It's been eight years since Pussy Riot burst into American public consciousness after staging a guerilla performance inside a Moscow cathedral, bringing their confrontational and unapologetic music and praxis to our attention. And, at this moment in time, it seems like we need a punk intervention once again. Blending music, performance art, and political protest, the Russian punk collective is continuing to promote the overthrowing of imperialism, capitalism, and fascism while facing continued harassment from the Russian government. By attending, your money will also be going to a good cause—the collective has partnered with PLUS1, which means $1 from every ticket sold will benefit Planned Parenthood and their local affiliates. (Wed March 18, 8:30 pm, Wonder Ballroom, $26, all ages) JASMYNE KEIMIG
---
THURS MARCH 19
Dan Deacon, Ed Schrader's Music Beat
For nearly two decades, Dan Deacon's been proving that you can be a goofball and a serious electronic-music composer. He used to eschew stages for his performances and play on the floor while arranging crowd-participation stunts that broke down the artist-audience divide and thrust you back to that summer-camp feeling. Thankfully, the Baltimore producer's music packed so many outsized thrills and indelible hooks, it compensated for whatever gimmicks he was perpetrating. Now a full-fledged film composer (2019's Time Trial), Deacon is touring behind Mystic Familiar, which ladles on the inspirational melodies, expansive song structures, and rich textures until you swoon at the child-like wonder of it all. Check out "Arp II: Float Away" for an arpeggio-mad rollercoaster ride. (Thurs March 19, 8:30 pm, Wonder Ballroom, $17, all ages) DAVE SEGAL
Nas
As if that onstage collab between big Nas and Lil NasX at the Grammys wasn't enough, Nas' prolific debut album Illmatic is 25 years old this year, indicating that we are all getting very, very elderly. For this special anniversary show, the legendary New York MC teams up with the Oregon Symphony to perform tracks like "Halftime" and "The World Is Yours" from his critically acclaimed 1994 masterpiece. The symphonic performance gives us one last opportunity to judge with our own naked ears and determine if the album was really worth that controversial five-mic rating from The Source. (Thurs March 19, 7:30 pm, Arlene Schnitzer Concert Hall, sold out, all ages) JENNI MOORE
---
FRI MARCH 20
Snoh Aalegra, Quin
Read why this show is a critic's pick. (Fri March 20, 8 pm, Roseland Theater, sold out, all ages)
Kinski, Kawaguchi Masami's New Rock Syndicate
Have you ever watched the big plate glass windows at Turn! Turn! Turn! bow and ripple in response to a particularly strong gust of wind? Those same windows are going to be put to the test tonight as they absorb the sound waves kicked up and out by the double-bill of Seattle heavy psych quartet Kinski and Kawaguchi Masami's New Rock Syndicate, a simmering acid rock group from Tokyo. The only appropriate solution is to pack this little club with bodies that can help absorb the surge of volume and energy before it does damage to the building. (Fri March 20, 8 pm, Turn! Turn! Turn!, $12) ROBERT HAM
---
FRI MARCH 20 & SAT MARCH 21
Drive-By Truckers, Kelsey Waldon
It's another disconcerting election year, so the 2020 music-political climate is pretty much guaranteed to be rife with subtle and not-so-subtle demonstrations of dissent. Twenty-two years into their croon-country catalog, Athens, Georgia-brewed Drive-By Truckers (the launchpad of now-solo artist Jason Isbell) have unspooled yet another delicately developed deluge of disruption filed under their 12th studio album, The Unraveling. Two shimmering exclamations appear back-to-back on the nine-track credo—"Stick it up your ass with your useless thoughts and prayers" (from "Thoughts and Prayers") and "If Amazon can deliver salvation, I'll order it on my phone" ("21st Century America"). Joined by Nashville's neotraditional Kelsey Waldon, the night should carry the twang of spitfire from open to close. (Fri March 20 & Sat March 21, 9 pm, Wonder Ballroom, $25) ZACH FRIMMEL
---
SAT MARCH 21
Galactic & Anjelika "Jelly" Joseph, Dirty Revival
On the heels of their most recent album, Already Ready Already, the New Orleans jazz/funk outfit Galactic is swooping in to Portland, and as an extra special gift, bringing along Tank & the Bangas' background vocalist Anjelika "Jelly" Joseph to belt out their blistering R&B-inflected tunes. Their first album in three years, Already Ready Already bounces off the turntable with ass-wiggling funky jams featuring a litany of great vocalists, including Princess Shaw, Miss Charm Taylor, and Erica Falls. To add a bit more spice to their current tour, Galactic just released yet another new single, "Float On," featuring the nasty, angelic vocals of "Jelly" Joseph, whose stellar voice—along with wizened, masterful instrumentals from bandmates Stanton Moore, Ben Ellman, Robert Mecurio, Jeff Raines, Shamarr Allen, and Richard Vogel—will surely bring about a successful liftoff at the Crystal. (Sat March 21, 8 pm, Crystal Ballroom, $29.50-37) WM. STEVEN HUMPHREY
2020 XRAY Awards
It's the sixth anniversary of XRAY.fm, one of Portland's best community radio stations, and they're celebrating with their annual awards show honoring audio achievements and local activism. A ticket gets you a seat to the show, dinner, special treats, and a live performance from Portland artist Black Belt Eagle Scout. You can also choose to just attend the afterparty, which will feature local acts Wet Fruit and Mr. Wrong, as well as San Francisco-based Cold Beat. Either way, you'll be supporting a Portland-grown gem and enjoying one hell of a show. (Sat March 21, 6 pm, Polaris Hall, $60-120; afterparty, 9 pm, Polaris Hall, $10) BLAIR STENVICK
---
MON MARCH 23
Ata Kak
In 2002, Brian Shimkovitz purchased Obaa Sima, a cassette of lo-fi tunes by Ata Kak that combined broken pieces of synth-pop, early hip-hop, and African highlife, from a roadside stall in Ghana. Six years later, when he finally got around to listening to it, it became the inspiration behind his beloved blog and label Awesome Tapes from Africa. It took even longer for Shimkovitz to track down Ata Kak to re-release the cassette. But now that it is widely available, the word is out about this one-of-a-kind artist and the buzz about his US tour is loud. (Mon March 23, 8 pm, Mississippi Studios, $18-20) ROBERT HAM
---
MON MARCH 23 & TUES MARCH 24
Wilco
Last December, Chicago alt-rock band Wilco opened a pop-up shop full of apparel, paraphernalia, bobbleheads, engraved pencils, and exclusive records to coincide with the band's hometown "Winterlude" concert series. It would be easy to poke fun at the over-the-top merch game if Jeff Tweedy and company weren't also comfortably turning out some of the best music of their long and storied careers. The band's relaxed mentality carries over to the stage, where overlooked gems are given a new lease on life and old crowd-pleasers continue to age like fine wine. Wilco's lineup is closing in on two decades together, and there's a reason fans are as quick to flock to newly uploaded bootlegs as they are to limited vinyl releases. Come out and see for yourself when they hit the Schnitz for a two-night stand. (Mon March 23 and Tues March 24, 7:30 pm, Arlene Schnitzer Concert Hall, $39.50-75, all ages) CHIPP TERWILLIGER
---
TUES MARCH 24
Tashi Dorji & Aaron Turner, Daniel Menche
Tashi Dorji is part of an ever-growing class of guitarists that know the strategies of the American Primitive and rock idioms but want to hear what they would sound like if they were translated by creatures from another planet or filtered through a broken computer program. Tonight, Dorji applies that aesthetic to a night of duets with Aaron Turner, a fellow sonic dismantler best known for his time in the post-metal band Isis and his current membership in doom metal outfit SUMAC. Joining them is the ever-unclassifiable long haired Daniel Menche and his jerry-rigged machines of loving brutality. (Tues March 24, 8 pm, Turn! Turn! Turn!, $8) ROBERT HAM
---
WED MARCH 25
Sasha Sloan, CYN
A thoughtful, witty lyricist, it's not surprising that Sasha Sloan has penned hits for Camila Cabello, Idina Menzel, and Kygo, but when her words are paired with her own wistful, gentle voice, it all comes together in a magical way. Self-effacing and intelligent, Sloan's music is not just for moody teens, it's emotionally mature and wise music for anyone. This is evident in such songs as "Older," a meditation on letting go of one's past, or in "Dancing with Your Ghost," depicting the bittersweet loss of love, as well as "Smiling When I Die" which is a perfect great-escape road trip song if I've ever heard one. She'll be joined by Katy Perry protégé CYN, whose youth-powered, quirky pop will provide a bouncy counterpart to Sloan's sweet, lush dreams. (Wed March 25, 8 pm, Wonder Ballroom, $20-65) WM. STEVEN HUMPHREY
Sponsored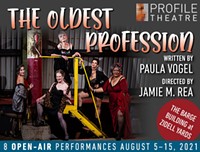 What's the retirement plan for the oldest profession? A moving comedy by the premier writer of our time.