Passionate Donald Trump fans, led by supporters and a crew from right-wing conspiracy theorist website Infowars, confronted anti-Trump protesters on Portland State University (PSU) campus on Saturday.
Sponsored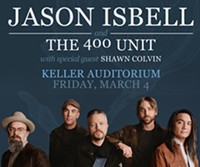 Jason Isbell has established himself as one of the most respected songwriters of his generation. Don't miss Jason Isbell and the 400 Unit, March 4th at Keller Auditorium!
The Infowars folks came to town to join local Trump supporters because they were upset that a PSU Students for Trump meeting the week before had been interrupted by "commies." The anti-Trump folks, on the other hand, were demonstrating against Trump because he's a terrible person.
The two groups converged at PSU's Urban Plaza and it led to heated... yelling, mostly. The two factions marched around campus, and Infowars declared the next day, without irony, "LEFTIST IDIOTS DISPLAY IRRATIONAL CONTEMPT FOR OPPOSITION IN PORTLAND."
It was that kind of day. DOUG BROWN
---
A MAJORITY OF CANDIDATES for Portland mayor support enacting local rent controls on the basis that the city's housing crisis constitutes a man-made disaster.
The latest example: Monday, candidate Sarah Iannarone, a PSU employee and café owner, called for an immediate rent freeze, and an end to no-cause evictions.
"Because the unregulated housing market has resulted in disaster conditions, there are options available for local governments to act decisively in the present," Iannarone's announcement said.
Every other candidate the Mercury asked about the topic agreed, with the exception of two: the two-highest polling candidates, Ted Wheeler and Jules Bailey.
Wheeler says he's interested in pushing a "just-cause" eviction policy, similar to Seattle's, but expressed reservations about rent controls. Bailey said the point is moot until the legislature overturns a state preemption. He says he's seen a Multnomah County legal opinion that says the "disaster" argument wouldn't fly in court. DIRK VANDERHART