TEN MONTHS after loggers in rural Clark County stumbled upon a dead body in an open field, authorities believe they've now got Robert "Bobby" Huggins' death figured out.
Six people associated with the Portland chapter of the Gypsy Joker Motorcycle Club were arrested April 27 in connection with the brutal killing of 56-year-old Portland resident Huggins, a former member of the club. Portland Police Detective Jim Lawrence tells the Columbian that Huggins "died a horrible death," which the Clark County medical examiner ruled a homicide.
Four people—Mark Dencklau, Earl Fisher, Tiler Pribbernow, and Malachi Watkins—are charged with kidnapping and murder. They are accused of abducting Huggins in Northeast Portland on June 30, 2015, killing him, and dumping his body in Ridgefield, Washington. Two others—Ronald Thompson, 51, and Kendra Castle, 43—are charged with hindering prosecution. More arrests could be coming soon.
Huggins' murder offers a glimpse at a different type of gang violence than Portland's been accustomed to lately. The Gypsy Joker Motorcycle Club was founded during the motorcycle boom in post-World War II San Francisco, and its members headed north to Oregon and Washington in the late 1960s and '70s. These days, news linking the club to serious crimes doesn't surface often, but the Gypsy Jokers are listed by cops as a local street gang.
While details are scant at this point, police believe that Huggins had left the motorcycle club. And a detective with the Clark County Sheriff's Office confirmed the Columbian's report that Huggins was a suspect in a 2012 shooting in Ridgefield.
"I think his friends found out that he was doing things they didn't like him doing," Detective Lawrence told the Columbian. "His death was a result of his recent activity."
In a show of solidarity for their busted comrades, about a dozen Gypsy Jokers associates and supporters lined the benches of a Multnomah County courtroom last Thursday for the suspects' arraignment. They were less than thrilled when the Mercury attempted to ask them questions afterward, and declined comment.
But here's what we know, so far, about the men accused of killing Huggins:
Mark Dencklau, 56, is, or was, the president of the Portland Gypsy Jokers, according to a 2007 press release from a biker-friendly lawyer who successfully sued the City of Portland on behalf of the Jokers after a failed 2004 police raid at the club's NE MLK headquarters.
"The club had to take a stand," Dencklau said in the release. "We need to tell the police that we won't be treated as second-class citizens. We won't sit by and be their target anymore."
According to court records, Dencklau has one felony conviction, for possession of controlled substances with intent to distribute.
Earl Fisher, 46—a large, bearded grandfather—has lived in Portland his entire life. He's also amassed quite a rap sheet, with five felony and four misdemeanor convictions, and seven parole violations. His most recent non-driving bust was in 2009 when he was convicted on two counts of unlawful use of a weapon.
Tiler Pribbernow, 34, is an Iraq War veteran and a methamphetamine addict. He was already in jail when the sweep happened last week, after a March arrest on meth possession and gun charges. He has at least eight prior felony and four misdemeanor convictions.
Pribbernow's been in the news before—most recently for a 2015 police chase that started in Oregon and ended in Vancouver. Cops discovered stolen license plates in his car, and booked him for driving under the influence of drugs, reckless endangerment, and eluding police.
He was also prominently featured in a 2007 Willamette Week story for having shot a man, Kent Kotsovos, in Northeast Portland. He was arrested for attempted murder in 2005, but a grand jury said it was self-defense. Per the story, "Pribbernow told police Kotsovos stepped out of the car and reached under his belt. Pribbernow grabbed a 9mm handgun from his dashboard and shot him in the face, chest, and arm. 'I made it through the war without getting shot or killed,' Pribbernow told police. 'I sure wasn't going to die right here in the street by my house.'"
Pribbernow is Facebook friends with Huggins, whom he's now accused of helping to kill.
Malachi Watkins, 32, is from Camas, Washington. He's been in prison in Washington after his 2015 arrest for failing to register as a sex offender and witness tampering. Among other convictions, he pled guilty to three counts of child molestation and one count of incest, per a 2009 Marysville Globe story.
Police and prosecutors stress that the investigation is not over, and more people could be going down soon.
"A lot of man hours have gone into it over 10 months now and there's still an investigation ongoing," says Detective Scott Kirgess with the Clark County Sheriff's Office. His department and the Portland Police Bureau are leading the investigation. "We're still digging and finding out and talking to people."
Sponsored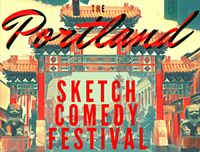 Sketch comedy troupes from all over N. America descend on The Siren Theater for 3 glorious nights.