THERE IS SHOUTING on the Springwater Corridor again, and it's coming from a house.
It's 10 am on Saturday morning. As advocates prepare to meet with some of the hundreds of homeless residents who will likely be pushed from the multi-use path beginning Monday, August 1, a woman stands on her deck overlooking the trail. She looks tired, strained by the ongoing drama playing out in Portland's densest clutch of poverty.
Sponsored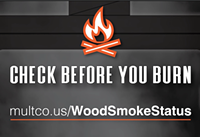 Having clean air means reducing wood smoke. Check before your burn from October 1-March 1.
But mostly, she's angry.
"You'd fucking shit a brick if this happened by your home," she says to no one in particular, as volunteers carry cases of water past her house and toward a large encampment across the trail. "Are you from Lents? None of these people are from Lents!"
The woman refuses to give her name, saying it would only make her a target if it showed up in print. But she's happy to vent at length about the entrenched camps that have caused her problems in the last year.
"I can't wait to move out, but I'll never be able to sell," she says, still half-shouting. Of the nearby camps, she offers a familiar refrain: "There are appropriate places for this. It's not humane."
That sentiment—"it's not humane"—will be echoed just across the Springwater moments later, in a wildflower-dappled floodplain known as "Lambert Field" that's attracted campers for years.
Two years ago, when the Mercury visited the field for a story on camp cleanups ["Off the Springwater," News, July 9, 2014], it was largely overgrown, with just a few tents. Today it holds one of the largest encampments on the trail.
Advocates from local volunteer organizations like Boots on the Ground PDX, Free Hot Soup, Rose City Backpacks of Hope, and Portland Tenants United have called the morning meeting to discuss how to react to a decision they say lacks both humanity and logic: Eight days earlier, Mayor Charlie Hales revealed plans to eradicate camping on Portland's swath of the Springwater trail for good beginning in early August—a massive sweep that is quite possibly the largest single enforcement action like it in the city's history.
In announcing the impending "cleanup," Hales placed a premium on an extensive social services outreach he promised would occur. He only glancingly acknowledged an important fact: There are few additional services to provide to displaced people. Outreach has largely involved getting campers on waiting lists for housing, counseling, and other services.
"Housing doesn't really exist for us to put people into" right now, says Shannon Singleton, executive director of JOIN, an outreach organization that works to find places for people to live. "We can't promise anything quickly."
Even a brand-new 200-person homeless shelter in East Portland might not be much help. It's replacing a 260-bed facility downtown. The mayor's office says 55 shelter beds are available for some of the Springwater's displaced campers.
As Hales explained to the Mercury after announcing the sweep: "Some of those folks are going to camp elsewhere, and hopefully do so in a way that has less impact than what we've seen along the Springwater."
But if the mayor's early warning gave social workers time to get people on lists, it's also given other groups time to strategize.
"What we wanted to do is have a conversation—find out what you want from the community," advocate Vahid Brown tells upward of 60 people at Saturday's meeting. He's addressing homeless residents from along the trail, but they are in the minority. Only about 10 hands go up when Brown asks who's actually living at Lambert Field or nearby. Some others had lived on the Springwater until finding better options. Most of the people present are advocates and volunteers. A few concerned or aggrieved housed Lents neighborhood residents hang out on the perimeter, listening or recording the meeting.
"I really, really object to them throwing our possessions away," says Desiree Rose, who'd camped along the corridor until finding a home at North Portland camp Hazelnut Grove.
"It's kind of pointless," a man living on the trail says of the possibility of resisting the impending sweep. "They do anything they damn well please."
"I been pretty happy homeless," another man says. "I been pretty happy camping on the bike path." Someone says, "Amen!"
Others suggest that all of the Springwater campers are being punished for the work of a few of bad actors. After all, Hales' announcement followed both a shooting and fire along the trail.
"If someone gets shot, you don't evict the entire apartment complex," Ree Kaarhus, executive director of the group Boots on the Ground PDX, told the Mercury two days earlier. "That's not the way it goes."
At the meeting, plans begin to unfold for how to respond to the impending cleanup. The collected group comes up with a list of demands they'll forward to Hales—including that the mayor call off the sweep, identify a new place for people to go, stop criminalizing camping, and allow people to host camps in their backyards.
There are other efforts in the works, too.
Kaarhus announces her organization is planning an "economic refugee camp" for people displaced by the sweep. Like a camp for abused women Boots on the Ground PDX and others briefly established on city property in May, it will be tidy, she says, with space for trailers as well as tents, and security. There will also be a strictly enforced code of conduct.
"This is going to look like a UN refugee camp," Kaarhus tells the crowd, saying the location will be kept secret until July 31. "If we can make it work, the city may open more organized camps."
Austin Rose, an activist with Portland Tenants United (PTU) is also present. He explains his organization will help campers nonviolently resist the sweeps, if they choose. One man worries that could get him arrested. Rose says it could, and that PTU activists are willing to put "our bodies on the line," to help people stay put.
"We want to help you organize a defense of your home," Rose says. "All we have to do is convince Charlie Hales that it's not in his best interests to make these sweeps happen."
It appears the mayor is resolute. After meeting with trail residents who said they'll refuse to budge on Monday, the mayor's office said there are no plans to delay the action.
For the woman shouting out her grievances near the Springwater, that's little comfort. "They're just going to come back," she says.
But when a woman who appears to camp on the Springwater rolls by on a bicycle a moment later, calling out "Hi," the lady on the deck softens.
"Howdy, how you doing?" she replies, then turns back to the conversation. "Some of these people are really nice, and I feel for them."