WHEN MAYOR Charlie Hales abruptly pushed back a planned sweep of Springwater Corridor campers last week, he didn't just quell a promised lawsuit.
The month-long delay, to September 1, also gave local officials time to find more spaces that might serve the hundreds of homeless people who, we're told, will be pushed from the margins of the Southeast Portland multi-use path for good.
Sponsored
Sketch comedy troupes from all over N. America descend on The Siren Theater for 3 glorious nights.
So we asked Hales: Did he think the extra month would yield new possibilities for shelter space or more organized camps—somewhere for people to go?
"I certainly hope so," he said. "There are people in my office who are literally up every night thinking about where we can put more shelter space."
The product of all that spent midnight oil reveals a lot.
Data the Mercury obtained via a public records request show Hales' so-called Housing/Homelessness Initiative Team, along with Multnomah County staff, has scrutinized more than 120 plots since the city declared a housing emergency last October, scouring land listings and zoning maps to figure out where Portland's next shelter or sanctioned encampment might fit.
A couple of those properties have since come to fruition, most recently a 200-bed shelter in the former Multnomah County Sheriff's Office headquarters at NE 122nd and Glisan.
Others—the city-owned parking garage beneath downtown's O'Bryant Square, for instance, or a vacant lot on NE MLK, or an old school building out on SE Stark—are presented as potential contenders.
But the vast majority will never house a single homeless Portlander.
A spreadsheet Hales' office sent the Mercury on July 27 lists properties that fall into eight categories—ranging from "high priority" plots that are coded with vibrant green, to more than 50 sites marked in gray that officials have ruled out completely. (Be sure to click on the top left of the map below for a legend explaining what each number means.)
As you'd expect, the data include many interesting tidbits. Here are a few observations:
---
Officials are considering reusing a controversial zoning opinion to site camps.
In April 2015, the outcry was swift when Hales and Commissioner Amanda Fritz announced they'd move homeless rest area Right 2 Dream Too (R2DToo) to a vacant lot in the Central Eastside. Immediately, business groups began questioning how a homeless camp was allowed on land zoned for industrial uses.
Months later, when the city produced an opinion from its code enforcers suggesting a camp was a fine fit for that plot, detractors warned that the same justification could open up huge swaths of town to homeless camps.
They were partly right.
While developers and businesses are still challenging the R2DToo zoning opinion, the spreadsheet shows officials are actively anticipating how it might be used on other plots of land. Time and again, the ruling is cited on the spreadsheet as a potential means of placing new camps in Northwest, Northeast, and Southwest Portland.
---
They're also willing to tap
the city's "state of emergency" status.
Each property on the city's list includes the number of people who could bed down there under normal conditions, and a higher number that'd be allowed under zoning changes being mulled by city staffers. But the document also contemplates how many people could fit there if the city invokes its homelessness state of emergency in order to get more people indoors.
Sometimes that distinction makes a big difference. For instance, a city-owned parking garage at 800 SW Stark that's been considered as an overnight camping space could fit 100 people under normal conditions, but 411 people in an emergency. And an enormous space on SW Barbur that could typically host 100 people might fit more than 1,000 under an emergency declaration.
Sara Hottman, Hales' spokesperson, says the city has no hard plans to use the emergency in this manner. It seems clear it's a possibility, though.
"The idea is that [kind of use] would only be in true emergency situations, but of course a true emergency situation is open to interpretation," Hottman says.
---
Officials are looking to place people where you'd expect.
Nearly a quarter of the sites are in or near downtown and the inner Eastside, and roughly one-fifth are east of I-205.
Meanwhile, well-to-do Eastmoreland—where Hales lives and which was a focus of attention in recent days after activist Jessie Sponberg said he'd bring homeless campers there—isn't anywhere to be found. The Southeast Portland corridors that contain bustling strips on Belmont, Hawthorne, and Division are barren of potential sites. The Pearl District, site of a bitter fight over R2DToo in 2013, doesn't have any plots.
That's a fact likely to garner angst from neighborhoods like Lents, which argue they've borne the brunt of the homelessness crisis. But it's also true that some areas of town are better situated—due to existing services or transit access—to lend a hand than many of the excluded neighborhoods.
The list is out of date.
It's supposed to be current as of July 26, but the city apparently hasn't followed up on some of its prospects. For instance, the property at the very top of the spreadsheet is a building at 816 NE Grand that formerly housed a restaurant, then a payday loan operation. It's sat vacant for nearly five years but was recently promised to a neighboring Range Rover dealership, owner David Slawson tells the Mercury. What's more: Slawson never heard the city was interested.
"I never had any discussion regarding housing homeless people there," he says. "I'm not sure how it got on the list. They probably just said, 'There's a vacant building.'"
Slawson says it's possible the city contacted his broker about the property without his knowledge.
---
It's also incomplete.
Notably missing from the spreadsheet is a Bureau of Environmental Services site near SE 104th and Reedway that, as first reported by the Mercury, the city is hoping to turn into a camp.
And it's missing Terminal 1, the city-owned Northwest Portland property that appears poised to host an emergency shelter in coming weeks.
Asked about this, Hottman acknowledged the spreadsheet was redacted "because information relating to real estate negotiations is exempt from public records until the transaction has ended."
---
Even if the city and county could find amazing properties, there's not necessarily money for them.
Austin Cain, a broker at the Portland firm New & Neville Real Estate Services, happily showed off an old charter school building near SE 181st and Stark to county officials in mid-July. The 17,500-square-foot building might have been ideal for 100 people, the city's spreadsheet shows—perhaps even 200.
But even in a year when $47 million has been allocated to fight homelessness, money for shelter space is scarce. Cain says he got an email not long after the showing that revealed A Home for Everyone, the coalition strategizing to slash the county's homeless population, "had no additional funding at this time to move forward with another shelter."
Marc Jolin, head of the county's Joint Office of Homeless Services, says officials have been working toward more than 430 new year-round shelter beds in the area. Given the expense of that effort, money's tight.
"We are having to be very intentional about where and what type of additional capacity we spend our remaining shelter dollars on," Jolin says.
Sponsored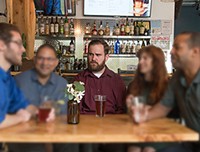 Adults aged 18-35 with good hearing will be paid for their time. Located at the Portland VA Medical Center