IT TOOK Amalia Alarcón de Morris nine years at the helm of the Office of Neighborhood Involvement (ONI) to work up to her final annual pay of nearly $144,000.
Sponsored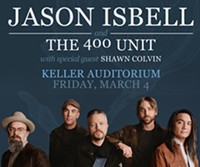 Jason Isbell has established himself as one of the most respected songwriters of his generation. Don't miss Jason Isbell and the 400 Unit, March 4th at Keller Auditorium!
David Austin reached that rate after less than three months.
Austin, the deputy chief of staff for Commissioner Chloe Eudaly, was tapped to run the embattled ONI on an interim basis after Alarcón de Morris announced she'd be stepping down as of March 20. In moving him to the new position, Eudaly chose to pay Austin the highest possible salary for the job—money that will come from the ONI budget, not Eudaly's.
The city's most recent salary scale report shows the ONI director job pays $102,981 at minimum and tops out at Austin's current salary, $143,811, which he'll earn until Eudaly hires another full-time ONI director in coming months.
"He has at least as much responsibility as the outgoing director," says Marshall Runkel, Eudaly's chief of staff, noting that the office plans to significantly rejigger ONI under Austin's watch. "The people are going to get their money's worth out of Dave Austin."
"Commissioner Eudaly has the confidence in me to come in and address things very quickly and make changes to improve the bureau," Austin adds. "I don't plan to sit down and do that slowly."
But Austin's 54 percent pay hike might not disappear completely once he returns to his old role.
Eudaly's office is considering bringing back a budgeting tactic that was cast out under former Mayor Charlie Hales—partly at the urging of the City Budget Office. Runkel says he's thinking of supplementing Austin's salary with thousands more from the two bureaus Eudaly oversees: ONI and the Bureau of Development Services (BDS).
The potential move has a couple of motivations. Both Runkel and Austin say the bureaus need better communications operations, which Austin would be responsible for. Eudaly also wants to pay her deputy chief more than his position's maximum salary under the city's pay scale.
Prior to working for Eudaly, Austin spent more than six years working as the communications director at Multnomah County—a position that paid better than his gig at the city. Since "deputy chief of staff" for a commissioner's office isn't an actual job classification on the city's books, Austin has been earning the $93,434 maximum salary allowable for a commissioner's staff representative.
Eudaly's considering paying Austin roughly $20,000 more than that once his stint as ONI director is done—a pay bump that would be evenly split between ONI and BDS, and come with expectations Austin's workload would increase. The office is still assessing how the arrangement would work.
"We're looking for him to not only help set up the communications team for the offices, but help lead them," Runkel says, adding that the arrangement is "not just a transfer payment to help solve our salary issue."
Should Eudaly's office pursue that path, it's a throwback to budgeting tactics that were in fashion last time Runkel worked in City Hall, as a staffer to former Commissioner Erik Sten.
Commissioners and mayors used to routinely pay for their personal aides with money carved from the bureaus they oversaw—a practice which rankled some city number crunchers, who saw it as dishonest budgeting. The practice morphed under former Mayor Sam Adams, when formal "inter-agency agreements" made the practice more transparent.
But when former Mayor Charlie Hales took office in 2013 pledging to whip the city's finances into shape, all that ended. The budgets for most commissioners' offices increased slightly, and there was an expectation they'd stay within those limits.
Eudaly's office isn't the only one pushing throwback budgeting.
Amid his early budget proposals this year, Mayor Ted Wheeler suggested a position in his office could be paid for with $130,000 from the City Attorney's Office. The position would "provide strategic policy advice" to the mayor's office and others about the city's ongoing settlement with the US Department of Justice over police abuses.
Perhaps not surprisingly, the City Budget Office pushed back. The office believes the position is a good idea, but suggested that the money to pay for it come from Wheeler's own budget "since the position will be under the guidance of the mayor."
Wheeler will release a formal budget proposal next month.