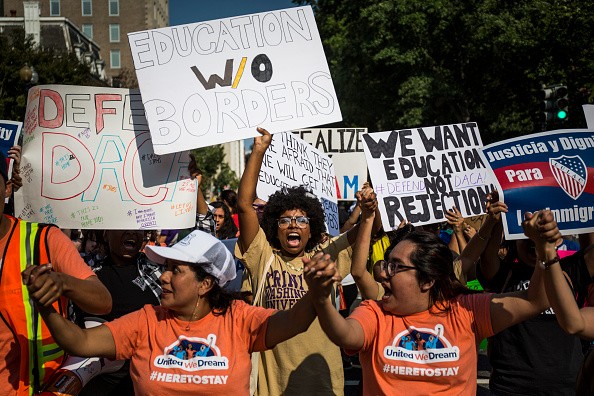 As announced today by Jeff Sessions, the DACA program will cease to exist in its current state. Read below for what this change means for DACA recipients, what to do if stopped by ICE agents, what you can do to fight back, and a list of several local organizations dedicated to protecting immigrant rights that could use your donations.
What is DACA?
Deferred Action for Childhood Arrivals (DACA) is a policy implemented during the Obama administration that granted (temporary) protection from deportation for youth that arrived undocumented to the United States before their sixteenth birthday. DACA recipients (also known as Dreamers) were eligible for protection and received numerous benefits like social security numbers, work permits, and driver's licenses if they met a list of requirements. These requirements included continual residency within the U.S., current status as a student or high school graduate, and no felony charges amongst others. Nationwide, the program has protected nearly 800,000 youth from deportation and 11,000 in Oregon.
How does this affect current DACA recipients?
Here to Stay is an online resource that details the effects of this policy change, provides mental health resources, and invites people to take action. Below are five key takeaways for what this change means for DACA recipients:
1. Your DACA is valid until its expiration date
2. No new DACA applications will be accepted
3. DACA issuances and work permits expiring between now and March 5, 2018 must be submitted for renewal by October 5, 2017
4. Advance Parole to travel abroad is no longer available
5. We are united in this fight
Si necesitas información sobre DACA en español, haz clic aquí.
For more details on the change to DACA, you can attend the 6 pm information session tonight, Tuesday, September 5th held by Catholic Charities Legal Services located at 2740 SE Powell.
What to do if stopped by ICE agents:
The ACLU provides free printable resources that outline details on what to do if ICE agents arrive at your door and provides examples of legitimate orders. Without a warrant issued by a judge, ICE agents are not permitted to enter unless invited in. Everyone in the residence, including the person who has answered the door, may exercise their right to remain silent.
Si necesitas información sobre sus derechos durante una redada de casa en español, haz clic aquí.
What you can to do fight back:
While you may be feeling helpless, there are a variety of actions you can take to help:
• Text RESIST to 50409 to demand your US Senators defend DACA. This is a text bot that sends you a few texts that will take your replies and compile them into a fax. Takes just a few minutes.
• Attend a rally or protest. Health and accessibility permitting, showing up at public events is an empowering display of solidarity. This evening at 5 pm, Milenio.org and Voz Hispana Cambio Comunitario will lead a demonstration calling for congress to save DACA and pass the DREAM Act.
• Attend information sessions. Tonight at 6 pm, Catholic Charities Immigration Legal Services will host Kim Le (SOAR) and John Herrera (CCILS) for an information session on what the rescinding of DACA means. Three more are scheduled later this week with Latino Network (Wednesday 9/6 5:30-8:30 at 740 SE 182nd Ave, Portland, OR 97233; Saturday 9/9 10:00-1:00 at PCC on SE 82nd; Tuesday 9/12 5:30-8:30 location in Washington County TBD)
• Make phone calls. You can consult this tool to find out who represents you in the Oregon senate, house, and in congress. If you're in Washington, use this one instead. Or call the White House and leave a message at 202-456-1111. Check out a sample script here.
• Write letters. The Oregon DACA Coalition is leading a #purpleDACAletters campaign. Write a letter of support (typed, scanned, hand-written and photographed) and then email it to purpleDACAletters@gmail.com. The goal is to send over a thousand letters in purple envelopes to governmental officials as symbols of hope. Track and share letters with #saveDACA
• Support your friends, family, and neighbors. If you know someone is a recipient of DACA, speak frankly (and with respect to their privacy) to express your support. If appropriate, offer yourself as a contact in concrete emergency preparation plans in the event that ICE does show up. If a member of their family is deported, who should you call? What about if an undocumented child's parents are deported?
• Create attention on social media. Similarly to showing up for protests, you can show up online. Permission granted for relentless @-ing congressional opponents of DACA. #DefendDACA
• Stay informed. Follow reliable news sources *ahem* for updates on DACA and consider signing up for Here To Stay's community calls by texting DACACall to 877-877
Local organizations and resources:
Below are local organizations dedicated to supporting immigrant rights as well as resources. If you're interested showing up to support these organizations, be sure to email first to see if they need volunteers or prefer support in other ways like donations.
• Oregon DACA Coalition
• IRCO
• Causa Oregon
• Latino Network
• Milenio.org
• Sponsors Organized to Assist Refugees (SOAR)
• Voz
• El Programa Hispano Católico
• APANO
• Coalition of Communities of Color
• Catholic Charities
• One Oregon
• Adelante Mujeres
• Low-cost legal resources for immigrants
• Comprehensive cultural services directory
• Know Your Rights resources from the ACLU of Oregon