As the Portland Police Bureau (PPB) rakes in criticism from civil rights groups and professional monitors over its handling of protests, the captain in charge of the bureau's response to such events is doubling down on the controversial tactics.
Sponsored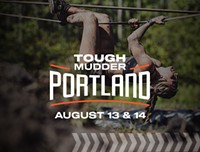 Lock in your summer adventure, Portland. Join us for world famous obstacles over a 5K or 10K distance.
"I know Portland's got a reputation: 'Oh, Portland police this and that,'" PPB Captain Larry Graham said during a rant at a police oversight meeting last week. "[But] nationally, they've looked at us and they've asked us to do national training for national law enforcement. They're pretty impressed about how we're able to adapt and change."
Graham was at the meeting to defend a specific event: his riot gear-clad cops' response to a protest over a police union contract last October, during which some officers pushed activists down the steps of City Hall and set off pepper spray before arresting 10 people. But he made clear he's proud of the bureau's handling of protests in general.
Since last October, cops in body armor and masks have regularly responded to protests by setting off less-lethal grenades and tear gas, pepper-spraying activists, and slamming people to the ground. Vans and buses are called to haul protesters to jail for charges that often don't stick. Variations on this theme played out at protests immediately after Donald Trump was elected, on Inauguration Day, President's Day, May Day, and more.
Curious about Graham's claim, the Mercury inquired into which national agencies have asked the PPB for protest-policing training. He may be inflating a bit.
PPB spokesman Sergeant Chris Burley says Graham was referring to the state's Department of Public Safety Standards and Training (DPSST), where the PPB "has worked with local law enforcement agencies to create a training model for crowd management." Burley directed further questions to the DPSST, which didn't elaborate on the PPB's role in training other agencies for protest policing.
Burley also said a Portland police lieutenant, Ryan Lee, is on a National Institute of Justice panel that looks at "crowd management best practices."
Graham's boasts about the bureau's protest policing prowess came at last Wednesday's meeting of the Citizen Review Committee (CRC), which hears appeals from people who've filed complaints against the police. Graham was defending the bureau's decision to clear several officers of five complaints made by an activist after the chaotic October 12, 2016 protest. On that day, activists disrupted a Portland City Council meeting to voice their displeasure with a new police union contract negotiated under then-Mayor Charlie Hales.
Graham, clearly agitated by criticism of PPB tactics, gushed at one point for more than six minutes about how his officers handled themselves that day in the face of "taunts." An independent watchdog group reached different conclusions.
In a scathing report released last month, a group of Chicago academics being paid to monitor the city's settlement agreement with the US Department of Justice used the October protest as evidence that police weren't sufficiently de-escalating tense events.
"We found at least one instance where an officer appears to use force against a person who 'express[ed] verbal discontent with [the] officer but [did] not otherwise pose a threat to officers or others,'" the report says. Specifically, it pointed to an incident where cops pepper-sprayed local activist Jessie Sponberg and shoved him down a small flight of stairs as he was filming the protest.
"We believe the force was unreasonable," the report concludes, suggesting the officer violated bureau policy. "The strength of the push does not appear to correlate with the officers' stated objective."
But in front of the CRC, Graham, the incident commander that day, called the protesters a "mob" that intentionally provoked the police, and said he was "proud" of how they responded. (The CRC wasn't specifically reviewing the Sponberg incident, but Graham was talking about the event as a whole.)
"Everybody here's like, 'Oh, police are the bad guys,'" Graham told the volunteer board. "When you watch the video, we're basically getting taunted."
Graham suggested his officers reacted to the "taunts" more calmly than he would have. "I'll be honest with you, I don't know how good I would do after that mob provoking me like that," he said. "I'm proud of all of them and how they were holding their cool."
Graham also acknowledged what many protesters have suspected: The October 2016 event is when police started seriously cracking down on protests that would become commonplace in the city in the Trump era.
"Before... we let people take the streets, take to the bridges, take to the freeway, start burning things," he said. "This is about the turning point where we said, 'You know, this is enough.' We have to have rules. If you want to protest, there's laws. If you want to protest, you need a permit."
(Graham's recollection is somewhat fuzzy. Following Trump's election in November, police allowed marchers to take to Interstate 5. They also had a notably relaxed presence prior to rioting that damaged several businesses in the Pearl District.)
The heavy-handed approach adopted recently by the PPB has led the ACLU of Oregon to argue police are violating the constitution with the crackdowns and permit requirements.
"It is clear that responding to peaceful protests with militarized and excessive force puts both the public and police officers in harm's way, but it also risks the very fabric of our democracy," the civil rights group wrote in January. "This kind of policing shuts down First Amendment activity."
It was just one of many statements the ACLU of Oregon has released following protests in the city. But if Graham's speech last week is any indication, that message and others haven't been heard at police headquarters.
"I'm really proud of my officers," Graham said.