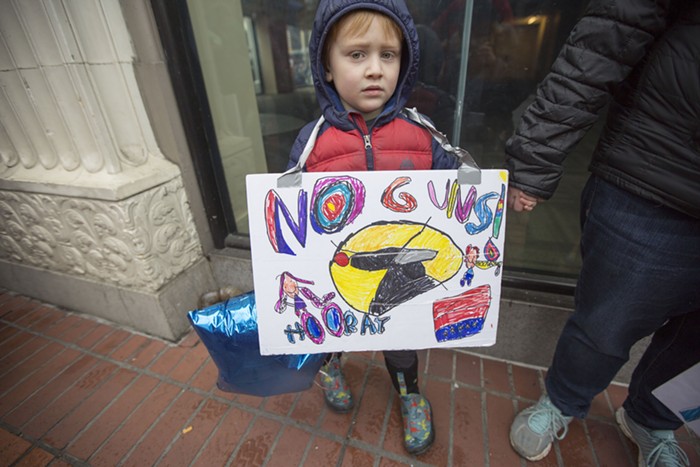 An estimated 10,000 people swarmed downtown Portland this morning to protest lawmakers' general inaction to the steady drumbeat of mass shootings across the nation—most recently the high school shooting in Parkland, Florida that left 17 dead.
March for Our Lives was unlike the wave of protests and marches we've seen since President Donald Trump took office in that it was entirely inspired, organized, and led by the country's largest non-voting population: Kids. While inspired by the main Parkland student-led protest taking place in Washington, D.C., Portland's sister march gave local teenagers a platform to share their own personal anger, fears, and demands inspired by the steady stream of shootings that have defined their childhood.
We only spotted one pair of pro-gun activists informing the crowd that that assault rifles made them feel safe. The two men, clearly on the prowl for confrontation, were quickly blocked off from the march by a line of protesters. The march wrapped up by 2 p.m., after a performance by Black Thought and Portugal. the Man.
We spoke with a number of the kids, families, teachers, and other protesters that marched from the North Park Blocks to Pioneer Courthouse Square, waving homemade signs and shouting anti-gun chants (example: "Glitter not guns!").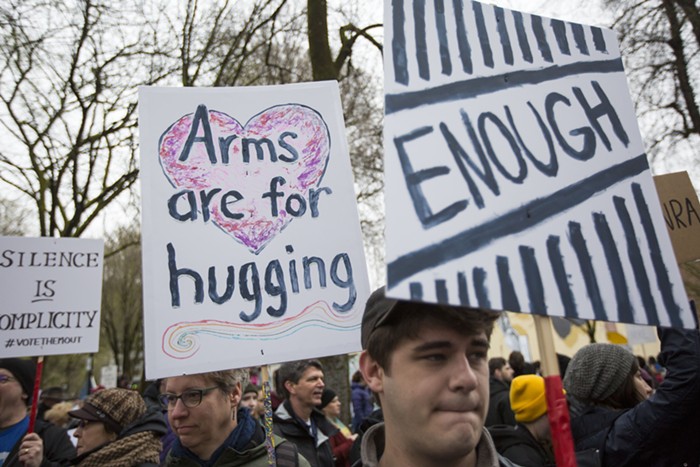 Students at wilson high school marching to get gun control. "We don't want to be afraid to go to school." pic.twitter.com/idHsFUCMf0
— Kelly Kenoyer (@KenoyerKelly) March 24, 2018
"Not one more child should be afraid walking into school.... together we stand not for any political endorsement but to rid ourselves of the pandemic that has already taken so many lives." -Sophie, organizer pic.twitter.com/etSa82rbKo
— Kelly Kenoyer (@KenoyerKelly) March 24, 2018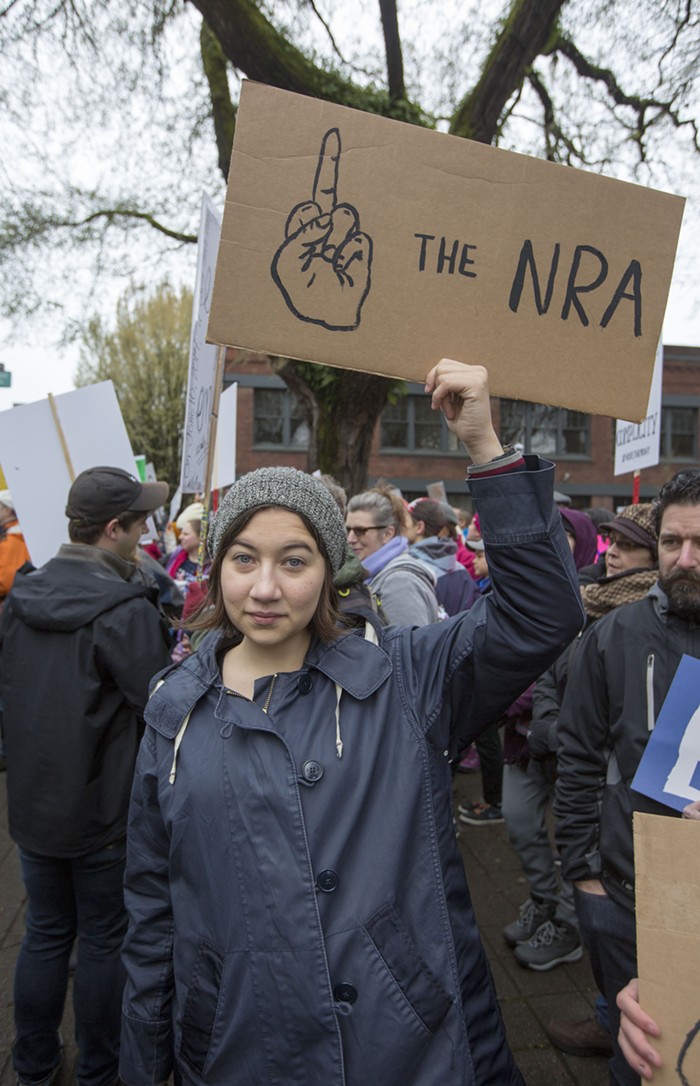 Beaverton high school junior, Ellie: "fear takes up more of my body than water." #MarchForOurLives #pdx
— Alex Zielinski (@alex_zee) March 24, 2018
"I came because of these two. She's in kinder garden and they're having active shooter drills. The kids are having a voice the most I've I've ever seen in my lifetime." pic.twitter.com/MIzucn0992
— Kelly Kenoyer (@KenoyerKelly) March 24, 2018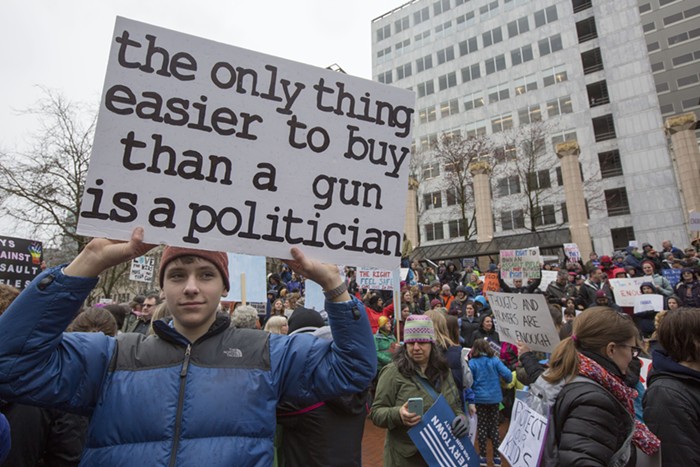 #MarchForOurLives Portland youth led chants pic.twitter.com/hASppG0lpU
— Kelly Kenoyer (@KenoyerKelly) March 24, 2018
A lot of concern about active shooter drills in schools. Opal says she's scared a shooting could happen to her. #MarchForOurLives portland pic.twitter.com/GlSXBN0ZU3
— Kelly Kenoyer (@KenoyerKelly) March 24, 2018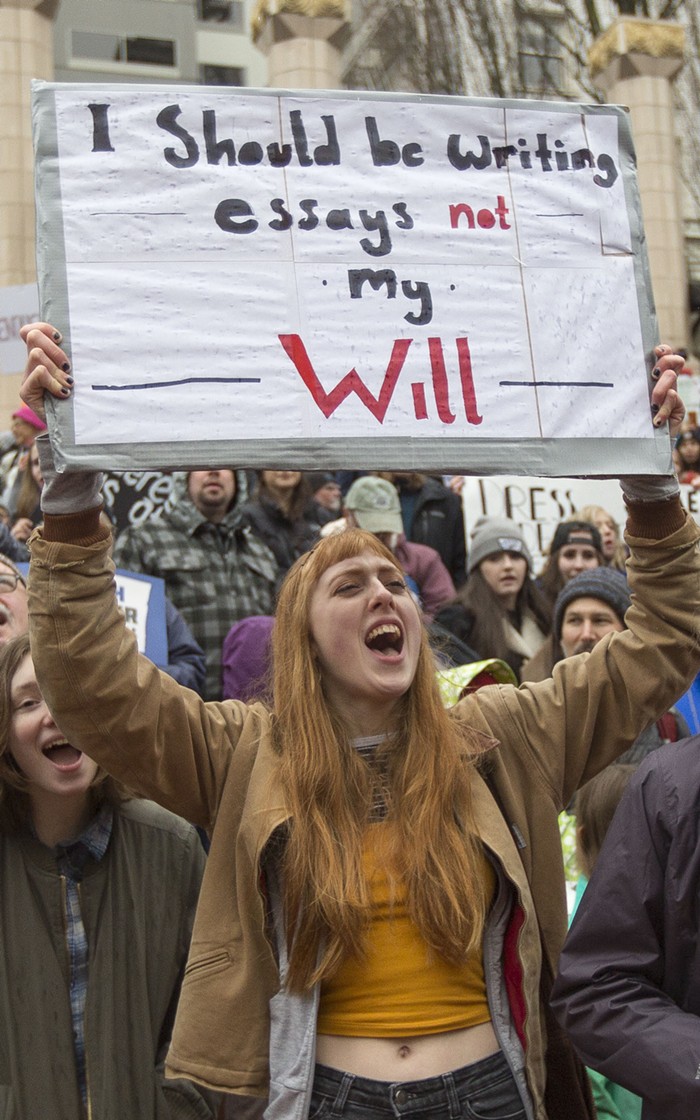 #MarchForOurLives participants. She made the sign herself, the dad says. pic.twitter.com/rsKjORKPQn
— Kelly Kenoyer (@KenoyerKelly) March 24, 2018
Listening to a high school freshman speak to a crowd of hundreds at Courthouse Square. "We are not asking for metal detectors or arming teachers, we are asking for taking military grade weapons out of our schools." #MarchForOurLives
— Alex Zielinski (@alex_zee) March 24, 2018
Junior at Columbia river high school in Vancouver. They're marching for safety. pic.twitter.com/G1Ba5qiqlF
— Kelly Kenoyer (@KenoyerKelly) March 24, 2018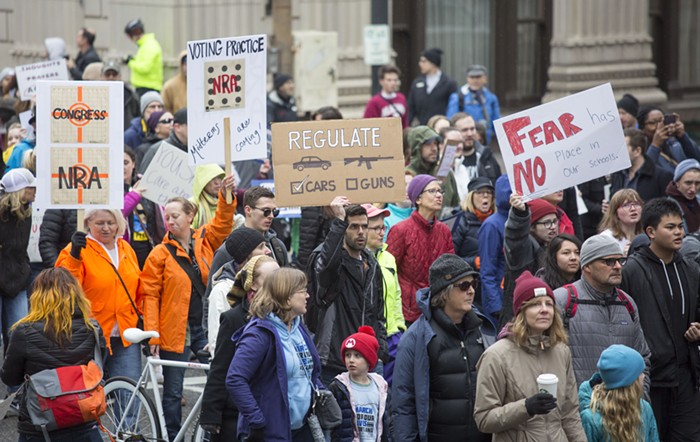 They go to Woodstock elementary. #MarchForOurLives pic.twitter.com/mRxUF1yDvZ
— Kelly Kenoyer (@KenoyerKelly) March 24, 2018
Spoken word realness by Tyler (didn't catch what high school he's from). #MarchForOurLives #pdx pic.twitter.com/TKLr81cGAt
— Alex Zielinski (@alex_zee) March 24, 2018