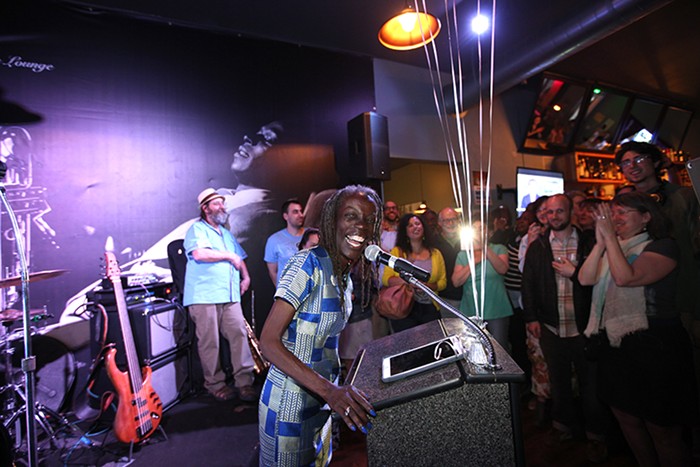 Results from Tuesday night's primary election have made it clear: Portland's future is female.
Women candidates—many of them political newcomers—took home the majority of votes cast during Tuesday's primary election. In the words of Jo Ann Hardesty, who led the race to take retiring Commissioner Dan Saltzman's seat in city council, Portland's women are no longer staying "quiet."
"The status quo is no longer acceptable in the city of Portland. The people of Portland want more," Hardesty told a packed room of supporters at Solae's Lounge. The crowd stomped their feet in response.
---
Check out our
live blog of election night here
.
---
By 8 pm, Hardesty had collected over 40 percent of the votes for the Portland City Commissioner seat, while current Multnomah County Commissioner Loretta Smith trailed at 23 percent. The two are now headed to a November runoff.
Results in the race for Smith's successor were a little more concrete. North Portland voters overwhelmingly elected Susheela Jayapal to represent them on the Multnomah County Board of Commissioners—a five-person board that's already made up entirely of women. Jayapal, an experienced lawyer on the board of several local progressive nonprofits, will replace outgoing District 2 Commissioner Smith. Prior to the vote, Jayapal told the Mercury that to her, it didn't matter who won this particular race.
"The diversity of the candidates in my race—in all of the local races—is amazing," Jaypal said. "By that metric alone, we've already won."
Meanwhile, residents of Senate District 24, which includes the area between 82nd Avenue and Gresham and follows I-205 south to Happy Valley, have loudly voted incumbent Sen. Rod Monroe out of office—and welcomed former state representative and lawyer Shemia Fagan. This vote not only signifies that people living in one of Oregon's most diverse districts no longer want an older white man representing them in Salem, but they want new solutions to the housing crisis.
Sen. Monroe, a landlord in the district he represents, is credited with derailing a bill last June that would have strengthened tenant protections against no-cause evictions and created a state preemption on rent control. It's this anti-tenant decision that inspired both Fagan and candidate Kayse Jama to join the race to unseat the longtime Democratic senator. Early election results showed Fagan winning the vote by nearly 63 percent, with Monroe coming in second at 22 percent.
Other women who swept the polls: Lynn Peterson, who will succeed Tom Hughes as the president of Metro, former state representative Val Hoyle, a Democrat, who was elected to lead Oregon's Bureau of Labor and Industry (BOLI) by 52 percent, and Multnomah County Commission Chair Deborah Kafoury, who was re-elected to her seat with a whopping 71 percent of the vote. And Jennifer McGuirk will face Scott Learn in a November runoff election for Multnomah County Auditor.
A few men also managed to win Tuesday night, like incumbent Portland City Commissioner Nick Fish, who's held the position for nearly a decade. Fish, who currently heads the Portland Water Bureau and the Bureau of Environmental Services, was re-elected with 62 percent of the vote to serve four more years at the council dais. Coming in second was candidate Julia DeGraw, who grabbed a significant 3i percent of the vote.
Compared to other states, Oregon's midterm election didn't promise any wildly divisive or particularly thrilling results. Instead, Oregonians voted for exactly who we thought they would at the state level. Democrats re-elected longtime US representatives Earl Blumenauer (District 3) and Suzanne Bonamici (District 1), both by a landslide.
Oregon Governor Kate Brown handily won the Democratic nomination, and will face Republican nominee Knute Buehler, the most moderate GOP candidate in the race, in the November general election. In an email press release long before the election was called, Brown asked the GOP nominee to join her in no less than three debates before the November election.
"Voters deserve to hear directly from us where we stand on the issues," Brown said.
Voters also renewed the Portland Children's Levy for another five years. The levy is funded by a small property tax, and goes toward a slew of programs that support local kids (child abuse prevention, foster care programs, and after-school programs, to name a few).
Around 25 percent of Multnomah County's 513,000 registered voters turned out to vote in the Tuesday election, according to the county elections department. According to Hardesty, that low turnout means there's more work to be done before the general election.
"Governance doesn't not happen with one person. Governance is about the community being involved and engaged," Hardesty said. "Tonight we party. Then we sleep for two weeks. And then we go take this seat."