Bikeshare getting you down? Lyft no longer fun? Portland Bureau of Transportation (PBOT) has the solution for you: E-scooters.
In a matter of days, PBOT will unleash a new "Shared Electric Scooter" pilot program for Portlanders interested in paying money to ride a scooter. In an afternoon press release, PBOT announced it had issued permits to two e-scooter companies (Bird and Skip) hoping to win Portland over during the pilot program's 120-day trial run. After that 120-day period, the city will use public feedback to determine whether or not PBOT should extend the companies' permits to a year.
Unlike Biketown's bikeshare system, the e-scooters are dockless, meaning you can leave them (almost) anywhere when you're done riding. According to PBOT's website, it costs $1 upfront to rent an an e-scooter and $0.15 per minute of use. The e-scooters top off at 15 miles per hour.
As it turns out, e-scooting comes with a lot of rules. A few: Riders must be over the age of 16, e-scooters can't carry more than one person, no e-scooters on TriMet, and people can't ride e-scooters in public parks, on sidewalks, or "near bus stops." It's also illegal to ride an e-scooter without a helmet—but PBOT says companies may mail riders helmets on request (WHAT? Can we exploit this?) Update: YES WE CAN. See below.
BREAKING E-SCOOTER NEWS: On Thursday, July 26 from 10:00 a.m. to 1:00 p.m. at Pioneer Square, e-scooter company @BirdRide "will provide free helmets to the people of Portland." https://t.co/wmF4qAwGLf

— Alex Zielinski (@alex_zee) July 26, 2018
It's unclear how e-scooter law will be upheld during the pilot period, or who will be responsible for making sure the term "e-scoot" sticks.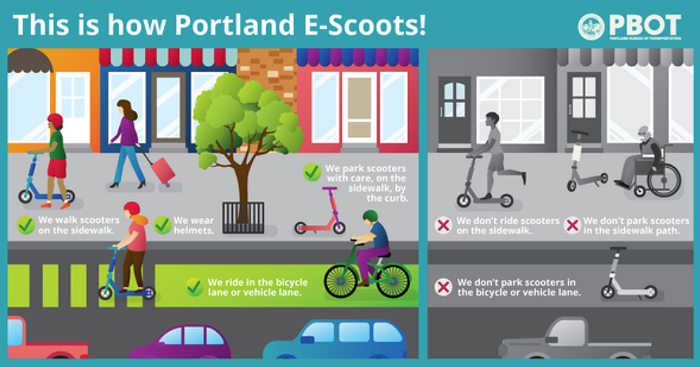 PBOT made a delightful, slightly patronizing graphic to help drive home these rules. It reads like a elementary school teacher enforcing classroom rules that you want to break: "We wear helmets," "We don't ride scooters on the sidewalk," "We don't park scooters in the bicycle lane."
You can just see the pursed-lip official watching to see if you'll fall into line. The passive-aggressive announcement includes a few rules that will undoubtedly be broken from the start. An example: "We don't park scooters in the sidewalk path. We park scooters with care, on the sidewalk, by the curb." Apparently, it's on the e-scooter companies to keep sidewalks free of discarded piles of e-scooters like this one:
Burning man for scooters 🛴? #scooterinvasion pileup at the beach #scooteridiot #birdscooters #pileup thanks to #birdgraveyard for great image pic.twitter.com/W7M6r6T3eX
— Scooter Idiots (@scooteridiots) July 6, 2018
(In searching for an image of a scooter pile, I encountered the most Silicon Valley story you'll ever read.)
In an online FAQ about the new pilot program, PBOT suggests it wasn't entirely their choice to introduce e-scooters.
"Shared Electric Scooter companies have been aggressively launching in cities without seeking permits," the website reads. "In order to protect Portlanders from a rogue launch and unregulated companies, the City felt it important to set up a pilot permit structure within an accelerated timeframe."
Glad we dodged a rouge launch. Because that's just not how we do it.