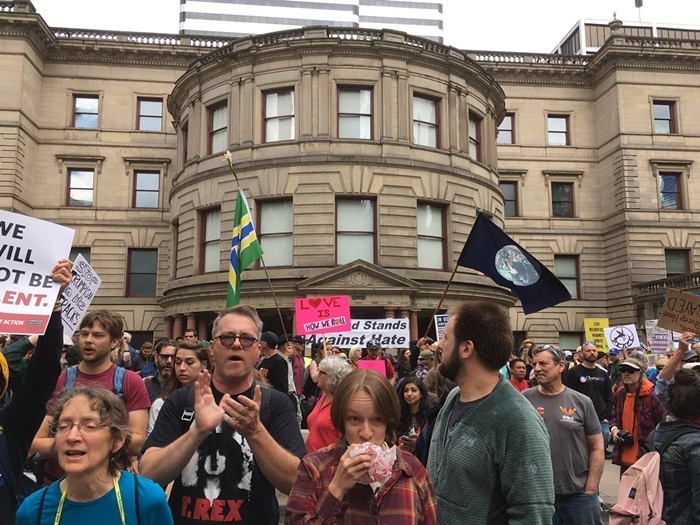 Portland City Council has voted against adopting Mayor Ted Wheeler's contentious new protest ordinance.
The ordinance, introduced less than a month ago, attempted to limit the number of violent clashes between right-wing and left-wing groups by restricting the location, duration, and size of protests in Portland. These limitations would have only applied to instances when two groups who have a "history of violence" against one another planned to protest in Portland without applying for a city permit to protest.
A number of constitutional lawyers, civil rights advocates, and elected officials have spoken out against the ordinance, arguing the policy would have a chilling effect on Portlanders wanting to peacefully demonstrate instead of safeguarding their civil rights (as Wheeler had suggested). Wheeler did gain the last-minute support of Georgetown Law professor Mary McCord, who said the ordinance would withstand constitutional challenges if implemented correctly.
But her analysis did not convince the council's swing vote, Commissioner Nick Fish, to side with Wheeler.
"First, I have concerns about the constitutionality of the protest ordinance," Fish said before casting his vote in opposition. "At the very least, it sets up a costly and divisive legal battle. Second, I'm not convinced that we've done everything we can with the tools already at our disposal."
Commissioners Amanda Fritz and Chloe Eudaly joined Fish in voting against the ordinance, citing constitutional concerns, transparency issues, and fears about the policy ignoring the heightened threat of hate groups in Portland.
"The City of Portland has a long and shameful history of discrimination, hate crimes, and racism," said Fritz. "White supremacists are not welcome in Portland, and the city council should make that clear in every decision we make."
Commissioners also questioned if the proposed rule would have even applied to any future violent protests, based on its limited scope.
That's because the city attorneys' edits to the initial draft of the ordinance greatly restricted its use, and—as lawyers with the ACLU of Oregon pointed out—the majority of past protests in downtown Portland that have turned violent already had a city permit, meaning they wouldn't be impacted by the new rules. Groups that apply for a city permit already agree to police restrictions on where and when they hold a protest.
Fritz said that implementing an ordinance that will do little to impact the city's genuine concerns around violent protests is a waste of time and money.
"Lawyers will debate whether this policy is constitutional," said Fritz. "Arguing about the restrictions in court, when they may not even help much on the ground, is not a wise use of taxpayer's money."
Eudaly underscored her specific concerns with the assumption baked into Wheeler's policy that creates a false equivalency between right-wing extremists and left-wing counter-protesters.
"Counter-protesters occupy a broad protest of the left... and the vast majority of them are peaceful," Eudaly said. "Yet, I often hear them all characterized as lawless anarchists."
Most major rallies in downtown Portland that have resulted in violence have been organized by the Vancouver alt-right group Patriot Prayer.
All three dissenting commissioners said they shared Wheeler's interest in cracking down on violent protests in Portland—but that this wasn't the way to do it.
Wednesday's vote came less than a week after city council held a hearing to allow the public a chance to share their thoughts on the slated ordinance. Nearly all people signed up to testify opposed the rules.
"With a policy that proposes to tell people when and how they can protest, the community needs to be engaged in forming a proposal," said Fritz. "The ordinance should not be the starting point for these conversations."
Representatives with the ACLU, the Council on American-Islamic Relations, the Oregon Justice Resource Center, and the Western States Center have all expressed interest in working with the city to create a more comprehensive response to the rise of Portland protests that end in violence.
"I cannot ignore the many community voices that have raised fair concerns with this approach and have offered to be part of a different solution," said Fish.
In his closing remarks, Wheeler called the proposal a "reasonably pre-emptive tool," and said this isn't the end of his office's attempt to curb violent rallies.
"So where does this leave us?" he asked the council chambers Wednesday. "We are still interested in doing something more than the status quo. I'll continue to work with anybody who has a good idea."