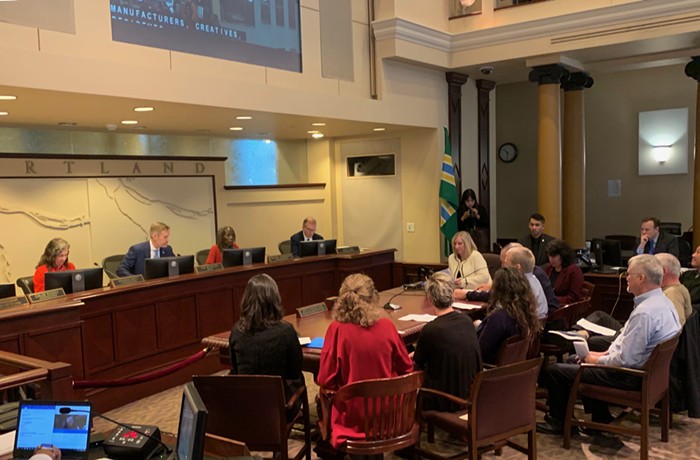 Portland City Council has approved a business organization's plan to expand a private security force across the Central Eastside, a neighborhood that's seen a recent uptick in both the houseless population and new commercial developments.
It's a proposal that initially rattled advocates for the houseless community, who predicted the security guards would be tasked with harassing people who regularly camp in the neighborhood. Authored by the Central Eastside Industrial Council (CEIC), a group of property owners and business leaders in the Central Eastside, the proposal also sparked fears of gentrification in the formerly industrial and undeveloped neighborhood.
But the final agreement that sailed through council with a unanimous vote reflected something rarely found between Portland's business and houseless communities: Compromise.
"As usual, when you want something, you want it all," said Ibrahim Mubarak, director of Right 2 Survive, a group that helped reshape the CEIC's proposal. "We didn't get that. But this was still a historic moment. I think CEIC did listen to us and they understood our concerns. They want to work with us. I like that willingness... that they want to change their format after working on this for years."
The CEIC began working on their proposal three years ago. Its main purpose is to create what the city calls a "enhanced service district" (ESD), a designated area whose property and business owners pay into a fund that covers extra public and private services in the neighborhood, like trash pickup or extra signage. Currently there are only two ESDs in Portland: One in the city's downtown blocks, the other in the Lloyd District.
The CEIC's original ESD proposal promised sidewalk improvements, graffiti abatement, trash pickup, a free shuttle, and a private security team to patrol the area that stretches between the Willamette River, SE 12th, SE Powell, and I-84. This team would specifically help address the uptick in what CEIC calls "unwanted crime and grime."
To homeless advocates, this pursuit sounded like a thinly veiled attempt to further police the region's houseless population, many of whom have migrated to the Central Eastside after being pushed out of more residential neighborhoods. But instead of simply opposing the ESD, concerned community members brought forward their own proposal, dubbed the "Compassionate Change District."
Yesterday's council vote approved an ESD that melded together suggestions from the CEIC and advocacy groups' proposals.
The final draft vows that the funds collected from property owners and district parking fees (another way the CEIC is allowed to fund their ESD) will go toward a security team that will be trained by homeless advocates on trauma-informed communication and will be familiar with social services that help homeless individuals. Unarmed security guards will occasionally be joined by "crisis workers," and will not be allowed to order individuals who are camping to move. The CEIC funds will also offer grants to businesses that offer jobs or job training to homeless people. Three homeless people will also be invited to sit on the CEIC's safety oversight board.
"This proposal is much stronger and more inclusive than it was a month ago," said Commissioner Amanda Fritz, thanking the community groups for pushing CEIC toward an agreement that suitably recognizes the region's homeless population.
Commissioner Chloe Eudaly said that despite initial hesitation, she was "enthusiastic" to embrace the ESD. Commissioner Jo Ann Hardesty echoed her sentiment.
"Before I participated in this process, I've never, ever supported an ESD," Hardesty said. "Because all the ones prior to this were really about removing people that people were uncomfortable with, with enhanced security."
However, Hardesty noted that the fact a business group has to tax itself to improve basic needs such as garbage removal in its neighborhood reflects poorly on the city.
"There are a lot of needs in our community that the city cannot fully fund at this time," she said. "You are taking on some of our responsibility."
City council has pledged to pull their weight in other ways. Eudaly said she's working with the Portland Bureau of Transportation to secure a plot of land that can be used as a so-called "rest area" for homeless Portlanders—a peer-run area with bathrooms, showers, and spaces to set up tents without fearing police intervention. Right 2 Dream's Mubarak says the plans and staffing needs for that pending rest area are finalized and he's just waiting for the city to secure the property.
While Mubarak is hopeful about the new ESD agreement, he's hesitant to take the CEIC's promises at face value. He has good reason: It's only been three years since the CEIC appealed the city's decision to move Right 2 Dream's primary homeless rest area, Right 2 Dream Too (R2DToo), to the Central Eastside. The CEIC appealed the city's decision, citing zoning inaccuracies—and won.
"Fool me once, that's on you. Fool me twice, that's on me," said Mubarak. "[CEIC] worked with us this time because they knew we had experience with them saying one thing and doing the other. We're all watching them now."
Mubarak also raised the point that, even if these private security guards aren't allowed to tell homeless people to relocate, they are allowed to call the police and have them do the job.

He supports the amendment Hardesty tacked onto yesterday's ESD agreement, which requires that both CEIC and Right 2 Survive return to city council in November to deliver an update on the collaborative agreement.
"We're not going to solve the nitty gritty at this meeting today," Hardesty said at the council meeting."But if we have people with good hearts and goodwill who are willing to do the hard work to put it together, we've got your back."
Not everyone in the homeless, addiction, and mental health advocacy communities were as eager to embrace the ESD. Many of the 48 people who testified yesterday pointed to the missing piece in this community-led effort: Housing.
Dan Trifone, manager of the Clark Center, a 91-bed men's shelter on SE MLK, said the proposal does not adequately address the deficit of shelter space for people living on the streets of the Central Eastside. He sees the security patrols simply contributing to the constant, now-routine "shuffling" of homeless people from one part of town to another.
"Without a hard commitment to creating a place for folks to go that's going to be safe, this proposal is just going to be that continued shuffling around," Trifone said. "But [the proposal] is a win. And I am in support of that win."