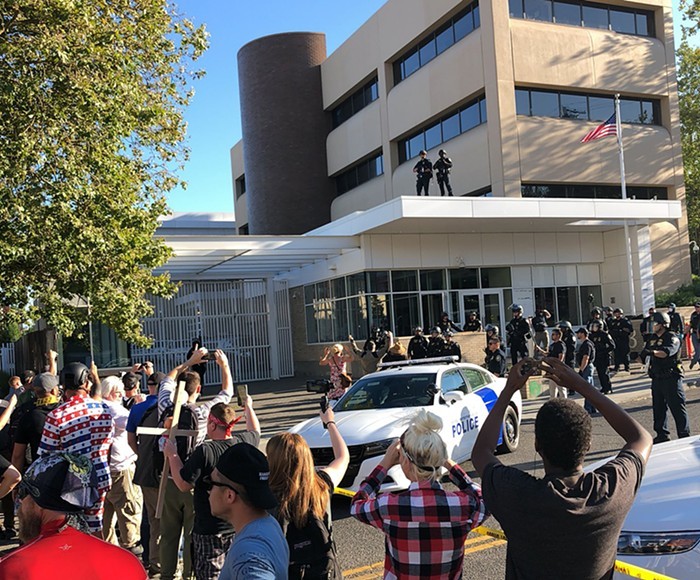 A controversial neighborhood organization in Lents is hyping its next meeting by telling members that US Immigration and Customs Enforcement (ICE) will be there.
In an email recently sent to members, the Lents Neighborhood Livability Association (LNLA) announced plans to have Karen Quinn-Andrus, a representative from US Customs and Immigration Enforcement (USCIS), speak at its Thursday, June 13 meeting (the announcement is also posted on its website).
Quinn-Andrus is billed as representing both USCIS and ICE, two separate agencies that both operate under the US Department of Homeland Security. However, Quinn-Andrus does not work for ICE, only USCIS.
The LNLA seems eager to play up the ICE angle in its email, going so far as to include a graphic with the unfortunate pun "ICE ICE BABY":
The LNLA—not to be confused with the Lents Neighborhood Association—is a nonprofit with the stated aim of making Lents "
a better and happier place to live
." Like similar neighborhood group the
Montavilla Initiative
, the LNLA takes a special interest in what it sees as a big problem in its neighborhood: a growing number of houseless people living in tents and camps, and using intravenous drugs. The group has sections of its website devoted to documenting Lents homeless camps through photos and videos; last year, it
planned a protest
against a new shelter opening on SE Foster.
Portland Police Association (PPA) President Daryl Turner is scheduled to speak at the same meeting. While it's understandable why a representative from the police might want to connect with a neighborhood group, it's noteworthy that someone of Turner's stature—as president of the city's police union—is taking the time to meet with a small alternative neighborhood association.
But even more puzzling, and potentially worrying, is why an immigration officer would need to speak with the LNLA. Census data from 2010 shows that about 15 percent of Lents' population identifies as Hispanic or Latino, while another 15 percent identifies as Asian. Lents is also home to a significant portion of Portland's resettled refugees. The stress that immigration officials' presence can cause for immigrants and communities of color—particularly in the midst of the Trump administration's ramped-up immigration raids—has been described as a "public health crisis."
When reached for comment via email, LNLA leaders David Potts and Char Pennie said Quinn-Andrus will be "answering questions and informing our group of what they do."
"They do more than just hunt down and arrest 'illegal' immigrants," they continued. "That seems to be all that anyone seems to know about them."
Potts and Pennie included this statement about ICE in their response to the Mercury's questions:
"Too many liberals seem intent on destroying this city that has become a cesspool (to use Daryl Turner's phrase) of crime and drug addicts. If there are criminals among the undocumented immigrants, ICE might actually assist law enforcement in dealing with criminal activity against all of us.

I cannot say that I support the immigration policies of our country. If we want to change policy, we need to change our leadership. Until that happens, we are going to continue face a disconnect between Federal policy and what some of us might wish for immigrants."
Portland is a sanctuary city, meaning that its local law enforcement officers do not go out of their way to comply or assist with federal immigration orders. But the LNLA's meetings are listed on the online calendar of the East Portland Community Office, an offshoot of the city's Office of Community & Civic Life.
When asked via email if the city views the LNLA as an official neighborhood organization, Office of Community & Civic Life Director Suk Rhee pointed to the organization's own "About Us" page, where the LNLA describes itself as "a neighborhood non-profit organization." The Mercury also asked Ree whether the organization's plan to host a federal immigration official at a meeting—and its gleeful advertising of ICE—aligned with the city's values as a sanctuary city.
"We do not know what this presentation is about and subsequently, cannot comment on it," Rhee answered.