Sarah was serving a 45-day sentence at Clackamas County Jail earlier this year when she read an Oregonian article about the Diane Wade House, a residence intended to help African American women exiting the criminal justice system. Named after a beloved Black Multnomah County parole officer, the Diane Wade House was the first of its kind to be operated by Multnomah County. Sarah, who the Mercury chose to identify with a pseudonym for her privacy, had been struggling with addiction and houselessness before going to jail, and she saw the house as a possible path to better circumstances. After being released from jail, Sarah was referred to the Diane Wade House by the Multnomah County Department of Community Justice.
"I felt with all my being that it was the place for me," wrote Sarah in a letter to the county in June.
Sponsored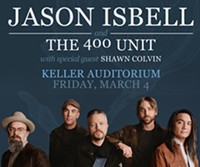 Jason Isbell has established himself as one of the most respected songwriters of his generation. Don't miss Jason Isbell and the 400 Unit, March 4th at Keller Auditorium!
"There are very few resources for an African American, 40-something, divorced, childless felon," she wrote. "Without the Diane Wade House, I wouldn't be 70-plus days sober."
The Diane Wade House is operated by Multnomah County through Bridges to Change, a nonprofit contractor that provides housing and addiction treatment services across the Portland metro region. But starting in May of this year, Bridges to Change has been accused of sanctioning punitive treatment and providing substandard living conditions to its residents, and faced allegations of racial discrimination and retaliation against its employees.
In her letter to the county about her experience with the Diane Wade House, Sarah added something else: "There is room for much improvement," she wrote. "Where do I begin?"
Both Bridges to Change leadership and Multnomah County officials have pushed back on the claims of racial discrimination against employees and punitive treatment of residents, as have other residents and employees at the Diane Wade House. But as a potential lawsuit mounts and rumors swirl about what's going on at the facility, some are questioning if Multnomah County's well-intentioned plan to prevent Black women from slipping back into the criminal justice system has gone awry.
Last December, the Diane Wade House began accepting residents at a temporary location, and on April 10, opened its permanent, 38-bed location in Gresham. Funded by both a MacArthur Safety and Justice Challenge grant and public county funds, the home is meant to provide a safe space where African American women who are at risk of re-offending can develop the tools they need to succeed in mainstream society.
Residents can live in the house for up to six months after leaving jail and are expected to be completely sober.
Before the Diane Wade House's official opening, Bridges to Change hired O'Nesha Cochran to manage the house. A formerly incarcerated Black woman who had overcome her own substance abuse issues, she quickly became the public face of the program. Cochran managed a team of seven mentors—also Black women with experience overcoming addiction and trauma—to help residents navigate the logistical and emotional challenges that come with successfully reentering society.
But Cochran was fired shortly after the Diane Wade House's ribbon cutting ceremony. On April 11, Cochran was put on a "performance improvement plan" by Bridges to Change—and then, two days later, left for a pre-planned vacation. She was fired just two days after she returned.
Bridges to Change cited a lack of professionalism and a failure to follow through on suggested changes as reasons for firing Cochran, according to a report from the Oregonian. But Cochran believes she was let go because she noticed problems at the Diane Wade House, brought them up to Bridges to Change, and then refused to let those concerns go after being brushed off by leadership. Cochran says she felt discriminated against and that the organization's majority-white leadership didn't value her input as a Black woman.
Cochran says she was told by a fellow Bridges to Change employee who sympathized with her situation that if she hadn't "made waves," she might have kept her job.
Cochran is now working with Portland attorney Kim Sordyl to build a potential racial discrimination and retaliation lawsuit. Sordyl is also representing Sonja Freeman, a Diane Wade House employee who is currently taking a leave of absence and shares Cochran's concerns.
---
"For me, the impact that it had on me as a Black woman was horrific. And I watch the women relive this terrorization over and over—I just had a really hard time. So I did my best for the women, but eventually I just couldn't work like that."
---
The problems Cochran and Freeman say they identified include Bridges to Change staff members treating house residents with disrespect, scant resources like personal hygiene products and cookware for residents, Bridges to Change failing to secure the contracted program vendors Cochran wanted to work with, clients being randomly separated from their mentors, and residents not being allowed to see their children in foster care as punishment for offenses as minor as swearing in the house.
After leaving Bridges to Change, Cochran kept in contact with Diane Wade House residents, encouraging them to write statements about their negative experiences at the house. Cochran then sent those statements to Multnomah County Chair Deborah Kafoury and the MacArthur Safety and Justice Challenge.
Some of Cochran and Freeman's claims were echoed in Sarah's letter to the county.
"Our kitchen is ill-equipped," Sarah wrote. "Waiting to use the one pot we are allotted isn't working.... We need cleaning products for our bathrooms. Where is the money for those things?"
Another Diane Wade House resident wrote in a letter to the county that some Bridges to Change staff members are "not announcing their presence when coming into our private sleeping quarters."
"We live in inhumane, discriminatory conditions," that resident added.
"We feel so lost," a third client wrote. "No support.... What the hell is going on? Please help us."
But not every resident feels unsupported or mistreated by Bridges to Change. One resident tells the Mercury that she and her fellow residents, also known as "clients," are "not being treated bad."
"I love that I have a bed, I have food to eat, I have stability here," she adds. "I'm respected by staff and clients, and I respect staff and clients."
Freeman tells the Mercury that conditions at Diane Wade House got noticeably worse after Cochran was fired. Those in leadership positions at Bridges to Change filled in for Cochran until they found a permanent replacement, and Freeman, along with several residents, said relations between Bridges to Change employees and residents were tense, and residents' complaints weren't being listened to. But when Freeman tried to bring up her concerns with Bridges to Change leadership, she was brushed aside, and stripped of some of her key duties. It was the distress caused by this treatment, Freeman says, that prompted her to take a leave of absence.
"For me, the impact that it had on me as a Black woman was horrific," Freeman says. "And I watch the women relive this terrorization over and over—I just had a really hard time. So I did my best for the women, but eventually I just couldn't work like that."
For Sordyl, the way Cochran and Freeman were treated clearly constitutes racial discrimination.
"After seeing her supervisor [Cochran] fired for advocating for Black women, Ms. Freeman feared speaking out," Sordyl wrote in an email to the Mercury. "However, the conditions had deteriorated so badly that she couldn't remain silent. She spoke out in a staff meeting about the hostile conditions, lack of food, and lack of basic hygiene products, and asked that the curriculum be directed toward helping Black women. She also spoke out about management mistreating the staff and clients. Rather than follow through on commitments to the program, she was retaliated against—stripped of responsibility and saw her clients [Diane Wade House residents] kicked out of the program for speaking out."
Though Sordyl is only formally representing Cochran and Freeman at this time, she says she has met and spoken with several other past and present Diane Wade House employees and residents who have confirmed her clients' complaints. Sordyl says she also met with Multnomah County officials to inform them of these problems, but she hasn't been satisfied with their responses.
---
"I don't see any other organizations stepping up to help the Black community, help women of color, We're going to face some challenges because we need to do this."
---
When speaking to the Mercury, Bridges to Change pushed back on virtually every charge leveled by Cochran, Freeman, and Sordyl. (For legal reasons, Bridges to Change declined to comment on issues related to employment.) They say the problems they do acknowledge—like not having proper hair care products for African American women, despite operating a house specifically for them—are the sort of issues that come up when starting any new program and have since been fixed.
Multnomah County officials say they plan to conduct a site review of the home within the next few weeks.
"It will include a financial, infrastructure, and administrative review—and will look, more specifically, at quality of care issues," writes Jessica Morkert-Shibley, a spokesperson for the county, in an email to the Mercury. "We will hold the organization to account for violations."
Bridges to Change says it has hired an attorney to "conduct an outside investigation regarding claims made by a former and current employee."
For Freeman, the missteps she and others allege all point to the same conclusion: Bridges to Change should not have been awarded the contract to operate the Diane Wade House in the first place. She says a recent trip she took to Atlanta—a city much more racially diverse than Portland—reinforced her feeling that the Diane Wade House was not being run by an appropriate organization.
"While I'm in Atlanta, I'm seeing African Americans in leadership—corporate America, judges, lawyers—and I'm empowered and my confidence is built," Freeman says. "And I get back here, and I see more of not only what's happened with O'Nesha [Cochran] and at the Diane Wade House, but I see it happening everywhere.... This is not the first time that money has been given out for brown and Black people, and then the projects changed."
Anthony Eddings has a different view. Eddings, a culturally specific mentor at Bridges to Change, works with Black men to help them overcome addiction and re-enter society after being imprisoned. He says that as a Black man, he's always felt supported by Bridges to Change, and he's grateful to the nonprofit for giving him "an opportunity to do something for my community."
"I don't see any other organizations stepping up to help the Black community, help women of color," Eddings adds. "We're going to face some challenges because we need to do this."
Monta Knudson, Bridges to Change's executive director, tells the Mercury that he knew before opening the Diane Wade House that serving people of color was an "area of growth" for the nonprofit—but he thought, "If not us, then who?"
"We can make this work," Knudson says. "And I still believe that today."
In early July, Bridges to Change hired Deonica Johnson to serve as the new program manager for the Diane Wade House. A Black woman with a decade of experience as a housing coordinator for another Portland nonprofit, Johnson says she has felt "nothing but support" from Bridges to Change. She believes Diane Wade House can "be the successful program it was intended to be."
Sarah, the resident who sent a letter to the county about conditions at the house, also thinks—and hopes—it can succeed. In fact, her future depends on it.
"It has been easier to keep my sobriety since coming to the Diane Wade House," she wrote. "I want to see this place succeed. Otherwise, I won't succeed. I need this place."