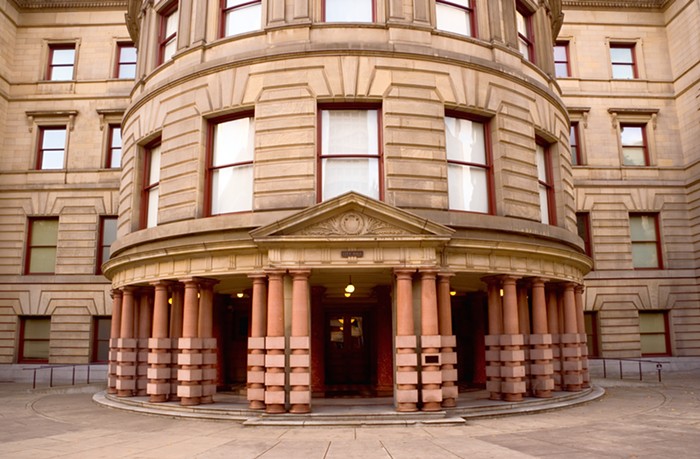 The November 2020 election might give Portlanders another chance to scrap the city's outdated form of government.
Nine months after publishing a report on the disadvantages of Portland's antiquated government structure, the City Club of Portland is looking to hire a campaign consultant to research if a 2020 ballot measure calling for a new form of government would be a success. The City Club, a civic-minded nonprofit, says the decision was inspired by the public's positive response to the February 2019 report.
"We believe it's time to test the waters," says City Club spokesperson Erin Haley.
The City Club's report gave a detailed history on Portland's 106-year-old "commission" form of government—a wonky structure that tasks five Portland commissioners, including the mayor, with overseeing a number of massive city bureaus such as parks, transportations, and police.
Unlike the vast majority of modern city governments, Portland City Council members are not elected to represent a specific regions of a city, where they would be required to live and to represent in city council meetings. Instead, all of Portland commissioners are expected to speak for the city's entire population, while also overseeing specific city bureaus.
One unfortunate side effect of this system has become readily apparent in Portland elections: Since commissioners are elected at-large, the victors are nearly always those who have the most money and name recognition, and can thus gather the most citywide votes.
Early in the twentieth century, many major US relied on a commission form of government. But after seeing the structure give way to rampant corruption and inequities, nearly all switched to district-based representation. Portland is the only remaining city of its size that still has a commission form of government.
The City Club's 35-page report ended with a clear recommendation: Axe the commission form of government and replace it with a more popular "council-manager" structure, where elected officials are solely responsible for policymaking while an appointed, nonpartisan city manager takes over the administrative work that comes with running city bureaus. The report suggests the city expand the council to eight people, each of whom would be elected to represent specific geographic districts.
Along with publishing the report, City Club paid a research firm to poll Portland residents on the city's government structure and found that 70 percent of voters would support a change to a district-based council. That data—along with community feedback over the past months—was enough to convince City Club to take a step toward the 2020 ballot.
"We have been strongly encouraged by the public to pursue this," says Haley. "We think that proposing a new form of government through a ballot measure requires a coalition, and we believe City Club could be the place where that coalition could be built."
On November 1, City Club issued a request for proposal to find an "experienced campaign professional to research and submit a report on the viability of a citizen initiative or referral campaign to make changes to the City of Portland's form of government."
The selected consultant will also be asked to create a detailed campaign plan and budget to effectively get a measure on the November 2020 ballot.
If successful, the November election would mark the ninth time a measure to undo the commission government would be included on a ballot. But recent attempts have asked voters to approve a "strong mayor" structure, where Portland's mayor would essentially become the CEO of all city bureaus. Many voters saw these attempts as little more than a power grab; if done correctly, City Club's pitch for a council-manager structure could assuage those fears.
With less than a year until the November election, City Club's working on a tight schedule. Interested consultants have until November 22 to submit a proposal, and City Club will select a consultant no later than December 13. The chosen consultant must turn in their report by February 28. Only then will City Club decide whether to go forward with a ballot measure—which would have to be submitted as an initiative petition and approved by the city no later than July 6, 2020.
Kyle Chisek, a former policy advisor for Mayor Ted Wheeler and former Mayor Tom Potter, is one of several local political consultants interested in the quick-turn job. Chisek led the city's last campaign to end the commission form of government in 2007. More than a decade later, Chisek says he believes Portlanders are ready to give the idea another shot.
"The city is in a different place now," Chisek says. "There's been a growing recognition that some of the goals we have struggled to accomplish as a city stem from how the government is structured. As Portland grows and changes, our government needs to evolve with us."
Other political consultants have shown interest in the proposal, but few are prepared to discuss it publicly.
If this hypothetical ballot measure passed, it's currently unclear how long it would take for the city to draw districts, hold new elections, and hire a city manager—but it's expected those complexities will be fleshed out in the next few months.
Members of the public will have an opportunity to hear about the City Club's take on Portland's government—and a possible ballot measure—at a November 26 meeting. It's the nonprofit's intention, Haley says, to have as many communities represented during these discussions as possible.
"Everyone deserves a seat at the table when we're talking about fundamentally changing our government," she says. "That's what this is about."