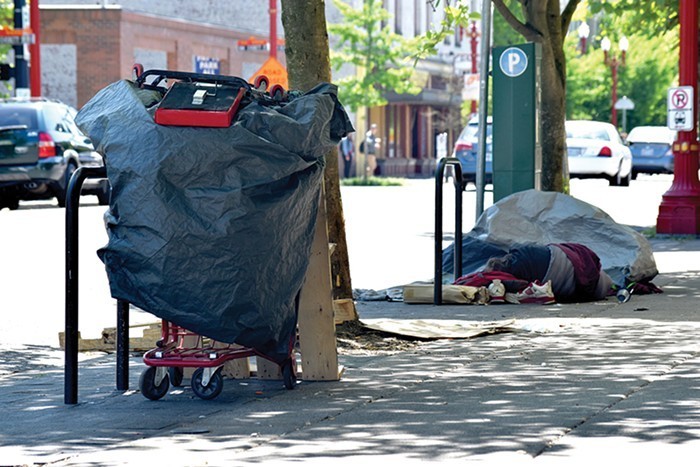 The run to get a regional homeless services fund on a 2020 ballot has turned into a sprint.
This afternoon, Oregon House Speaker Tina Kotek confirmed she's drafting legislation that would let Metro Regional Government stick a high-income earner tax on the May 2019 ballot that would be hefty enough to fund a sweeping homeless services program.
It's the latest move in what's been a quickly-evolving strategy to get a measure before voters in 2020 that would fill critical gaps in the region's response to the homeless crisis.
The proposed measure, drafted by a large group of housing and homeless service advocates, would fund a range of social services that would help get people out of homelessness and support those at risk of homelessness. It's expected those services—everything from housing placement to addiction recovery programs—would be carried out by organizations that are already doing this work (like Transition Projects and Central City Concern). The group, called the HereTogether coalition, says that these currently underfunded services play a critical role in allowing the region's two affordable housing bonds to succeed.
The coalition has said they'd need between $250 and $300 million to sufficiently follow through on their measure's promises.
To do so, the group's proposed sticking a 2 percent tax for high-income earners on the ballot in all three counties.
The coalition, which has the backing of Multnomah County and the City of Portland, was originally looking to place this ballot measure on the November 2020 ballot. In late 2019, the group asked Metro if it could serve as an administrative body for the measure's programming, since homelessness spans county lines.
Metro leadership was hesitant to embrace the proposal, citing concerns about a short timeframe to assess its framework and rally voter support before the November election. Last week, however, Metro President Lynn Petersen announced that Metro Council is considering referring the homeless services measure to the May 19 ballot. To do so, the council would have to vote on a final measure by the end of February.
The new timeframe came as a surprise to HereTogether, but the group's welcomed Metro's support.
But, there's a catch: According to state statute, Metro cannot refer an income tax higher than 1 percent to a ballot. HereTogether wants 2 percent. At a Tuesday Metro work session, Councilor Shirley Craddick asked members of the HereTogether coalition if the proposal really calls for up to $300 million in funds.
"Is it more than enough?" Craddick asked.
"The reality is, that the scale of investment we've put into homelessness along with disinvestment by the federal government... it has never been enough," said Katrina Holland, coalition chair and director of the Community Alliance of Tenants. "I can confidently say it may not be enough. But it should make a significant visible dent."
That's where Kotek comes in. Kotek is planning on introducing a bill during the state's 35-day legislative session, which began Monday, to change the rules limiting Metro's ability to raise taxes.
"The bill will provide authority to Metro to increase its taxing authority, if approved by local voters at the ballot, in order to establish that funding source," Kotek said in an email to the Mercury.

It's not clear yet if the legislation will apply to all future measures Metro decides to refer to a ballot or only this specific measure. Kotek said Metro leadership specifically requested this legislation.
It's also unclear if all Metro Council members are convinced by Peterson's proposed plan, which gives them 16 days to gauge voter support and iron out legislative wrinkles before they're scheduled to vote on referring the measure. That vote is scheduled for February 20.
Both councilors Craddick and Craig Dirksen raised concerns Tuesday that voters would be holding Metro accountable—not the coalition—if the proposal failed to follow through on its promises. Usually, councillors are allowed months, if not years, of discussion and polling before deciding to stick their name on a ballot measure.
"It's going to be a lot of work," said Petersen. "It's not the normal way we get something on the ballot."
But, she added: "We all recognize that there is a crisis... Consideration for a ballot measure for May would help accelerate those services."
Metro staff said specific details of the measure, like what constitutes a "high-income" and how the eventually funding would be fairly distributed, will be addressed in the next few weeks.
Mitch Hornecker, co-founder of New Avenues for Youth and a member of the HereTogether coalition, told councilors Tuesday that the proposed measure will ultimately help Metro fulfill the promise it made to voters with the 2018 Metro Housing Bond, which earmarks $652 million to build housing for low-income renters across the tri-county region. Some of that housing is reserved for people making between zero and 30 percent of the region's median family income (MFI). For a family of four living in Portland, that means a total household annual income of $26,370 or below. Hornecker said those renters, especially those who've been homeless for years, need specific support services to guarantee they stay housed.
"The intersectionality of success with the housing bond is unbelievable," Hornecker said.
Members of HereTogether are hoping Metro councilors will trust the work the coalition has already done to measure voter interest in this proposal.
"While I'm happy that Metro leadership has changed their position [on supporting the measure], I hope they honor the framework that our coalition has built," said Andy Nelson, a coalition member and director of Impact NW, a nonprofit that offers rent and utility assistance to people at risk of homelessness.
Nelson told the Mercury that he regularly has to turn people away who are seeking services, due to lack of funding or staff. It's a problem he's heard repeated among local social service providers.
"Metro has a process—it's a good one," Nelson said. "But we're asking them to hustle. I hope Metro understands that the typical way of doing things isn't going to work this time. This is a crisis."