Students at multiple Portland schools left class on Wednesday afternoon, as part of a nationwide walkout, protesting gun violence in schools. The groups converged in the downtown Terry Schrunk Plaza, at 12:15 pm, where they held a rally in the federal park's circular amphitheater.
Portland-area students walked out of school today and gathered in Terry Schrunk Plaza to speak about gun violence in schools. The rally is part of a national movement of students walking out today across the US. pic.twitter.com/mLVcZGh4MT

— Suzette Smith (@suzettesmith) April 5, 2023
"We kind of ran out of the building," a Mt. Tabor Middle School student named Taliah told the Mercury. "Kids just started taking buses, and getting down here, joining the protest."
Around 12:45 pm, the students marched on city sidewalks with signs, chanting anthems like "Stop the silence / end gun violence." Their numbers topping out at over 200, the march stretched for blocks.
Although the national march was spearheaded by advocacy group Students Demand Action, the majority of the crowd said they heard about the march from friends or social media. Some said they heard about it when their school sent a letter to parents, advising students not to walk out. 
"A friend told me about the walkout in our group chat," said Raine, a Northwest Academy student and one of the rally's organizers. "Nothing was happening, so I decided to change that."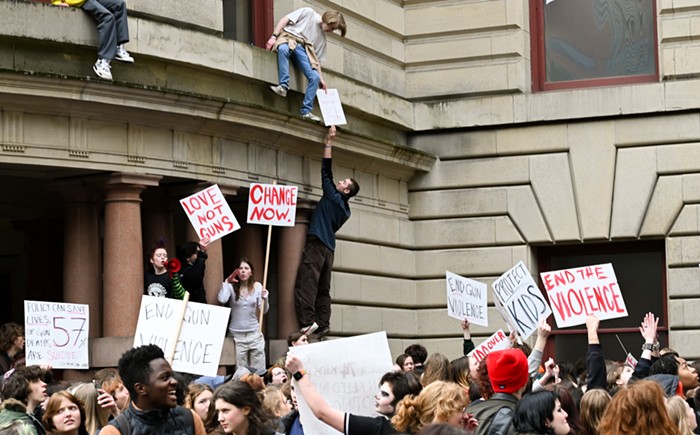 The Mercury spoke with students from six different schools, some in middle school and some in high school, who described feelings of helplessness and a desire to see elected officials take more of a stand on their behalf. 
Incidents like a recent Friday, at Franklin High, where classes were canceled due to gunfire the day prior, coupled with shootings earlier in the school year where students were fired upon near their campuses, made them feel like the threat of gun violence was already a part of their daily lives.
Students rallied in front of Portland's City Hall, chanting in the building's rotunda—a few even climbed the walls—until the event wound down around 2 pm. 
Jesse, a student at Hosford Middle School, told the Mercury his name had been on a "death note" written by a schoolmate the year before. He said the incident led to him staying out of school for a while afterward. "It's nice to come out here and talk to City Hall," he said, of the march. "They could at least acknowledge what we're doing."
Portland Public Schools issued a release in support of the rally, writing: 
Portland Public Schools aspires to graduate compassionate, critical thinkers who are able to collaborate to solve problems and lead a more socially-just world. Our students are rightly angry, and we applaud them for demanding common-sense gun reforms. This advocacy mirrors our work to build positive school climates where students' physical and emotional wellbeing can thrive.