Every city government has its council meeting mainstays.
In my old stomping grounds of San Antonio, it was an old white guy in a cowboy hat who'd merrily bark at the majority-minority city council about government overreach. In Portland, it's a cadre of housing advocates and police critics (including one guy whose legal name is "Injured and Pissed Off") who spend their allotted three minutes of public comment upholding Portland's long tradition of civic engagement and social activism.
Lately, however, the presence of several disruptive individuals in council chambers has threatened the public's future participation in city decisions while restricting the city's ability to pass meaningful policy.
It's become increasingly common for council meetings to be derailed by three or four so-called "citizen journalists" or "copwatchers"—mostly male—who interrupt council discussions with cries of murder and supposed government conspiracies. They rarely sign up to testify during the time reserved for public comment, instead shouting with a bold air of entitlement over whomever happens to be speaking.
Outside council chambers, these visitors corner commissioners, press cell phone cameras in their faces, and demand answers about government schemes that—even if they exist—remain out of commissioners' power to address.
Usually, these council outbursts end with Mayor Ted Wheeler calling a recess, during which city security guards escort the disruptive visitor outside—further delaying the day's agenda. Those regularly shown the door accuse city commissioners of violating their First Amendment rights. But even Portland commissioners with a history of civil disobedience say these regular disruptions only silence others' ability to speak freely.
"This is not the spirit of speaking up for civic change that is the heart of activism," said Commissioner Jo Ann Hardesty, whose first council session was immediately interrupted by a man who barged in, shouting scattered accusations from behind a video camera.
Hardesty, who spent years leading up to her council election organizing protests critical of city decisions, said she respects these visitors' desire to be heard by their elected officials.
"However, their issues and concerns shouldn't drown out the voices of others who come to this building seeking the same access and opportunity," she said.
Several commissioners have heard from longtime council attendees that they've stopped coming to meetings to avoid the inevitable delays caused by these few individuals—and to dodge the resulting high-stress environment. At a January meeting, Commissioner Nick Fish mentioned that city employees say these visitors—who often barge into city hall offices demanding immediate attention—have made them fearful of coming to work.
"We have an obligation to maintain a safe workplace and a respectful workplace," Fish said.
What's worse, these individuals keep commissioners from doing the work Portland elected them to do.
Commissioner Chloe Eudaly says the council chamber's increasingly hostile environment has made commissioners rush votes on issues they would generally take more time to stew over, in hopes of avoiding unrelated grandstanding from the usual suspects.
"I don't believe we're always passing the strongest policy we could," Eudaly says.
Since Wheeler entered City Hall in 2017, he's passed rules meant to regulate council outbursts, but these policies have only resulted in tighter security—a move that failed to dissuade regular disruptors while making the building less hospitable for curious, tentative newcomers.
It's bad timing, Eudaly says. "We have the most progressive council now in recent history, and are poised to advance progressive policies," she says. "We want the community to support us, to hold us accountable. But city hall has never been less hospitable."
Sponsored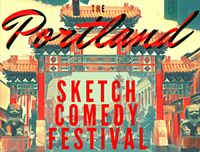 Sketch comedy troupes from all over N. America descend on The Siren Theater for 3 glorious nights.