In January, Portland made history by welcoming its first African American woman to city council. By February, that victory seemed like a distant memory. Rather than a celebration of past achievements, Portland's Black History Month acted as a reminder of how deep Portland's racist roots reach. It's worth a recap.
Sponsored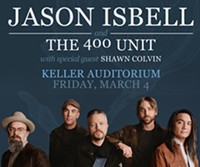 Jason Isbell has established himself as one of the most respected songwriters of his generation. Don't miss Jason Isbell and the 400 Unit, March 4th at Keller Auditorium!
On February 1, a group of outside police investigators published a blistering report on Portland Police Bureau's recent officer-involved shootings. Along with suggesting that police were wrong to fire at Quanice Hayes, the Black teenager fatally shot by PPB in 2017, analysts underscored the need for PPB to acknowledge the legitimacy of the African American community's distrust of police—and work harder to repair that relationship.
Then, on February 6, Portland City Council begrudgingly voted to hand a $100,000 settlement to a Portland cop who was fired after "joking" about killing Black people shortly after Hayes' death. The payoff came with a guarantee that former sergeant Gregg Lewis would never work for the city again, but Black Portlanders and longtime copwatchers saw the settlement as little more than a shrug at systemic racism.
A day later, city commissioners voted on a resolution to denounce white supremacy and alt-right activity in Portland. An obvious statement against Vancouver, Washington's, alt-right faction Patriot Prayer, the resolution was seen as a victory for communities of color. Members of Patriot Prayer, however, showed up to testify before the vote, including an older white man who assured commissioners that "racism is no longer a problem" in Portland. After the vote passed unanimously, one man shouted from the audience: "What about racism against whites?"
Then, a records request by the Mercury and Willamette Week found hundreds of text messages between PPB Officer Jeff Niiya and Patriot Prayer goon Joey Gibson. The messages, which show Niiya's enthusiasm to protect members of the extremist group, support a suspicion held by many progressive Portlanders: that Portland cops, the majority of whom live outside city limits, are far more lenient with members of Patriot Prayer when they hold violent rallies downtown than they are to the local groups who counter-protest those events.
It's well known that Patriot Prayer's membership includes so-called "Proud Boys," members of a national group with racist, anti-immigrant, and anti-LGBTQ tendencies. To many, a police alliance with Patriot Prayer is an alliance with people who aggressively espouse and promote racism.
In response to public outcry following the text message dump, the city held a listening session in a historically Black church, where PPB's top brass sat quietly as community members yelled over each other's comments and scuffled in the pews. As white activists yelled "Racist!" and "Nazi scum!" at each other, the Black moderator Kory Murphy shook his head. "Funny," he said. "You guys didn't have a reaction like this when my folks were under attack." Later, an African American woman reminded the majority-white crowd that Black Portlanders have been dealing with police bias for decades. "But now you pay attention," she said.
The kicker: On February 22, a Multnomah County grand jury chose not to indict the officer who fatally shot Andre Gladen, a legally blind Black man with schizophrenia. It didn't come as a surprise. In an unusual gesture, Mayor Ted Wheeler and PPB Chief Danielle Outlaw took a meeting with Gladen's family the same day—allowing family members to ask questions and express their frustrations. Asked how she felt leaving the meeting, Andre's mother Donna put it bluntly: "The same way I went in. Angry."