Everything about Mayor Ted Wheeler's latest hire seems painfully deliberate.
Sponsored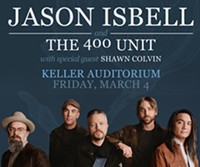 Jason Isbell has established himself as one of the most respected songwriters of his generation. Don't miss Jason Isbell and the 400 Unit, March 4th at Keller Auditorium!
On April 2, Wheeler announced he'd hired former Portland police commander Robert King to serve as his newest senior policy advisor on public safety.
Judging by King's past—and Wheeler's present—the appointment is as much a public relations strategy as it is a pragmatic hire.
King enters City Hall after 27 years with the PPB, during which he held nearly every position before retiring in 2018. While on the PPB, King also served as a respected president of the Portland Police Association (PPA), PPB's notoriously iron-fisted union (and a regular critic of sitting mayors).
Since entering office, Wheeler's struggled to earn the respect of Portland cops—in part, thanks to heated editorials written by current PPA President Daryl Turner—and could use the backing of a veteran cop to restore his image. With that in mind, King's appointment could be a calculated attempt to convince Portland's skeptical officers that the mayor is on their side.
And those optics could prove useful: In 2020, the city will dive into contract negotiations with the PPA—a historically fraught process.
King's inside knowledge of PPA's negotiating tactics is the kind of tool that could potentially give the city the upper hand in those tense union talks. But having King involved in these negotiations could also guarantee an extra layer of tension at the negotiating table, thanks to some unsettled beef between King and PPA's Turner.
In 2010, King was tasked with looking over PPB's training guidelines to determine whether officer Ron Frashour's use of deadly force against Aaron Campbell, a Black man with a mental illness, was justified. King found flaws in Frashour's conduct, and penned a critical summary that informed the city's decision to fire Frashour, a move vehemently opposed by the PPA. (Frashour was later reinstated through PPA arbitration.)
At the time, Turner excoriated King for standing by his summary in court, calling King's testimony "riddled with inconsistencies."
Hiring the rare Portland cop who publicly criticizes an officer could also signify Wheeler's attempt to appeal to police accountability activists. Unless they take a look at the rest of King's record.
In 1992, King fatally shot an 18-year-old robbery suspect after the teen stabbed him in the shoulder. In 1997, King was one of three officers who shot and killed a man who officers believed to be suicidal.
And in 2008, while serving as PPA president, King fought against then-Mayor Sam Adams' attempt to create a racial profiling committee that would recommend policies to help eliminate discriminatory practices within PPB. King went on to argue that "Portland police do not engage in racial profiling"—a statement that's been disproven time and time again—and hired an out-of-state statistical consultant to find data to back his claim.
After the Mercury first reported on King's hiring, King sent an unprompted email to the Mercury, explaining, "I have learned a great deal about implicit bias since making that statement a decade ago." He did not respond to the Mercury's request to elaborate.
Maybe King's truly updated his understanding of racial bias. Maybe he's repaired his relationship with the PPA. Or maybe he'll get officers to respect Wheeler. Or maybe not.