During a recent Portland protest, a police officer confused vegan milkshakes with quick-drying cement and caused a national frenzy when the police bureau tweeted about it. No, this isn't the punchline of a Portlandia sketch—it's just the latest way Portland's reckless police work has twisted the perception of our city.
Sponsored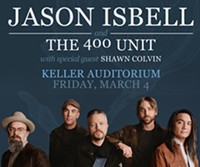 Jason Isbell has established himself as one of the most respected songwriters of his generation. Don't miss Jason Isbell and the 400 Unit, March 4th at Keller Auditorium!
Saturday, June 29 marked 2019's inaugural scuffle between left-wing and alt-right groups in downtown Portland. Like past clashes, the dueling protests ended in a cloud of pepper spray, several arrests, and a few bloodied faces. But something far more benign set off alarm bells for the Portland Police Bureau (PPB): 800 homemade coconut milkshakes served from 10-gallon buckets. The shakes were mostly consumed by those attending the afternoon's left-wing rally, although later, some were used to drench the alt-right opposition.
According to the city, an unnamed PPB lieutenant said the shakes contained "a powdery substance that appeared to cause some irritation" to skin. That lieutenant, who supposedly had experience working with concrete, told their superiors the milkshake had the consistency and smell of wet concrete.
The lieutenant's assumption was harmless enough—it's certainly expected for officers to be on high alert for unusual weapons during these recurring battles. But instead of investigating the officer's hunch, PPB fired off an alarming tweet: "Police have received information that some of the milkshakes thrown today during the demonstration contained quick-drying cement."
Somehow, offhand suspicion had morphed into fact.
Within hours, the alert was regurgitated by Sen. Ted Cruz, CNN's Jake Tapper, NBC, ABC, and pundits for Fox News, who characterized the milkshakes as the latest weapon from left-wing extremists. One thing, however, went unreported: There was no proof the milkshakes contained concrete.
PPB's news-making threw Portland into the national spotlight, triggering threats of violence and legal action against protesters, Mayor Ted Wheeler, and the local media.
What might be worse, though, is that the city has stood by PPB's false claim.
Robert King, who serves as Mayor Ted Wheeler's police liaison, says PPB's decision to share the unverified statement was an "operational necessity."
"We're committed to sharing as much information as possible," says King. "Even if suspected, sharing that [tweet] in an abundance of caution for our community is a responsible step."
By that logic, you'd think PPB would have also tweeted about Saturday's confirmed violence, whether it was people engaging in fist fights or spraying others with bear mace. If PPB was truly committed to sharing "as much information as possible," it wouldn't have waited two months before telling the public that, during a 2018 protest, officers discovered a rooftop cache of rifles belonging to alt-right protesters.
Wheeler and Police Chief Danielle Outlaw frequently bemoan Portland's reputation as a lawless city with little control over violent protests. Outlaw and Daryl Turner, the head of the PPB's union, have blamed the "anti-police" perception of Portland as the reason for the bureau's struggles to hire and retain officers.
More often than not, these leaders accuse the media of misrepresenting the city. But in this case, a major piece of misinformation came directly from the city's supposedly authoritative police force. As of the Mercury's deadline, the PPB had yet to correct the falsehood, or even admit their mistake. We'll wait.