Today's the day, folks—Occupy Portland hits downtown PDX/Waterfront Park. The predicted thousands of protesters are expected to start their occupation around noon, followed by a 2:30 march to Pioneer Courthouse Square. Then, into the night.
Curious what will be going down but too terrified/lazy/busy/apathetic to swing by? Have no fear! We'll be live-blogging the event for 24 hours strong, starting at the noon commencement. Check in for unusual updates throughout the day, hopefully none of which lead to our arrest. Fingers crossed.
The blog squad (in order of blog coverage): Alex Zielinski, Bill Lascher, Georgia Perry, Sarah Mirk, Denis Theriault, and Melanie Johnson.
While our trusty team will be on the prowl, we can't catch everything. If you're at the protest and take any good photos, send 'em along to news@portlandmercury.com or add them to the Mercury Flickr pool. Feel free to send along any tips as well.
LIVE UPDATES:
12:30PM—
Occupy protest remains in Lownsdale and Chapman parks, blocking off Main Street and attracting honks from passing cars. Liveblog over and out! Check out the rest of Blogtown for updates on the protest!
11:55AM We're wrapping up the first day without any trouble, but still without any resolution. The mayor's chief of staff and deputy chief of staff just met him outside city hall with a pair of police officials. "We're working hard to come up with a solution," he said before heading back inside to hash over what might happen. Am I bad for wondering if the fact that he's not running for re-election has made it easier to stick his neck out for the camp, unlike some of his fellow mayors across America?
Also, in a bonus dig, the mayor teased a couple of TV reporters for wearing the same Columbia Sportswear parkas.
The mood is light, relaxed. Kids on a tour just walked through. And people are saying things like: "It's not radical enough, I think, because they're still using structures." Keep up with the latest in a soon-to-be-filed new post. Thanks for paying attention, y'bastids!
11:53AM—The helicopters are back over head! Must mean it's time for the noon news.
11:45AM—I meet Julia, one of the medics at the camp's makeshift medical tent.
"I have outdoor survival training, so when I heard they might need medical assistance, I jumped in," she says. "We're here to monitor public health, assist in any mental health issues.. We were preparing last night in case anything... escalated."
Julia says an ongoing concern is supplies, so they've added a needs list to Occupy Portland's website.
"I don't have many strong political convictions, but I feel really supportive of those who do," she explains.
11:30AM—Melanie again! At the hourly meeting, a request for a Morale Committee is met with cheers. A woman named Sarah spearheads the movement. "We need musicians, massage therapists, chanters.. If you're interested, go meet up..." She falters.
"With the clown," a guy in clown make-up interjects.
"With the clown!" the crowd repeats cheerfully.
"In five minutes," Sarah adds.
Five minutes later, the clown-led meeting begins. One guy offers to go home for his shoe shining kit, "to keep our boots shiny!" This seems like a stupid idea until I look down at my own muddy shoes. Morale!
The singalong leader from before eagerly adds, "We can build a stage! And use it for slam poetry readings!"
Hm.
11:29 AM—Woman on megaphone: "Please leave the plunger in the bathroom... don't take it on adventures."
10:55AM—Negotiators from the camp are now inside the Justice Center talking to police officials. Police spokesman Sergeant Pete Simpson says the issues involve space and traffic and sheer numbers. The marathon, which draws 14,000 runners or so, usually takes up Terry Schrunk Plaza, and Chapman and Lownsdale squares for its start/finish area. "It's a lot of additional people to figure out," he says. "Our goal continues to be no arrests and no confrontations."
As for yesterday's march, he called it "unique" and said he hesitates to use the word "protester," because it has "negative connotations." "It was exceptional. It was a festive event." Mischief makers didn't manifest, he said, because they were "frustrated." "No one was interested in having them hijack the event."
Oh, and those Salem cops I photographed? They weren't needed. And they didn't cost anything. "Mutual aid agreement," Simpson says, meaning our cops would muster for them if they ever needed it, too.
10:42AM—A young woman named Aisha steps up to the megaphone to address the apparently ongoing issue of a missing backpack. "Unfortunately, our backpack is STILL missing. It contains my only two skirts and our library books. Should anyone see two unattended skirts, or unattended library books, or an unattended green-and-blue backpack..."
10:20AM—One of the most common small talk topics I overhear is about the quality and quantity of food available at the camp.
Guy: "I mean, I've eaten SO WELL since I've been here."
Guy 2: "Yeah, I had a bagel! I mean, there was no cream cheese, but.."
For what it's worth, there is cream cheese now, along with coffee, chai, tea, muffins, oatmeal, fruit, and countless donuts being carried around in boxes. Two large commercial flats of spelt and Dave's Killer bread just arrived - donated, I'm told by one of the women carrying them, although she says she can't say from where.
10:25AM—Gambit, one of the organizers, briefly emerged from city hall and collected more organizers to take back with him. They are meeting with with the mayor and the marathon committee, which is being "flexible." Compromise seems in the offing—although the devil, as they say, is in the details. The marathon, some say, may not need all the space here that they've reserved.
"We are going to work out the details on how we can all co-exist in this place," Gambit tells me (Denis).
10:20AM—A singalong is proposed! It struggles when no one appears to knows the words. One guy jokingly starts in on the first few bars of "Hava Nagila" before fading out. The group attempts Janis Joplin's "Mercedes Benz".
"Hey!" shouts the singalong leader after a round of Woody Guthrie. "Anyone know how to tune a ukelele?"
"NO!" returns the crowd.
10:10AM—Denis again. Mayor Sam Adams is apparently going to personally address the camp in Chapman Square. "Was he invited," one bearded man yells. "What committee is he gonna abe on," another fellow asks. Before this announcement, the mayor and two organizers headed into city hall for a chat. I was told "this is a private meeting." Soon after, the mayor's office sent out a statement that said "no media interviews at this time." So, like, sorry, media.
The crowd is still singing and cheering. One occupier was in a heated discussion with a police officer about "grand juries," but even that seemed decent.
10AM—Melanie here, checking in early for the last few hours of the liveblog. There are a lot of journalist types (myself included) milling around a bit awkwardly, with the KOIN and KATU crews discussing among themselves what's going on with exaggerated shrugs and eye-rolls. A guy is wandering around offering everyone handrolled cigarettes (or "cigarettes"?). I decline the offer but accept free coffee from a pair of girls wearing Safeway Select t-shirts, which I think makes me a sell-out?
A motorcyclist just did a wheelie past the picket line. Awesome.
9:45AM—Babies and children have reappeared at the camp, and someone just marched through cheering that the march made the front page of the Oregonian. Another guy was carrying WinCo doughnuts—"I'm on doughnut patrol"—right past some police.
But I'm burying the lede: Alaina Melville, the group's current police liaison, says she just got word that there's a meeting between the city and the marathon. "The police said that no action will be made until the end of that meeting. There are no intentions to storm the camp." THAT GOT BIG APPLAUSE. "As soon as that meeting is done, we'll get word, and that will be communicated to the entire group."
Across the street, Mayor Adams is outside city hall watching with deputy city attorney David Woboril.
9AM—Denis again. No sign of a crackdown. At a press conference a few minutes ago, organizers said organizers were making contact with the marathon and that thanked the mayor's office for its support: "We hope the mayor continues to stand by our side." They announced they would remain in Chapman Square come what may, compromise or not. Reconvening, if there's no compromise, would be at Pioneer Square or Waterfront Park, at 7PM. (And there's a new estimate for yesterday's crowd: 10,000.)
"If the police tell us to leave, we will sit down. We will give no resistance and allow them to arrest us."
For now, though, the discussions have bought the camp time.
Otherwise, the mood is festive. Cops are joking with demonstrators. Cars are honking as they turn off Main, which is still closed from Third through Fourth. And the National Laywers' Guild has a contingent of observers wearing lime green hats.
One cyclist, making his way through the crowd with sacks of banana muffins, shouted: "I love you all. You're all beautiful Portlanders."
8:45AM—Lieutenant Mike Marshman had an easy answer when a protester, who said "we don't want to be assholes to the marathon," asked if the cops would charge in with teargas come 9 o'clock. "No." Marshman confirmed that the mayor's staff was in talks with the chief's staff on finding a solution that allows Occupy Portland to get "your message out."
8:45 AM—Humpy here. Since the blog is still a tad hiccup-y (working on it!), Denis phoned in to say this morning's press conference has started, and we'll have all the details shortly. In the meantime, in anticipation of the 9 am deadline for protesters to vamoose, the cops are gathering. Word is they will not be using tear gas. Thanks, guys!
8:17AM—Mayor Sam Adams just walked out of City Hall, says he's headed to Chief Mike Reese's office. "It looked like a peaceful crowd," he said of his 6:45AM walkthrough. (Apologies if you've been checking for updates; blog has been hiccupy.)
8:10AM—Missed this alert from the police earlier this morning:
Early this morning, Friday October 7, 2011, at approximately 1:00 a.m., one man and one juvenile were arrested by Portland Police Bureau Central Precinct night shift officers after they were observed by a citizen "tagging" several locations in Downtown Portland, including a marked Portland Police Bureau patrol car. Some of the businesses that were tagged include the Pioneer Square Starbucks location and a building located at 888 SW 5th Avenue.

The tags that were painted include, "Occupy Portland," "Wall Street Loves No One," "Perspective," and "Occupy."

21-year-old Nolan Zane MacGregor and 17-year-old Alexander Liljenquist were charged with Criminal Mischief in the First Degree.

The two suspects were in possession of aerosol paint, stencils, and over 100 "Occupy Portland" flyers.

MacGregor was booked into the Multnomah County Jail and Liljenquist was released to his parents.

These two arrests were the only significant activity in an otherwise quiet and peaceful night in Downtown Portland.
7:55AM—The proposal from 30 minutes ago has passed. Teams have split off to work with the marathon and also to work on a presser at 8:45, at the Elk. It's been established, too, that the marathon people are in contact with the marathon team. Also: the camps will consolidate south, in Chapman Square. That's where the medics and info station and food already are. And the campers have decided to keep up a police liaison position, despite heavy opposition from some.
"The Portland Police Bureau has been on a short leash of late. We should be more reactive. They haven't done anything to us yet," one man said. Although someone says he saw a heavy contingent of cops several blocks south of the assembly.
Tents are coming down even as the assembly hashes through its remaining issues. I smell pot now. It's raining. And an energy drink company has sent down an SUV to hand out samples.
Here's video from yesterday, too, put together for the Mercury by Erik Schultz.
7:30AM—"I propose we go to Waterfront Park. We can protest there and then come back here Monday morning." There are cheers, but not as many. It's odd that this place is in the nexus of the Justice Center, City Hall and Portland Building.
7:25AM—So there's a big proposal now to negotiate directly with the Portland Marathon and cut out the police and city council, with a press conference maybe at 8:45 to reveal whatever proposal might emerge. Sentiment is settling heavily on staying. Very heavily
"Um, has anyone thought that the marathon might not want to work with us? That they might want all their space?" one woman asks.
7:19AM—The group is aware there's possibly a national audience, even though the numbers aren't what they were yesterday. "Other cities are watching us," one man said. "If we start getting arrested, people stop bringing their kids down here.
7:14AM—A police observer says to a group of cops: "By the way, you guys are allowed to vote."
7:10AM—The 7AM meeting is underway. 300-400 people are gathered by the big elk. Discussion is all about whether to vacate, occupy just one park, or even find some other solution. People want to swell ranks. Others argue for respecting the marathon. And the police.
Commissioner Nick Fish, parks bureau boss, has showed up. He says he sent extra garbage pickup out last night. He said it's too early to comment on rumors that Waterfront Park might be offered up.
6:45AM—After the early meeting disbands, some in the crowd continue to debate a course of action in Chapman Square. A man dressed like an old-time pilot reasonably points out that "What we need to do is pack things up, so we can get the fuck out of here. That way we can leave if we decide to leave."
That appears to be happening, slowly. But right now, A LOT of tents and tarps remain in place, and there's scattered debate about whether this is the right time/place/etc. to take a stand.
6:33AM—Over in Lownsdale Square, a man with a long white beard was gently reminding a bunch of police officers about what happened to James Chasse, a schizophrenic man beaten by officers, with no credible pretext, who then died on the way to a hospital.
Lieutenant John Brooks, a liaison to the group, was very gracious. "You guys have a good morning."
The bearded man then told one of the officers with Brooks he was handsome, and that another was the "tallest and baldest" cops he'd ever seen.
Brooks says he hoped everyone clears out for the marathon, and that he's working with organizers to help make that happen.
"Last night we told them," he says, adding that things have gone well so far. "They've been great about picking up their trash."
But he would like to see swifter action, at least a little bit more: "I've been camping before. It's a pain to pack up and pull up stakes."
6:25AM—Denis here. Sarah is still here, too, watching the GA meeting unfold while I head over to city hall to say hello. The call and response thing is strange, but I get it. It's time to figure out what happens when the Portland Marathon displaces the occupation. Says one of the speakers: "We need a real plan by 9AM. Do we plan on coming back after the march?
"I propose we move to Waterfront Park or the Elephant Park Block."
Another speaker then says: "I propose we sack up and stay here! It's a nightmare for the establishment. It's a nightmare for Mayor Adams! It would look so bad if they shoved us out. Let' just sit back and relax."
Someone else chimes in that it's not cool to be jerks to the marathon: "That's just while the marathon sets up. I propose we stay here and wait out the marathon, and then we'll have this space and we're set."
And then more: "Can we share with the Portland Marathon? Let's give them one these blocks." There's some people saying "fuck the system," etc. and others reminding the group that the marathon isn't the government.
All this, meanwhile, and people are still grumbling about the early wakeup call. Morning tempers are totally getting frayed after a sleepless, damp night. "We need to be nice to each other, even though it's six in the morning."
Which, as Sarah, on her way out, comes by to tell me outside city hall, where I'm hogging wifi, is when they all decide to reconvene at 7. As planned.
5:45AM—I'm finally asleep, but then I'm woken up by someone shouting "mic check." And then a call and response. It comes again: "General Assembly! We have to make decisions." The 7 AM meeting is an hour early—and some people are angry. I have a crick in my neck. The tent city reluctantly shuffles to life. It is cold.
3:52AM— I'm going to fall asleep in the dirt now.
3:47AM— Time is passing very slowly. I have run out of people to talk to. Even the real Ron Paul supporters are not funny any more. The trash trucks are starting to come out, disturbing the sleep of the protesters.
3:30AM—The organizers have called a meeting for tomorrow morning about the marathon situation. As of 9am tomorrow, the Occupiers are supposed to de-occupy the two downtown parks, because the Portland Marathon has a longstanding legal permit occupy the parks themselves, to set up for the weekend's massive run. The Occupy organizers distribute little leaflets to the people still awake, who are munching on pizza and donuts. "Occupy Portland supports the athletes of the Portland Marathon. We do not want to disrupt their event.... We believe that the needs of the ongoing demonstration and the temporary needs of the Portland marathon can both be accommodated within the three block area."
So will the protesters budge for the athletes? Stay tuned for tomorrow's 7am meeting.3AM—There's a rumor that pizza has shown up. "If pizza is here, the occupation will definitely never end," says a tall biker named Dead Buny. The rumor is true.
2:22AM—A Segway cop cruises past. "Ron Paul!" shouts Abbott. No response.
2AM—The conversation has drifted into delirium. Gregg Abbott, 19-year-old mayoral candidate, and my friend Jake are standing around the elk, discussing how instead of shuffling along at 9am tomorrow, the protesters should just throw on running shorts and blend in with the marathoners. We've hit the point where anything is funny. "Ron Paul!" Abbott shouts at passerbys. "Ron Paul! Repeal the 14th Amendment! Have you heard the good news?! Free Bibles!"
1:45AM—Everyone's settled in for the night. Some people are eating Lucky Charms outside a small tent topped with a sign reading, "Greed." Most people are asleep on the grass. If nothing else, this protest will have accomplished a hassle-free night for the many homeless people who routinely sleep in Portland's parks, but are rousted by police after hours.
1:10AM—I get into a sincere conversation with PSU philosophy/English student John Davison, who tells me he joined up with the protest in part because he's upset about his parents' Gresham homes going into foreclosure. "It's not abstract for me. I'm not here just because this is something I've heard about, I'm not here for the spectacle, although that's alluring. I just quit my job at Plaid Pantry, where I worked for a year and got a 10 cent raise."
12:55AM— A guy named Jay Yungerman comes up to grab an OccuPIE and as he's eating it, tells Abbott that he just lost his job. "Really?" I ask and he shows me the text message he received from his boss during the protest: Sorry, but the mini-mart you worked at is now closed.
12:30AM— Expressing solidarity with taking puns to a whole new level, Gregg Abbott of Whiffies showed up with six sacks of hot fried pies. We made him a cardboard sign reading, "OCCUPIE." An attempt to launch a Mission of Peace by bringing a bag of beef brisket pies to the half dozen transit officers hanging around outside the Justice Center failed when all of the officers said they weren't hungry. Regardless, within 20 minutes or so, all the pies were consumed.
Gregg Abbott, of Whiffies, and his OccuPIE chart
12:26AM— Sarah Mirk here, on shift in the park until 6am. DON'T WORRY. When I was asleep in bed a few hours ago, I was beginning to think that spending a soggy night in a park was a dumb idea, but then I a five hour energy drink ("Drink it in seconds, feel it in minutes!") and am psyched about smashing the state, etc. etc.
The parks have become a lively tent city, with a few hundred people talking, eating, and reading between dozens of tents. With SW Salmon blocked off and only a few bike cops hanging out on the sidelines, it feels like the protesters own the space. Well, at least until 9am when they have to make way for the Portland Marathon.
A stack of cardboard boxes has been topped with a bunch of a zines and the word, "Library." Another stack of boxes is a food station and at the center of Chapman Square, a cardboard sign reading "Information" is tacked to a tree. Over in the northwest corner of the park, a large clump of people are having what feels like a soapbox session, ranting in turns about the evils of the Fed.
Whiffies fried pie cart says they're on their way over here, contributing to #OccuPIE Portland. Fingers crossed that hot pie will soon materialize.

11:40 PM— Protest sign spotted: "One day the poor will have nothing left to eat but the rich."

11:11 PM—Song lyrics: "I'd rather be dead/Cause I'm so sick of eating/ Ramen noodles/ Campbell's soup/ and Wonder bread."
10:40PM— Interviews with two grown men:
Jello (that's what he said his name was) : "I don't think this is really a protest. It's more an outpouring of grievances. Like, everybody's saying there's not just one message but I don't think there needs to be just one message."
Jesse: "I'm here more as an observer. I wanted to be here to support people if there was any police brutality or anything like that. But now that it's like, legal, it's like - what are we all camping in a fucking park for? I'm gonna stay overnight. Hopefully things will spice up."
10:30 PM— Someone is holding a dollar bill at the end of a fishing line and dangling it in front of people who walk by.
10:25PM— Overheard: "Wal Mart is famous for doing all kinds of fucked up shit. Like Jewing people out of lunches, Jewing people out of breaks." ...WTF?!!?
10:10PM— Bumper sticker on guitar reads, "Democrats are in fact communists."
10PM— We should post this note from the police Twitter feed: "Portland Marathon holds longstanding permit to occupy Lownsdale and Chapman parks this weekend. Fencing will begin October 7th at 9am." That's not going to be pretty, if anyone's still asleep here.
9:55PM—Overheard: "People will die somehow, some way. Like, it really will happen...I need to pee. I've been needing to pee for like 3 hours. Where's Lisa?"
9:45PM—In my opinion, there is too much nicotine here and not enough Mary Jane. Just throwing that out there.
9:42PM—A near catastrophe when a woman holding a cardboard four-drink holder with 3 Venti Starbucks cups tries to climb over a chain and knocks over a couple of bikes.
9:36PM—Rich-looking couple in Columbia Sportswear jackets walk up like tourists. "Oh this is great!"
I ask them what they're up to/what they think of all this. They think it is great.
Woman: "We were here before, then we went to see a film. It was terrific. About Guatemala." (She gives knowing nod; 'k—I have no idea what is going on in Guatemala right now.) Then we came back. And this is still going strong!"
Man: "I remember the polling..over 80 percent opposed the bailout and then it happened anyway. So who's controlling the government?"
9:20PM—Protest chanting fail:
Young Guy: "I propose that we research the corporations in charge of the Portland Marathon and find out what acts they have committed in Third World countries!"
Entire Crowd: Repeats what he just said, as is the practice
Random Girl With Megaphone: "Just throwing this out there we ALREADY did that!"
Young Guy: "Uh...and try to inform them and the runners while still respecting their space!!"
Mumbled few in crowd: "and...inform....."
Other Random Woman: "Wasn't that the AIDS walk?"
Still Another Random Woman: "No that was Sunday."
Other Random Woman (from two lines up) (mocking): "We hate AIDS!!!"
9:10PM—I went to Carl's Junior because I was really hungry and I got this burger with onion rings on it and bleu cheese and walked back to the protest with it...Then I ate it while hovering over a trash can on the sidewalk across the street cause I thought I might get mobbed for having a corporate burger.
8:55PM—I interviewed a school teacher who said, "I can't stay. I have 30 fourth-graders waiting for me in the morning. I just came to hang out, throw a frisbee or something. This is kinda weird. Gonna go home and watch a movie." THEN HE WINKED AT ME.
8:33PM—I talked to a college kid from China for like 20 minutes and he asked me what this was. I tried to explain the best I could: "So, a bunch of guys who work at corporations in America got in trouble like, went broke or bankrupt or something, and the government decided they should use taxpayer dollars to bail them out or - "
"Fix it?" he said
"Yeah! Fix it. And those guys are the 1 percent these signs are about. The taxpayers, regular citizens are mad about it."
He also asked me why unemployment rates are so high in America. I told him I think it's because we have no money and business owners have no way to pay employees. He said he thinks American government should spend more time focusing on its economy and less time fighting with other countries. He said he thinks the reason we have no jobs is because we outsource them all overseas. (I hadn't thought of that but I think he's right!!?)
8:20PM—Georgia Perry now reporting: First reported act of petty vandalism: A police parking street sign overturned in the grass.
8:20PM—Okay, so I'm a sap and thought this was pretty cute. Aquila Ettien and Jordan Burgess, two PSU students—one a post-baccalaureate (Bam! spelled it right without looking at spellcheck!) and one a freshman—with papers spread out among the fall leaves.
What was there in their notebooks? Plans to take over the world? Secret civil disobedience strategies? No. Latin homework. I asked what the two were up to.
"I guess it would be a mixture of solidarity, and there's a quiz tomorrow," Burgess said. He'd first heard of the Occupy Wall Street movement when it started a few weeks ago.
"I was very skeptical at first but I saw how it was progressing. I thought I would show up and show solidarity with the people of Portland."
7:45PM—You can get free hugs here.
And rice and greens. Ashley and Anton Perot say it's "simple and sustaining."
There's live hip hop replete with Super Mario Bros samples. Someone just passed a level.
Apparently there's an IT desk being set up —do it fast, I (says Bill) have to hike to City Hall each time I want to update this.
7:35PM—More from Mr. Lascher:
Still no arrests. There was a bit of a brouhaha around 6:50 that brought a crowd to the corner of 2nd and Madison. Seems two protesters attempted to hold a banner and cross the street. A phalanx of bicycle officers went to stop them as they stayed in the street.
The tension was palpably rising. One man, Poki Pagter-Newton, tried to join the impromptu civil disobedience. He and the others were talked away from the street by officers and protest peacekeepers. Pagter-Newton says he expects to be arrested later, but so far, he says the police seem to have been handling the situation well.
"In the best way I've ever seen," Pagter-Newton says. "I definitely am not a fan of the boys-in-blue gang as it were."
Pagter-Newton expects that eventually tensions will mount because, he says, "the powers that be are pushing the public servants to quell this as quickly as possible."
Sgt. Holbrook of the PPB explained that some people "hootin' and hollerin'" after a couple of others got into the street escalated the situation. Officers formed a line to keep traffic moving.
"We were trying to allow the protesters to continue what they were protesting, allow traffic to keep moving, and get the people who were blocking traffic to step out of traffic."
7:05PM—We just got a download of these awesome photos of the afternoon march from photojournalist Alex Milan Tracy. Wow.
6:30PM—Bill Lascher updates: After completely losing the march in the space of time it took to don a raincoat, I wandered lost in the rain. Finally I returned through a menagerie of geese and dogs and police horses on the waterfront, whereupon I arrived at Chapman Square—where the police have allowed protesters to camp overnight till 9am tomorrow. There, I discovered capitalism at its finest: For ten bucks a piece, Wayne Holderman sold black t-shirts emblazoned with white fists and the word "Occupy Portland."
The shirts cost Holderman's family—his brother owns a screenprinting business—$7.50 to make. So far, he said, he's sold 200 of the shirts.
"It's a small family business," Holderman said. "It's just to promote unity and get people involved, and to make a little money."
6:00PM—Things might get interesting tomorrow morning... right around, say, 9, maybe? I don't think they're referring to "friendly duels with epees and masks."
5:43PM—Mayor Sam Adams' spokeswoman, Amy Ruiz, says the mayor deserves the credit for waiving the parks' 12:01 AM curfew. "For tonight, yes." Maybe we need to keep this thing going for 48 hours now?
5:35PM—Camp for the night will be at Chapman and Lownsdale squares, and the Portland Police Bureau has decided not to enforce the curfew at the parks tonight, as previously threatened.
4:50PM— Three SUVs bursting with the Vancouver and Multnomah County riot squad police (about 30 total) pull over outside of Paddy's Pub on SE Salmon and Natio Parkway. "Alright! I've got 36 car bombs ready to go!" announces one officer. They're all very jovial and laid-back, one cop sipping coffee: "It's going fine, all very peaceful today." One points at a tall bike going by and says to a much shorter cop nearby, "Hey, you need one of those!"
4:55PM—So far, it seems like the protesters and the police have been getting along great. Instead of beatings over the head, we've gotten adorable photo shoots. This first photo is from Twitter user @Vanadia.
4:45PM—The @OccupOregon twitter feed reports: "We've taken the elk!"
4:35PM—TriMet says it's all clear through the transit mall, except that y'all should expect to get where you're going kind of late.
Green and Yellow Line MAX trains are resuming service in downtown Portland. Riders should expect delays throughout the system.
4:28PM—Two recent dispatches from Twitter.

4:20PM—Alex Z. reports from Chapman Square, er, Lownsdale Park, near the Multnomah County Courthouse and City Hall: People are apparently climbing trees and hanging out as the five-block-plus march makes its way back to the waterfront. Drivers along the route still look pissed, although some are honking in solidarity... "I think," Alex says. Stranger is how the crowd is getting along with the cops. "Great," Alex says. "People have been hugging the cops. It's been this very joyous, strange situation."
4:05PM—Here's an aerial view of the Pioneer Square crowd from the eighth floor of the Pacific Building.
3:45PM—TriMet has sent out an alert that might irk some commuters who head through the transit mall.
Due to large crowds downtown, TriMet is halting all Green and Yellow MAX service along the Portland Transit Mall on 5th and 6th avenues. Green and Yellow line trains will travel only on the eastside of town. Riders wanting to connect to these lines should ride Blue or Red line trains or regular bus service to the Rose Quarter, and then transfer to Yellow or Green trains. Riders should expect delays.
Bill Lascher, ahead of his shift, chimes in with what he says was the best quote of the day, more than three hours into the rally: It came from a kid "twelvish or so—in one of those Anonymous/V for Vendetta masks—who said to an unseen family member, 'Where'd Mom go?'
"Anyone want to adopt a young anarchist?"
3:30PM—Alex Z. says people in buildings all around Pioneer Courthouse Square are hanging outside their windows and waving at the crowd. A barricade set up in one corner of the square was apparently overrun a few minutes ago. There's nothing much happening, yet, just "a lot of babbling."
Meanwhile, Suji Allen, our art director, has been out among the crowd snapping all kinds of magnificent photos. Here are a smidge. Remember to check our Flickr pool for many, many more.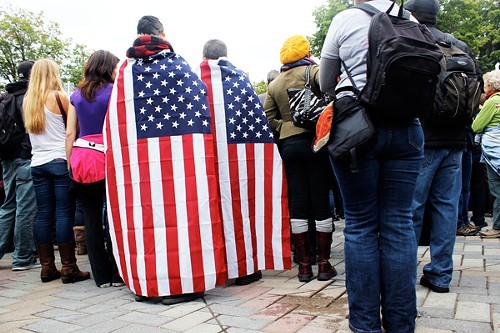 3:15PM—How big is Occupy Portland, compared to protests in other cities? Cops—cops—here estimate 5,000 people. (Alex Z. says 3,000 in Pioneer Square, 2,000 or so on the streets.) Seattle, at its peak, had 300 people, with about 100 people spending the night. Police arrested 25 people yesterday. Mere hundreds also showed up for events in Washington DC and Philadelphia.
Meanwhile, drivers waiting for the column of protesters to pass looked a little pissed off. KISS songs from boomboxes, an accordionist, a superhero kid, and a sage burner stuck out in a remarkably diverse crowd. The big chant has been "We are the 99 percent," but then there was this one, too: "Show me what democracy looks like; this is what democracy looks like."2:59PM—The march has reached Pioneer Square, where the MAX is stopped. According to Twitter rumors, someone pulled the train's emergency stop and ran from train between 11th and 7th Avenues. News copters are circling the square! Lots of chanting and excitement.
2:41PM—The march is heading up Burnside, stretching five whole blocks with an official estimate of 4,000-5,000 people! Everything is peaceful chanting, whooping, and hollering. Also, I ate next to this woman and her baby. Check out her great sign.
2:36—Bike cop caravan tailing the protest!
2:30PM—They're on the move. The crowd, estimated at as many as 4,000 people so far, have begun streaming out of Waterfront Park, down Naito, and then up onto SW Ash. They are so loud you can hear them through closed office windows. Here's hoping they avoid the MAX trains.
2:25PM—As motorcycle officers gather at the fire station on Ash and Naito, and with the crowd yet to start spilling forth from Waterfront Park, here's a tweet we missed from the Portland Police Bureau.
1:50PM— The drum circle has begun!
1:45PM—Right now the protesters are giving announcements in Spanish. People are coming up and spouting off their concerns through the megaphone, but in Spanish. Also, there's a man in an alien outfit.
1:35PM—Current chant: "It's not rich vs. poor, it's right vs. wrong!!" There's also a guy with a harmonica singing over and over, "I won't pay my taxes!" Annnd lots of jugglers.
1:30PM—Denis just got back from NW 9th and Naito, where a contingent of police officers from Salem were amassing. "Time to get the gasmasks!" said one.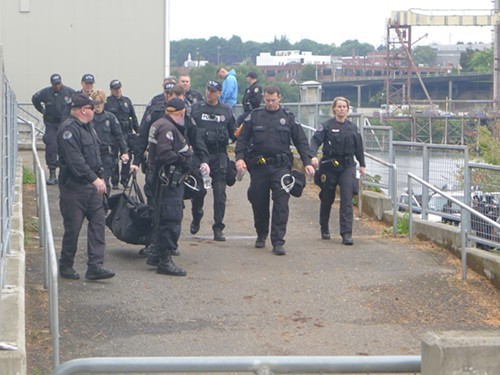 1:20PM—And now a photo of some adorable children protesters:
1:00PM— We can see a juggler from the Mercury office window.
12:45PM— There's a man in military get-up toting a gun (in holster) near the Skidmore Fountain surrounded by suspicious bike cops. Some folks are taking pictures with him. What?
12:30PM— One guy stood up in the crowd and is concerned that there's too many people to stay on the sidewalk and that they should work with police, so there's a small group of people debating that right now. Meanwhile, there's a pack of bike cops who are sitting around, waiting patiently.
"I need meds. If my mom gets arrested, HELP ME"
12:25PM— There's a guy giving out free pizza! And a whole family with small children all wearing the V for Vendetta mask. Really creepy.
12:20PM— There's people of all ages, a lot of older folks, punk kids, and homeless folks all here. I'd say already a thousand people. Most of the people I've talked to are here for the long haul, they're not backing out before night time. There's some chanting and sign holding. Directing the crowd with a megaphone is Adriane Ackerman, telling people that the plan during the march is to stay on the sidewalk. She's also shouting advice for what to do if you get maced.
Adriane Ackerman leads the crowd
Here's the lively pre-protest (11 AM) scene: