The Big Book of Lesbian Horse Stories
Alisa Surkis & Monica Nolan
(Kensington Books)
Nolan reading at Reading Frenzy
Wed Nov 13, 7 pm, free
I have to admit, I thought (and hoped) The Big Book of Lesbian Horse Stories was a clever way of titling raunchy erotica. Horses? Lesbians? Hot! Even the cover tag line--"When these Sapphic sisters saddle up, ecstasy is only a hoofbeat away!"--had me ready for some serious book-reading action. Oh, was I sorely mistaken.
The debut pulp-fiction collection from Alisa Surkis and Monica Nolan will not induce wet panties. Not even a little bit. But the book can be loved for what it is--eight vintage stories of ladies, lust and the pretty ponies they love. It's kind of like Black Beauty for big girls.
The stories smack of dime-store novels; they're short on descriptive reveries, heavy on campy plot and emotion. Each is set in a different vintage locale--'60s East Village, '40s mobster race-track, '80s Florida--at a pivotal point in lesbian history, and each is a variation on this theme: a troubled young lass with a past and her talented filly arrive in a new place, find true love against the backdrop of a stable, reconcile the past while winning the derby/barreling competition/ posting show and then trot off into the sunset. Surkis and Molan pepper the pieces with wry historical mentions, slipping in appropriate mentions from the SCUM Manifesto, Rock Hudson and Barbara Stanwyck.
You've got to jump a little hurdle to allow yourself to read sentences like, "Terry's heart beat in perfect rhythm with the pounding of Silk Stockings's hooves on the dirt track," but it's all tongue-in-cheek. As pulpy as the stories may be, each presents women taking control of their lives and overcoming great odds to get what they want (usually a horse and a gal.) They become ambulance drivers, champion jockeys or professional trainers, doing it with nary a man or stallion to assist. The heroines have such a great fondness for each other that you really end up caring what happens to poor Oreola the migrant farm worker who dreams of Ana Maria and the horse she left behind. I swear to God, you can really get into it. Probably not a book for guys (unless they think they're sensitive), but appropriate for all Bust-era girls. ANNA SIMON
Sponsored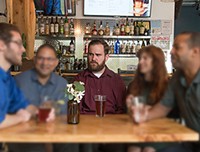 Adults aged 18-35 with good hearing will be paid for their time. Located at the Portland VA Medical Center