Roadside
.
Roadside
's art and writing--stylish, insightful, and realistic, yet cartoonishly exaggerated--documented that trip, as well as a myriad of fictional stories.
"I knew they were here," she says of Portland's comic book artists and writers. "I could smell them. Comics were in this town."
COMIC BOOK CITY
What Oleksyk immediately intuited about Portland took me two years of living here to figure out: besides being home to larger comic book publishers like Dark Horse and Top Shelf Productions, Portland has a fiercely strong, astonishingly creative, and fanatically devoted independent comic book scene--one that somehow remains just under the city's cultural radar.
Alec Longstreth writes and draws Phase 7, using full-fledged comic art, stick figures and Star Wars references to cover autobiographical and fictional subjects. Reading Phase 7 is a lot like the disconcerting and heartwarming sensation one gets in high school by talking to the quiet kid and discovering he's not nearly as different from you as you'd guessed. While Phase 7 is undeniably dorky, there's also a level of sweetness; it's impossible not to sympathize with Longstreth and his alter egos, whether he's documenting a road trip or desperately trying to save worms that have crawled up on the sidewalk during a rainstorm.
In a different vein, Ezra Claytan Daniels' edgily philosophical graphic novel series The Changers combines striking artwork and affecting writing to create a wholly original science fiction story. Following two time travelers from the distant future who have been sent back to genetically alter the current world population, Daniels created The Changers in Portland and has since received national acclaim.
Daniels, like Longstreth and Oleksyk, found Portland more than welcomed his work.
"The response was so phenomenal and encouraging," he says. "Everybody's like 'Wow, you're making comic books, that's great.' I would take my stuff to bookstores and everybody would be like, 'Yeah, that's great, put it on the shelf.'"
When I ask Daniels why Portland's such a hotbed for comic creators, he laughs. "Honestly, I think it has something to do with the weather. You've got nine months out of the year when you're cooped up in your house. There isn't a lot you can do creatively--other than draw little stories."
HUMONGOUS BOOBS AND TIGHT CLOTHES
"My comics are very Portland-centric," says Nicole Georges, whose zine-like Invincible Summer has a clever, cynical, distinctly autobiographical bent. But while Portland and its comics' community is a source of inspiration, Georges also notes the lopsided gender ratio--something that's as prevalent in Portland's indie scene as it is in mainstream comics.
"When girls do art, they don't usually focus on comics," Georges says. "Their art generally takes on a more classic form, or they don't pursue comics because they cater largely to boys. Most people grew up with Spider-Man or Wonder Woman. Go to comic book stores and not only do you see mostly men and boys, but the only women represented in comics have humongous boobs and tight clothes."
Georges' comics don't have scantily-clad superheroines with humongous boobs--instead, her characters are representations of herself and those she knows, going through normal, day-to-day events. (Which might sound boring if not for Georges' keen voice and crude but expressive art.)
Both Georges and Oleksyk note that the gender bias extends to themselves as artists and writers in a male-dominated field.
"People are always going to judge my work in the context that I'm female," Oleksyk says. "I've had people say, 'I didn't realize this was a girl drawing it because the art was so good.' [And I'm] like 'Fuck you very much.'"
"Even though there are so many strong, excellent female artists, the scene's still [dominated] by boys," Georges says. "[But] there are so many great women artists in Portland. I feel like there are girls putting out comics that aren't getting recognized, or aren't feeling 100 percent included."
The gender issues are a facet of the indie comics community in Portland, a community that can both support and, according to Oleksyk, motivate.
"Secretly, we're all so competitive," she says, laughing. "Everyone is. Even if they say they're not--they're lying. It's the only reason any comics artist ever gets anything done."
AND THE GEEKS SHALL INHERIT THE EARTH
"When people think comics, they think conventions--they think of Trek, and Klingon people, and have this impression we're like The Simpsons' Comic Book Guy," observes Aaron Renier, who is currently preparing his graphic novel, Spiral Bound, for publication by Top Shelf (he illustrates for the Mercury, as well).
Renier continues, "And you know, it's true. I've met people like that. But in Portland, I almost feel I'm part of a community that's as respected as painters... Portland is, I feel, very warm to comics."
"The American comic book industry has come a long way in the past several years--from being something primarily thought of as being for kids, or superhero oriented, to something that's taken a little bit more seriously," Daniels says.
"It's avant-garde, right out there on the cutting edge," Longstreth says as he leans forward in his chair. He's trying to explain what he loves about comics; as he does so, I get the sense he can't believe everyone doesn't see what he sees.
"It's like a movie, except you can watch it as slow or as fast as you want. It's like a great book, because it's a good story and it's well told. It's like a great piece of art, because the drawings are beautiful. It's everything great about entertainment and storytelling... and it's all combined into one art form."
SUPPORT YOUR LOCAL COMICS CREATOR
"Comics are incredibly difficult," says Nate Beaty--whose Brainfag is acerbically funny, sharply observant, and nearly Bukowski-like in its candidness. Whether Beaty is drawing black and white cityscapes of Portland, following the step-by-step degeneration of a relationship, or telling a story about a man whose excised colon can predict the future, Brainfag's a wide-ranging read, but always an entertaining one.
"[Making comics] is the most challenging thing I've ever done... there's a million things you have to think about. But it can also be one of the most amazing mediums. It can do things that movies and novels can't. And we've only scraped the surface of what's possible with comics."
While Portland's comic artists are working on what else can be done, it's their passion for the medium that might be the catalyst for making the scene a bigger part of Portland's art and literature circles.
"I wish everyone would try to draw a comic," says Longstreth. "In my dream world, everyone would draw stories that mattered to them. And I could just be like 'Here's my comic,' and you could be like 'Here's my comic. This is me. These are my stories. This is who I am.'"
Sponsored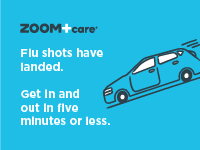 ZOOM+Care makes flu shots easy and safe. Schedule ahead, skip the line—get in and out in 5 minutes.

"I moved to Portland because there were other cartoonists here," Sarah Oleksyk tells me. Two years ago, Oleksyk moved from Portland, Maine, to Portland, Oregon; at the time, she was self-publishing her independent comic book,