We may be small, but we're nimble.
Unlike San Francisco, which is only on its second year of joining established fashion capitals like New York and Paris in hosting "Fashion Week(s)," Portland is already on its third consecutive year of showcasing local designers, with a sprawling schedule of shows spread through September 16. And, if you attended Emily Ryan and Liza Rietz's Wednesday, September 7th show at Savoy, you could actually pack in more than two full week's worth of daily shows.
Sponsored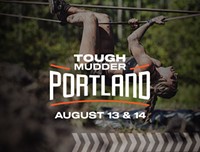 Lock in your summer adventure, Portland. Join us for world famous obstacles over a 5K or 10K distance.
This year our city has managed to sprout two separate and overlapping Fashion Weeks—one helmed by boutique star Seaplane, the other by Semper Fashions. Together, they represent two tiers of the local scene; while Seaplane's series, titled "The Collections," features some of the most recognizable names in town, Semper's affair features newer, less established designers.
For years Portland has been building momentum towards national and international recognition, thanks to magazines like W, Elle, Lucky, Bust, Women's Wear Daily, and Venus—the attention being mainly focused on Seaplane. The women behind the store, designers Kathryn Towers and Holly Stalder, are already well known, as are others featured in The Collections (Adam Arnold, Elizabeth Dye, Emily Ryan, etc.)—at least locally. And while these are Portland's rising stars and among the most likely to catapult into world-class status, the scene remains too small to attract the kind of international press that was summoned to cover the collections displayed in San Francisco—much less the turnout that routinely show up in Paris.
And while snobs could dismiss Portland's efforts on grounds of size, geography, reputation, and the economics of the local industry, our small scene of creatives continues to thrive in its native environment—marked by resourcefulness and independence. This perseverance will eventually pay off, and in the process offer an excitingly new and accessible scene, ripe for expansion.
Another example of the personality Portland brings to the table is the execution of Semper Fashion's own series of Fashion Week shows. A loose affiliation of designers and show producers, Semper Fashion's Tod Foulk, along with close friend SaraBeth Chamber of the Saffrona lines, took up the task of masterminding their own Fashion Week. Not only interested in showcasing the designers and their creations, Semper's events aim to benefit the models, stylists, and boutiques involved in the project.
Further, these events act as benefits for the Multnomah Co. Animal Shelter and Maiti Nepal, an organization that works to prevent the trafficking and exploitation of Nepalese girls, in part rehabilitating them by teaching them culinary and craft skills. Semper's Fashion Week will incorporate purses made by some of these young women, each tagged with the name of its creator. On top of that, a can of food for the Oregon Food Bank knocks a dollar off the price of admission. In the end, the hope is that many of the designers will be picked up by some of the 400 retail buyers invited to the Semper shows.
While both wings of Portland 2005 Fashion Week promise to be distinct in terms of aim and execution—"The Collections" being a sleek, concise affair, while Semper is sprawling and a little nutty—for the rest of us it's playtime; a chance to sample a wide variety of what's to come from the many tiers of the Portland fashion scene.
THE COLLECTIONS
Sept 7-11
Emily Ryan and Liza Rietz—If you're quick enough to grab this paper right as it hits the street, you may be in time to catch the modern—some might even say futuristic—designs of Emily Ryan, along with Liza Rietz's collection, who (Attention music and fashion lovers!) does double duty as the violinist and keyboardist for hardworking local band Swords. Wednesday, Sept 7, Savoy, 2500 SE Clinton, 8 pm, free
Kathryn Towers and Holly Stalder—The Queen Bees of Seaplane showcase new designs under the theme "Victorian Forest." They've long been known for runway shows that incorporate an artful approach to everything from the visual backdrop to the music. Thursday, Sept 8, Wieden + Kennedy rooftop, 224 NW 13th, 7 pm, free (but pick up invites beforehand at Seaplane, 827 NW 23rd­—they're going fast!)
Adam Arnold—Sought after for his impeccably tailored pieces, Arnold sets some of the highest standards in town for quality. Friday, Sept 9, Adam Arnold Studio, 727 SE Morrison, 7 pm, free
Bonnie Heart Clyde and TRex—Boy-girl team Bonnie Heart Clyde (aka Emily Katz and Shaun Deller) are known for their fanciful embroidery, applied to shirts, dresses, hats, and more, a style that has become a popular hallmark of Portland design. They're showing alongside pieces by TRex at one of Portland fashion's newer heavyweight boutiques. Saturday, Sept 10, YES, 628 E Burnside, 8 pm, free
Elizabeth Dye and Linea—Designer of classy, feminine pieces, Elizabeth Dye is also the recent co-founder of sweetly named boutique The English Department (724 NW 23rd). Linea (aka Jess Beebe) is praised for her soft, dreamy designs in flowing shapes. clarklewis, 1001 SE Water, 8 pm, free (but reserve a seat for yourself by calling or stopping by The English Department)
SEMPER FASHIONS' PORTLAND FASHION WEEK 2005
Sept 8-16
Opening Night—The first night of Semper's extravaganza will feature everyone involved in the shows—every designer, stylist, and model will have a hand in it. Some examples of the lines you'll see are Adrianna by Michelle's clubby, hip, youthful dresses; Saffrona's classy formal dresses (which often feature imported silk and Swarovski crystals); Sizzle's (aka Ray Solaris) hand woven chenille-infused sweaters; WeMa's streetwear-oriented skirts and tops; Ali May's (aka Alison MacMillan) boldly colorful contemporary women's wear; Afrodijio's hiphop chic-wear; and Magalí Corzo's salsa inflected dresses and separates. Thursday, Sept 8, Pala Fashion Lounge, 105 NW 3rd, 8 pm, with shows on the hour until midnight, $10
Menswear—In a rare turn of events, tonight's show will focus exclusively on clothing for men, including Rocket (Ray Solaris' menswear answer to Sizzle for women), Saffrona's swimwear for men, and more. Also, there's a purple theme, so dress accordingly. Friday, Sept 9, Crush, 1412 SE Morrison, 9 & 11 pm, free
Industry Party—Four hundred NW regional apparel buyers are invited to view lines like WeMa, Sizzle, Rocket, Saffrona, and Adrianna by Michelle. Saturday, Sept 10, Pala, 105 NW 3rd, 9 pm, $10 without invite
"I Want to be Feared"—A racy, exciting show of "Fierce Fashions Full On" including inferno-inspired, wild hair and makeup, fire, barbed wire, and skin. Fashions will include swimwear and lingerie by Naomi Raquel, Oh Baby lingerie boutique (1320 NE Broadway), and Saffrona Swimwear, among others. Sunday, Sept 11, Dante's, 1 SW 3rd, 8:30 pm, $5
The Fashion Glamebago—In one of the week's most original ideas, small impromptu fashion shows will be mysteriously popping up around shoppy areas of town, like NW 23rd and the Pearl. Monday, Sept 12, around town, anytime
"It's Still Summer and Still Hottt"—Another lingerie/ swimwear show, in case you prefer that kind of thing without all the inferno. Tuesday, Sept 13, Pala, 105 NW 3rd, 8 pm, $5
Hot Ice—A showcase of winter fashions from the likes of Awearness (aka Ivory Hannah), specializing in snowboard apparel, Flood's (aka Nicole Flood) Native American inspired hats, and more. Wednesday, Sept 14, Greek Cusina Minoan Room, 404 SW Washington, 8 pm, $5
Laid Back—A show focusing on casual, urban wear from Louise Jeans, Magalií Corzo, Ali May, and more. Thursday, Sept 15, Voodoo Lounge, 53 NW 1st, 8 pm, $5
Menswear Redux—A redo of the earlier show of men's designs at Crush, back with a cover charge. Thursday, Sept 15, Crush, 1412 SE Morrison, 7 pm, $5
Finale—Once again, all designing, styling, and modeling hands are on deck, providing they fit into the night's theme: "Black and White," with an emphasis on showcasing jewelry and accessories. Organizer Foulk's own daughter, a precocious 13-year-old designer, will be included in the show with her line, DoubleCross Belt Co. Friday, Sept 16, Pala, 105 NW 3rd, 9 pm with shows on the hour until midnight, $10
Sponsored
Virtual Auction Event & Drag Queen Fashion Show. You won't want to miss this show!