Named after legendary comic book creator Will Eisner, the Eisner Awards are presented every year at America's biggest nerd/comic convention, the San Diego Comic-Con International. This year's nominees are an especially strong lot, encompassing everyone from comics' established greats to new and groundbreaking talents. The winners'll be announced at Comic-Con in July—giving you just enough time to swallow your cooler-than-thou pride and check out some of the best writing and art of the past year.
Sponsored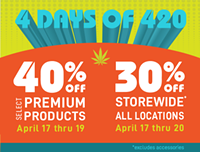 30-40% off Premier Dispensaries April 17-20
Flower, pre-rolls, edibles, carts and more.
These 4 Days of 420 are for you.
Top Ten: The Forty-Niners, by Alan Moore and Gene Ha(America's Best Comics)—Nominated for Best Graphic Album, Moore and Ha's period piece takes place in Neopolis—a chaotic, beautiful, retro-futuristic city inhabited only by superpowered denizens. Ha's photo-realistic art is stunning—intricate, fluid, and utterly believable—and is an excellent match for Moore's sharp characterizations and dizzying intelligence. With elements of everything from WWII, superhero clichés, and more modern issues (amongst all the craziness, there's a subtle, heartfelt, and incredibly touching subplot about a gay couple), Moore and Ha create something that feels at once antique and brand new, familiar and challenging. ERIK HENRIKSEN
Astonishing X-Men, by Joss Whedon and John Cassaday (Marvel)—Nominated for Best Continuing Series, Best Penciller, and Best Lettering (snore), Whedon and Cassaday's Astonishing X-Men has already—in only 13 issues—proven to be one of the best superhero comics of... well, ever. Whedon's keen dialogue, spectacular action, and sharp themes make the old-timey X-Men (they've been around since 1963) feel innovative, fresh, and real; likewise, Cassaday's solid, confident, and expressive art works perfectly with both Whedon's conversation-driven scenes and epic action sequences. When hoity-toity nerds talk shit about superhero comics, I nod understandingly, smile patiently, hand them a copy of this book, and then I accept their apology. EH
Tricked, by Alex Robinson (Top Shelf)—Alex Robinson's Tricked is up for Best Graphic Album, but Robinson (also of Box Office Poison fame) should be up for the Best Writer prize as well. A whiz with dialogue, his humbly expressive black-and-white drawings depict a sprawling world of instantly memorable, interconnected New Yorkers. Some of them are likeable, like the cute, buxom waitress Caprice, and some of them are loathsome, like the beer-bellied, bespectacled Ray, whose perpetual blank expression is a subtle visual clue to the autograph-forging sociopath that lurks within. But always, Robinson's characters are beautifully imperfect—vibrant, quirky people whose lives intersect in strange, magical, and sometimes terrible ways. JUSTIN W. SANDERS
Black Hole by Charles Burns (Pantheon)—Nominated for Best Graphic Album (Reprint), Black Hole is a 368-page tome about teen sex and mysterious diseases in Seattle, circa 1975. Believer cover artist Charles Burns employs a hypnotic scratchboard style of drawing of pure blacks, pure whites, and no midtones in between. Each panel, then, is a sinister noir vignette that perfectly complements his dark tale. It's in the narrative, though, that Black Hole falters. A group of teenagers passes around an STD that transforms them into hideous monsters, but no matter how incredibly well the story is laid out visually, Burns never quite gets us to care about his characters. CHAS BOWIE
Ex Machina by Brian K. Vaughan, Tony Harris, and Tom Feister (Wildstorm/DC)—In Vaughan's captivating book (nominated for, among other things, Best Writer and Best Continuing Series) Mitchell Hundred is the newly elected mayor of post-9/11 New York. Oh yeah­­­—he also has the ability to talk to machines, and before he was elected, he flew around with a jetpack and an old-timey aviator suit stopping crimes with his mind powers. The only drawback—and it's a biggie—is the artwork. Each frame is an artist-rendered version of a photograph; instead of making the visuals more realistic, the process makes all the characters appear posed, and ironically unnatural. SCOTT MOORE
Plastic Man: On the Lam by Kyle Baker (DC)—Kyle Baker has been nominated for Best Writer/Artist in the humor category—and for what it's worth, he's got my vote. Plastic Man: On the Lam builds on the whimsical flair of this overlooked hero, nails some hilarious inside jokes, and delivers a sneakily exciting story with a touching finale. Baker cooks up a plot wherein the stretchable hero is framed for murder—and while that may not be the most original story ever told, each panel is infused with a genial, inventive humor that slowly but surely makes you care about the characters. Plus, the cover is plastic! Wrap your head around that. WM. STEVEN HUMPHREY